by Jennifer Porterfield
|
Last Updated:
February 6, 2023
As an Amazon Associate, I earn from qualifying purchases at no extra cost to you. Thank You for your support.
Trying to keep yourself cool on warm days or nights can be hard. At these times, simply opening the window will not be enough to cool you down. Fortunately, you can invest in tower fans to provide a refreshing breeze.
Unfortunately, these fans can be quite loud. This can make trying to work or sleep during these warm occasions quite strenuous. This is because noisy fans will be distracting.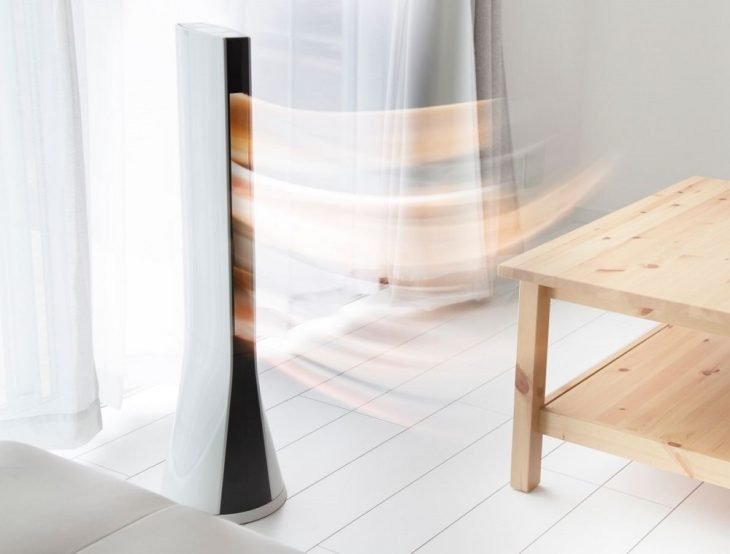 To prevent this issue, you can invest in a quiet tower fan. These fans are excellent at providing airflow without creating too much noise.
Sadly, not all tower fans are of the same quality. Some products are better than others. To help you find the right quiet tower fan, we have listed the top models on the market.
Table of Contents
Best Quiet Tower Fan Reviews
Lakso Portable Electric 42″ Oscillating Tower Fan
First is this amazing portable oscillating tower fan from Lasko. It is customizable as a result of its two different color options. Its other noteworthy features include the various speed settings and portability.
In addition, this tower fan can be controlled via an easy-to-use remote control. This means you can control it from the comfort of your desk or bed. Because of these features, this Lasko product is suitable for both home and business settings.
Pros
2 colors – Lasko gives the customer options to choose from, namely two different colors. These colors are silver or woodgrain and gray. This enables you to find a fan that matches your decor and aesthetic. Both of these colors look super stylish.
3 quiet speeds – in order to prevent distraction, this fan has lots of quiet settings. It has 3 different settings, allowing you to select the speed that works best for you.
Nighttime setting – this setting is excellent for sleep. It has a lowered speed and dimmed lights. Consequently, it will not be a distraction when you sleep or study during the nighttime.
Portable – this unit weighs only 15.5 lbs, resulting in it being lightweight enough to carry. It also features a built-in handle for added portability.
Easy to assemble – saving you time and effort, this tower fan is relatively easy to assemble. The durable base can be connected to the fan simply with a screwdriver.
Cons
Fewer settings and speeds – compared to other tower fans, this item has considerably fewer speeds. This makes it less customizable than its competitors, which gives the customer more options to choose from.
Lasko Oscillating Tower Fan, Remote Control, Timer, 3 Quiet...
✅【POWER YOU CAN FEEL】The 42" Wind Curve Tower Fan has 3-speeds to keep you cool all day and...
✅【BLADELESS DESIGN】With a slim, sturdy, bladeless design, the 42" Lasko Wind Curve Tower Fan...
✅【OPTIMAL OSCILLATION】While other fans promote a full 90 degrees oscillation, we designed the...
✅【TIMER + QUIET NIGHTTIME MODE】The 42" Lasko Wind Curve Tower Fan has a 7.5-hour timer for...
Last update on 2023-09-23 / Affiliate links / Images from Amazon Product Advertising API
Honeywell QuietSet Tower Fan
Next, this Honey noiseless tower fan has many desirable features. With a stylish design and chrome finish, this fan looks incredible.
It also offers 8 different speed settings and has an auto shut-off ability. Consequently, it is perfect for aiding your sleep. It can be controlled with the use of remote control that can be stored in the fan itself when not in use.
Pros
8 speeds – with an impressive amount of settings, you will be able to find the one that works best for you.
Oscillating – to cool down the entire room, this fan can oscillate. This makes it ideal for warm days.
Auto shut-off – this timer is 12 hours long and will turn itself off after this time. As a result, you do not have to worry about accidentally leaving your fan on. An added benefit of this feature is that it can save you money on your energy bills.
Dimming feature – to help you sleep better, the control panel of this fan can be dimmed. This means that you do not have to be concerned about the lights from the useful display keeping you up all night.
Easy touch controls – though you can manage this fan through the use of remote control, you can also use the built-in buttons. This control panel is designed to be simple to use and will respond to your touch.
Cons
Not powerful enough for some – some customers have complained that this fan is not strong enough. Essentially, this will be a matter of experience. While some people will find this product to have enough power, others may not. Fortunately, it has lots of speeds for you to try out.
Sale
Honeywell QuietSet Whole Room Tower Fan-Black, HYF290B
Perfect for cooling a medium to large size room without taking up much space
Remote Control, nests in back of fan housing for easy storage
Honeywell quality: Help improve air circulation & energy savings in your home, bedroom or office...
Honeywell fans: The right fan helps cool you off & improves airflow in your room or home; Give your...
Last update on 2023-09-23 / Affiliate links / Images from Amazon Product Advertising API
Antarctic Star Tower Fan
Thirdly, this tower fan from Antarctic Star is yet another excellent choice. It has 8-speed settings which can effortlessly be controlled via remote control.
Aside from this, the other remarkable elements of this tower fan include the widespread oscillation and the fact that it is available in different eye-catching colors.
Pros
4 color options – when buying this item, you can choose between 4 slick-looking colors. Namely, these colors are black, green, pink, and silver. This wide selection gives the consumer more options. These stylish designs will look incredible in most rooms.
Instant relief – it only takes a mere 3 seconds for this tower fan to begin cooling down your room.
360° oscillation – providing ventilation and a cool breeze to your entire room, this tower fan can move a full 360°.
Compact – constructed to take up as little floor space as possible, this tower fan is very compact. Despite this, it still provides the same performance as standard fans.
Safe to use – for added protection, the fan is covered with a narrow fence. This makes it an ideal item for use in a home with children or pets since it is incredibly unlikely that they will be able to injure themselves.
Cons
Expensive – compared to its rivals, this tower fan is noticeably higher in price. Consequently, you should only pursue it if you are willing to spend a little extra on your fan. If not, it is advised that you invest in one of the other fans on this list. Additionally, you may find that the various colors are priced differently.
Sale
Antarctic Star Tower Fan 360°Oscillating Fan Quiet Cooling...
FAST COOLING DOWN & EASY TO USE :Turn on this quiet tower fan, the quite room fan will cool down...
8 DIFFERENT SETTINGS and REMOTE CONTRO:Powered by 8-speed settings and 3 operation modes to...
WIDE & SMOOTH OSCILLATION:This tower floor fan operates at very low noise levels, while...
HANDY REMOTE AND COMPACT DESIGN:The slim design of this floor fans oscillating quiet with remote...
Last update on 2023-09-23 / Affiliate links / Images from Amazon Product Advertising API
VEARMOAD Oscillating Tower Fan
If you are looking for a smaller tower fan that fits on desks and tables, look no further than this VEARMOAD product. It has a user-friendly design that will enhance the user experience.
These features include its space-saving design and its nifty handle.
Pros
Affordable – this item is at the lower end of the range of prices that tower fans are sold at. Because of this, it is well-suited for people who are shopping on a limited budget.
Space-saving – this tower fan has been constructed to take up as little space as possible. As a result, it can be placed in nooks and crannies that other fans would be unable to reach.
Integrated handle – to make this fan even more portable, it comes with a handy handle. This will make transferring it to another location much less stressful.
85° oscillation – this fan is perfect for medium-sized rooms thanks to its ability to swivel.
Modern design – this stylish-looking tower fan will suit most spaces. It will be particularly at home in offices.
Cons
Limited oscillation – compared to other tower fans, this product has a limited range of movement. This will mean that it is less versatile than some of its competitors.
14.8 inches in height – smaller than many of the other tower fans on the market, this item will not be suitable for all customers.
Last update on 2023-09-23 / Affiliate links / Images from Amazon Product Advertising API
ZICOOLER Oscillating Tower Fan
Last but not least, this tower fan from ZICOOLER is yet another stunning item for those who are looking for quiet tower fans. The main selling point of this tower fan is its unique design, which is leafless.
This distinctive design not only looks amazing, but it also has safety benefits. Alongside this, the fan is straightforward to maintain and assemble. This makes it one of the most hassle-free products on the market.
Pros
Leafless design – as mentioned above, this tower fan utilizes a leafless design. Essentially, this means that it provides cooling air without having to revolve blades. This is part of the reason why it is so quiet. In addition, this means that you do not have to worry about your children or pets touching the blades.
Produces only 30dB – when using this product, you do not have to panic that it will disturb your sleep. It is virtually noiseless, creating only 30dB of sound.
Easy to clean – unlike traditional fans, this device is quite simple to clean. All you need to do is wipe this fan with a cloth. This will save you a lot of hassle.
Made for peaceful sleep – not only is this tower fan quiet, but it also has a cool LED display that will turn off after 5 seconds. As a consequence, the light will not keep you up at night. It also makes incredible use of an 8-hour timer.
No assembly is needed – do you want to spend ages installing your tower fan? Most people will reply "no." Thankfully, this unit does not need any installation.
Cons
Quite small – compared to other tower fans out there, this model is quite short and light. Though this will be an advantage to some, those who desire a larger tower fan may be disappointed with this product.
ZICOOLER Tower Fan for Bedroom, 22 Inch Bladeless Fan, 80°...
【Revolutionary Bladeless Design】Bladeless fan eliminates the risk of traditional fans, making it...
【Create your Own Climate】From soft breezes to strong winds, this tower fan offers 8 speed levels...
【Easy Operation】Fitted with LED display and customized smart control, this 22 inch standing fan...
【Cooling for Everyone】Bring a fresh breeze to everybody without leaving a single warm spot. This...
Last update on 2023-09-23 / Affiliate links / Images from Amazon Product Advertising API
Best Quiet Tower Fan Reviews Buying Guide
After making your way through our top product recommendations, you will be in an optimal position to start looking for a tower fan.
This guide will have shown you some of the features to look for and some of the ones to avoid. As a result, it will be easier for you to find a high-quality tower fan.
However, you should bear in mind that searching for a fan is not as easy as it originally appears. The reasoning behind this is that there are multiple features that differ between products.
While some fans contain certain features, others do not. In order to support your shopping, we have highlighted some of the main considerations. Please bear these in mind while you are looking.
Noise Levels
As you may have surmised from the title of this article, the main aim here is to find quiet tower fans. For a fan to be quiet, you will have to ensure that it does not emit a lot of noise. If a fan is loud, it will not create a very pleasant atmosphere.
This will make it harder to sleep, relax, or study with a fan on. In order to stop this issue, it is worth investigating the noise levels of a product.
You may also want to consult customer reviews to see if other users have found these fans to be quiet or not. If a fan is noisy, it might be best to avoid it.
Speed Settings
Fans that have a wide range of settings will likely be preferred by most customers. The reason for this is that these products will enable you to find a setting that works best for your needs.
If you want a gentle breeze, you will be able to get this. However, if you prefer a more powerful airflow, you can also achieve this. Essentially, these products are more customizable and versatile.
Cost
The cost will be an important factor to many customers. This is one of the main elements that will vary between products. While some can be bought for low prices, others will be more expensive.
More expensive fans may be outside of some customers' budgets. If this is the case, you may want to carefully consider the amount of money that you are prepared to spend. Doing so will mean that you do not spend too much money.
Aesthetic
Though some people will not be overly bothered as to the appearance of their tower fan, other people will care more. If so, you will want to find a fan that matches the decor in your house or office. Most fans come with fairly neutral designs that can blend with most decor styles.
However, other products will naturally stand out more. If you are worried about this happening, you may want to choose a brand that provides fans in a range of colors.
This will enable you to find the one that matches your style. For instance, the Antarctic Star fan is sold in four colors, empowering you to find the color that appeals most to you.
Portability
Tower fans are more portable than other types of fans. They have a slim design that makes them relatively easy to carry and transport.
They also tend to be quite lightweight. Some products even feature built-in handles that make transportation much more effective. If you are planning on taking your tower fan from one location to another, you will need to determine whether an item is portable.
This is because some tower fans will be easier to transport than others. To determine the status of a fan, look into how much it weighs. You should also see whether they include features, including handles, that are designed for ease of portability.
Durability
Tower fans tend to be made from plastics and metals. Though these are relatively strong materials, you will notice variations in the degree to which fans are durable.
Some will be longer-lasting than others, in part due to their design and the materials that have been used. Weaker fans are more likely to break and will, therefore, need to be replaced.
This will add to the cost and stress of your purchase. Thus, it is advised that you invest in a sturdy tower fan to stop this issue from happening.
Assembly
Most people will not want to waste time and effort in making their fans. As a result, most people want tower fans that are easy to assemble. Because of this, you should look into how easy a fan is to make prior to buying it.
This information should be contained in the description of a product online. Additionally, it should tell you this information on the packaging of a fan. If a fan seems hard to assemble, you may want to avoid it.
Oscillation
In order to provide airflow to an entire room, most tower fans will have some degree of oscillation. This means that they can move.
However, the extent to which these products can move varies considerably. If you are looking to cool an entire room, you may want a product with a good oscillation range.
FAQs (Frequently Asked Questions)
What is the purpose of a tower fan?
Like traditional fans, tower fans are made to keep you cool by distributing air. However, they have been designed to take up less room and generate less noise. 
Are tower fans better than standard fans?
There are different advantages and disadvantages to both types of fan. However, one could definitely make the case that tower fans are superior. They have a more sleek design which also means they require less floor space. Tower fans also tend to be safer. The fan itself tends to be encased in a cage that prevents the blades from causing any damage. Because of this, it may be better for you to invest in a tower fan than a typical fan. 
Are tower fans energy-efficient? 
Yes, tower fans are energy-efficient. When compared to other methods of cooling your house, tower fans use less energy. This is also true when they are compared to other types of fans. In more powerful settings, tower fans will only use approximately 60-70 watts. This is why tower fans are favored above other cooling devices. 
Additional related pages:
One response to "Best Quiet Tower Fan – 5 Top Picks & Reviews"