by Jennifer Porterfield
|
Last Updated:
September 20, 2023
As an Amazon Associate, I earn from qualifying purchases at no extra cost to you. Thank You for your support.
Introduction
Whether it's for gaming, working or just chilling at home, a good keyboard is an important accessory to any computer setup.
However, for those late night sessions, the irritating tippity-tap sound you get from mechanical keyboards can be a nightmare to deal with.
You definitely don't want to keep others in your home awake while you play games at night or annoy everyone else in your office with a noisy keyboard.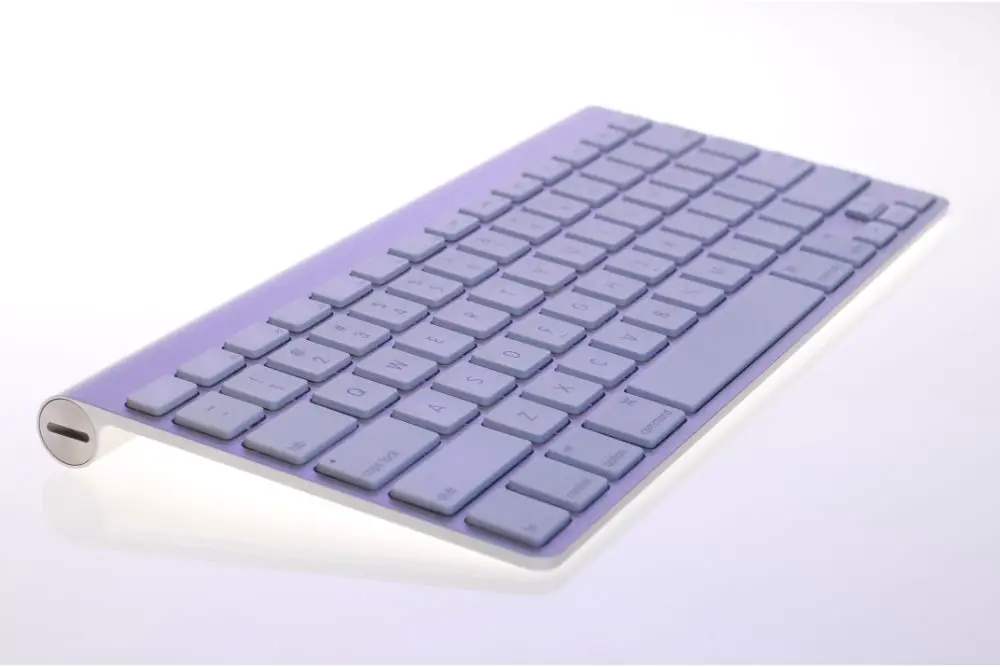 Thankfully, the technology that goes into computer accessories has improved so much in recent years that this problem will soon be a thing of the past. Silent keyboards are the way forward and nowadays you don't even need a wire for them!
Here's our list of the best quiet wireless keyboards money can buy:
We're starting off with this keyboard from LedsaiL, which Amazon lists as its choice for quiet wireless keyboards.
It's designed to be slim, compact and save space on your desk or while travelling. The shape of the keyboard is designed this way, so it's thin enough to fit in any bag and also tilts it towards you, giving the whole affair a more ergonomic design.
Of course, the keys themselves are designed with noise reduction technology which makes tapping away at them almost completely silent.
The same is true of the wireless mouse that comes included in this package deal. It has also been designed to click silently so you really won't have to worry about any noise being generated from your setup.
As well as being silent, the mouse is also of a pretty high standard, featuring 3 sensitivity levels from 800-1600 DPI. Even on its own, this would be a pretty good mouse for any setup, let alone the fact that it's included with the keyboard!
The only real downside to this keyboard is actually its size. Whilst it does save space, the consequence is that some of the keys are smaller than you might be used to.
Some customer reviews have stated how people found themselves hitting the wrong buttons by mistake constantly and that it took them a few days to get used to it.
However, if you travel a lot with your setup or don't have a huge amount of space on your desk, this compactness is definitely worth the time you may have to spend adjusting to a slightly different keyboard.
Pros:
Mouse included – A pretty good, wireless silent mouse is included in a combo deal with this keyboard
Compact – The slim and lightweight design means it doesn't take up much space at all in a bag or on your desk
Ergonomic design – The keyboard tilts towards the user slightly, making it friendlier on your wrists and posture as you type
Value for money – For such a low price, you wouldn't expect to get a good keyboard and a mouse, but you do!
Cons:
Smaller keys – Particularly, the backspace key, some customers noted that the layout of keys was slightly different to the average keyboard
Sale
LeadsaiL Wireless Keyboard and Mouse Combo, Wireless USB...
Less Noise: The wireless USB keyboard adopts scissors structure button, reducing 90% of the clicking...
Compact Size: The wireless keyboard is in compact size design with number pad, saving the space on...
Easy to Use: LeadsaiL wireless keyboard features 12 multimedia shortcuts allowing instant access to...
Energy Saving: The wireless keyboard and mouse combo will go into sleeping mode to save battery...
Last update on 2023-11-21 / Affiliate links / Images from Amazon Product Advertising API
The first thing you might notice about this keyboard is its gorgeous design and color scheme. The white keys and rose pink backdrop complement each other nicely and will add a touch of class to the aesthetic of your whole setup.
This keyboard uses a similarly compact and ergonomic design to the previous one. The keyboard is tilted towards the user at a 14° angle to make it easier to use for long periods without it putting a strain on your wrists.
It also uses a scissor-key-switch system to ensure every key on the board is silent when pressed.
The same is true of the mouse that's included as well, which uses a similar noise reduction system to completely reduce the noise pollution of your whole computer setup.
Of course, given that it uses such a similar design to the previous keyboard we've looked at, the issue of a slightly more compact key arrangement persists.
The backspace key, in particular, is seemingly troublesome as it's slightly smaller than you'd get on a larger keyboard.
However, aside from that issue, this keyboard seems just as good as the previous one. Both cost a fairly similar price and have a very similar set of features.
If you like the look of these first two keyboards the most, the only deciding factor you'd have to consider is whether you want a black one or a white and pink one.
Pros:
Compact – This keyboard will easily fit on your desk, in a travel bag, and the manufacturer even claims it will fit in most handbags
Ergonomic design – The 14° tilt of the keyboard helps to reduce hand fatigue
Mouse included – This feature will complete your setup and uses a similar color scheme to help you create a nice aesthetic
Value for money – This is great price to get a keyboard and a mouse at
Cons:
Smaller keys – Some of the keys on this keyboard are slightly smaller than you'd get on an average, larger one
Sale
Wireless Keyboard and Mouse, FENIFOX Full-Size Whisper-Quiet...
Wireless keyboard and mouse- Easy and stable connection to your devices; Just need one usb nano...
Full size and Compact Keyboard- 14.5x5.8x0.2 in with 102 keys, thin enough to put it into your...
Less noise and Smooth Typing- The keyboard's noise reduced keys and the silent click of the mouse...
Easy to Use and Ergonomic Design- Plug and play, the wireless keyboard mouse sets connect via 2.4ghz...
Last update on 2023-11-21 / Affiliate links / Images from Amazon Product Advertising API
The next keyboard on our list is the MK570 from Logitech. This is such a well-known and reliable brand that you know pretty much any product they bring out is going to be reliable. The MK570 definitely lives up to the acclaimed Logitech reputation.
As opposed to the first two compact keyboards we looked at, this one will take up a bit more space but has plenty of cool features to justify it.
First, this keyboard has extra space below the keys where there is a cushioned palm rest to provide support for your wrists and allow you to keep typing for longer without feeling any strain.
Similarly, the entire shape of the keyboard is curved slightly with a bump in the center to make it friendlier to the human hand. These features combine excellently to make this one of the most comfortable keyboards you could ever use!
Of course, Logitech also uses a silent whisper key technology to make the keyboard practically silent when using it.
Each key is also a reasonable size and fits the average layout of most keyboards across the world, meaning there's no need to teach yourself how to use a keyboard again.
Another great feature of this keyboard is the media control keys and 18 programmable keys which you can use as shortcuts to a whole variety of applications.
At the simple press of a button, you can play music, use a calculator or check your emails without having to click around first.
This package also comes with the M705 wireless mouse, which is another of Logitech's best computer accessories. It's precise, has an ergonomic design and customizable buttons.
However, it does not have any noise reduction features, meaning it might not be the best to use if you're going for a completely silent setup.
The overall design and build quality of the MK570 package deal is slightly dated and the whole thing does look a lot older than some of the others on our list.
This also translates to the overall durability of the product and some customers complained that theirs stopped working after only a few weeks of use.
However, if you take good care of your keyboard and can avoid these issues, you'll be left with a very high quality accessory for your computer.
Pros:
Cushioned palm rest – Makes the whole keyboard more ergonomic and user friendly
Wave design – The curve in the middle of the keyboard makes it much easier to use
18 programmable keys – Set up hotkeys on your keyboard to whatever applications you want
Mouse included – It might not be silent, but it is a nice feature to have a mouse included in the package
Universal layout – The key size and arrangement is pretty much the same as you'd find on any other keyboard
Cons:
Outdated aesthetic – This keyboard isn't quite as aesthetically pleasing as some more modern ones
Durability – Some users complained that their keyboard stopped working after only a few weeks of use
Sale
Logitech MK570 Wireless Wave Keyboard and Mouse Combo, Black
The unique wave design guides your hands into the best position and conforms naturally to your...
A large cushioned palm rest helps position your hands properly on the keyboard and offers a...
Right-handed comfort mouse with generous contoured design soft rubber grips and an advanced scroll...
Your computer at your fingertips. Get instant access to your music, calculator, email and more with...
Last update on 2023-11-21 / Affiliate links / Images from Amazon Product Advertising API
This is the second keyboard on our list from Logitech and this one boasts an entirely different range of features to its predecessor.
The MX features a much more modern aesthetic and sleek design. Each key has a smart backlight behind it which illuminates the keys based on the amount of light around them.
This is great for working late at night when you don't want to have all the lights on in your room as the keyboard will also adjust its light settings for you.
The keys themselves also each have circular indents to match the shape of your finger and make them more tactile and responsive when typing.
Logitech doesn't advertise any specific noise reduction technology in this keyboard but many customers have commented on how quiet the keyboard is to use.
The MX has a very wide range of compatibility- much more than most others on the market. You can use this with Windows, as you normally would on a computer, but you can even use it with an iPad or Android device.
This isn't necessarily the most useful feature for everyone but it's great to have if you're working with a variety of different technologies.
In general, the build quality and durability of the MX is also fantastic. This is largely due to the use of metal components rather than plastic, which is the more common material for keyboards.
Thus makes the device heavier but also feel more high-quality and will avoid damage and wear over time.
This may be one of the most expensive keyboards on our list but it's hard to argue with the level of quality you get with it.
Pros:
Smart backlighting – The small backlight behind each key adjusts its brightness automatically based on the light levels in the room.
Tactile, responsive keys – Well designed keys make this keyboard very satisfying to use
Wide compatibility – Use this keyboard with a number of devices, including an iPad or Android
Metal components – Improves the durability and overall high-quality feel of the keyboard
Cons:
Heavy – The metal parts make this slightly heavier than average and less ideal for travelling with
Price – Definitely one of the most expensive on the market but also one of the highest quality keyboards.
Battery life – Surprisingly, the backlighting on the keys makes a full charge life go from 5 months to just 10 days
Sale
Logitech MX Keys Advanced Wireless Illuminated Keyboard,...
Perfect stroke keys: Spherically dished keys match the shape of your fingertips, offering satisfying...
Comfort and stability: Type with confidence on a keyboard crafted for comfort, stability, and...
Smart illumination hand proximity detection and automatic backlighting. The USB cable only provides...
Flow cross computer control: Type on multiple computers in 1 fluid workflow
Last update on 2023-11-21 / Affiliate links / Images from Amazon Product Advertising API
This device from KLIM is the first we're looking at that is specifically marketed as a gaming keyboard. One feature that is synonymous with gaming devices is typically the multi colored backlights which are also present with this keyboard.
Of course, you can turn these lights on and off with a simple switch but having them on certainly adds some flair to the aesthetic of your setup.
In terms of the quality of the keyboard itself, this one also performs well. The keys are all slightly indented to make them more responsive and easier to use.
They're also incredibly responsive and there is no delay between pressing the keys and the action being taken on your screen.
These are both great benefits for a gaming keyboard, specifically. You want to be able to think and act as quickly and smoothly as possible when gaming so this keyboard has you covered.
Surprisingly for a gaming keyboard, this one is also pretty much completely silent.
It's very difficult to achieve the necessary responsiveness for a gaming keyboard without creating lots of noise pollution as a result, yet KLIM has done a great job of combining these two important features.
KLIM also emphasizes how durable the keyboard is and it's clear that they've made an effort to improve the build quality of the device when they updated it for their 2021 version.
However, if you're not convinced by what the manufacturer says, the product also has a 5 year warranty to give you peace of mind.
Pros:
Multi colored backlights – This is pretty much a necessity for any accessory to a gaming setup!
Fast membrane, soft touch keys – The keys on this keyboard are super responsive and tactile, whilst maintaining their noisier reduction technology
5 year warranty – Even if your keyboard stops working, it will be covered by a warranty for 5 years
Cons:
Durability – Customer reviews highlighted how this keyboard can stop working after only a couple of months of use
Sale
KLIM Chroma Wireless Gaming Keyboard RGB - New 2023 -...
✅ INSTANT CONNECTIVITY. Plug in the USB receiver and you can use the KLIM Chroma wireless keyboard...
✅ LONG-LASTING BATTERY. There's no need to buy batteries anymore! The gaming keyboard comes with...
✅ STUNNING RAINBOW BACKLIGHTING. Bring your desk to life! Choose static or breathing mode, or turn...
✅ IMPROVE YOUR TYPING SPEED. The membrane keys have a short travel distance, allowing for quick...
Last update on 2023-11-21 / Affiliate links / Images from Amazon Product Advertising API
The last keyboard on our list is a simple but sophisticated one from Arteck. It uses a similarly compact and lightweight design that we've seen in previous, cheaper keyboards. However, it also has the materials and build quality of a more expensive product.
As well as being super convenient to travel with, due to its compactness and lightness, this keyboard also features stainless steel components which are far less likely to wear over time than plastic.
This also gives the entire keyboard a more high quality feel and gives you confidence that you'll be able to use it for years without issue. The stainless steel is paired with non-slip silicone bumps on the backside of the keyboard, which make it easy to use on just about any surface.
Overall, the combination of low profile keys, ergonomic design, stainless steel components and relatively low price make this one of the best value for money keyboards on our list.
It doesn't have a huge range of high-tech features, but it certainly does the simple stuff right.
Pros:
Stainless steel – Improves the durability and quality feel of the keyboard
Compact and lightweight – Means that this keyboard is great for travelling with and using on a desk with limited space
Non-slip silicone bumps – Makes it easy to use the keyboard on any surface
Value for money – This is one of the most budget friendly keyboards on our list but still competes well with the more expensive options
Cons:
Simplicity – Some might see this as a positive feature but you won't find any customizable hotkeys or fancy backlights on this keyboard
Sale
Arteck 2.4G Wireless Keyboard Stainless Steel Ultra Slim...
Easy Setup: Simply insert the nano USB receiver into your computer and use the keyboard instantly.
Ergonomic design: Stainless steel material gives heavy duty feeling, low-profile keys offer quiet...
6-Month Battery Life: Rechargeable lithium battery with an industry-high capacity lasts for 6 months...
Ultra Thin and Light: Compact size (16.9 X 4.9 X 0.6in) and light weight (14.9oz) but provides full...
Last update on 2023-11-21 / Affiliate links / Images from Amazon Product Advertising API
Buyer's Guide
If you're still not convinced by any of the keyboards on our list, here are some things you should look out for when shopping on your own:
Price
The average wireless quiet keyboard will cost roughly 25$-40$. However, this doesn't mean keyboards outside of that range won't be useful.
If you're only interested in a simple keyboard that you won't use very often, getting one under $25 shouldn't be an issue. Similarly, if you want a keyboard that will last for years while being used every day, going for one over $40 is fine.
We would recommend not going for anything that costs more than $100 as you can pretty much always get a keyboard with the same features for cheaper than that.
Materials
Commonly, keyboards are made from mostly plastic components. The main issue with plastic is that it tends to be less durable and the keyboard will likely wear out after a while.
That's why metallic keyboards are almost always a better way to go. They will last longer and are much less easy to damage.
Ergonomic design
This is a term that gets thrown around a lot without people actually knowing what it means. The main features you should look out for in an 'ergonomically designed' keyboard are things like a palm rest, angle towards the user and low-profile keys.
Frequently Asked Questions
Can Mechanical Keyboards Be Quiet?
Yes, it is possible for a mechanical keyboard to use the same noise reduction technologies as other quiet keyboards. However, these will often be more expensive than regular mechanical or quiet keyboards.
How Do You Type Quietly On A Keyboard?
The best way to reduce noise pollution caused by a keyboard is to get one that has noise reduction technology already worked into it.
If that's not an option for you, a good way to reduce noise is to slow down your typing and concentrate on using the flat part of your fingers rather than the fingertips.
Final Thoughts
That was our guide to the best quiet wireless keyboards you can find on the internet. Of course, there are plenty of other great ones out there so feel free to look around and find the one that's right for you.
However, whatever your budget is, we're pretty sure you'll find something great on our list!