by Jennifer Porterfield
|
Last Updated:
May 13, 2021
As an Amazon Associate, I earn from qualifying purchases at no extra cost to you. Thank You for your support.
An inline duct fan can be helpful in various situations, including ventilation of damp areas or places that just need better airflow. Fitting inside the ducting, they are invisible and can be installed in a variety of setups.
Whether you want to set up an inline duct fan for your grow room to cycle the damp air, or you want to boost the exhaust hood over your kitchen range, getting the quietest inline fans you can find is key. No one likes a noisy fan, no matter where you put it!
Here's a look at some of the quietest inline duct fan options available, as well as a few things to keep an eye out for.
Table of Contents
The Quietest Inline Duct Fan Options
Which inline duct fan you pick is usually based on a few considerations. You'll need to calculate how many cubic feet of air per minute (CFM) you need to move to ventilate the space. From that, you can get an idea of how big the duct needs to be and which size fan to purchase.
Your choice is a little easier if the ductwork is already in place and you just need to put in a new fan.
Best Quiet Inline Fan — AC Infinity Cloudline T6 Six-Inch Inline
AC Infinity is known for making premium ventilation systems, and their Cloudline T6 six-inch inline duct fan is no exception. It's made to handle any use, from use as an exhaust in a grow room to being a booster fan in HVAC systems and air circulation. For this reason, we've given it the best inline award.
The kit includes an intelligent controller, a corded sensor probe, and complete mounting hardware, including two duct clamps.
Like most AC Infinities products they offer a 2-year warranty, this is down to their high-quality products which have low energy demands.
Maybe the neatest thing about the Cloudline T6 is the intelligent control that includes both temperature and humidity readings. There is fan speed control, use it with a countdown timer, or put it in eco-mode.
The controller also features a timer and alarm system should anything not be working quite right. The control has inputs for two fans to create a customized system with two any-sized Cloudline fans and use a single controller.
If you like the Cloudline but don't need such an advanced control system, AC Infinity sells the same product as the S6 with simple speed control.
AC Infinity uses a mixed-flow design and dual ball bearings and a high-tech PWM (pulse width modulation) motor to achieve super-quiet operation. It's rated at a whisper-quiet 32 decibels, making it one of the quietest inline fans on the market.
The electronically commutated "EC" motor is also very energy efficient, saving 40 percent or more of other fans' power consumption. The technology also reduced heat build-up in the motor, allowing for a super long service life of 67,000 hours.
With an IP44 rating, the T6 is designed for harsh environments, perfect for greenhouse or hydroponic grow tents with high humidity levels.
The six-inch T6 model has a CFM rating of 402. AC Infinity also sells a complete line of ducting and inline filters to complete your system.
If you need more power, the ten-inch TerraBloom inline variable speed control is a perfect choice. It comes with simple speed control that allows for continuous and customizable power settings. It can move 946 CFM while using only 126 watts of power!
Like the AC Cloudline, the TerraBloom features a modern EC motor that is quiet and doesn't build up heat when using the lower power settings. It's Energy Star Certified by the Most Efficient 2021 criteria. If you use the fan 24/7, the estimated cost is only $380 per year.
The Terrabloom is a high-quality product and as a result, the manufacturer offers a 2-year warranty, showing how much they back their product.
If you'd like to add a better controller, TerraBloom sells the wireless remote control, model ECMF-WR, or the intelligent thermostat with temperature programming, model SC-ECMF.
Noise from the fan varies from 45 decibels on the low end to 65 at the highest settings.
If you need even more air moved, check out TerraBloom's 12-inch model, which can move 1,662 CFM.
Best 8-Inch Inline Fan — AC Infinity Cloudline T8
Rated for 807 CFM, the eight-inch inline version of the AC Infinity Cloudline is a winner too. It's the perfect size for most home HVAC systems, and it's well suited for AV closets or indoor gardening requirements. It also comes with a two-year warranty ensuring it's free from defects in manufacturing.
Also, like its smaller sibling, this Cloudline fan is available with two controller options—either the simple S8 controller that dials in one of the eight-speed settings or the more advanced intelligent controller. That thermostat can control temperature or humidity and has alarms, timers, and adjustable fan settings.
The T8 produces 39 decibels during operation and features the same reliable dual ball bearing and EC motor system that the T6 does.
All of the AC Infinity Cloudline inline duct fan options are premium units, built for years of service and low noise levels. They're a bit more expensive than other options, but they're also well designed and implemented.
The snazzy intelligent controller isn't for everyone, however, so take a look and decide if the basic speed controller makes more sense for your uses.
iPower fans offer a cheap solution for quiet fans to save you a significant cost. They don't have the bells and whistles that AC Infinity and other premium brands offer, but they are solid, reliable, and cheap blower fans that you can install in a variety of ways.
The six-inch model moves 442 CFM while the four-inch model is rated for 190 CFM. The smaller fan is the quieter of the two. It's rated at less than 48 decibels, with the six-inch model produces less than 50 decibels. One reason for being so silent in operation is the composite fan blades, saving energy in the process.
The iPower fans are simple single-speed fans that just plug into a wall outlet. If you want to add a thermostat, you can add a simple speed controller or timer to allow you a little more control. Or, if it's easier for your installations, some users like to have them attached to a wall switch.
One great feature of the iPower is that it comes with a year warranty, which could help you save money if anything goes wrong.
Buying Guide
Controllers and Speed Adjusters
Inline fans come with three basic options.
Single-Speed Fans
Some are sold barebones, with no controls at all. These just plug into the wall and have one single-speed.
Since it's a simple AC motorized fan, you can buy an inexpensive speed controller to add more functionality. But this is a slightly inefficient way of doing things because the excess power is burned off in other ways (usually be creating heat).
Many motors also begin to hum with simple rheostats are used.
Speed Controllers
Some fans are boxed with speed controls. Depending on the motor design, you can use this very effectively.
Intelligent Controls
The best fans include a thermostat for operation, just like your home heating and cooling systems. AC Infinity intelligent controls can also be programmed to cycle on and off based on humidity settings, which is an excellent feature for grow tents.
Humidity Control
Heating and cooling have an effect on cooling. Remember, though, even though these fans have temperature and humidity settings on them, they cannot themselves control moisture. If you are cycling air out of a humid area into a dry area, you will dry the air out and lower the moisture levels. But if the air outside is humid as well, then you can't do very much to stabilize the dampness.
Cooling the air will reduce the amount of moisture that it can hold so that the fan will lower humidity levels.
FAQs (Frequently Asked Questions)
What is the Quietest Inline Fan to Buy?
On the market right now, the AC Infinity Cloudline is the quietest ventilation system you can get. That isn't to say that their competitors are obnoxiously noisy—honestly, many of these fans can be mounted and used in a way that you will hardly notice them.
But the AC Infinity Cloudline fans feature PWM (pulse wave modulation) fan motors that are really efficient and very quiet. They're great for use in small rooms where a noisy fan would be most obnoxious. They are more expensive than the other options out there, but they're well worth the extra cost. If you're looking to save costs and buy a cheap option we recommend the iPower 4 Inch.
Are Inline Duct Fans Loud?
Quiet Inline Exhaust Fan Selection and Installation
Inline fans are mounted in the building's ductwork, so they are generally kept away from working and living spaces.
Like all fans, their noise level depends on many factors. Large fans are noisier than smaller ones. Fans mounted in attics or separate spaces will likely never be heard at all.
Just like quiet desktop fans, inline blower fans vary considerably in terms of quality and construction. The best ones are quiet enough to use in small rooms, while less expensive and noisier options are best left to greenhouses and outdoor situations.
Factors that Affect Inline Fan Noise Levels
There are a few other things to think about when considering how silent a duct and fan setup is.
For one, air moving through ductwork makes sound on its own. The more confined it is, and the more turns it makes, the louder it will become. If the ducts are allowed to vibrate or are uninsulated, they will also be noisier than they need.
The fans need to be mounted securely to operate as quietly as possible. If the fan vibrates the walls or ducting, it will be less silent. In these cases, it's usually fairly straightforward to tighten things down and stop unwanted vibrations.
How Do I Setup the Quietest Inline Fan?
Check the Inline Fan for Problems
There are a few tricks you can use to quiet down a noisy fan.
Your first step, though, should be to make sure that there's nothing wrong with the fan itself. All fans have bearings inside the motors, and over time friction can wear at these parts, causing excess movement and noisy vibrations.
If the fan itself is loud, it's time to upgrade to a new, high-quality energy-efficient system with a duct booster.
Install Your Inline Fan for Quiet Operation
If you're sure that the fan is operating as quietly as possible, the next step is to make sure that your installation is sound. If the fan is allowed to vibrate, this noise will reverberate in the ducting and sound even louder.
Use Anti-Vibration Mounts
If your fan didn't come with them to start with, you could purchase anti-vibration mounts that absorb some of the sounds. They're little rubber feet that attach where you've mounted your fan.
Some people even hang their fans with a bungee cord to allow them to hang freely from the walls or ceilings. This way, the sound isn't transmitted into the building.
The final trick is to reduce the rate of the fan. It's noisiest operating at full power, so if you can reduce that even partially, you'll likely get a significantly more silent system.
If you need more air moved, consider upgrading to a larger fan that you can operate slower.
Add Soundproofing
Finally, if your inline fan is mounted in an attic space, look into soundproofing your ceiling to hide all of the HVAC noises, including sounds from your fan.
If your fan is mounted outside your room, you might also look into ways to soundproof your windows.
If you're off the grid and running your fan off a generator, knock the generator noise down slightly with these tips.
What is CFM, and How Do I Calculate It?
CFM-Cubic Feet Per Minute
CFM is a standard air flow rating used in fans and air moving machinery. It stands for cubic feet per minute and is a measurement of air volume that the fan can move in a minute.
The fan's speed, the duct size, and the blade design all affect its CFM rating.
In the real world, CFM is more variable. If you install an inline air filter, or your system pulls from a smaller duct into a larger one, your actual CFM may be lower. For that reason, it's always best to step up when you can.
For a little more information about what CFM means and how to calculate it, check out this article from About Air Compressors.
Figuring Out the Right CFM
Of course, to even start shopping for the right fan, you've got to figure out how much air you need to move.
You can calculate the volume of the room you are ventilating in cubic feet and then determine how often you want the fan to cycle the air.
How often you want to circulate the air depends on precisely what your application is. For example, in hydroponics or grow tents, you might want to increase air turnover to reduce the heat built up by grow lights.
If you have carbon filters installed in the ducting, you might want to find a fan with a higher CFM than needed to reduce the flow caused by the filter.
Temperature, duct size, and length also play an essential part in the CFM puzzle. The larger the ducts, the more air they can move. Smaller fans are always going to be more limited.
If you're lacking the right CFM you may want to consider using a duct booster.
Can I Use an Inline Fan for Intake or Exhaust?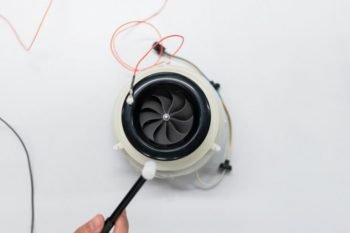 Inline fans can be set up to either exhaust air out of a room or intake it to add fresh air. They can also be used as a booster in existing HVAC ducting to help circulate the air faster.
Conclusion
Inline fans are handy items that can be used for an astounding number of purposes. While many are marketed towards gardeners and nursery owners, you can also use them in homes and various HVAC systems. Plus, they can make a good booster fan when you need more airflow from an existing system.
But no matter where you're putting it, you want to find the quietest inline fan you can get.