by Jennifer Porterfield
|
Last Updated:
January 12, 2022
As an Amazon Associate, I earn from qualifying purchases at no extra cost to you. Thank You for your support.
Having to put in long hours of study time is a globally felt thorn in the side. Finding motivation (and staying focused) is difficult enough, but almost impossible in a noisy environment.
It doesn't matter how many notebooks, textbooks, and study aids are laid out on your desk.
If you don't have silence, any study is doomed. Alas, finding a quiet space to study effectively is no easy task. We feel your pain. 
There's nothing worse than finally getting in the zone for serious cramming, only to be hampered by the neighbor's impromptu karaoke night.
Scrap that – there definitely is something worse. Realizing you need to block out background noise, buying earplugs, and finding they are about as useful as a soggy teabag.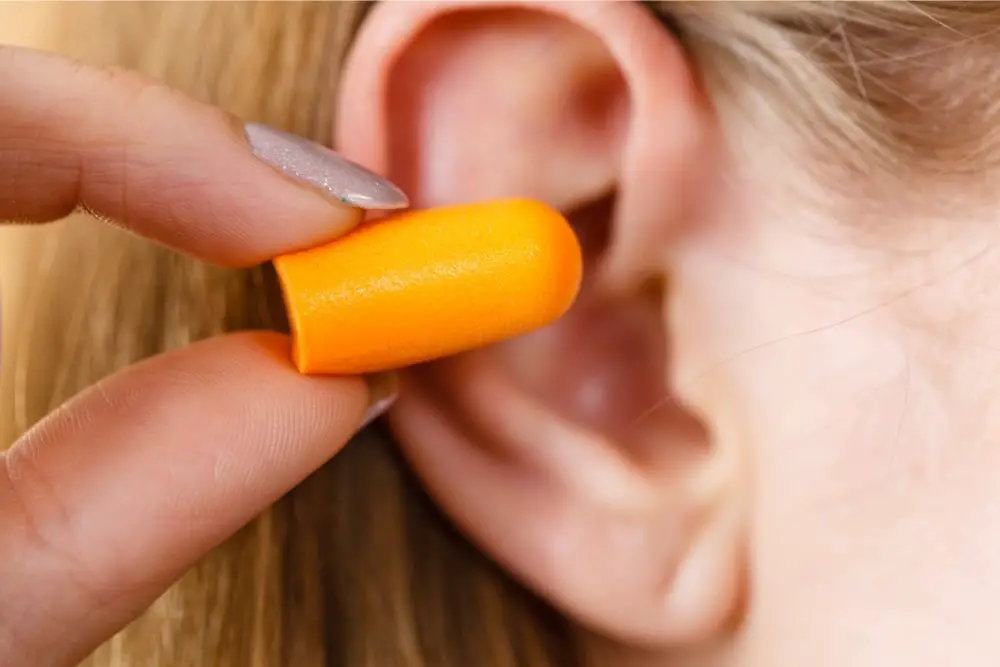 Of course, once distracted by decibel levels omitting in your house, the chances of applying yourself to an uninterrupted study have faded.
Instead, you have resigned yourself to spending the time trying to find funny memes on wasted opportunities and dismal prospects.
Luckily, this frequently felt and painful experience is totally avoidable.
There is an array of high-quality earplugs available that are specifically designed to ensure an ideal studying environment. However, there are 5 main boxes we need to tick on the path to earplug mecca.
These include achieving comfort for long periods, ear size, choosing the right materials, high-quality and ratings, and the ability to block out noise. Get these factors right and it can mean uninterrupted study sessions and exam success.
Get it wrong and studying (without losing it) may be impossible.
Don't panic. We have found some truly impressive, study-worthy earplugs that will exceed expectations. Read on to discover the 5 best earplugs for hitting the books, so you can reach your potential and hit your work goals (instead of your housemates). 
Noisy family members or neighbors will no longer be an issue. Phew! 
We have also included a buyer's guide, brimming with valuable information to help you find the perfect pair. 
Best Overall
ANBOW's Reusable Silicone Earplugs are hugely popular amongst students. Rave reviews reveal them as the highest-rated earplugs, by miles.
Firstly, ANBOW's Earplugs offer truly impressive noise cancellation and ear protection abilities. They deliver an NRR of 32. NRR stands for Noise Reduction Rating and the average level stands between 20 – 35 decibels.
NRR ensures your ears are properly protected from high-level noise. As you can see, ANBOW's level puts other earplugs to shame.
ANBOW's Silicone Earplugs are designed to thwart just about any noise. Whether you live near a construction site, suffer at the hands of endlessly noisy neighbors, or may be situated a tad too close to the local bar – these plugs will feel like a godsend.
Another important requirement is comfort. We want earplugs that are guaranteed to provide long-lasting comfort. When choosing for comfort, many people opt for foam earplugs – but their lack of durability means they are not eco-friendly for long-term use.
This is where ANBOW stands head and shoulders above the rest. Their earplugs are so comfortable you are likely to forget you are wearing them. Thankfully, they are waterproof too (which comes in handy when you have forgotten to remove them and jump in the shower).
Unlike most effective noise cancelers that cause pressure build-up, these plugs feel enjoyable to wear. 
The ANBOW Earplugs are all-singing, all-dancing. Ergonomically designed to fit perfectly, easy to set, and offering immediate effectiveness, you can be certain that all your attention will be focused on your work.
Now there can be no excuses for a lack of motivation!
Pros
Outstanding Noise Cancellation Ability – An NRR of 32, ensures noise isolation so good you'll wonder if you have gone deaf.
Safety Silicone Materials – Made from high-grade silicone material. BPA-free, washable, and reusable.
Ultra-Comfort – Made from ultra-soft material and ergonomically designed to ensure the most comfortable fit.
Widely Used – Suitable for almost any noisy situation, including concerts, construction sites, and flying.
Cons
Side-Sleepers – May cause discomfort for some side-sleepers (in the event of extreme peace causing you to fall asleep on your books).
Sale
ANBOW Soft Ear Plugs for Sleeping Noise Cancelling. Ear...
CONTROL EVERYDAY NOISE: Anbow silicone ear plugs for sleep can reduce noise, so you can hear the...
EAR PROTECTION FOR ALL ENVIRONMENTS: Suitable ear plugs for concerts, flying, work & travel, water...
ULTIMATE COMFORT: The flexible, soft design makes these earplugs for sleep ideal, especially for...
REUSABLE ECO-FRIENDLY EAR PLUGS: Unlike wax or foam ear plugs, these noise cancelling earbuds for...
Last update on 2023-08-28 / Affiliate links / Images from Amazon Product Advertising API
Best For Comfort
The main competition for the most popular ANBOW earplugs is some good quality foam products. Mack's Ultra Soft Foam Plugs has received high acclaim by hard-working students for their comfortable fit and noise cancelation benefits.
If you prefer the feel of foam, these are a favorite on campus. Created with low pressure, slow-release and Comfy Cush Comfort Foam make this product a real game-changer.
Furthermore, Mack's earplugs can stand up to ANBOW's noise-canceling credentials. Offering an NRR of 32 makes these an impressive foam alternative. Concentration has never been easier.
Pros
Ultra-Soft – Made with low pressure, slow-release, and Comfy Cush Comfort Foam.
Superior Noise Reduction – Created with an NRR of 32 decibels ensures total peace and quiet.
Trusted by Doctors – The #1 brand recommended by doctors.
Made in the USA – Proud to be made in the USA.
Cons
Not Washable – These foam earplugs are not washable. Once they are soiled, they must be discarded. 
Mack's Ultra Soft Foam Earplugs, 50 Pair - 33dB Highest NRR,...
ULTRA COMFORTABLE - Made with super low-pressure, slow release, Comfy Cush Comfort Foam. Their user...
ULTRA NOISE BLOCKERS – With a Noise Reduction Rating (NRR) of 33 decibels, these versatile, noise...
#1 BRAND FOR SNORING, SLEEPING AND TO PROTECT HEARING - Mack's is the #1 doctor recommended brand...
#1 BRAND USED BY DOCTORS - Mack's is the #1 brand of foam earplugs personally used by doctors....
Last update on 2023-08-28 / Affiliate links / Images from Amazon Product Advertising API
Best For Small Ears
Small ears are considered a blessing – except for when you need your earplugs to work! Thankfully, best-selling brand, Mack created these fabulous Dreamgirl Soft Foam Earplugs that are a must-have for anyone with small ears.
Designed to be 20% smaller than Mack's standard earplugs, they are favored by those with small ears or sensitive ear canals.
The Dreamgirl earplugs are a best-seller, due to the fact they perfectly fit smaller ears without losing the incredible benefits offered by standard sizes.
Mack's Dreamgirl Soft Foam Earplugs will make studying feel like a breeze They provide an impressive NRR of 30 decibels; thus, any potential noise obstructions are kept (quietly) at bay. 
Additionally, these earplugs are touted for their outstanding comforting abilities. They are molded for super-low pressure and created with skinned, tapered, slow-release foam.
The outcome is unrivaled comfort and hygiene. Better yet, these earplugs are specifically designed to be hollow and flared. This maximizes comfort – even for side sleepers!
This jar is designed to be safety-sealed and boasts a unique flip-open lid for efficient and safe dispensing.
Pros
Best-Seller for Small Ears – Designed to be 20% smaller than standard sizes. Ideal for small ears and sensitive ear canals.
Hearing Protection – Created with an NRR of 30 decibels. Ensures incredible noise reduction benefits.
Designed for Impressive Comfort – Mack's innovative hollow and flared design guarantees total user comfort and satisfaction. Molded for low pressure, it has a skinned, tapered, and slow-release foam. 
Doctor-Approved – Mack's earplugs are doctor-approved
Cons
Durability – They aren't ideal for long-term use.
Mack's Dreamgirl Soft Foam Earplugs, 10 Pair, Pink - Small...
SMALL EAR PLUGS - Designed about 20% smaller than Mack's standard-sized foam earplugs to provide...
HEARING PROTECTION - With a high Noise Reduction Rating (NRR) of 30 decibels, these noise blocking...
ULTIMATE COMFORT - Molded with super low-pressure, skinned and tapered, slow release foam, providing...
#1 BRAND FOR SNORING, SLEEPING AND TO PROTECT HEARING - Mack's is the #1 doctor recommended brand...
Last update on 2023-08-28 / Affiliate links / Images from Amazon Product Advertising API
Best For Noise Blocking (NRR)
Successful studying requires no background noise or distractions. If you want ultimate sound isolation, try the Honeywell Howard Leight Laser Lite Earplugs. Providing an NRR of 35 decibels, you will hear less than your 95-year-old great-gran.
They basically grant you the wish of totalsilence. You can wear them in class, surrounded by the noisiest family in the universe, or sat in a digger on a busy construction site, and it will feel like you're in a bubble of sweet silence.
The disposable foam earplugs are contoured for comfort, easy to insert and offer a slow-release.
Created from polyurethane foam means they can be fitted without any discomfort or pressure. Better yet, their brightly colored design will make them difficult to lose!
The only con this brand presents is that they are not reusable and therefore not a sustainable choice for long-term usage.
Pros
NRR of 35 Decibels – Optimal noise reduction abilities. Nothing can stop your study session!
Made from Polyurethane Foam – Enables ease of fitting and comfort.
Bright Colored Earplugs – You won't lose them.
Multitasking – These multitasking plugs deliver unrivaled noise protection wherever needed. A hero product for blocking out Friday night partying and hideous snoring!
Cons
Disposable – Not a sustainable option for long-term use.
Howard Leight by Honeywell Laser Lite High Visibility...
LASER LITE HI-VIS COLORS: Vibrant yellow & magenta color is highly visible from a distance to help...
EXCELLENT NOISE REDUCTION (NRR 32): Self-Adjusting foam earplugs expand in the ear upon insertion to...
IDEAL FOR SMALLER & LARGER EARS: Small size of earplug delivers optimal fit and ear protection for...
COMFORT & HYGIENE: Contoured T-shape allows for easy insertion and removal; Smooth, soil-resistant,...
Last update on 2023-08-28 / Affiliate links / Images from Amazon Product Advertising API
Best Custom Molded Earplugs
While custom molded earplugs are a great idea, often people are deterred in case the required shape is not achieved. Behold, Decibullz Custom Molded Earplugs. These are the only re-moldable earplugs around and are fast becoming a sensation.
Decibullz earplugs are foolproof and simple to use. Decibullz plugs are surprisingly hassle-free. Simply heat the thermoplastic molds in boiling water and leave them to cool enough to fit.
Next, place them in your ears and, voila. Don't worry if you don't get it right the first time – these little gems can be remolded. 
Decibullz Earplugs are a best-seller due to their next-level noise cancellation. The custom-molded earplugs shape around your ears as they cool, ensuring a perfect fit. Better yet, they can be reheated, remolded, and reused as and when required.
Long-term sustainability and silence.
These fabulous 'heat and shape' earplugs not only provide a precise fit, but they also guarantee a high NRR of 31 decibels. Given the number of 5-star reviews, these earplugs are spectacular.
Suitable for working through a weekend of study without fear of being disturbed. If a lack of quiet time is hampering your grades or promotion, and other products just don't quite fit, Decibullz may just be the answer.
Pros
Custom Molded – The only custom molded earplugs that can be reheated and remolded.  Ensures precise fitting and impeccable results.
Superior Noise Reduction – Decibullz features an NRR of 31 decibels. Expect outstanding noise reduction benefits and undisturbed reading.
Heat and Shape – Easy to use. Simply heat, insert, and shape. Reheat, remold, and reuse, as required.
Value – Each pack contains 2 Decibullz Thermoplastic Custom Molds, 3 sets of Triple Flange Tips, S, M, L, 1 set of Max Protect Medium Foam Tips, and 1 Earplug Carrying Pouch.
Cons
Extra Time Required – As these must be heated and shaped, a little extra time is needed to read through the instructions to get the desired results.
Decibullz - Custom Molded Earplugs, 31dB Highest NRR,...
CUSTOM MOLDED EARPLUGS: Easily and quickly fitted to the exact shape of your ear. This creates a...
EASY SHAPE SYSTEM: Simply heat the Decibullz thermoplastic molds in boiling water, let them cool for...
PERFECT FOR ANY SITUATION: Decibullz are perfect for shooting, traveling, working, loud concerts,...
INCLUDED WITH PURCHASE: Two Decibullz Thermoplastic Custom Molds, Three Sets of Triple Flange Tips...
Last update on 2023-08-28 / Affiliate links / Images from Amazon Product Advertising API
Buyer's Guide
Study time is sacred. It's geared towards an essay, exam, or project and once the time has gone, you can't get it back. For this reason, choosing the right earplugs for studying is vital.
The vast array of products available makes finding the best plugs for you a tad daunting. However, the following information will help you to find the perfect ones to aid you on the path to success.
Foam Vs Silicone
The main choice is whether you go for a foam earplug or a silicone pair. The only difference is that silicone earplugs are the eco-friendly option.
Foam earplugs are generally not reusable, and therefore not recommended for long-term use. Other than that, it really comes down to a matter of preference.
Noise-Blocking Abilities
Should you be in search of earplugs that exceed expectations in sound-proofing your ears. you need to look for a high-level NRR. As we have seen, both foam and silicone earplugs can deliver an industrial-strength type of noise protection. 
For students looking for total noise reduction, opt for an NRR of 32 – 35 decibels. On the other hand, if you still need to hear your classmates, parents, teacher, or doorbell, you may want a lesser NRR that blocks some but not all noise.
However, there is no point in buying high NRR earplugs to study if they are not comfy. After all, long periods of sitting at the desk necessitate earplugs that guarantee optimal comfort.
Comfort
The main issue is finding a long-lasting, comfortable fit. Choosing between foam and silicone earplugs is the biggest hurdle.
There are a few foam disposable earplugs that have received a jaw-dropping number of reviews for their excellent comforting capabilities. Fewer silicone plugs are given the student seal of approval. That said, the above-mentioned pair won the race for their exceptional cozy benefits.
Highest Quality and Recommendation
With such a huge selection of earplugs touted for being incredible study aids, there are a few things to consider. Firstly, they don't all do what they say on the tin. Always check the NRR level.
Next, read the endorsements and user reviews. Generally, doctor-approved plugs that come with thousands of fan-based comments are going to be a winner. Other than that, it is down to individual preference to seal the deal.
Noise-Canceling Headphones / Smart Earplugs
Noise-canceling headphones are a popular choice amongst many college goers, and it is true they can block up to an astounding 70 decibels of sound. So, what's the catch? 
The catch is a lack of complete silence. You can choose active or passive smart earplugs. The passive plays music and the active uses a sound. Although some say studying is easier with music, research shows it to be less effective than silence.
Active noise-cancelers have an in-built microphone that picks up unwanted sounds. Then the device plays another sound to drown it out. Evidence suggests this to be a sub-optimal study aid. 
Some hard-working students use foam earplugs and noise-cancelers (such as the Bose QC). This is highly recommended for achieving total silence, but students studying for longer periods may struggle with this option.
Custom Mold Earplugs
Custom mold earplugs are beginning to have their time in the sun. The ones worth the investment are the reheatable, re-moldable, and reusable ones. Fitting perfectly to your own ear shape to ensure comfort and long-term usage, make these an agreeable choice.
The only drawback is they aren't instant. A little time is needed to read and then follow the instructions. Also, some customers need a few attempts to achieve earplug perfection. 
Multi-Tasking
Most earplugs are multi-tasking.  If you need waterproof earplugs, opt for silicone over foam. 
The higher the NRR, the better the sound blocking benefits will be. Some earplugs come with a filter feature. This enables the user to choose the level of sound they wish to isolate. However, the capabilities of these earplugs don't usually surpass an NRR of 24.
Aesthetics
No one is going to wear earplugs that aren't aesthetically pleasing around the campus – even if they are the best earplugs for studying!
When looking at your buying options, make sure you choose a pair that is both high-quality and aesthetically pleasing, or they will just end up in the bottom drawer. 
Frequently Asked Questions
Do earplugs really work for studying?
Yes. Research shows that using high-quality and comfortable earplugs when studying greatly improves attention, concentration, and prolonged focus. Silence is golden.
Is it safe to wear earplugs all day?
Studies suggest that while it is safe to wear comfortable earplugs all day, taking short breaks from your studies and your earplugs is beneficial.
Do custom earplugs block more noise?
When fitted correctly, custom-molded earplugs block more noise than disposable foam plugs. Custom mold earplugs can block a staggering 35 decibels. This will cover you in almost any loud, disruptive situation.
What is the disadvantage of using canal caps?
Canal caps can be more expensive and don't offer a great NRR. 
Which are the best eco-friendly earplugs?
Earplugs that are made from durable silicone.
Why can't I just reuse my disposable foam earplugs?
Doing this can lead to ear infections and damage to the ear canal. 
Do earmuffs work as well as earplugs?
Yes, they can be very helpful for hearing protection. However, they can cause overheating if worn for long periods.