by Jennifer Porterfield
|
Last Updated:
January 12, 2022
As an Amazon Associate, I earn from qualifying purchases at no extra cost to you. Thank You for your support.
There's nothing better than a good night's sleep but with our often stressful and hectic lives, restful nights can be few and far between.
When you finally find yourself in the position to get a long and peaceful night, there are always external factors to consider that can put your sleep in jeopardy.
Loud neighbors are one of the worst offenders when it comes to ruining sleep.
We've all been in the position where we find ourselves blissfully falling into unconsciousness- about to rid ourselves of the stresses of the day- when suddenly we hear the argument from the couple above or the screams of the newborn living below.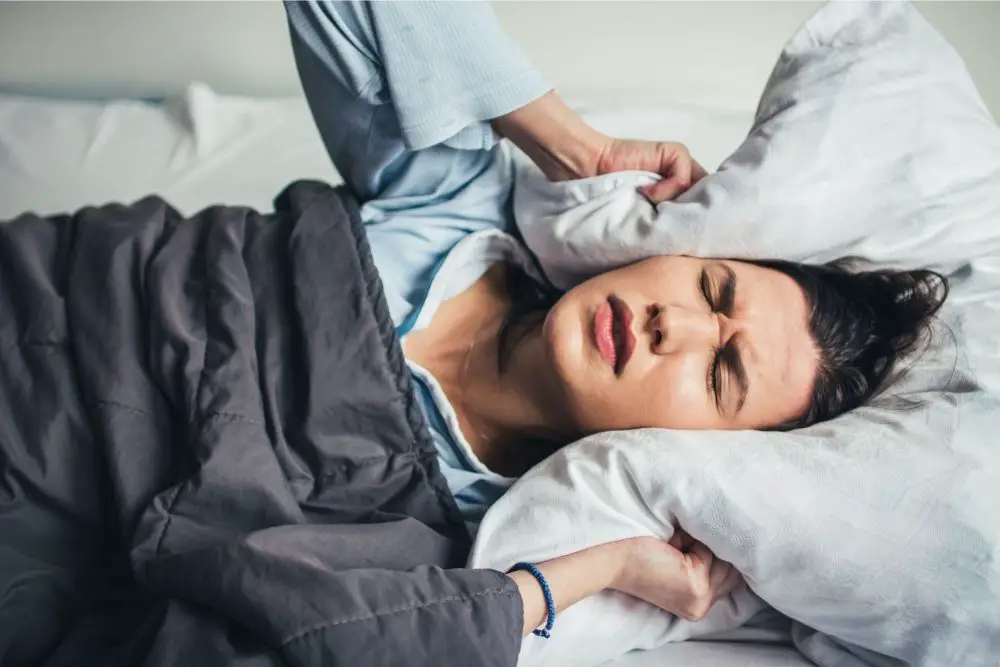 It's just life! It happens.But that doesn't mean that you have to merely accept your sleep deprivation.
Luckily, there are plenty of ways that you can help to improve your chances of a good and restful night's sleep.
White noise machines are a fantastic choice that can make all the difference but with so many options out there, it can be a little bit daunting when it comes to finding the right one to suit your specific needs.  
We're cutting out the middleman for you as we have put together a list of the best white noise machines that are on the market at the moment.
We also have a buyers guide for you that will go through some of the key elements to consider when picking out your white noise machine.  
The HoMedics White Noise Machine is a fantastic option if you're looking for something that can be placed almost anywhere thanks to its portable nature.
This particular white noise machine is well-sized- measuring at 6.5 by 6 by 2 inches- making it even easier to find the perfect placement for it.  
This choice of white noise machine has a great deal of variety when it comes to what you want to listen to to help you drift into sleep.
You have the option of six digitally recorded sounds: thunder, the ocean, rainfall, a brook, a summer night, and of course, white noise. Mix and match the available sounds to find the right one for you.
You get a choice with this machine when it comes to powering it up.
Plug it into a wall outlet with the included AC adapter or simply use four AA batteries (not included)  to bring it with you whilst on the go.
There is also a built-in automatic timer with the HoMedics White Noise machine with various settings that can be adjusted to your personal needs.
You can opt to have your chosen sounds play continuously or pick from three different auto-off time settings: 15 minutes, 30 minutes, and 60 minutes. Personalize the timer to your own specific needs to get the most out of this particular white noise machine.  
Pros
Portable: allows for personal use whilst on the go. Bring it with you whilst traveling or whilst staying with a friend or relative.  
Automatic Timer: choose your time settings and personalize them to your own needs.  
Six Natural Sounds: take your pick of six sounds- all with a natural theme-to allow for a deeper and more relaxing sleep. Try them all out to see which works best for you.  
Plug-In or Batteries: 4 AA batteries can be used to allow for use on the go whilst the AC adapter makes it perfectly functional for use with a regular wall outlet.  
Cons
Green Light: the machine has a small green light that remains on when it is powered up. It is hardly noticeable but it may be a bit of an inconvenience to those who are sensitive to any kind of light whilst trying to sleep.  
Volume Knob: the volume knob can be a bit fiddly at times, which could lead to some frustration whilst trying to adjust the sound level at night time.  
Sale
Homedics SoundSleep White Noise Sound Machine, Silver, Small...
White Noise Sound Machine: The Homedics White Noise Sound Machine includes 6 digitally recorded...
Compact and Portable: This portable sound machine is lightweight, compact, and easily fits into your...
Baby Sleep Aid: Add these rhythmic sounds to your baby's sleep routine to help them fall asleep...
Auto-Off Timer and Volume Controls: Choose to play relaxation sounds on this ambient sound machine...
Last update on 2023-11-14 / Affiliate links / Images from Amazon Product Advertising API
The Magicteam White Noise machine is another excellent option, particularly if you are looking for a bit more variety when it comes to the noises that you can choose from.
There are twenty options to be had here, including white noise, pink noise, rainfall, the ocean, birds, a bonfire, and much more! These sounds are non-looping, which is a more comfortable option for those sensitive to repetitive noise.  
As well as this plethora of noise options, there is also a great deal of choice when it comes to the volume level. Each sound has 32 levels, letting you choose exactly what volume you are most comfortable with..
An auto-timer built into the machine allows for a few different choices. You can either have a continuous play or a choice of automatic switch off at one hour, two hours, three hours, four hours, or five hours.
Whether you want the noise machine to be playing all night or you know your neighbors will be quieting down in a couple of hours, this machine lets you accommodate that!
The memory function of the Magicteam White Noise Machine is also a handy feature, automatically restoring your chosen settings in terms of sound, time, and volume.   
Pros
20 Sound Options:A huge variety of non-looping sound choices, including white noise as well as natural sounds like rain and fire.  
Portable: Take it anywhere thanks to the portability and the compact, travel-sized nature – measuring at 2.64 inches by 2.64 inches by 2.83 inches.  
Memory Function:Easily get your previous choices back thanks to the memory function tracking your sound, volume, and time settings.
Auto Timer:Choose from five different timers: continuous play or switch off after one hour, two hours, three hours, four hours or five hours.  
Cons
Only 5 timer options:Although these are a fair amount of options to have in terms of a timer, it may be that you need something a little longer than five hours but do not want continuous play. Unfortunately, this white noise machine does not accommodate that due to the five option limit.  
Sale
Magicteam Sound Machine White Noise Machine with 20 Non...
❤20 Non-Looping Sleep Sounds: White noise ,Brown noise, pink noise, blue noise, fan,brook, rain,...
❤Precise Volume & Timer Settings:With 32 Levels of Volume ,it is perfect for baby sleeping .And...
❤Unique Design: Solid-state design with 6.3 inch*4 inch *2.4 inch,it is portable for home, office...
❤Function & Safety:Memory function automatically restores your previous volume, sound and time,it...
Last update on 2023-11-14 / Affiliate links / Images from Amazon Product Advertising API
As the name suggests, the Marpac Dohm Classic White Noise Machine- from Yogasleep- is the original white noise machine that has been used and loved by millions of people since its release in 1962. This classical nature suggests a certain reliability.
After all, there is a reason that this model has been around for as long as it has!
This white noise machine is classical in style too, stepping away from the digital recording sounds in favor of the classic fan-based and entirely natural white noise with no looping.  
There are two settings when it comes to the speed of the fan but these settings allow for a wide variety when it comes to the tone and volume of the white noise that is created by the fan blades.
Use the switch and rotate the cap and collar to mix and match sounds and find the one that works best for you.  
There is no fuss and no muss with this traditional white noise machine. It is easy to use and well-sized for all kinds of spaces, measuring at 5.75 inches by 5.75 inches by 3.25 inches.
The simple 120V AC cord allows you to just plug it in, adjust the switch and cap and collar and you are good to go!  
Pros
Traditional:The good old-fashioned stylings of the Marpac Dohm Classic offers a feeling of reliability, trust, and stability. There has to be a reason that this white noise machine is still around after fifty years!
Simplicity is Key: The simple fan-based white noise could be just what is needed to defeat the noisiness of your neighbors!
Easy to Use: The simple and adjustable two speed settings offer less choice but provide easier accessibility. All you need to do is twist a button and flip a switch until you find the tone that suits you best.  
Colorful!:Available in four different colors to suit your personal tastes: white, black, camo gray, and pink and tan.  
Cons
Not Much Choice: The classical nature of this machine means that there isn't much choice in terms of sound. There is only a fan blade used to create white noise, meaning that there are no digital choices. The same goes for the volume, with only two speed settings offered.  
No Timer: This particular machine does not include a timer, which could be an issue if you only want it to run until a certain time.
Yogasleep Dohm Classic (White) The Original White Noise...
THE ORIGINAL WHITE NOISE SOUND MACHINE: Beloved by millions since 1962, the Dohm Classic model...
CUSTOMIZED SOUND EXPERIENCE: With two speed options for adjustable tone and volume, the Dohm Classic...
UNBEATABLE QUALITY & GUARANTEE: For over 60 years, YOGASLEEP has been the gold standard in white...
SIMPLE TO USE: Powered by an 7-foot 120V AC cord, simply plug in, flip the switch to high or low,...
Last update on 2023-11-15 / Affiliate links / Images from Amazon Product Advertising API
This white noise machine is another that offers six natural sounds to aid with sleep and help drown out those neighbors! These options are the classic white noise, rain, a brook, the ocean, thunder, and a summer night.
Despite what the name of the machine may suggest, there are no crowing roosters included!
The built-in timer allows for the option of an automatic switch-off at 15, 30, or 60 minutes gaps. You can also choose to keep the machine on for the entire night.  
The sound masking technology built into the Red Rooster allows for privacy too. Whether you are engaged in a private conversation, having an important business meeting or in need of some peace and quiet whilst you work or study, this is certainly a useful feature.  
This is another portable white noise machine, allowing for use no matter if you are at home, at work, on vacation, or traveling.  
Pros
Six Natural Sound Choices: Alongside white noise, the other sound options are all themed around the sounds of nature, which are sure to help create a calming atmosphere.  
Sound Masking:The sound masking feature allows for complete peace and quiet as well as privacy if you are in need of it.  
Auto-Timer:An auto timer is always a useful feature when it comes to a white noise machine and the Red Rooster auto-timer allows you to set up an auto switch off at 15, 30, or 60-minute intervals. You can also leave the machine on all night long should you so choose.  
Portable:To fight noisy neighbors even whilst out and about. Use it with three AA batteries (not included) or an AC adapter (included), whether you are at home or traveling.  
Cons
Light:The power light for the white noise machine does not turn off and so this could be frustrating for those wanting complete darkness during the night.
Sale
White Noise Generator, Rain Sound Machine for Sleeping, Baby...
6 SOOTHING SLEEP SOUNDS - The six white noise machine sounds include rain, brook, ocean (no...
MASK BACKGROUND NOISES - The white noise sound machine masks noise for improved sleep,...
OPTIONAL AUTO-OFF TIMER WHITE NOISE GENERATOR - Leave these soothing noise makers for sleeping all...
PLUG IN OR USE BATTERY FOR NOISE MAKERS FOR SLEEPING - This battery sound machine is powered by an...
Last update on 2023-11-14 / Affiliate links / Images from Amazon Product Advertising API
The LectroFan has twenty unique and distinctive sound choices within the realm of ambient noises, such as fan sounds as well as white, brown, and pink noise.
Ambient noises allow for total relaxation- often used in activities that require a calming atmosphere such as yoga- so this could be exactly what you need to block out your loud neighbors and remain calm whilst doing so.
The non-repeating nature of this sound is a helpful feature to those who might find looped ambient noise to be an irritating or disturbing interruption.  
Volume control can sometimes be a little tricky with white noise machines but the LectroFan offers precise and consistent volume control, allowing you to have total control over the sound level in whatever environment you choose to place the machine.  
A programmable sleep timer is built into the LectroFan, which allows the time to be set in one-hour intervals. Simply push the appropriate button once for the sound to switch off in an hour, press it twice for two hours, and so on.  
Pros
20 Unique Sounds:The variety of fan sounds and ambient noises is large enough to offer a range of choice.  
Non Looping:No repeating noises and no movement noise in the background to distract or disturb your peace.  
Volume:Full control over the volume, allowing you to fit it exactly to your environment and your personal choices.  
Timer:A timer that allows for automatic shut-off in one-hour intervals with a simple setup method.
 
Cons
No Natural Sounds:If you are a fan of natural environmental noises- such as rainfall or thunder- then you may be disappointed as this particular white noise machine does not offer this.  
Sale
LectroFan High Fidelity White Noise Machine with 20 Unique...
[After Sale Service] Buy our products with confidence as they are designed in the USA & backed by an...
[Masks Noise] Helps block out disruptive environmental noises. It can help improve sleep, focus,...
[20 Non-Looping Sounds] A total of 20 unique non-looping sounds. 10 fan sounds & 10 white noise...
[Safe] Safe, solid-state design is powered by AC or USB and dynamically creates unique,...
Last update on 2023-11-14 / Affiliate links / Images from Amazon Product Advertising API
Buyers Guide
So, there you have a handy rundown of some of the most popular white noise machines that are available right now but which is the right one for you?
There are various features to consider when thinking about which white noise machine would be right for you personally, so let's have a look at some of the key features to consider before purchasing.  
Sound
It is vital to do your research when it comes to exactly what sound the white noise machine offers. White noise is a given but some also offer nature sounds such as rain or thunder.
Some more traditional white noise machines only have fan sounds available, so decide on what it is that you exactly need to drown out those neighbors before you buy!
It's also important to check if the sound within the machine works on a loop basis, as looping sound can be jarring to some and might not be the best option for you.  
Portability
If you plan on taking your white noise machine with you whilst out and about- such as on vacation or visiting relatives- then it is essential that you get a portable one so ensure that your chosen machine is able to offer this.
Some can take batteries as well as corded plugs, which can be useful if traveling.
Volume
Volume control varies from machine to machine so depending on your situation, do your research into the volume control of the white noise machine that you want. The last thing you want is to still be able to hear your bickering neighbors with the volume too low.
On the other hand, you don't want to be stuck with a painfully loud machine that keeps you awake more often than it helps you to sleep.  
Customizable
White noise machines with a wide variety of choices and settings allow for more personalization, so make sure to check what machines offer what in terms of customization before you make a purchase.
Alternatively, you may want to go for a more straightforward option with one or two simple settings. The choice is truly yours.  
Easy Access
Lots of buttons and switches may not be to everybody's tastes as it can easily confuse things and render a product almost unusable if it becomes stuck in a certain setting that you struggle to change.
Have a look through the "how-to" sections before you buy a white noise machine to ensure that it will be easy and simple for you to access.  
Frequently Asked Questions
Do White Noise Machines Work? 
Just like every kind of method intended to help sleep or block out noise, not everything is going to work for everyone. It might take a few tries to find the machine that works best for you.
Once you do – however- they are easily able to block out unwanted noise in an unobtrusive manner as well as promote better sleep. Studies have suggested that white noise machines are able to help people- adults, babies and young children- get to sleep more quickly.
As long as you do your research before you buy, you are sure to find the right white noise machine to eliminate neighbour noises and aid with sleep.