by Jennifer Porterfield
|
Last Updated:
January 12, 2022
As an Amazon Associate, I earn from qualifying purchases at no extra cost to you. Thank You for your support.
Nobody likes cleaning, and if you do, can we take some of that dedication, please? From quickly vacuuming every floor in the house to getting on our hands and knees to clean the bathroom – who needs a workout at the gym?
The trusty vacuum is a wonderful tool. All you have to do is take it around each room and it sucks up all the debris that has found its way onto our flooring in the past couple of days. However, it can also be our worst enemy. Its loud noise from the dark depths of the motor has had the neighbors complaining it is too loud.
The joys of living in an apartment block, right?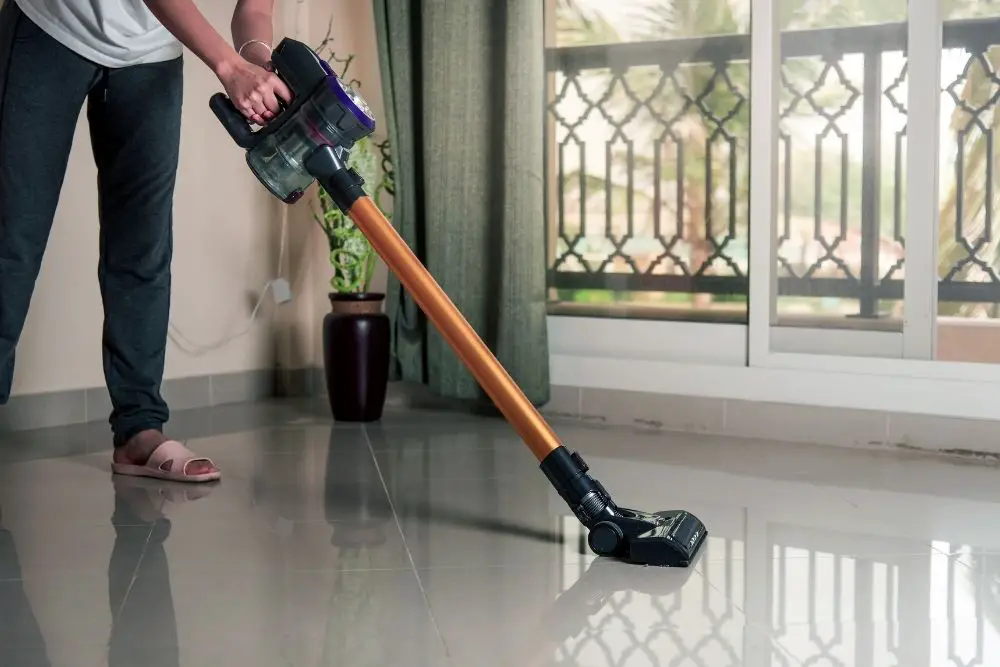 Even though you might detest the thought of using the vacuum every time it comes to using it, we have the answer – a quiet vacuum! Not only will the motor humm a lot less loudly, but the neighbors will not have anything to complain about.
So sit back, relax and check out our top five quiet vacuum cleaners. Also, we have added a handy buyer's guide so you can take a look at the key areas for when purchasing a quiet vacuum.
When it comes to convenience, the Tineco is a good option due to its design. It is lightweight and easy to use – it definitely will not take up much space.
The cordless vacuum has a 40 minute run time, just enough to use in every room without running out of battery. It also includes a four stage and fully-sealed cyclonic and filtration system that can trap 99.7% of debris particles, some as tiny as 0.3 microns.
This is also done by its 130w suction power, meaning you will be done with the vacuuming in no time.
It comes with a hard floor brush and a carpet brush, both specializing in their area to make cleaning faster and easier. The multi-tasker brush can effectively pick up debris and hair, whilst the soft-roller brush is a little more tough on dirt but safe on hard flooring.
Both of these brushes have an LED light so you can see what you are doing in the dark corners of the room, such as under a bed or behind furniture.
Interestingly, the vacuum uses an iLoop Smart Sensor which can detect debris and bits of dirt, automatically adjusting the vacuum to provide extra efficiency. You can also download the Tineco app to monitor how well you cleaned, receive a cleaning report and set reminders.
It could be a good way to stay on top of cleaning, or maybe you just kinda enjoy that sort of thing?
It is not the quietest however at 72dB, but it is on the lower end and will have a quieter motor than the one you are using now.
Pros
Smart function – an app is available to keep you up-to-date on cleaning reports
4 stage filtration system – for a deep clean and great for allergies
Cordless – no wire to hold you back
130w suction power – a good amount of suction to clean those rooms quickly
Handheld – has the option to turn it into a handheld vacuum cleaner
Cons
72dB – not the quietest, but certainly on the lower end of the spectrum
Tineco Pure ONE S11 Tango Smart Cordless Stick Vacuum...
LONG RUNTIME – Up to 40 minutes run time in a detachable battery, thanks to iLoop smart power...
SMART TECHNOLOGY – Innovative iLoop Smart Sensor technology detects hidden dirt and debris,...
TWO POWER BRUSHES – Pure One S11 Tango comes with two powerful floor brushes, one for hard floors,...
BETTER CLEANING EXPERIENCE – Fully-sealed, 4-stage filtration and cyclonic system trap 99.97% of...
Last update on 2023-09-07 / Affiliate links / Images from Amazon Product Advertising API
If you just want a general vacuum that you need for a couple of rooms, then the PrettyCare vacuum is it. Weighing only three pounds, it is a convenient vacuum that is a fantastic space saver – it really will not take up much room, especially in a tiny apartment.
It is, however, only suitable for a hardwood floor, so if you need both or just a carpet vacuum, then skip ahead!
A vacuum that is great for pet hair, hard to remove dirt and cat litter, the PrettyCare has been designed to remove anything that may come across as a little more difficult to budge. Using a powerful dual suction system, it can get rid of even the most deep embedded dirt it comes across.
The two speeds can be easily switched, with the general setting lasting 35 minutes on one charge, and 20 minutes on the faster speed. Whereas this might not seem like a lot, it is a decent amount of time to whizz around the hard floors. Plus, you will not be using the faster speed consistently, only for short bursts.
It has an in-built four stage filtration system. These include a hepa filtration, cyclone filtration, sponge filtration and a cylinder filtration. This is good for keeping unwanted debris particles at bay, which is handy if you have allergies.
The vacuum heads have an LED light in order for you to see in darker spaces, plus they can swivel 180 degrees sideways and 90 degrees up and down so you can maneuver it around furniture.
Pros
Swivel head – to get to hard to reach places
Four stage filtration – great if you have allergies
Suitable for pet hair – a good option of you have any pets
Multi-functional – can be changed to a handheld
Cons
35 minute run time – less than the Tineco
Hardwood flooring only – may limit options for some people
Last update on 2023-09-07 / Affiliate links / Images from Amazon Product Advertising API
If you do not care whether the vacuum is corded or not, then the Sanitaire is a great option. Yes, it does need to be plugged in, but we have been plugging vacuums in for years without any trouble – so if you do not mind it, then read on!
The vacuum itself is lightweight despite its design, but it is a little more old fashioned and you will need to drag 'the body' of the vacuum around with you, and this can be a little more difficult on stairs. Even so, it has a multi-functional head that can be used on both the carpet and hardwood flooring. In fact, it states it can be used on any above-floor areas.
At 14.4 pounds, it actually still may seem a little heavy, so do keep this in mind if you cannot carry anything unless it is lightweight – like super lightweight.
It comes with a two-piece metal wand, and this includes a bare floor tool, an 11" combination carpet tool, an upholstery tool, and a crevice tool  for harder to reach places.
At 68dB, it is the quietest vacuum in this list yet. Despite it being corded and a little more old school, it really is a great vacuum if you are after something that you can whizz around the home and not disturb other people too much.
Lastly, it also includes a large disposable bag, so it is great if you will be collecting a lot of debris and do not want to keep emptying it out halfway through a clean.
Pros
68dB – a good quieter motor
Extra tools – to vacuum with for more cleaning power
Multi-cleaning – can vacuum on any surface
Cons
Corded – has to be plugged in
14.4 pounds – heavier than cordless vacuums
Sale
Sanitaire SC3700A Quiet Clean Canister Vacuum, Red/Black,...
Complete any job with versatile tools to clean hard surfaces, carpet, furniture and any above-floor...
Two-piece metal wand includes 11" combination carpet & bare floor tool, crevice tool and...
High hat designed canister with large capacity 3.88 qt. disposable bag.
Quiet operation at just 68 dBA for do-not-disturb cleaning.
Last update on 2023-09-07 / Affiliate links / Images from Amazon Product Advertising API
This powerful 400w vacuum is a cordless dream. With its high suction rate, it can last 45 minutes on one charge which is more than enough for the majority of people. Because of the brushless motor, it actually enhances the vacuum's ability, making it extra powerful.
It can also detect the size of the debris and it will automatically change the rate of the motor to accommodate whether it needs an extra powerful suction or not. It does this with its two smart sensors which detects the size of the dirt, giving the floor a deeper clean where it needs it most.
You can turn the vacuum into a handheld for easier cleaning, also there are different brush heads to target different debris. These include the sofa brush and the gap brush, the latter being useful for narrow areas.
At 66dB it has a quiet motor and would be a great option for those who want powerful and quieter.
Pros
66dB – a quieter motor than should not disturb the neighbors
Multifunctional – can be put into handheld mode with different brush heads
Cordless – easier to maneuver around
400w – powerful on debris
Cons
45 Minutes run time – might not be suitable for a big house
Last update on 2023-09-07 / Affiliate links / Images from Amazon Product Advertising API
The Wowgo prides itself on being a quiet vacuum with its 68dB motor. It is indeed quieter than the standard vacuum, so would be a good option if you do not want to wake up the baby and finally have time to clean. It also only weighs 2.1kg making it a light option.
This cordless vacuum is powerful at 160w. Okay, it is not 400w like the Canouya, but it does a pretty good job at cleaning debris from both the carpet and hard flooring, making it a great multi-functional option.
Its four stages of filtration can pick up even the smallest of dirt at 0.1 microns. It cleans the air, which is great for allergy sufferers, and in turn can effectively deter secondary pollution. Also, you can easily clean the HEPA filter under a tap meaning it will last even longer.
The head includes an LED light so you can see where you are vacuuming in low light. Also, the two in one Triple Turbine motorized brush can swivel at 180 degrees meaning you can easily clean around furniture. It includes a crevice nozzle for hard to reach places.
The battery has a shorter life of 20 minutes to 40 minutes which is from a four to five hour charge. It will be a good choice for a quick vacuum, though it will still give you the in-depth clean you are after due to being able to last 40 minutes.
Pros
Four stage filtration – helps to avoid secondary pollution
68dB – a really quiet motor
Different heads – for extra cleaning ability
Cons
20-40 minute cleaning time – shorter than some but still enough to vacuum a full home
WOWGO Cordless Vacuum Cleaner, 160W Powerful Suction Stick...
【Powerful Suction and Removeable Battery】Powerful 160W motor provides ultra-quiet strong...
【4 Stages Full Sealed Filtration System】Fully sealed filtration system separate clean air and...
【Flexible Motorized Brush with LED Light】2 in 1 Triple Turbine Motorized Brush is swivel 180...
【Low Noise Design and Light Weight】ultra-quiet operation sound avoids annoying noise, friendly...
Last update on 2023-09-07 / Affiliate links / Images from Amazon Product Advertising API
Buyer's Guide
Now that you have checked out our top five quiet vacuum cleaners, here is the buyer's guide that we promised. You will find the key areas to look at before purchasing a quiet vacuum.
Decibel Rating
When it comes to a quiet vacuum, the first thing you want to look at is the decibel rating. The lower it is, the quieter it will be. Most of these vacuums tend to be in the 60s, so it is unlikely you will find anything lower than a sixty something decibel vacuum.
A typical standard vacuum will be around the 75 to 85dB mark, so aim to look for something lower than that. Some can be as low as 64dB, and that is pretty quiet!
Watts
A vacuum has a different wattage per model, and this usually refers to the suction power of a vacuum. Most are really good at what they do, so a lower number does not necessarily mean it is terrible at its job.
Whilst some may have a really high wattage, you do not need to go terribly high and think that it is a super vacuum. You really only need a high watt vacuum if what you want to clean is super difficult to remove.
Sometimes a vacuum may have two different suction abilities. The lower suction will be the standard rate of vacuum, whilst the higher watt will be when you press a button and the motor works extra hard to pick up debris.
The second setting usually sucks out the battery's juice quicker, so it is worth noting that just because the vacuum has a higher suction rate does not mean it is better.
In fact, a higher watt number is even better to be used on a carpet where dirt gets tangled. On a hard floor, a vacuum can usually take up debris pretty easily.
If you do want more power, then corded is the way to go. Due to it being plugged to the mains, it naturally will have extra power without the need for different suction speeds.
Weight
The weight of a vacuum can vary, with handhelds being the lightest option out there. Usually they weigh below 2kg making them a fantastic choice for those who are unable to carry heavy objects, or who want something light to move around the house with.
A corded vacuum can be the exact opposite. Normally it has a bigger waste area which over time adds weight, but also they are naturally more powerful and hold a lot of weight just generally.
A cordless vacuum has been designed to hold as little weight as possible, from the battery to the waste cylinder – it needs to be portable. So, if you need something that can be carried easily throughout the home, including on a set of stairs where vacuuming can be tricky, then cordless is the way to go.
Accessories
Most vacuums come with a set of extra brush heads. This is because not only do we want to vacuum a carpet, we also might need to vacuum pet hairs, material, hard floors and hard to reach places.
A brush head for example is a lot softer than a standard vacuum head. The brush allows for suction on a sofa without dragging the material into the vacuum making it impossible to clean.
This is a great option if you have a dog or a cat, for example. The hairs get everywhere and this gives you an easy way to clean them on soft material.
Also, the crevice tool is extra handy. Vacuuming is not just about the floor surface – there are corners too and difficult to reach areas behind furniture. Having the option means you are not limited to where you can vacuum in the home.
So, a vacuum with extra head options is always a bonus because it means you can give the home a thorough clean, easily and fast.
Frequently Asked Questions
Do Silent Vacuums Exist?
Ultra silent vacuums do not exist – yet. However, there are vacuums available on the market that have a noise rating around 64dB, and that is low.
What Makes A Vacuum Quiet?
When it comes to your vacuum, you will want to make sure that the motor stays healthy and clean. Cleaning out the filters will help with this.
Even if you have bought a quiet vacuum, you still need to keep the motor in tip-top condition, so make sure you clean the filter. The last thing you want is the vacuum to start making a loud noise if you are trying not to disturb the neighbors or a sleeping partner.
What Is A Good Noise Level When It Comes To A Vacuum Cleaner?
If you are looking for a general vacuum cleaner and do not care too much about the noise, then aim for around 75dB and 85dB. These are the noise levels vacuums tend to fall into.
For a quieter vacuum, aim for less than 70dB.
Do Vacuum Cleaners Need To Be Loud?
Absolutely not. In fact, vacuum cleaners are intentionally loud because that is what consumers are used to, with brands making them loud in order to make the vacuum sound the most effective.
So, basically people think a loud vacuum is doing its job better. Odd, right?