by Jennifer Porterfield
|
Last Updated:
February 13, 2023
As an Amazon Associate, I earn from qualifying purchases at no extra cost to you. Thank You for your support.
In the busy rush of modern life, finding a nice quiet space can often be very difficult. This is especially true for anyone who wants to record audio in the comfort of their home.
Whether it's for a song, youtube video, or online stream, you are going to want your recordings to sound clean and professional.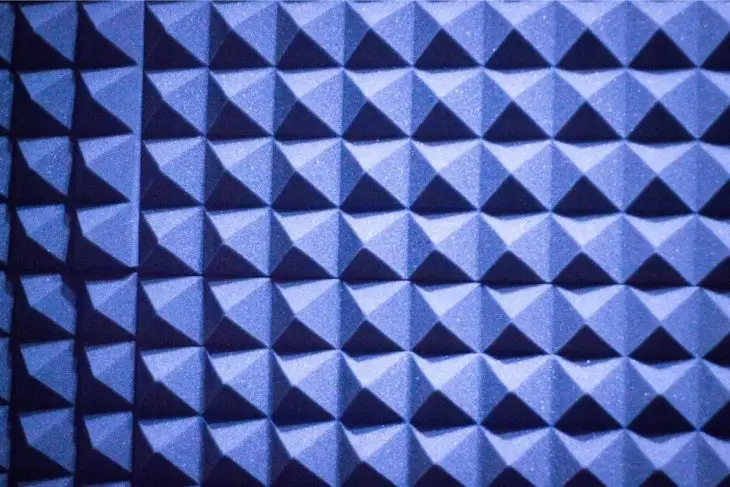 Many rooms are filled with hard surfaces, such as walls, shelves, and other pieces of furniture, all of which will reflect soundwaves possibly creating multiple types of audio interference that will ruin your recordings.
Perhaps you live in a flat or sharehouse and need to be considerate of disturbing your neighbors while you are recording. Lining your room with soundproof panels will not only reduce the amount of noise coming out of your recording space, but they will also help massively with getting better sound quality when recording 
Soundproof panels are normally made of high-density foam but come in a wide variety of textures, sizes, and shapes. Some tiles will work better for soundproofing small areas such as corridors or cabinets, while others will be better suited for recording studios and larger spaces.
This list includes a few of the best soundproof panels on the market as well as a helpful guide on how to choose the right paneling for your home studio.
Product prices and availability are accurate as of the date/time indicated and are subject to change. Any price and availability information displayed on [relevant Amazon Site(s), as applicable] at the time of purchase will apply to the purchase of this product.
Prices pulled from the Amazon Product Advertising API on:
Best Sound Proof Panels Reviews
1. ATS Acoustic Panel
Most soundproof paneling is made from high-density foam, making it lightweight, easy to install, and reasonably good at absorbing sound.
One problem with foam panels is that they are very good at canceling out high to mid frequencies, but not as effective with low frequencies. Furthermore, foam is mainly used for removing interference and making a room better to record in. Reducing how much sound comes in and out of a room will require more heavy-duty solutions.
This ATS acoustic panel is made from mineral wool covered by a fine burlap weave stretched over a wooden frame. While these large 48" by 24inch sections are substantially more expensive than foam, they are also much better at reducing noise.
If you have the space and time to install them, these panels boast an NCR ( Noise Reduction Coefficient) of 1.0 meaning they will absorb 100% of sound from a room. It is worth remembering that these panels have wooden frames and cannot be cut up like foam tiles. That said they are one of the best solutions for those looking for nose reduction rather than noise absorption.
Pros
Durable – These panels have sturdy wooden frames and will not deteriorate like their cheaper foam counterparts.
NCR of 1.0- With their mineral wool insulation, ATS panels can absorb 100% of sound from a room.
Removes low frequencies as well as high and mid– the sections will absorb all frequencies of sound evenly.
Cons
Expensive- While worth the money, each panel is sold individually and may not be suitable for those building a studio on a budget.
Less versatile than foam- Although these sections have many benefits over foam they cannot be cut up or trimmed to size.
ATS Acoustics Panel 24x48x2 Inches, Beveled Edge, in Ivory
Provides clearer, more enjoyable sound by effectively controlling unwanted reverb and echo.
Superior sound absorption: NRC 1.0 out of 1.
Attractive, textured fabric complements studios, auditoriums, and living spaces.
Built to last with a solid wood internal frame that protects edges and corners from dents and...
Last update on 2023-09-23 / Affiliate links / Images from Amazon Product Advertising API
2. Auralex Acoustics SonoFlat Acoustic Absorption Foam
It isn't only musicians and streamers who can benefit from soundproof panels. If you have a very noisy fridge or air-conditioning unit, even just one or two tiles stuck to the wall behind can make a huge difference.
These SonoFlat Acoustic panels from Auralex are flat and untextured, making them perfect for lining corridors or cabinets that contain noisy household appliances. This pack provides 14 tiles that are 2 inches thick and 12" by 12 inches in size. The high-density, open-celled foam is great at absorbing sound and can be easily trimmed to fit any space.
Not only will these panels reduce reverb and interference in your studio, but they also look very professional and will make a stylish background if you are recording videos as well as audio.
One of the biggest benefits of the Sonoflat tiles is their durability. The company promises sturdy panels that will not deteriorate as fast as those made from cheaper foam. They are also tested to be fireproof as well as soundproof.
Pros
Flat, untextured tiles – Not only do they look professional, but they are also suitable for lining tight spaces where textured tiles would not fit.
Durable – These 2-inch thick tiles are less likely to deteriorate over time.
Tested to meet UL 94 HF-1 flammability standards: These panels are flame resistant which will help make your recording space safer in case of emergencies.
Cons
Only 14 tiles per pack: You may need to buy multiple packs if you plan on covering a larger room.
Last update on 2023-09-23 / Affiliate links / Images from Amazon Product Advertising API
3. Foamily Acoustic Foam Egg Crate Panel
Many soundproofing panels come in standard sizes that can then be trimmed as necessary with scissors or a sharp bread knife. This pack of Foam egg tiles from Foamily only contains 4 panels but each one is 4ft tall by 2ft wide and 2.5 inches thick.
While this may be too large for some, these egg-crate textured panels are great for covering larger rooms and recording booths. Due to their thickness and undulating surface, these panels offer very high NCR meaning they will be very effective at absorbing sound coming from both inside and outside the room.
These tiles can be made even more effective at reducing noise if you drape a cloth over them. This pack arrives rolled up which may cause some deformity in shape however, this is perfectly normal and the panels will likely flatten out after a few hours of use.
Pros
4ft tall by 2ft wide –  These panels are 4ft tall by 2ft wide, meaning they can be used to cover especially large walls or cut up to provide any size you need.
Extra Thick – 2.5 inches of egg crate patterned foam to provide excellent noise reduction for sounds both within and outside of the room.
Affordable – These tiles are relatively inexpensive compared to other brands.
Cons
Deformity upon unpacking – When they arrive the panels may be slightly deformed due to how they are packed.
Harder to cut – Due to their extra thickness these tiles may be more difficult to trim with scissors but can still be cut to size with a sharp bread knife.
Foamily Acoustic Foam Egg Crate Panel - Studio Foam - Sound...
Reduce Unwanted Noise: Foamily Acoustic Foam is a high-quality acoustic solution for soundproofing...
Long Lasting, High Quality: Made from high-quality foam, this panel is durable, lightweight, and...
Ideal for Targeted Acoustic Treatment: These soundproofing foam panels are great for spot treatment...
Universally Compatible: This acoustic studio foam panel has universal compatibility and is mountable...
Last update on 2023-09-23 / Affiliate links / Images from Amazon Product Advertising API
4. Pro Studio Acoustics Acoustic Wedge Foam Absorption Sound Proofing Tiles
Black or grey tiles have the advantage of looking very professional and will fit well with most walls that they are placed on. However, that doesn't mean you can't get creative with your soundproofing, as many panels are sold in a variety of different colors, including these Pro Studio Acoustic tiles that come in alternating blue and charcoal.
Not only do these 12" by 12-inch wedge-shaped panels greatly reduce echoes and reverb, but they are also perfect for providing a nice background if you are recording videos in your studio. They are 2 inches thick and have an NCR of 0.68, meaning they will absorb 68% of the sound in your room.
These panels are fire-resistant and arrive uncompressed, meaning they will not be deformed or squashed during transit. As soon as they arrive they are ready to go up on your wall.
Pros
Panels come in two different colors – Great for decoration as well as noise reduction, Suitable for those recording videos or live-streaming from their studio.
NCR value of 0.68 – These panels will absorb over half the sound generated in your room as well as reducing echoes and reverb.
They arrive uncompressed: Tiles are ready to be put up straight out of the package, with no compression to ensure that the product does not arrive deformed or misshapen.
Cons
The foam may lose its color after a few weeks – Exposure to sunlight may cause the blue color to fade over time.
Pro Studio Acoustics - Blue/Charcoal - 12"x12"x2" Acoustic...
PREMIUM QUALITY ACOUSTIC STUDIO FOAM - Each piece of foam comes uncompressed and in pristine...
GREAT FOR SPOT TREATING YOUR LISTENING ENVIRONMENT - For use in recording studios, control rooms,...
PACKAGE IS NOT COMPRESSED!!! - Unlike other brands, this foam will not be warped or damaged from...
CONTROL YOUR ROOM'S ACOUSTICS - Reduces standing waves and flutter echoes in small to medium sized...
Last update on 2023-09-23 / Affiliate links / Images from Amazon Product Advertising API
5. TroyStudio Acoustic Studio Absorption Foam Panel
Many soundproof panels come with special textures to increase their NCR, this can include wedges, egg crate patterns, or the unique design offered by TroyStudio's Acoustic Studio Absorption Tiles.
The specialized grooves on these tiles are designed to increase their NCR and make them even better at cutting out all frequency ranges. These panels are perfect for musicians and especially singers who will find them very effective at removing echoes and standing waves caused by sounds reflecting between opposite walls.
Sold in packs of six with dimensions of 12" x 12inches, these panels provide a cheap and affordable way of turning any space into a studio. The shape of these tiles makes them very good for sticking to flat walls but less suitable for placing in the corners of a room for use as bass traps (which eliminate reverb caused by sound waves bouncing into corners).
Pros
Periodic Groove Structure – These tiles come with a unique texture designed to eliminate reverb and standing waves (a low-frequency form of interference caused by sound bouncing off opposite walls).
High NCR –  Due to their specialized structure, these tiles have a Noise Reduction Coefficient of 0.75, meaning they will absorb roughly 75% percent of sound coming from a room.
Easy to trim –  Since the grooves alternate in thickness, trimming these panels to fit any size of the wall is very easy.
Affordable –  These tiles are a great choice for musicians and bedroom recorders working on a budget.
Cons
Soaking required – The tiles may arrive compressed or deformed requiring them to be soaked in water to restore their original shape.
Not Suitable For Bass Traps – Due to their shape, these panels are more suitable for flat walls and difficult to fit into corners for acting as bass traps.
TroyStudio Thick Acoustic Foam Panels, 12 X 12 X 2 Inches 6...
【SPECIFICATIONS】: Size - 12 X 12 X 2 inches, pack of 6; Coverage - 6 square feet; Weight - 0.12...
【EXCEPTIONAL REVERB & NOISE REDUCTION】: Crafted with premium open cell foam and unique groove...
【FLAME RETARDANT & ECO-FRIENDLY】: Our sound proof foam wall panels are flame retardant...
【VERSATILE APPLICATION】: Our sound dampening foam panels are perfect for a wide range of...
Last update on 2023-09-23 / Affiliate links / Images from Amazon Product Advertising API
6. Auralex Acoustics D36-DST Roominator Acoustic Absorption Treatment Room Kit
Most soundproofing kits come with enough panels to cover selected walls and corners in a room, and for many people, this will be enough. If you want to properly cover your room, you may need to buy multiple packs of panels. That said the Auralex Roominator kit has enough foam to cover 36 square feet of wall.
This foam comes in charcoal grey or burgundy and even includes adhesive strips to help attach it to your wall. Due to the right-angle wedges, it is easy to place these tiles flush with any corner meaning they can make great bass traps with minimal cutting.
These panels work best at removing mid to high-end frequencies but aren't as effective at removing low frequencies which can often be more important when recording.
Pros
Cover 36 square feet of the wall – This kit includes 36 tiles in total, with two different varieties, making them perfect for soundproofing a small recording booth.
Available in different colors – Great for decoration and making your studio look professional as well as noise reduction.
Adhesive strips are provided –  for ease of installation.
Cons
Won't remove low-end frequencies – While these tiles are great for removing mid to high frequencies, they are less effective at canceling out the lower ones.
Last update on 2023-09-23 / Affiliate links / Images from Amazon Product Advertising API
Best Sound Proof Panels Buying Guide
Buying soundproof panels for your studio doesn't have to be difficult. Even if you're working on a budget and can't afford proper bass traps for the corners of your room, many tiles sets are easy to cut with scissors to fit any space or gap you need.
That said there are a few factors worth taking into consideration when looking for the right way to soundproof your room.
What Are the Soundproof Panels For?
As well as music rooms and recording studios, soundproof panels can be used in a number of different situations, from blocking out your noisy neighbors to insulating a cabinet so you can't hear your dishwasher rattling whenever you turn it on.
Certain panels will be better than others for specific jobs. For instance flat, untextured panels are less effective at improving a room's acoustics but are perfect for lining corridors and cabinets because they are generally much thinner.
On the other hand, tiles with wedges or egg crate patterns are great for covering walls and filling in corners to stop soundwaves bouncing around your room, which is what leads to interference such as echoes, reverb, and occasionally feedback.
Always Look at the Thickness and NCR Value
Two ways to reliably judge soundproofing materials are by their thickness and their NCR. It goes without saying that thicker foam will be much better at absorbing sounds. The NCR rating stands for the Noise Reduction Coefficient.
This is a number between 0 and 1 that represents the percentage of sound that a given material will absorb. Ideally, you want to be looking for panels with an NCR above 0.5 as these will remove over half of the noise you make in your room.
FAQs (Frequently Asked Questions)
How does sound proofing work? 
What soundproof panels will do is cover hard surfaces such as walls and corners. Doing this prevents sound waves from reflecting off these surfaces which is what causes audio interference. Soundproof panels will improve the acoustics of your studio but they will not make it impossible for any noise to enter or leave the room. 
Where should I put my panels? 
To make your room a better recording studio it is important to put panels on the walls directly behind and opposite your speakers. This will help reduce interference and feedback by absorbing the soundwave rather than reflecting it. You don't need to cover the whole wall, only where the sound will be hitting. To find out where this is you can run a mirror along the wall until a friend can see the speaker reflected in it.
Does the texture make a difference?
Generally speaking, texture foam will work better than flat because it provides more bumps to stop the sound waves from properly reflecting off its surface. Other than aesthetics, there is not much difference between wedges, pyramids, or egg cartons. That said, some musicians achieve great results using a combination of different panels. You can also cover egg-carton textured tiles with a piece of cloth to make them much better at reducing noise.