by Jennifer Porterfield
|
Last Updated:
January 12, 2022
As an Amazon Associate, I earn from qualifying purchases at no extra cost to you. Thank You for your support.
To help you enjoy a clean, relaxing room, opt for a quiet ceiling fan. One that keeps working effortlessly and doesn't keep you up.
We all deserve to relax in a calm, soothing environment. Whether this is chilling out in the living room after a hard day or looking forward to a good night's sleep.
While you can always shift your position, ensuring that the temperature is just right can be tricky. That's where a ceiling fan can be an important investment to your wellbeing.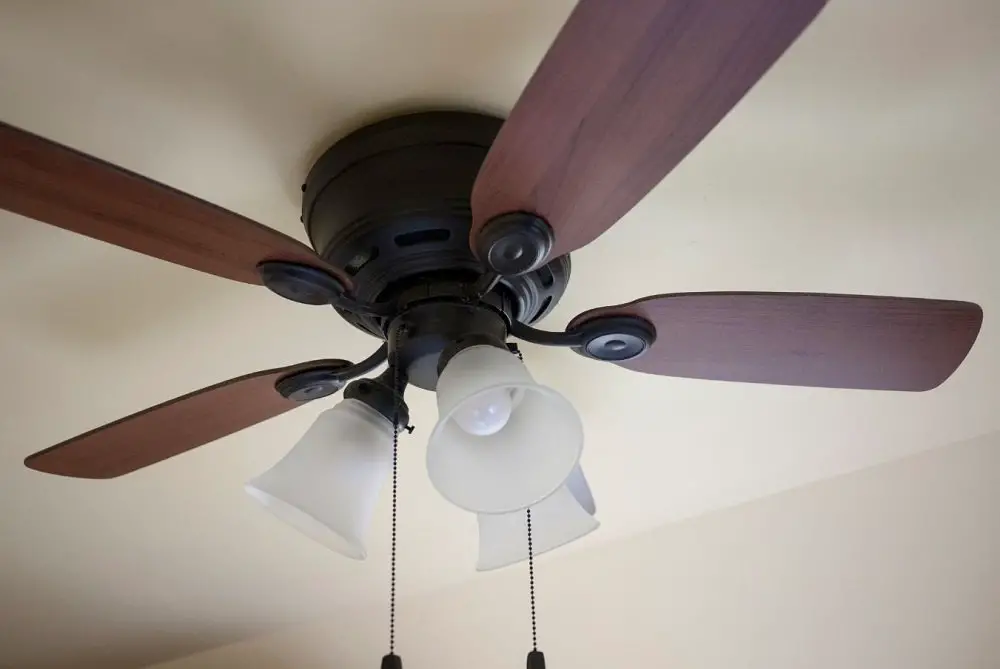 The last thing you want is a ceiling fan that actively prevents you from enjoying the room. That incessant whirring, grinding, and clicking means that just as you become comfortable you're up to turn it off. Loud ceiling fans can get annoying really quickly.
You will want a ceiling fan that works effortlessly. A ceiling fan that keeps you fresh and doesn't make you get up. One which gives you optimum rest without you even noticing it's there. Essentially you want a quiet ceiling fan that allows you to stay cool in the heat of summer and cozy in winter.
With so many features to choose from, we've rounded up the best quiet ceiling fans so your rest is assured. We have also compiled a buyer's guide so you know what to look out for.
Best For Low Ceilings
If you have a room with a ceiling below nine feet in height then the Hunter Conroy Low Profile Ceiling Fan is ideal. Whether for a living room, an adult, or a child's bedroom, the chic and modern design looks great and fits close to the ceiling.
The fan also comes with fully dimmable, energy-efficient LED light bulbs that can add to the atmosphere of your room. Even the light itself is covered in swirled marble glass for an inspired design.
The reverse rotation fan blades mean that not only will the fan blades keep you cool in summer but warm and cozy in winter too. This control can also change the direction in summer and winter and adjust the speed.
The WhisperWind motor can be relied upon for quiet performance with ultra-powerful airflow. For ease of use, the fan can also be activated by a pull chain. The Conroy fan comes with a 13° fan blade pitch which is optimized for peak performance and ideal air movement.
Pros
Multi-Speed Reversible Fan Motor – Powerful airflow and an effortless performance
Pull Chain Control – The speed can be adjusted and the fan turned on or off via the pull chains
Low Profile – Ideal for low-ceilinged rooms
Contemporary Appearance – Swirled marble glass creates a modern, sleek look
Easy to Install – The instructions include easy to follow steps for wiring the fan and the light bulbs separately
Cons
LED Light Bulbs – For some larger rooms, the LED light bulbs may provide an insufficient amount of light on their own
Hunter Fan Company, 51023, 42 inch Conroy Onyx Bengal Low...
MODERN CEILING FAN: The contemporary Conroy fan comes with LED light covered by swirled marble glass...
MULTI-SPEED REVERSIBLE FAN MOTOR: Whisper Wind motor delivers ultra-powerful airflow with quiet...
LED BOWL LIGHT KIT: Energy-efficient dimmable LED light bulbs let you control the lighting and...
PULL CHAIN CONTROL: Turn the ceiling fan on/off and adjust the speed quickly and easily with the...
Last update on 2023-08-29 / Affiliate links / Images from Amazon Product Advertising API
Best For Farmhouse Design
With many homes opting for a homespun decor, the Prominence Bolivar Chrome Contemporary Rustic Ceiling Fan is in demand.
A sleek barn wood finish on the fan blades makes this ceiling fan ideal for a room stacked with modern farmhouse furniture. As you'd expect, the motor is conveniently quiet and offers three speeds.
Whether installed in the living room, bedroom, or common area, the 52" fan blade diameter should suit an area up to 400 square feet.
The fan includes an integrated and lightly frosted globe light. Two powerful A15 bulbs come with it on an E26 bulb base and amount to 800 lumens and 8.5 watts keeping your space illuminated.
A dual mount design also means that you can set this up with the standard mount or even on the most awkward of angled ceilings. This should suit a room ranging from 12 ft x 12 ft up to 20 ft by 20 ft. For ease of mind, there is also a limited lifetime warranty.
Pros
Barn Wood Color Design – Contemporary design for a modern home
Dual Mount – Can be hung with its standard mount (4" downrod included) or on an angled ceiling
Quiet Three Speed Motor – Easy to control the temperature of your living space
52" Fan Blade Diameter – With a big reach this should suit an area up to 400 square feet
Lifetime Warranty – For complete satisfaction, this comes with a lifetime warranty
Cons
Tricky Installation – A few more nuts and screws mean it may take more time to install
Prominence Home Bolivar, 52 Inch Modern LED Ceiling Fan with...
Keep Cool With The Correct Ceiling Fan Size — For ultimate performance, choose the right fan size...
Modern Blades to Suit Your Home — Blades in various colors bring a modern look to your chic...
Dual-Mount Hanging Options — A multi-position fan with 2 hanging options; Standard option offers a...
Crafted With High-Quality Material — The high-capacity motor delivers powerful airflow & quiet...
Last update on 2023-08-29 / Affiliate links / Images from Amazon Product Advertising API
Best For Mounting Options
Sometimes you just need that extra option. That's where the Honeywell Bonterra Ceiling Fan comes in. It's gratifying that a lot of ceiling fans come equipped to be mounted on angled ceilings.
However, most come included with a downrod which gives you a short gap between the fan and the ceiling itself. This ceiling fan can also cut out the gap with a close mount giving you a bit of extra room for those decidedly low ceilings.
There are three speed settings, as well as the light settings, which can be controlled by remote control. The Honeywell Bonterra itself has a matte black finish.
Five dual-finish fan blades come with a sleek dual finish giving the room a modern style while keeping it comfortable. Ideal if you want to retain the sleek look your home deserves. The contemporary design also means that the beam angle is 360°, offering maximum illumination and 450 lumens to light up your living space.
Pros
Triple Mount – Can be installed on angled ceilings, using the 4" downrod or a close mount
Vintage Edison LED Light – Classic look but also dimmable to just 20%
360° Beam Angle – Maximum illumination around the full circumference of the three Edison Screw 26/B10 bulbs which offers a substantial 450 lumens
Cons
Angle Mount Sold Separately – An angle bracket is not included and needs to be bought separately to mount the fan on an angled ceiling.
Sale
Honeywell Ceiling Fans Bonterra, 52 Inch Contemporary Indoor...
Keep Cool With The Correct Ceiling Fan Size — For ultimate performance, choose the best ceiling...
Modern Blades to Suit Your Home — These blades bring a chic look to your natural, Rustic-style...
Dual-Mount Hanging Options — A multi-position fan with 2 hanging options; Standard option offers a...
Crafted With High-Quality Material — The high-capacity motor delivers powerful airflow & quiet...
Last update on 2023-08-29 / Affiliate links / Images from Amazon Product Advertising API
Best For Beautiful Lampshades
As well as offering a relaxing atmosphere, a quiet ceiling fan can also add some style to your living space. If you're looking for a ceiling fan that wants to be noticed then take a look at the SILJOY Tiffany Style Ceiling Fan.
The stained glass lampshade is simply a divine, classic look. This ceiling fan isn't just to keep your living space comfortable, the fandelier would make a charming addition to any room.
A dimmable 32-watt LED panel also comes with adjustable brightness settings and a light color temperature range.
There are six fan speeds to choose from and even a timing function. A pure copper motor also means that the fan is both effortless and energy-efficient.
The fan blades are retractable meaning you could simply look at it as an adjustable light feature that also keeps the air circulating. The four acrylic fan blades are curved in design which brings a welcome character to your ceiling.
As well as a sleek design, there is also the steady construction of a load-bearing bell base.
Pros
Stained Glass Lampshade – The eye-catching Tiffany Style design adds a rustic charm
Light Settings – Includes warm white, sunlight, and cold white for versatility
Retractable Fan Blades – The blades can stretch out to 36" in diameter or retract to just 16"
Two Downrods – The 5" and 10" downrods offers more leeway depending on the height of your ceiling
Remote control – The six speeds and color temperature can be easily adjusted by remote control
Cons
Proprietary LED Lights – You'd have to contact SILJOY should the lights need replacing
Siljoy Tiffany Style Ceiling Fan Remote & APP Control...
📱 【APP CONTROL & 3 LIGHT COLORS】: Classical ceiling fan have individual fan/light can be...
🌟 【6 WIND SPEEDS & 4 TIMING】: Tiffany ceiling fan light with 3-speed (low/medium/high)...
💡 【RETRACTABLE & REVERSIBLE FAN】: Retractable ceiling fan has 2 rotation modes of turning...
🏠【DIMENSIONS & WIDE APPLICATION】: Tiffany ceiling fan retractable blades extend diameter:...
Last update on 2023-08-29 / Affiliate links / Images from Amazon Product Advertising API
Best For Light Kit
Some homes simply cry out for those unique traditional designs of yore. For light bulbs that means going back to the start, back to Thomas Edison.
Of course, an ultra-powerful airflow should be expected with quiet performance. Yet the Hykolity Bronze Ceiling Fan also features three E12 Edison four-watt LED bulbs for that distinctly unique look.
You'd imagine that Edison himself would also approve of the pull chain control and reversible motor. Ah yes, that pull chain control which can turn the fan on or off and even adjust the speed.
You can change the direction of the blades; from downdraft in summer to updraft in winter.
He'd also probably quite like the traditional dark wood finish of the fan blades. The fan blades are also reversible and come in weathered oak and dark oak finishes.
There are also mounting options; the standard downrod, 15° rotation angle mount, or close mount. If you're looking for an efficient ceiling fan with a classic look then this is the one for you.
Pros
Long-Lasting Light Kit – Energy efficient Edison LED bulbs for a traditional look with a long lifespan
Pull Chain Control – The fan speed can be controlled by the pull of a chain or even turned off
Reversible Fan Motor – Keep the warm air distributed in winter and keep the room cool in summer
Pull Chain Control – The fan speeds and turning the fan or and off can be controlled by pull chain
Traditional Dark Wood Design – Ideal if you desire a fairly inconspicuous design to complement your decor
Cons
Slight Noise – The highest speed setting may emit a minimal whirring sound
hykolity 52 Inch Indoor Oiled Bronze Ceiling Fan with Remote...
INDUSTRIAL CEILING FAN: Blends rustic and industrial styling for a distinctive appearance. Enhance...
REMOTE CONTROL: Dimmable Light Function. This fan can be mounted with a downrod (standard),...
LED LIGHT KIT: Its modern form with clean lines and the updated, traditional light fixture provides...
MULTI-SPEED REVERSIBLE FAN MOTOR: This motor delivers ultra-powerful airflow with quiet performance;...
Last update on 2023-08-29 / Affiliate links / Images from Amazon Product Advertising API
Best For Making A Statement
The 60″ Casa Province LED Brush Nickel Outdoor Ceiling Fan is noticeably sleek in design. Those fan blades and the motor are dictated by clean lines and the integrated light comes with opal frosted glass.
This ceiling fan is ideal for spaces with a lot of room such is the reach from the fan blade diameter.
There are three fan speeds, each can be altered via remote control. Two 9 watt LED bulbs also mean an impressive 800 lumens. The Casa Province Ceiling Fan can also be set outdoors on porches as it's damp rated.
While it has been UL listed for damp locations it is not suitable for humid climates with possible exposure to saltwater. With that fan blade diameter and that powerful lightning, this ceiling fan is making a statement.
Pros
Sleek Design – Clean lines and a brushed nickel finish motor
Huge Fan Blade Diameter – With a 60" fan blade diameter and 13.5° blade pitch this is ideal for larger rooms
UL Listed – The ceiling fan is damp-rated so ideal for outdoors as well as kitchens and bathrooms or any room with large sources of water.
Cons
Non-Dimmable Lights – Two 9 watt LED bulbs cannot be dimmed
Casa Vieja 60" Province Modern Indoor Outdoor Ceiling Fan...
60" blade span. 13.5-degree blade pitch. 188 x 25 mm motor size. Canopy is 5" wide. Sloped ceiling...
Light comes with two 9 watt LED bulbs (non-dimmable), comparable to a 60 watt incandescent. 800...
Brushed nickel finish motor. Five silver finish blades with UV protective coating. Opal frosted...
Casa Province outdoor fan. UL listed for damp locations. Not suitable for locations in humid...
Last update on 2023-08-29 / Affiliate links / Images from Amazon Product Advertising API
Buyers' Guide
Mounting Designs
There are several mounting options depending on how you want to install the ceiling fan. A downrod means that the ceiling fan will hang by a standard length, usually around 5" or 10".
A close mount (also known as a flush mount) is when a ceiling fan is mounted directly to the ceiling with no gap. Finally, there's the angled mount which is for ceilings featuring a slope so that the fan itself hangs straight.
Adjustable Settings
Most ceiling fans come with a light and the dimness can be altered accordingly. The fan blade speed can also be changed.
Finally, the direction of the fan blades can be reversed, downdraft in summer to keep a room cool and updraft in winter to keep warm air circulating. These settings can be controlled by remote control, pull chain, or wall switch.
Size
Ceiling fans are usually measured by the diameter of the fan blades. Of course, some ceiling fans feature retractable blades yet the bigger the diameter the more reach for the blades. This can range from 36" to 60".
Retractable Fan Blades
For a tidier look, opt for retractable fan blades. Some models feature these so that the blades automatically retract inside when the ceiling fan is off. This means for a more aesthetic feature if just the fan light remains on.
Remote or Pull Chain Control
There are usually two options for controlling the speed of the blades as well as turning the fan on and off. A remote control is ideal for the bedroom as you can adjust the settings without having to get up.
For the more traditional approach, a pull chain would work well in the living room.
Frequently Asked Questions
What makes a ceiling fan quiet?
Like any mechanism, a slick motor and well engineered parts are key. Smaller, more energy-efficient motors are operated that maintain enough power to move the blades yet do not make enough noise themselves.
Positioning is also important, as long as the fan is far enough from the walls the pushing of the air should go unnoticed.
Ceiling fans are designed for maximum efficiency and quiet operation. Most are suited for the bedroom as fans need to be operated with next to no noise being heard.
Why should I get a quiet ceiling fan?
A quiet ceiling fan is a great alternative to air conditioning. As well as keeping your living space comfortable and cozy, there are also distinctive design features. From the lampshade to the retractable fan blades and the light bulbs, a ceiling fan can make a sound investment.
Such designs are now available that suit and even complement the contemporary design of a modern home. An efficient ceiling fan aids the air circulation making rooms less stuffy and the room increasingly pleasant.
Why is my ceiling fan noisy?
There could be several reasons why your ceiling fan is noisy when operated. Top of the list is poor assembly. Should the fan be installed correctly, all those screws and parts should fit neatly together.
A well operated fan should be a slick machine where everything is fitted and securely tightened. With a continually operating motor, any loosely fitted parts may rattle or cause the fan itself to vibrate.
Like any motor, after a given amount of time, there is the need for maintenance. Any accumulated dust on a fan blade can cause trouble for the motor itself.
Simply cleaning the blades and wiping the motor down should keep it in good condition. Additionally, you could also oil the engine a couple of times a year to prevent squeaking.
A humming noise can be created due to a vibrating motor or poor mounting. The sound of clicking can be attributed to loose screws. Even the air can contribute noise if the fan is simply too big for the room.
Ideally, the edges of the fans should be positioned at least two feet away from the walls. Should you hear a grinding noise this may be time to call in an engineer before there are bigger problems.
Misaligned blades can also occur over time. This is rare on ceiling fans yet if any blade fails to fall in line then it can create a clicking sound which will become irritating.