by Jennifer Porterfield
|
Last Updated:
February 20, 2023
As an Amazon Associate, I earn from qualifying purchases at no extra cost to you. Thank You for your support.
Some people want their car to stand out so that everyone knows they're coming up the road. Some prefer to replace their muffler with something loud and prominent so there can be no mistaking whose car is whose. Others, however, want the opposite.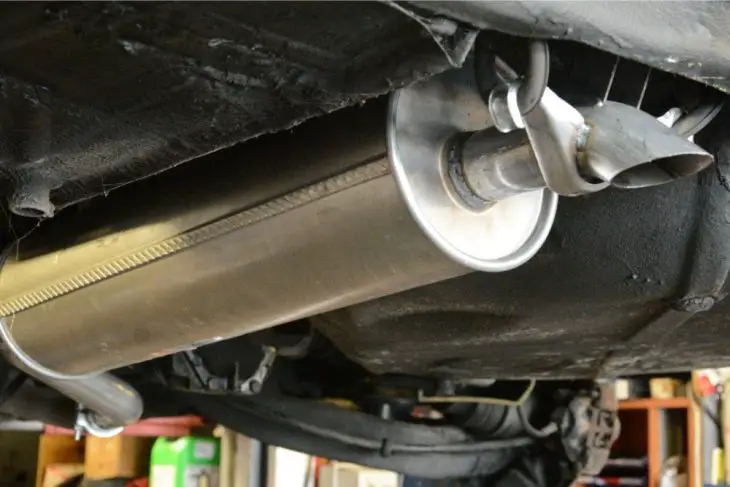 Most cars come with pretty decent mufflers that do a good job of dampening the sound that a car's exhaust makes. However, if you find that your vehicle is still just too loud for your liking, then you need more than a simple muffler. What you really need is a resonator.
What Is A Resonator?
Some cars come pre-built with a resonator, and some do not. Whilst a muffler works by dampening the noise that comes through it, a resonator actually prevents unwanted resonances and droning noises that naturally come from a car's exhaust.
This allows you to comfortably listen to music without cracking it all the way up to drown out the noise of a particularly noisy exhaust, which is nice for you as well as the other motorists and pedestrians around you.
Not only do resonators support the muffler in dampening the sound coming out of your car, but they also enhance the performance of the engine by minimizing the friction generated within.
They also allow you to drive more smoothly as they reduce the back pressure on the engine by working with the catalytic converter in the exhaust system.
Overall, whilst resonators don't do anything to reduce your carbon emissions, you can be confident that you'll be creating a whole lot less noise if you find yourself a high-quality resonator for your car.
Vibrant Ultra Quiet Resonator
Speaking of high-quality resonators, you can certainly do a lot worse than Vibrant's Ultra Quiet Resonator. Vibrant Performance is one of the most famous exhaust resonator companies in the industry.
This international company has a great reputation for creating and delivering some of the best-selling and best-performing vibration controlling components ever since it was established in 1985.
It helps that every single one of the products that the company sells comes with a warranty and parts that have been quality assured. Sure, you pay a premium for the products, but you can be assured that you absolutely get what you paid for.
When looking for a resonator, you need to consider a few different elements. These include the material, size, and appearance. With that in mind, let's delve into how the Vibrant Ultra Quiet Resonator stands up to each different aspect.
Material
The Ultra Quiet Resonator is made out of stainless steel. This durable material ensures that the resonator is resistant to both corrosion and rust, meaning that it will continue to work for a long time – and with some occasional polishing will look as good as new for years to come. 
Stainless steel can also withstand particularly high temperatures, which makes it perfect even for heavy-duty engines like vans.
Overall this material is well-suited for the duties of a resonator and is said to weld easily into the car – which is something that you can do yourself if you're confident or experienced, or you ask a mechanic to sort out for you. 
Size
Available in a variety of different inlet/outlet sizes, you can be confident that you'll be able to find a model that can be attached to your car. As for the resonator itself, Vibrant makes use of a particularly large sound absorption chamber which suppresses sound better than other typical bottle-style resonators
This particular model comes in with a body width of 6.5" x 4.45", and a length of 9.75". Whilst this seems quite big, you can be certain that the extra space is being used to efficiently muffle the noise being produced by your car and exhaust. The bigger the absorption chamber, the more effective the resonator can be.
Also featured within the absorption chamber is Vibrant's 'True Straight Through' perforated core, surrounded by premium multi-layer sound absorbing materials. This core is very good at absorbing noise from low drones to loud obnoxious rumbles and everything in between.
Specs:
Body Width: 6.5″ x 4.75″
Body Length: 9.75″
Overall Length: 13.75″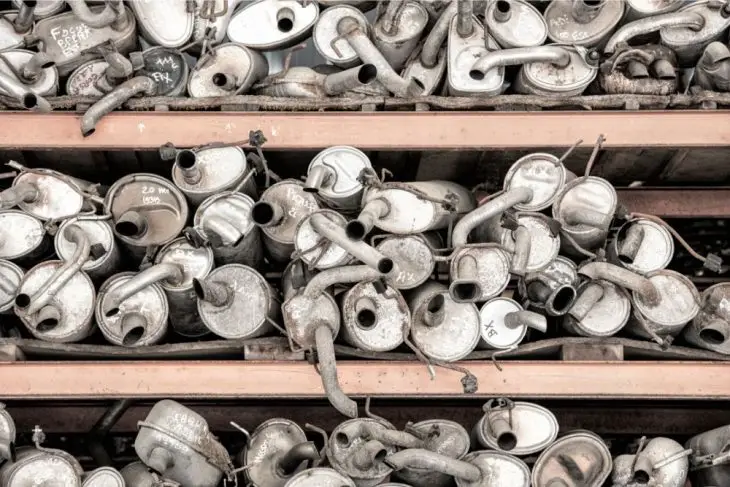 Appearance
As mentioned before, the Vibrant Ultra Quiet resonator is made out of stainless steel, giving it a sleek, premium appearance. This means that if you choose to install the resonator in full show at the back of your car, you can be confident that you can drive in style.
Its solid cylindrical shape makes this resonator totally sturdy and durable, something that many reviews have commented on. They mention that after installing the product, not only did it work incredibly well, but it was also clear that it would be able to withstand the elements.
Overall Review
With all this in mind, it is easy to see why Vibrant has been a top-seller for many years. Their superior build and high-quality materials give their products an edge not only when it comes to their effectiveness, but their durability and style as well.
These are the reasons why most of their products come with a higher price tag but is also why people are willing to pay it – they truly are worth the premium price.
Buying something cheaper, when you have the budget for more increases the chance of needing to spend that money again in a year, or even a couple of months, especially if you have a higher-duty car or van.
The Vibrant Ultra Quiet Resonator is a fantastic choice when it comes to finding the perfect addition to your vehicle, and so if it's within your budget, then you may mind that this product really resonates with you (I had to get that in somewhere).
Things To Keep In Mind
Whilst shopping around for a resonator, it's important to keep some of these important things in mind, so you don't end up doing any damage to your car, and so that you find the right product for you.
Know Your Vehicle's Inlet/Outlet Size
Just like with any product, knowing what size you're going to need to begin with is going to be extremely helpful.
If you can, find out what size your car's exhaust or muffler inlets and outlets are before you start searching around – the last thing you want is to buy a product then be forced to faff around sending it back because you picked up the wrong size.
Get The Right Advice
Some people might advise you to just use a pipe instead of an exhaust resonator, however, this is going to seriously affect the backpressure (something a resonator actually reduces) and decrease the efficiency of your engine, causing higher fuel consumption.
A Muffler Is Not A Resonator
Although it may seem as though they do similar things, they are actually completely different parts of a car. A resonator is installed before a muffler in the exhaust and is sometimes even known as a 'pre-muffler'. The two products might work well together, but that cannot be substituted for one another.
Frequently Asked Questions
How Long Does An Exhaust Resonator Typically Last?
As with anything the answer depends on the product that you buy. Typically the more you spend on something, the longer it lasts, and resonators are no exception to this rule.
A cheaper resonator is going to break down more quickly or rust over time, where as a high-quality resonator (like the Vibrant UQ, for example) should last for many years.
What Can Affect The Quality Of An Exhaust Resonator?
Due the nature of these products being attached to the exhaust of a car and potentially close to the ground, resonators can be affected by dirt, debris, potholes etc. Some models will also be affected by the severe vibrations that resonators are subjected to.
Though, again, this will be an issue for lower-end products more than it will for high-end products.
How Do I Install An Exhaust Resonator?
This depends on the model you purchase. Some resonators come with ports that can be easily added you your exhaust, but some need to be welded in place.
If you happen to have the equipment and experience, this is something that you will be able to achieve at home, though most will need to seek professional help or advice from a mechanic.
Just keep in mind that if you want or need to go to a mechanic that you will have to factor in paying for labour when deciding on what your budget is going to be.