by Jennifer Porterfield
|
Last Updated:
January 12, 2022
As an Amazon Associate, I earn from qualifying purchases at no extra cost to you. Thank You for your support.
An air purifier should work effortlessly. Powerful enough to clean the air yet sufficiently quiet to let you rest.
If you're spending the majority of your time indoors, you want to ensure that the air you breathe is as pure as possible. Upgrading or installing an air conditioning system is likely going to be a costly endeavor.
Simply opening a window isn't going to solve the issue, especially if you live in a busy suburban area. Plus, the temperature indoors would fluctuate too.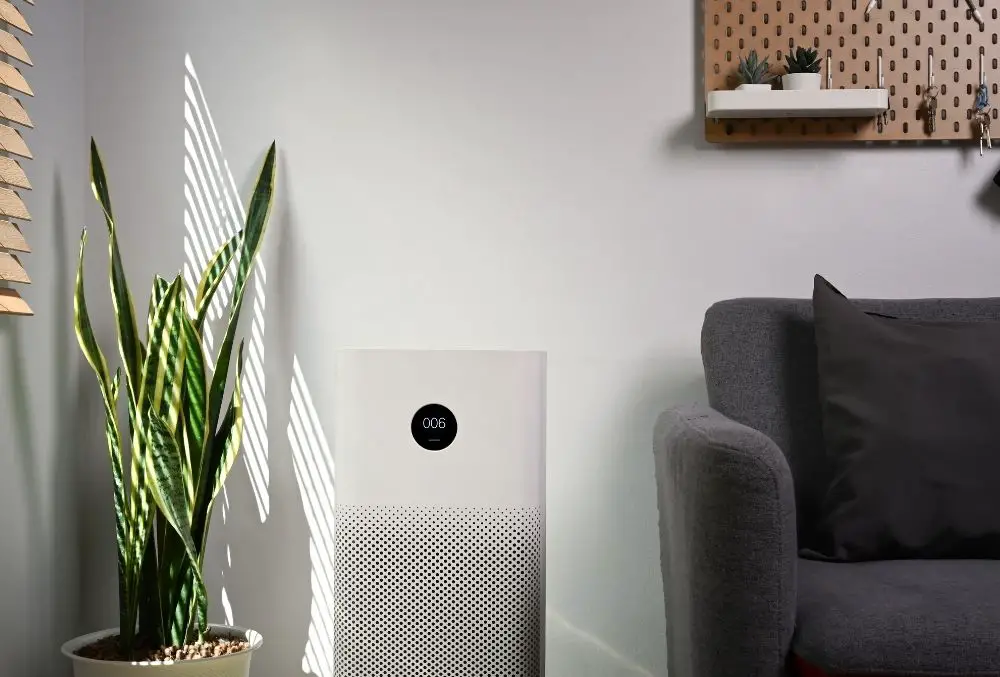 Poor indoor air quality can harm your own health and that of your family, especially in the long term. Pollutants can invade your home when it should be your own serene space.
Tiny particles of dust, pollen, fungal spores, allergens, and even bacteria can exist without you even noticing. If you have indoor pets the chances are that the air quality is worse than you think. You need a solution that can give you peace of mind and not keep you up.
One simple way to improve your indoor air quality is to invest in an air purifier, ideally a quiet one. These appliances work effortlessly and discreetly, filtering the air leaving you to breathe it in clean.
Our Best Quiet Air Purifier Reviews
The Levoit Vital 100 is ideal for user-friendliness. It comes with a washable pre-filter which rids the air of larger particles like pet hair, fur and lint. You only need to wash it once a month which will protect the HEPA filter. A three-stage filtration process starts with that washable pre-filter.
The air then hits a high-efficiency activated carbon filter which takes in pet odors, smoke, fumes and even cooking smells. Finally, the H13 True HEPA filter does the hard work, trapping at least 99.97% of airborne particles. This includes fine dust, mold spores,, and smoke particles.
This is an air purifier that will let you sleep easily at night. Noise levels are as low as a whisper at 23 decibels.
You can even turn the display lights off and set a timer for eight hours. Then wake up to a purely filtered bedroom. The compact design is ideal for being placed around the home. Top-facing air vents mean you can put it away in the corner or near walls.
Pros
Washable Filters – Comes with a washable pre-filter that traps larger particles such as lint and fur
Powerful Carbon Filter – More carbon means better filtration and should absorb pet odors, smoke, and cooking smells
User-Friendly – You can set the timer for 2, 4, or even overnight at 8 hours. It'll indicate when it's finished
Easily Placed – A compact design with top-facing air vents means it can be placed in room corners or near walls
Adjustable Display Lights – The display lights can be turned on or off, ideal for the bedroom
Cons
Temperamental Control Panel – Occasionally the control panel requires more touches for the desired effect
LEVOIT Air Purifiers for Home Large Room, HEPA Filter...
POWERFUL PERFORMANCE: With a CADR of 130 CFM / 221 m3/h, the Vital 100 is perfect for living rooms,...
3-STAGE FILTRATION: Comes equipped with a washable pre-filter for large particles like lint and fur,...
SLEEP COMFORTABLY: With noise levels as low as 23 decibels, the Vital 100 won't keep you up at...
USER-FRIENDLY: Set a timer for 2, 4, or 8 hours whenever you like. The Check Filter Indicator will...
Last update on 2023-08-31 / Affiliate links / Images from Amazon Product Advertising API
For homes with larger rooms, there is the Rabbit Air BioGS 2.0. On its highest setting, it should filter an entire room's air twice an hour up to 550 square feet. That's a large space and that's some performance.
This is a dependable appliance with a state-of-the-art motor can operate at five different speeds. Importantly, it's really quiet at the lowest setting at just 22.8 decibels.
There is a five-year warranty on the air purifier itself and its parts. Good to know should anything go wrong.
It shouldn't as this comes with an automatic mode that automatically detects which fan speed to use. User-friendliness is key and there's even a four-stage filtration process starting with both a washable and permanent pre-filter.
Then there's a BioGS HEPA filter to take out 99.97% of airborne particles before a Carbon Filter for chemicals and common odors. Finally, a Negative Ion Generator comes in to fortify your air and freshen the environment.
Pros
Large Coverage – Should filter an entire room twice an hour up to 550 square feet
Different Speeds – The motor can operate at five different speeds
Five Year Warranty – For ease of mind, this comes with a five-year warranty
Automatic Mode – Detects then changes the fan speed when the air quality sensor needs it to
HEPA Filtration – A four-stage process of purification and deodorization for complete results
Cons
Lack of Manual Control – You need to use the remote to control the air purifier manually when the front cover is on
Rabbit Air BioGS 2.0 Ultra Quiet HEPA Air Purifier (SPA-550A...
The BioGS SPA-550A air purifier will filter all the air in a room up to 550 sq. ft. twice in an hour...
BioGS HEPA Filtration with 4 stages of purification and deodorization. The BioGS HEPA and...
An ultra quiet BLDC motor operates at five different speeds. It's virtually silent at low speed.
Energy Star certified units will not run up your energy bill.
Last update on 2023-08-31 / Affiliate links / Images from Amazon Product Advertising API
One of the smartest air purifiers around is the Blueair HealthProtect 7470i. Even on standby, its GermShield technology is ready to monitor the air to kill nasty germs.
Don't worry about leaving it alone as it will also work to prevent bacteria from growing on the filter. This air purifier is Quiet Mark Certified with noise levels on low at an almost-silent 22 decibels. You would barely notice it in your living room when on high at 45 decibels.
A Welcome Home setting is there to set the air purifier to standby when you leave and on when you return. Ideal if you want it to work for you only when you're in. The technology is key; a SmartFilter includes a chip to monitor your real-time usage. It'll even judge when you need to replace it, keeping you in mind.
Such settings as the Welcome Home and the SmartFilter can be enabled via an app, that's very smart. There's even a Clean Air ETA, counting down until your air is pure and completely safe.
Pros
GermShield Technology – Provides constant protection against bacteria and airborne viruses
Low Noise – Quieter than 22 decibels on the low setting, still less than 45 decibels on high
Welcome Home Setting – Recognises when you've returned
SmartFilter Tracking – Knows how much your filter has been used in real-time
Wi-Fi/App-Enabled – An app can control such as the fan speed and the auto setting
Cons
Not True HEPA grade – The filter is HEPASilent, not a true HEPA grade
Sale
BLUEAIR Advanced Air Purifier for Large Room, Air Cleaner...
24/7 PROTECTION: Against viruses and bacteria with GermShield technology that kills 99% of germs...
CLEAN AIR IN MINUTES: Blueair's HEPASilent dual filtration delivers up to 45% faster cleaning & up...
IN-APP FEATURES: Auto adjusts to maintain optimal air conditions; 3 advanced sensors; Real-time...
SMARTFILTER: RFID chip in SmartFilter monitors and tracks pollutant levels in real-time to calculate...
Last update on 2023-08-31 / Affiliate links / Images from Amazon Product Advertising API
We should all love our pets but one of the downsides is all that hair and fur in the house. It's not exactly their fault yet it hangs in the air and can make for an uncomfortable living space.
The Okaysou AirMic4S Air Purifier is ideal for removing that pet hair. With a three-stage Ultra-Duo filter and a washable pre-filter. The grille air inlet design actively helps capture the pet hair and other large particles.
Have it work while you're resting with SilentBoost technology and a sleep mode. The air purifier's light can be turned off and the noise reduced to just 24 decibels. Even the filter is upgraded. The Ultra-Duo H13 filter is medical grade and up to 8000 cm² when unfolded, that's a lot of filtration.
That's just one of four filters to choose from. The other three include Germ Defense for mold, bacteria, and germs.
Then there's Toxin Absorber for those nasty chemical pollutants and smoke. Finally, there's the Odor Remover for household odors such as cigarette smoke, cooking odors, and mildew.
Pros
Removes Pet Hair – Captures pet hair and other large particles easily
SilentBoost Technology – Simply activate the sleep mode and sense the results when you wake up
Improved True HEPA Filter – The H13 filter is improved from the H11 filter offering better results
Replacement Filters – Choose from four replacement filters based on your preferences
Cons
Beeping Alarm – With sleep mode it may emit a beep at the end of the timer
Last update on 2023-08-31 / Affiliate links / Images from Amazon Product Advertising API
If you see an appliance as another reason for a chic statement in your home then look at the Blueair Blue Pure 411 Auto Small Room Air Purifier. Look at that grey and white front. It'll just sit in your room, purify your air and still look good. The small and compact design also means it can be moved easily between rooms.
This is ideal for completely filtering the air in a bedroom, nursery, or home office. On the high setting, it should clean a 190 square feet space every 12.5 minutes. From one touch you can enable Auto mode and let the purifier do its business to leave your home as a safe and cozy environment.
Not only does it look good and is relatively light, but it's also one of the quietest air purifiers around. At only 18 decibels on low speed, it'll be barely noticeable in any room, even when you're asleep.
With such discretion comes less energy consumption. At only 2-10 watts, this should consume less energy than a regular LED light bulb.
Pros
Small and Compact – Can be moved easily between small rooms
Low Noise Level – At only 18 decibels when on a low setting, this is quieter than a whisper
Sleek Design – The grey and white design makes this a discreet yet fashionable appliance
Energy-efficient – An auto-mode senses the air quality then adjusts the fan speed accordingly
Cons
Fewer Features – This includes the lack of a timer
Sale
BLUEAIR Bedroom Air Purifier, Small Room Air Cleaner Dust...
AUTO ADJUSTS SO YOU CAN REST EASY: One touch auto mode uses a particle sensor to monitor pollutant...
CLEAN AIR IN MINUTES: Blueair's HEPASilent dual filtration delivers up to 45% faster cleaning and...
CERTIFIED QUIETEST AIR PURIFIER: Quiet Mark approved - quieter (18 dB) than a whisper on low; ENERGY...
ASTHMA plus ALLERGY: Removes 99.99% of pollen, helping reduce allergens and pollutants that trigger...
Last update on 2023-08-31 / Affiliate links / Images from Amazon Product Advertising API
Oh, the sweet relaxing smell of your favorite aromatherapy fragrance. Wouldn't it be great if you could just add a few drops and enjoy that serene scent? Also while purifying the air in your bedroom?
Then consider the LEVOIT Air Purifier for Home Bedroom. If you need to relax after a long day then simply add a few drops of essential oils to its aroma pad, lie back and relax. Ideal for those with allergy symptoms and unpleasant odors.
If you want to chill out in a different room then at only 3.3 pounds this is easy to lift and move. For spaces of around 160 square feet, it should only take half an hour to be totally refreshed.
That means you can move it between your bedroom, kitchen, office and living room. As well as being discreet, this is only highly energy-efficient. Its low-rated power of 10 watts means you can leave this on without worrying about your energy bill.
Pros
Aromatherapy Feature – An aroma pad just needs a couple of drops to disperse your favorite natural fragrance
Light Design – The air purifier only weighs 3.3 pounds making it easy to move around
Single Button Control – From just one button you can change the controls
Low Rated Power – At only 10 watts, this is one of the most energy-efficient air purifiers around
Cons
Better In Small Rooms – This is ideal for small rooms and more powerful models work better in larger spaces
LEVOIT Air Purifier for Home Bedroom, HEPA Fresheners Filter...
REFRESH YOUR AIR TODAY: Still struggling with allergy symptoms and unwanted odors. Breathe clean air...
3-STAGE DUAL-FILTER DESIGN: Dirty air in, clean air out. the 3-stage filtration system with...
WHISPER-QUIET: Babies are easily woken up by noises and sleep deprivation can negatively impact...
Official Levoit Filters: Search for B08H8QNW1S or LV-H128-RF to find the Levoit Personal HEPA...
Last update on 2023-08-31 / Affiliate links / Images from Amazon Product Advertising API
Best Quiet Air Purifier Buyers' Guide
A quiet air purifier can bring a huge difference to a room with little perceivable effort. Most of the time you simply turn it on and leave it to do its magic. It may seem effortless yet an air purifier is the easiest, most effective way of tackling indoor air pollution. With an air purifier working efficiently the air quality can be markedly improved.
The appliance will also remove sources of pollutants and bacteria that often go unnoticed. With so many airborne pollutants being so tiny, the filters in a quiet air purifier become a discreet and brilliant way of keeping your home safe and comfortable.
There are several features to look out for. One is how often the filters need to be maintained. Several models come with washable pre-filters which are generally for capturing pet hair. These can be washed instead of replaced, every month should be regular enough to keep it working well. You can also replace the filter with something different.
There are now filters that become flexible alternatives. Based on your indoor conditions, you could select from an odor remover or a toxin absorber.
There's also germ defense and pet allergy, ideal if the air quality in your home changes due to a specific reason. Perhaps you move home to a busier area or bring in a new pet.
There are also stages of filtration to consider. Along with the washable pre-filter, there are carbon-activated filters that trap almost all of the airborne particles. These include dust, pollen, smoke, and even unpleasant odors. There can be as many as six stages of purification and deodorization.
Advanced technology can also make life easier. Several air purifiers can be controlled remotely, allowing you to set the purifier to your schedule. Some can be set to 2, 4, or 8-hour cycles. You could even set it to only operate when you're in your home.
This can even be set via a downloaded app on your smartphone. Ideal if you're on the move.
Then there are the inbuilt sensors that are smart enough to work on their own. A smart sensor can monitor the air quality and offer real-time feedback. Some include a pollution sensor and automatic fan settings which change accordingly when needed.
Frequently Asked Questions
How Do You Measure The Noise Level?
Noise level is measured in decibels. In any building, there will be appliances that make everyday noise so it's good to use that for reference. For those light sleepers, if the sound of a ticking watch keeps you up that's only 20 decibels.
Around the kitchen, the hum of a refrigerator should only be 40 decibels. The washing machine and dishwasher amount to around 70 decibels. For the loudest household sounds consider the vacuum cleaner at 80 decibels. Right at the top should be the lawnmower at between 80 and 90 decibels.
How Quiet Should An Air Purifier Be?
This largely depends on the room itself. For instance, in the bedroom your air purifier should be close to silent for anyone to sleep comfortably. However, in the living room, you can allow for a bit more noise.
Considering there are noisy appliances such as the television and simply allowing for conversation should mean a few more decibels. At the lowest, you should be looking at around 20 decibels whereas at its highest around 45 decibels.
To put this into perspective, 45 decibels should be the sound level inside a library or for a quiet conversation.
How Do You Measure The Room Coverage?
For room coverage it's usually easy to keep the measurements simple; square feet.
How Does An Air Purifier Work?
The key element of an air purifier is the filter. A good filter will trap the pollutants and tiny particles, removing them from the air. This process is performed by a fan sucking the air in then circulating it through the filter.
Once the pollutants and particles are trapped, clean air comes out.
What Are The Dangers Of Poor Air Quality?
Without an air purifier, the enjoyment of a room can deteriorate. Specifically, a room can feel stuffy and uncomfortable. The dangers are that particles of biological and non-biological matter can increase.
These particles can include pollen, fibers, fungal spores, allergens, and bacteria. Should an individual suffer from allergies, a room with poor air quality can make their suffering worse.