by Jennifer Porterfield
|
Last Updated:
January 12, 2022
As an Amazon Associate, I earn from qualifying purchases at no extra cost to you. Thank You for your support.
Having a nifty little heater lying about is always an added plus for winter nights. They can turn a freezing space into an area of radiant heat like it's nothing. Although heaters are not perfect, at least not all of them.
Heaters will often make a noise when they are being used which can be quite annoying.
That being said, there are still plenty of benefits of them, they can be very energy efficient, saving lots of money on your heating bills through the cold months.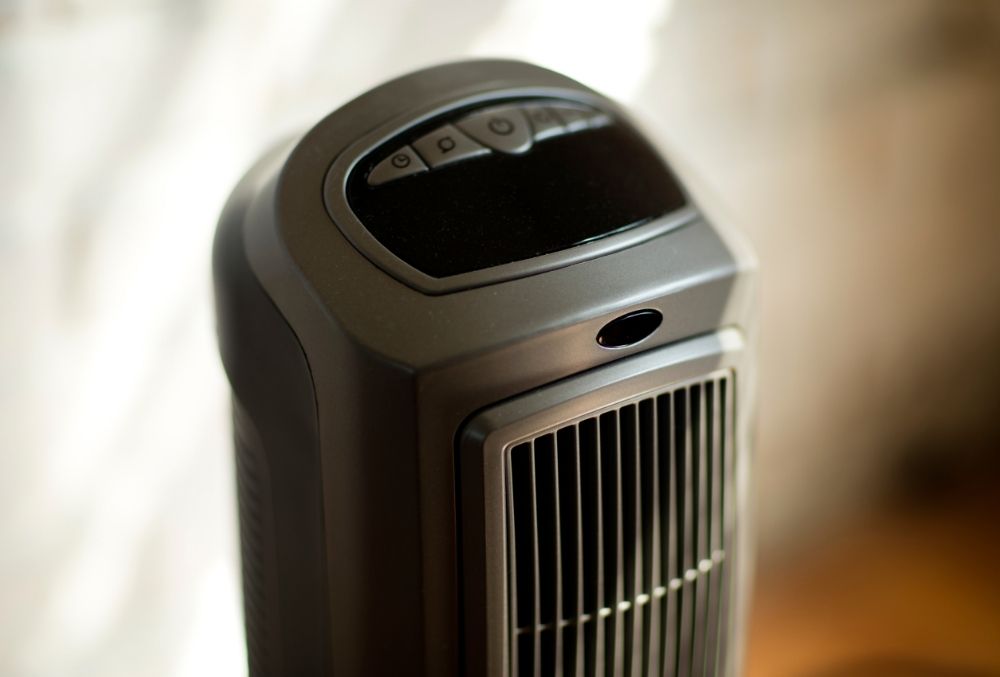 When in the market for a new heater you may find yourself thinking that you want it to be silent, or at least as near to silent as it can be.
Luckily with improving technology you are not short of choice when it comes to determining the best quiet space heater. There are plenty of options that all offer a different range of features and benefits when it comes to them these days.
We found heaters to be the best choice when it comes to keeping you warm during the cold periods of the year so it's no surprise they are in very high demand. They should also last you a very long time before you have any issues with them.
Our Best Quiet Space Heater Reviews
The Lasko 5572 Space Heater is in the style of a tower heater which means it will probably reach to your waist in terms of its height. This does also make it a great space saver. It is 1500 watts. The base of the heater is 9.2 inches by 7.3 inches.
This heater also has a digital screen at the top where you can control what the heater is doing and it has plenty of options. It also has a very convenient handle on the back allowing it to be very portable.
Another great feature is the heater's timer. You can set a timer so that it will shut off automatically. It is also reported as being silent during both of its temperature settings.
One of the greatest features of this heater is the fact that it has a remote and I know that sounds pretty simple but when it comes time to get up and turn the heater off, you won't have to and you can just sit back and relax by using the remote.
Pros
Great space saver
Silent in both of its heat settings
Remote, timer and the adjustable thermostat
Cons
Been known to shut off randomly so be sure to check the timer.
Lasko Ceramic Tower Space Heater with Logic Center Digital...
Ceramic oscillating tower heater effectively heats quickly and effectively.
Digital thermostat; low, high, or thermostat-controlled automatic setting
Self-regulating ceramic element and automatic overheat protection for safety. ETL listed
Remote control, electronic timer with auto shut-off, carry handle
Last update on 2023-08-28 / Affiliate links / Images from Amazon Product Advertising API
The Dr. Infrared Heater is another excellent heater and it is also portable and has wheels so it can be wheeled around. It's quite a little heater in terms of its height standing tall at 16 inches and the width is 11 inches so again is a great space saver and won't take up all of your room.
The manufacture of this heater claims that it can heat up 1000 square feet which is incredibly impressive due to its size. This heater encapsulates a modern vintage style, with its controls beneath the actual heated area, once again this heater has a remote control.
It will turn off after 12 hours automatically so it won't overheat. You can also set the temperature to low, high and an automatic setting.
The heater can also have a temperature set that it will maintain, leaving you to carry on with what you were doing instead of constantly coming back and adjusting it to get the right temperature.
Pros
A great space saver
Remote control
Protection from overheating.
Cons
Due to its vintage design may not fit some aesthetics
Sale
Dr Infrared Heater Portable Space Heater, 1500-Watt, Cherry
Can heat up a large room with Auto Energy Saving Model With High and Low Feature. Tip-over...
Dual Heating Systems featuring infrared quartz tube + PTC with 12hr automatic shut-off timer....
IR Remote Control, High Pressure Low Noise Blower with Noise level 39 dB super quiet. Heating can...
Electronic Thermostat: range 50 to 85 degrees. Caster Wheels and Lifetime Filter
Last update on 2023-08-28 / Affiliate links / Images from Amazon Product Advertising API
This is a much different style of heater in comparison to the previous mentioned on this list, this heat can be mounted on the wall with an included kit which further increases space saving. Its width is 27 inches and is 22 inches tall. It again comes with wheels if you would prefer to keep it unmounted.
You can adjust the heat by the dials on the side of the heater and it has 2 heat settings. It can also heat around 300 square feet. The feet of the heater are actually removable if you decide to mount it on the wall.
It is also silent meaning you won't get any annoying sounds being produced by this heater whilst it is in use.

Pros
Silent
Can be mounted on the wall to save space
2 heat settings
Cons
Unlike the previously mentioned heaters this one doesn't have a remote; you will have to use the dials to adjust the heat.
De'Longhi Mica Panel Heater, Black - Long-Lasting, Quiet...
QUIET HEATER - Best for medium and large rooms, the 1500-watt Mica Panel Heater quickly delivers...
MAXIMIZE EFFICIENCY - This De'Longhi heater converts 100% of the electricity used into heat when...
BUILT-IN SAFETY - Features include a thermal shutoff to prevent overheating, an internal tip-over...
SLIM DESIGN - Take advantage of the slim design by positioning the freestanding heater on the floor,...
Last update on 2023-08-28 / Affiliate links / Images from Amazon Product Advertising API
The Lasko 5409 Space Heater is a very small heater standing at 12 inches tall and 8 inches wide.
It also has a handle so that you can carry around making it very portable. And fortunately although it does have a stationary build it will oscillate inside to create a good air flow allowing the heat to fill up the space required.
The controls of the heater sit at the top of the heater. The heat dial will provide the ability to choose between a fan setting and a low or high heat setting. The thermostat will let you select a set temperature.
It will remain a very cool heater externally and will automatically shut off if left on for too long so you won't have to worry about overheating.
Pros
3 settings of high/low and also a fan setting
Portable
Not very big so a great space saver
Cons
Sale
Lasko Oscillating Ceramic Tabletop Space Heater for Home...
✅【2 QUIET HEAT SETTINGS】This tabletop electric space heater features easy-to-use manual...
✅【ADJUSTABLE THERMOSTAT】The adjustable thermostat maintains the temperature in your space...
✅【WIDESPREAD OSCILLATION】The optional widespread oscillation projects heat into the room for...
✅【EASY TO USE】The Lasko 5409 ceramic space heater comes fully assembled and ready to use, the...
Last update on 2023-08-28 / Affiliate links / Images from Amazon Product Advertising API
Obviously being made by a company like Dyson has its benefits, for one you know you are getting a quality product and that is exactly what this heater is, a quality product. Not only will it heat up a room but it can also provide cool air making it very multifunctional.
It will also work as an air purifier too. It has a sleep timer so you can set that to your desired time and relax knowing it will shut itself off. It is extremely lightweight so moving around won't be an issue for you also.
It is quite a small product so you won't find that it takes up lots of space either. It can oscillate allowing the air flow to cover the whole area you need to create either a cool room or a hot room, that's for you to decide.
Pros
Multifunctional
Sleep timer
Great space saver
Cons
Dyson HP01 Pure Hot + Cool Air Purifier Heater and Fan...
The Dyson Pure Hot Cool purifies, heats, and cools you - delivering multifunctionality, without...
CAPTURES: The sealed HEPA filter captures 99. 97% of as small as 0. 3 microns makes this an ideal...
PROJECTS: Projects purified air throughout the whole room. Air Multiplier technology delivers over...
HEATING: Can be used for long-range personal heating or fast, even room heating
Last update on 2023-08-28 / Affiliate links / Images from Amazon Product Advertising API
The Dreo Space heater is an incredibly quiet heater so you know for a fact that it won't produce an annoying sound when it is heating up your room. It is 10 inches tall and 6.6 inches wide so is also a very good space saver.
It has a hidden handle which will allow you to move the heater around to wherever you want it to be.
It has touch control and will allow you to adjust the settings along its LED display. Along with its power down time to make sure that it doesn't overheat keeping you safe for when it is in use.
It will oscillate to 70 degrees allowing the perfect amount of movement to create a good flow of air through the area that you want it to warm up. This heater is a great product and ticks a lot of the boxes that you would want a space heater to do.
Like mentioned above due to its small size and handle it is an incredibly portable and easy to place it in any area that you want to. With its ability to provide almost zero noise as well this is a must have, it'll be perfect for summer barbecues and dark winter nights also.
Sale
Dreo Space Heater – 70°Oscillating Portable Heater with...
Faster Heat Than Ever: Powered by Dreo Hyperamics Technology, Atom One space heater heats up more...
Shield360° Protection: Heat up your day and night without worries. ETL-listed Shield360° system...
Save More on Energy Bills: ECO Mode adjusts the heat level automatically to reach your desired...
Warm Any Angle: Experience the heat that envelopes you in the widest way possible. 70° wide-angle...
Last update on 2023-08-28 / Affiliate links / Images from Amazon Product Advertising API
Best Quiet Space Heater Buyer's Guide
Noise
The noise that a heater can produce can be seen as make or break really, not that it might be loud, it might just be annoying and who wants to sit there with an annoying sound in the background.
Luckily with the advancement of technology that doesn't have to be the case any more.
Many heaters are in fact silent or as close to silent as they can be. Though you should always check to make sure that the heater is in fact listed as quiet or silent to ensure that you are not let down with the product that you select.
The stigma of a noisy heater comes from before the technology used to generate the heat had advanced to the level that it is at today but unfortunately the stigma when thinking of a heater is that it will be noisy. But like mentioned the above listed heaters are generally quite quiet.
Size
The size of the heater is important when thinking in regards to how much space you can save. Many of the products listed above all come in different shapes and sizes, some are tall, some are small, some are even wide.
But all of them are designed in a way that it will not take up lots of room, one of the products listed above can even be mounted to a wall to further avoid taking up lots of space.
Like mentioned, all of the above products above are fairly small in size, whether that be their width or height.
If space saving is one of the biggest factors in you deciding which is the best quiet space heater for you then the Delonghi Mica Heater is recommended.
It doesn't have to be mounted on the wall but you can choose to do that if you want. The heater actually comes with wheels.
Safety
Obviously when it comes to determining what type of heater you want one of the main things that you want is to make sure that it is in fact a very safe heater to use. That can be determined by lots of factors, one of those for example could be whether or not it will turn itself off or give you the ability to set a timer so that it will turn off.
This may seem a little arbitrary but it can stop the heater from overheating which is something in the past that has been a problem with heaters but due to the advanced technology this is no longer the case.
Overheating can cause damage to the internal components of the heating and even in some cases cause a fire.
When selecting the heater that you would like to purchase it is definitely worth looking into its safety features to ensure that it does have the relevant features to be as safe as possible.
Portability
Portability is another important factor when determining if the heater is right for you, luckily all lots of the above heaters are very portable and come with handles to make it easier to move around. Portability is a very important factor when it comes to heaters.
You will often want to place it in different rooms for example depending on where you are spending your time. It can ensure that you can bring it when you are out with your friends late at night like when you are camping for example or maybe you need to move it outside during a late summer night that has taken a cold turn.
As mentioned, you want your heater to be very portable to ensure that you can maximize its use and also provide heat for different rooms in your house when you need to.
Obviously this is left for you to decide its importance because it won't make any actual difference to the heat that the heater will produce but it can often make your life a lot easier if it is in fact a portable heater also.
But like stated the importance of this is left for you to decide on and if it is a make or break factor when determining if the heater is the right one for you.
Energy Saving
Energy saving is a brilliant factor when thinking of heaters. Instead of turning your whole house's heating on and receiving a huge heating bill you simply need to use the heater to keep you as warm as possible.
With added features like sleep timers and shutting off after 12 hours of use, energy saving really is one of the most prominent factors of a heater.
The importance of this really is unmatched so if you know that every winter your heating bill makes the hairs stand up on the back of your neck then purchasing a heater really is the way forward for you and with different heat settings you can also determine the heaters output and therefore the energy that it requires to heat up the room can often be a lot less than expected which will again save energy and money for you in the long run.
Timer/Remote
These are some of the funner features when it comes to a heater the timer will allow you to rest assured knowing that the heater will shut off at the specific time that you need it too to ensure that it doesn't overheat and in cause any danger but it will also stop from creating too much heat in the room making you feel uncomfortable.
Another great aspect of a heater is if it comes with a remote, not that heaters without remotes are bad but if it has a remote for you to use it will make the whole process of turning the heater on and off a whole lot easier as you won't physically have to move so you can remain in your comfy position.
As well as that you will also be able to change the temperature that the heater is creating if you find it a little uncomfortable.
Frequently Asked Questions
Are The Heaters Portable?
Many of the above stated heaters are in fact very portable and come with handles or in fact wheels which is beneficial to certain designs. Portability is a great feature of the heaters as it will allow you to easily move it wherever you require it to be. It will also mean that you can bring it along on camping trips or to barbecues with your friend and family.
Portability really is a big factor when it comes to how good a heater really is and we think the above ones provide that feature the best.
Could One Heater Heat Up An Entire House?
Technically yes one heater could heat up an entire house however with home design layouts it will struggle to circulate the air around the whole house so would be best to have heaters in different rooms if that is what you are looking for.
Are They Safe To Use?
The heaters are very safe to use and have timers so they will shut off if they have been left for too long. You can also set the timer to when exactly you want it off.