by Jennifer Porterfield
|
Last Updated:
January 12, 2022
As an Amazon Associate, I earn from qualifying purchases at no extra cost to you. Thank You for your support.
A loud coffee grinder in the morning is one of the most annoying ways to wake people up. But, using pre-ground coffee is a depressing alternative to enjoying deliciously fresh granules. After all, who wants to start their day with a cup of coffee that makes them feel worse?
Using a piercingly loud coffee grinder poses a severe risk to your meaningful relationships, from disturbing sleeping family members to angering your neighbors. There's almost no more unsettling a way to begin your day than by arguing with loved ones over a warm drink.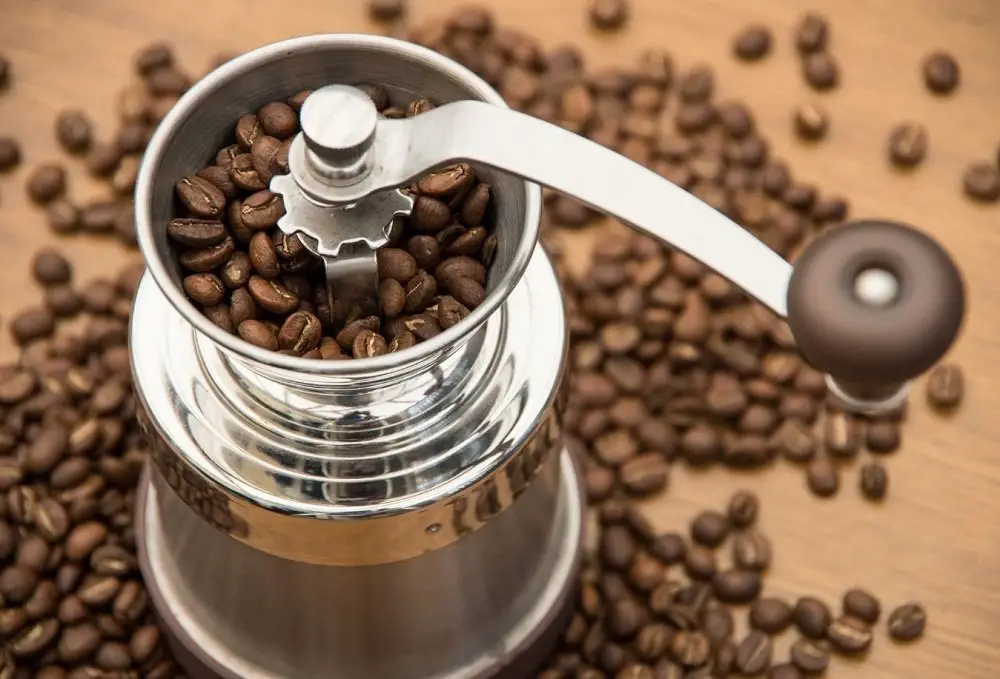 Luckily, you don't have to sacrifice excellent coffee to keep the peace. There are brilliantly quiet, quick coffee grinders with sharp blades aplenty on the market, making fine granules.
However, there are so many efficient products that narrowing down the options is a chore for anyone. 
So, we've saved you the hassle. Below, you'll find a group of the best quiet coffee grinders handpicked by us. We've also created a helpful buyer's guide with tips on how you can search for more great coffee grinders that suit you exactly. 
Best Quiet Coffee Grinder
This Capresso Infinity Conical Burr Grinder is perfect for making a cup of relaxing coffee before a morning shower. It has a large capacity, with an 8.8 ounces container for beans and a 4-ounce holder for ground coffee, enough grounds to make 75 cups of coffee. 
The commercial standard solid steel blades are ideal for producing consistently sized coffee grounds. In addition, there are 16 settings to adjust the grounds' thickness, offering anything from ultrafine Turkish to French press coarse. These options mean you can just as easily create an espresso as grind up spices. 
The burrs run at a lower motor speed, allowing you to chop anything from dry hard beans to nuts quietly. The reduced pace results in very little static too. 
The removable upper burr and cleaning brush make it easy to wash. In addition, this removable burr prevents the coffee ground build-up caused by less efficient products. 
Pros:
Gear reduction motor – Meaning it's quiet, and the noise levels are unlikely to annoy loved ones.
16 settings – Making consistently sized coffee grounds, including that ideal for brewing espressos. 
Removable upper burr and cleaning brush – Allowing for easy sanitizing. 
Well built – The machine can keep quietly grinding coffee for many years to come.
Adjustable Timer – Letting you customize grinding time from between 5 to 60 seconds.
Cons:
Expensive– Costs a lot more than the cheap coffee grinders, so it's not the best choice for those on a budget. 
Capresso Infinity Conical Burr Grinder, Black 8.8 oz
PRECISION GRINDING: Commercial-grade, solid steel conical burrs with advanced cutting design
WIDE GRINDING RANGE: From ultrafine Turkish to French Press coarse and everything in between
PRESERVES AROMA: Gear reduction motor grinds slow with reduced noise and little static build-up
LARGE CAPACITY: 8.8 ounce bean container and 4 ounce ground coffee container.Watts/Volts/Hertz:...
Last update on 2023-08-29 / Affiliate links / Images from Amazon Product Advertising API
Javapresse is renowned for its high-quality products, and this manual coffee grinder is a brilliant addition to their range. Being manually operated, it's much less noisy than most electrical products. 
It's ideal for anything from ultrafine powdered coffee to coarse grounds, thanks to its 18 grind settings. It's also straightforward to use. Simply fill it with coffee beans, click the top mechanism to the desired grind option, and quietly turn the hand wrench. 
The patented ceramic burrs are well built to last 5 times longer than stainless steel ones, meaning it's able to keep working for years to come. In addition, the portability allows enough beans chopped in one go for between 1 and 2 cups of coffee.
Pros:
Slow manual grinding – Letting you make coffee without waking up loved ones.
18 settings – Allowing you to grind ultrafine Turkish coffee and coarse granules.
Patented ceramic burrs – Grinding lifespan is 5 times longer than stainless steel ones.
Cons:
Small capacity – Allowing you to only grind enough coffee to make 1-2 cups.
Sale
JavaPresse Manual Coffee Grinder — Stainless Steel Manual...
ENJOY THE PERFECT CUP OF FRESH COFFEE ― The Manual Coffee Grinder by JavaPresse Coffee Company has...
CONVENIENT, PORTABLE AND EASY-TO-USE ESPRESSO GRINDER ― The hand crank coffee grinder mechanism...
THE BEST WAY TO START YOUR DAY ― This manual coffee grinder is equipped with a professional grade...
TREAT YOURSELF TO THE HIGHEST QUALITY MANUAL COFFEE GRINDER THAT IS BUILT TO LAST ― Crafted with...
Last update on 2023-08-29 / Affiliate links / Images from Amazon Product Advertising API
This quiet coffee grinder can be used first thing in the morning when everyone's asleep. The up to 28000rpm powerful motor means you can even grind cinnamon sticks, mixed spices, nuts, and seeds. With these nuts, you can make other recipes, truly meaning you get a lot for your money.
The press-down lid operates the grinder and is easy to use. You simply push it to grind, which makes coffee in ten to fifteen seconds. But, of course, the longer you hold it down, the finer the grinds.
The brush included means it's easy to clean with a quick rinse out. The wire connected to the electric plug can be pulled out, too, allowing you to empty the coffee quickly. This speedy process lets you quietly make coffee and efficiently tidy up without waking everyone up. 
The stainless steel design looks good and is safe, which will add sleek style to any countertop. Also, as it's small, it's convenient to store away, ensuring you wouldn't have to clatter loudly through a cupboard to get it out. 
Pros:
Quiet – Giving you delicious coffee first thing in the morning without everyone waking up.
Press down lid – Easy to use; the longer you hold it down, the finer the grinds. 
Brush and detachable plug – Providing you with a grinder that can be quickly and efficiently cleaned.
Stainless steel compact design – Letting you add sleek style to your kitchen, store the machine quickly, and quietly get it out.
28000rpm motor – Allowing you to get coffee in ten to fifteen seconds.
Cons:
No grinding settings – The process isn't hyper-precise. Instead, the grinder relies on measuring how long to press down for different ground thicknesses.
Electric Spice Grinder Stainless Steel Coffee Grinder 200W...
Powerful and Low Noise Noise: Coffee grinder adopts 200W high power, high quality motor with speed...
High Quality Stainless Steel Coffee Grinder: The electric coffee grinder adopts the food grade...
Easy to use: This electric coffee grinder has only one control: press the lid to start, then...
Portable Electric Grinder: Premium Food Grade 304 stainless steel blade enables you to grind coffee...
Last update on 2023-08-29 / Affiliate links / Images from Amazon Product Advertising API
Baratza has won the Speciality Coffee Association's award for grinders and is backed by professionals across the barista industry. The 40 grinding levels are ideal for making fine to coarse grinds such as French press at a low noise level. 
Although this isn't the quietest machine on the market, it works quickly. In addition, the easy-to-use settings allow you to make premium coffee in the morning without annoying the entire street! 
The stainless steel conical burr grinds everything in the stylish hopper. As a result, all the beans are chopped very consistently, preventing lumpy coffee. There's even an excellent LED light so that you can see your grinds clearly!
The removable bin that holds your grinds means it's super easy to clean. You can wash out this grinding chamber well without struggling to remove coffee residue. The Virtuoso+ breaks down for more thorough cleaning, too. 
Pros:
Removable grinding chamber and LED light – Allowing you to easily see and clean out the coffee residue.
40 settings – So you can grind anything from fine espresso-worthy coffee or make coarse French press.
Stainless steel conical burr – Giving you very consistently ground coffee.
Award-winning brand – Trustable, taking away your worries about spending money on a high-end coffee grinder, then it quickly breaks.
Quiet motor – Letting you make your morning coffee without annoying your loved one. 
Cons:
Expensive – As the manufacturers made it for professional baristas, it's not ideal for those on a budget.
Baratza Virtuoso+ Conical Burr Coffee Grinder with Digital...
SPECIALTY COFFEE ASSOCIATION AWARD WINNING GRINDERS - Baratza grinders are preferred by coffee...
DIGITAL TIMER and BACKLIT GROUNDS BIN - a 40-second digital timer, adjustable to a tenth of a...
40 GRIND SETTINGS - With enhanced commercial-grade conical burrs to help you explore an extensive...
STYLISH - A sculptured metal top and base give the Virtuoso+ a modern image that highlights your...
Last update on 2023-08-29 / Affiliate links / Images from Amazon Product Advertising API
This coffee grinder is a fantastic option if you want to have a device that quietly blends anything from cinnamon bark to chia seeds. The 60g capacity can hold 2oz of coffee, enough for near-silently creating 8-9 cups of coffee.
The powerful 200-watt motor chops the filling machine's coffee beans in 20 seconds, with little noise. Which allows you to even make coffee in the office without disturbing others working. Also, the food-grade and safe stainless steel blades produce very consistent grinds, so you're guaranteed to get the proper fineness you're looking for. 
The small brush makes it easy to clean. And, the stylish design means you can quickly wipe out the grinder before work. It even comes with a sharp, spare blade as a nice additional bonus!
You get all this for great value for money too. The compact grinder is super affordable, ideal for those on a budget. If you're hesitant to spend hundreds on an electric machine, this is a brilliant alternative. 
Pros:
60g capacity – Allowing you to make between 8-9 cups of delicious coffee in one grind.
Quiet 200-watt motor – Letting you enjoy quickly grinding at the crack of dawn without irritating others.
Food-safe stainless steel blades – Producing very consistently ground spices, coffee, and nuts.
Small brush, spare blade, and stylish design – Providing you with an easy way to clean up before work.
Affordable – Those on a budget don't have to miss out on blending powder well.
Cons:
No removable receptacle – To dump out the coffee, you must pick up the entire device.
Buyer's Guide
You might think that purchasing a quiet coffee grinder is an easy task. After all, even though there are plenty to choose from, all the machines grind coffee. 
However, there are certain things to think about to ensure you buy the best coffee grinder to suit your personal needs. Below, we'll look at some crucial points to consider when you begin your exploration. Spending a few extra moments thinking about these will help you make the right decision, saving you time and effort long term. 
Electric VS. Manual
The first and easiest way for you to narrow down your coffee grinder search is to figure out whether an electric or manual machine is suitable for you. It's best to consider where you would be using the grinder to find your ideal type. 
If you're making coffee at the crack of dawn before work while your loved ones sleep nearby, a quiet electric grinder is the best choice. This grinder would quickly make your grounds without disturbing the whole neighborhood.
Then, you can whizz up your specialty drink before popping into the shower or pouring your coffee into a travel mug for your commute.
If you're creating coffee while away from home or want to enjoy the calming ritualistic grinding, a manual grinder would suit you well. Many manual grinders are small enough to neatly pack away into a backpack, suitcase, or cupboard. 
Also, you can manually grind while watching your favorite TV show, entertaining friends, or chatting on the phone. And, the hand-cranking lends itself to being a refreshing exercise that isn't possible with an electric grinder.
Quiet Coffee Grinder Features
Your coffee grinder doesn't have to place strain on your relationships. Quiet machines take away the noise complaints that follow uncomfortably loud whirring.
But looking for noise information in overwhelming product descriptions can often feel like searching for a needle in a haystack.
For electric grinders, it's best if you search for information about the motor. So, if the product mentions it has a reduced motor speed resulting in lower noise, the grinder is much quieter than those with the total motor rate.
On the other hand, it's highly likely to be loud if it says nothing about the noise or the reduced motor's pace.
For the most guaranteed quiet blending, get a manual grinder that the manufacturers say produces little noise. Manual grinders are often the most tranquil type because the hand-crank mechanism is significantly quieter than a buzzing electric one.
Blades VS. Burr Grinders
For those confused about what a burr is, it's two spinning abrasive surfaces that grind up the coffee beans. Whereas blades in coffee grinders work much more like standard blenders.
So you may be asking, what's the difference? Does the type matter to my coffee? Well, the difference is most seen in the grinds' consistencies.
Burr grinders are well known for creating very consistent coffee grinds, which is fantastic if you want to make finer powders such as those for espressos.
Burr grinders can be manually and electrically operated, although they tend to be expensive. Therefore, they're not ideal for those watching their spending. 
Blade grinders are an excellent option for those searching for an affordable machine. If you consider yourself a beginner in the bean grinding world, blade grinders will serve you well.
However, they don't chop as consistently as their burr brothers, leading to uneven coffee with uncomplimentary flavors. 
It's best to pulse the blade grinders' motor instead of running it once to avoid a confusing taste. In addition, this stopping allows the beans to readjust and be ground more evenly.
Which to choose? It depends on your experience level, time allowance, and coffee preference. 
Burrs are ideal for experienced coffee makers with refined tastes as they are very consistent at grinding. But, blade grinders are mostly less expensive, suitable for beginners on a budget who don't mind spending a little extra time pulsing. 
Grinding Variations
Knowing how long to grind coffee can be confusing, especially for novices. Thankfully, many grinders have helpful settings that allow you to make grounds perfect for the coffee type you want. 
Ultrafine grounds measuring 0.3 millimeters are best for those silky smooth Turkish coffees, and the next finest is great for espressos. 0.5 millimeters or the same consistency as table salt is ideal for stovetop espressos. 
Beach sand consistency makes soothing pour-over coffee. French press is made by coarse sea salt-sized grinds at the higher end, and extra rough cold brew is like rock salt.
You don't have to remember all that, though! Many electric grinders come with handy instruction manuals and labeled settings to give you the thickness you're looking for. Some high-end machines even have over 14 options, which is a dream for those super passionate about coffee making. 
Durability
No one wants a coffee machine to break after grinding the first few ground batches. However, coffee grinders can be expensive, so it's best to get a durable machine that will be going strong for years. 
Quality brands with ceramic burrs typically last the longest, closely followed by those with stainless steel burrs. If you want to give your machine the best chance of surviving a long time, replace the burrs when they're significantly damaged.
Unroasted beans and rocks are the biggest culprits for breaking the burrs. 
If the grounds become more and more inconsistent and the burrs' edges are worn, it's time to change the burr. Similarly, new burrs are often needed when coffee grounds clump together, or you're grinding more to get the results you're used to. 
For retail grinders, it's best to change the grinders once every one to two years or more if you notice your drinks' quality has dramatically gone downhill. Espresso grinders usually require being changed once or twice a year. 
Grinders with stainless steel outer casings are not only super stylish but hard wearing too. With these quality designs, you can have an attractive device on your countertop that will stay that way for, on average, between 5 to 7 years. 
Frequently Asked Questions
Do you need to be an expert in using a coffee grinder?
No. There are easy-to-use coffee grinders on the market aplenty. In addition, many machines come with handy settings allowing beginners to choose the grinds' fineness. 
Also, the instruction manuals often tell you which thickness is best for making different coffee types, such as espressos and French press. 
Grinding coffee with a suitable machine is straightforward to clean, too, with the provided brush. It's best to get a grinder with a removable coffee compartment so that you can quickly wash it out. Detachable components make it easy for newbies to clean their grinders.
Are all coffee grinders noisy?
No. There are many manual and electric grinders that are quiet. You can make delicious coffee with them first thing in the morning without waking everyone.
Quiet electric grinders often have a reduced motor speed, making them less noisy. So, this means that you're highly likely to leave loved ones sleeping even when grinding crunchy cinnamon sticks, hard nuts, and herbs.
Manual grinders are often quiet because they're hand-operated and less intense than most electric ones. Also, they make for a fantastic workout, producing satisfying coffee while you sit watching the TV or chatting with friends.
Are burr coffee grinders quieter?
Manual burr grinders are the quietest type of coffee grinder because they don't have a motor. However, as they are hand-cranked, they require more effort and time to grind than electric grinders. 
Electric burr grinders with lowered motor speeds are the quietest type of electric grinder. These machines chop coffee beans quicker than manual grinders, but they are louder. 
For those that prioritize quietness over effort, it's best to use a manual burr grinder. Great grinders come with multiple settings so that you can adjust the grinds' fineness to suit your individual needs.
How do I make my coffee grinder quieter?
You can muffle the noise by placing the grinder on sound dampening mats. This reduces the machine rattling on the surface and loud vibrations. Placing a towel or sound dampening mat between the beans and lid will also reduce the volume. 
By thoroughly cleaning the coffee grinder with a cloth or brush, you'll clear damaging debris. This coffee gunk can cause the blades or burrs to clatter unnecessarily and blunt them. 
Using these methods is a brilliant way to keep enjoying your exceptional coffee without spending more on a new grinder. This is great for the super environmentally caring or budget-conscious who don't want to sacrifice their delicious drinks.