by Jennifer Porterfield
|
Last Updated:
January 12, 2022
As an Amazon Associate, I earn from qualifying purchases at no extra cost to you. Thank You for your support.
Have you ever moved aside an old box or peered into some dark corner of your house only to be dismayed to find mold growing there? 
Whether its greenish mildew or the dreaded toxic black mold, nobody can put up with the rooms they live in playing host to this unwanted visitor. 
It looks ugly, smells musty, destroys furniture and walls, and is a real danger to you and your family's health.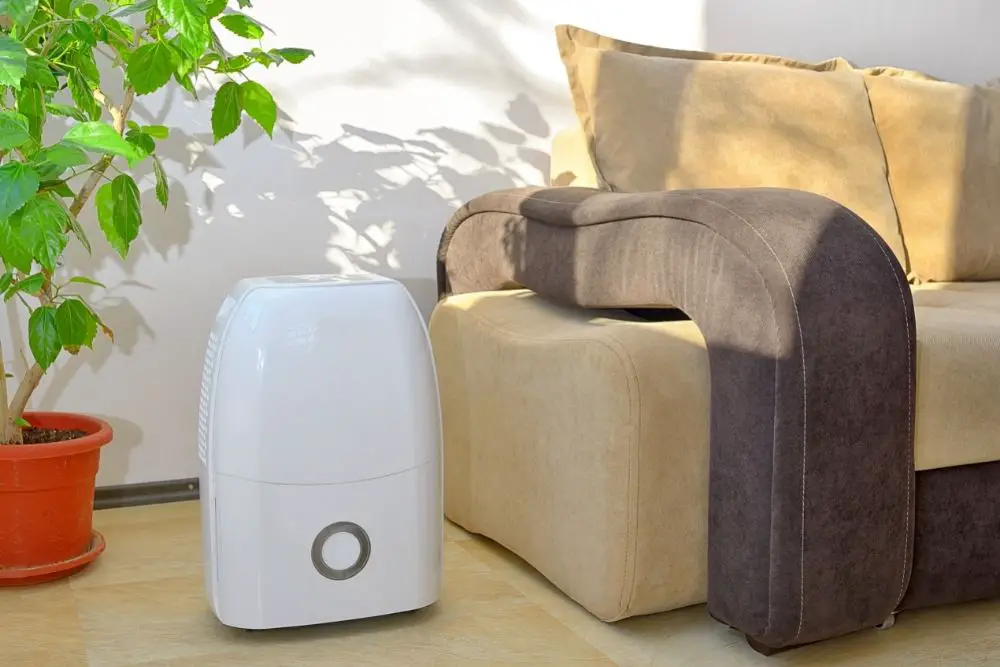 A dehumidifier is what you need to cut off the trouble at its source.  Mold needs moisture to grow so if you can get rid of that, you've won the battle. 
Dehumidifiers take excess moisture out of the air, leaving your rooms crisp, fresh, and mold free.  This also makes them very useful, cost-effective tool for drying clothes! 
There are a lot of dehumidifiers on the market, but don't sweat it.  We've produced this list of our top picks with all the details you need to make the right choice for your home. 
Capacity: 50 pints 

Weight: 40lbs  

Dimensions: 15.4 x 11 x 24.3 inches 
A popular choice among many customers, and for good reason. 
This dehumidifier can work comfortably in even the largest spaces (up to 4500 square feet!) and has a sleek, pristine white design, so you don't have to worry about keeping an eyesore around the place.
It's pretty simple to use, too – just plug it in, set your desired humidity, and let it run.  It will let you know and turn itself off automatically when the collection tank is full, so you don't need to worry about leaving it on for too long. 
It's also quieter than you might think for such a large machine.
The tank is easy to access when it needs to be emptied, just pull it out like a drawer.  The filter is likewise easy to remove for cleaning (once a month is recommended). 
If you'd rather have it drain continuously so you don't need to empty the tank, you can – just attach a hose. 
Pros
Adjustable humidity setting – set the humidity to the exact level you like 
Turbo setting – for extra-quick action 
Continuous drain option – space to attach a hose (not included) to allow continuous draining without needing the internal tank 
Easy-to-clean filter – removing and washing the filter is simple 
Wheels and handles – to make it easier to move 
Cons
Tank size – it's large, but with how much water this thing can suck out of the air, you might need to empty it often if you're using it a lot and haven't set it up to drain automatically 
Sale
hOmeLabs 4500 Sq. Ft Energy Star Dehumidifier - Ideal for...
4,500 sq ft Large Dehumidifier: Our 15.4 x 11 x 24.3 inches dehumidifier with 1.6 gallon water tank...
Designed For Modern Home: That most dehumidifiers are clunky eyesores is news to nobody. We designed...
Super Easy To Use: Dehumidifiers don't need to be complicated, so ours isn't. Adjust to your...
Eliminates Moisture Effectively: Our portable dehumidifier reduces moisture through its built-in...
Last update on 2023-12-02 / Affiliate links / Images from Amazon Product Advertising API
Capacity: 34 pints 

Weight: 27.1lbs 

Dimensions: 23.1 x 14.3 x 11 inches 
This dehumidifier is ideal for use in spaces that are large but not extremely so – a moderately large basement, say.  It comes complete with a drainage hose for continuous draining.  Otherwise, you can manually empty it when it fills up. 
It also has 360° universal rotating wheels, allowing you to move it without trouble.  These wheels can be easily removed with a Phillips head screwdriver if desired. 
The handle on the top allows you to carry it whenever you need to, and even better, it slides neatly away when not needed 
The automatic humidity sensing system means the dehumidifier can accurately detect and report the humidity around it.  You can select whatever humidity level you like (from 30% – 80%) and the device will make the necessary adjustments to reach and maintain that level. 
Pros
360° rotating wheels – making transportation as simple as possible 
Slide-out handle – combines ease of transport with a smooth appearance 
Comes with a hose – to allow continuous draining 
Easy-to-clean filter – The filter slides out easily for cleaning 
Intelligent humidity control – no need for you to constantly adjust the settings 
Cons
Shorter hose than some other dehumidifiers – this could make it problematic to set up in certain locations
Kesnos 2500 Sq. Ft Large Dehumidifier for Home and Basement...
【2500 Sq. Ft Home Dehumidifier】 - Our Kesnos dehumidifier removes up to 34 pints (under 95°F,...
【Multiple Humanized Features】With the dry clothes function,this Kesnos basement dehumidifier is...
【Intelligent Control】After you set the desired humidity level, the Kesnos portable dehumidifier...
【Auto & Manual Two Drainage】You can choose different drainage way to hassle-Free Drainage as the...
Last update on 2023-12-02 / Affiliate links / Images from Amazon Product Advertising API
Capacity: 32.7 pints 

Weight: 23.8lbs 

Dimensions: 12.2 x 8.2 x 18.9 inches 
A great choice if you're looking for something a bit smaller than the hOmeLabs model.  While its 1750 square foot capacity isn't ideal for use in huge rooms, it's still more than enough for most household needs. 
It includes a hose that can be attached for continuous draining and boasts an impressive 43 – 46 decibel noise level – that's barely louder than your fridge and quieter than the rain outside. 
There are also several different running speed options to suit varying circumstances. 
This unit strikes a balance between effectiveness and portability, meaning that it's simple to move it between different floors of your house, as well as room to room. 
Pros
Very quiet – at 43 – 46 decibels, you won't even notice this dehumidifier when you're listening to music or watching TV.
Comes with its own drainage hose – you can set it up to drain continuously, meaning you won't need to empty it.
Adjustable humidity setting – suitable for various places and conditions 
Intelligent control panel – light touch, light-up control panel makes it easy to see the settings at a glance 
Easy to use – setting it up is quick and simple 
Cons
Tank size – if you're not using the hose, you might have to empty the tank two or three times a day if your home is particularly humid. 
Yaufey 2500 Sq. Ft Home Dehumidifier for Medium to Large...
PROFESSIONAL AND EFFICIENT DEHUMIDIFICATION- With removal capacity of up to 32.7 Pints (under...
CONVENIENT AND SIMPLE TO USE. Home appliances never need to be complicated. It features a...
MULTIPLE HUMANIZED FEATURES. You can select between regular and turbo fan speeds for optimal...
EASY TO MOVE AND CARRY. Many mini dehumidifiers are portable but the dehumidification capacity is...
Last update on 2023-12-02 / Affiliate links / Images from Amazon Product Advertising API
Capacity: 2.1 pints 

Weight: 4.25lbs 

Dimensions: 10 x 7 x 15 inches 
This model is on the smaller end of the market, perfect for use in a small room (up to 480 square feet).  Small bathrooms, particularly if they don't have a window, would be ideal spots for one of these. 
It features a simple but visually appealing design.  As part of this, the collection tank is transparent and can be seen from the outside, meaning you'll always know how soon it needs to be emptied. 
It also runs at a mere 45 decibels, so you can be sure you won't be disturbed by the noise. 
Pros
Very quiet – runs at around 45 decibels, not much louder than your fridge 
Very easily portable – at just over 4lbs, you can move it anywhere with ease 
Large tank capacity – it can hold around double what it can pull from the air in a day, meaning you won't have to empty it nearly as often as some other models 
Energy-efficient – uses a lot less power than larger models 
Auto shut-off function – when the dehumidifier gets full, it will turn itself off automatically and warn you 
Cons
Manual emptying only – this model can't be fitted with a hose to allow continuous draining 
Letsport Upgraded 68oz Dehumidifier for Home, Up to 480 Sq...
Upgraded Dehumidification: Keep moisture below 45%, say goodbye to wet days! Letsport upgraded small...
Super Quiet Dehumidifier: This electric dehumidifier operates without a compressor, its working...
Auto Shut Off to Save Your Electricity Bill: Low energy consumption and save your electricity bill...
Compact & Portable: Lightweight and compact, our Small Dehumidifier is suitable for a SMALL room...
Last update on 2023-12-02 / Affiliate links / Images from Amazon Product Advertising API
Capacity: 1 pint  

Weight: 2.4lbs  

Dimensions: 7 x 6 x 11 inches 
This is one of the smallest, quietest dehumidifiers available.  Weighing not much more than a bag of sugar, this device can be easily lifted onto a table or work surface to dry out the air wherever you need. 
It can even fit easily into a suitcase so you won't have to be without it when you travel
It's at its best working in small spaces (up to 215 square feet), so if you have a musty-smelling crawlspace or a small, moldy cupboard, this could be exactly what you're looking for.   
Unfortunately, it doesn't have a hose attachment point to allow continuous draining, but the tank's large enough that you shouldn't have to empty it more than once every two days at the most. 
Pros
Lightweight – very small and light, so easy to move around 
Large tank – relative to the capacity, so you won't need to empty it too often 
Energy-efficient – runs using only 23 watts per hour, which means only 0.55 kilowatts over 24 hours – there are domestic lightbulbs that use more energy than that! 
Cons
Limited options – you can't set a specific desired humidity with this unit, it's simply either on or off 
Sale
Pro Breeze Dehumidifiers for Home,215sqft Small...
SMALL & COMPACT: Our lightweight and portable dehumidifier for home is capable of removing up to 9...
SAFE AUTO SHUT OFF: Our dehumidifiers for bedroom are ideal in small spaces and rooms. When full,...
ULTRA QUIET & EFFICIENT: Get the best of your dehumidifier for home and experience Whisper Quiet...
EFFICIENTLY LOWERS HUMIDITY: Perfect dehumidifier for high humidity in your home, kitchen, bathroom,...
Last update on 2023-12-02 / Affiliate links / Images from Amazon Product Advertising API
Buyer's Guide
Buying a humidifier sounds like a simple enough thing to do – when it comes down to it, they all suck moisture out of the air, right?  Well, yes,  but there are a few things you need to know if you want to be sure you're buying the right one for you. 
We'll look at a few key points here that'll help you save time and effort by helping you work out what's best for your needs as quickly as possible. 
Size
Of the space you plan to use it in, that is.  If you live in a small studio apartment, a dehumidifier rated for 4500 square feet might be overkill. 
If, on the other hand, you're working with a large basement or garage, it might be just what you need.  Dehumidifiers can be found for spaces of all sizes, so make sure you match your purchase to your situation. 
Adjustable Settings
Some dehumidifiers let you set a specific target humidity within a specific range and sense the surrounding humidity to adjust their performance. 
Others don't do this, and simply suck as much moisture out of the air as possible.  You'll need to think about whether you need adjustable humidity settings, or whether you're happy to just let your dehumidifier do its thing. 
Manual Draining VS Gravity Draining VS Pump Draining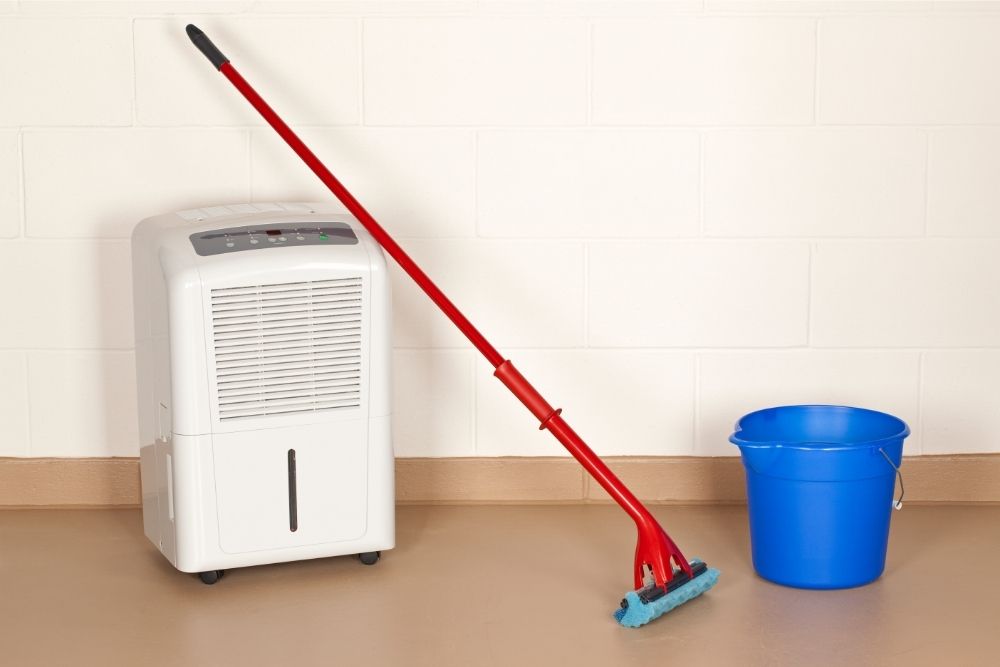 All dehumidifiers have to get rid of the water they collect, but they don't all do it the same way.   
With manual draining, the water collects inside a tank or bucket in the dehumidifier.  You can remove this to empty it yourself. 
Luckily, most modern dehumidifiers – including all the ones in this article – automatically switch themselves off when they become full, so there's no need to worry about flooding your home. 
With gravity draining, the water does not collect inside the machine but flows out into a drain, sink, etc.  However, as the word 'gravity' implies, it can only flow downward. 
This means that the drain will need to be lower than the dehumidifier itself to allow the water to flow out smoothly.  Not all dehumidifiers come with hoses to allow this, but even many that don't will have a place for you to attach your own hose. 
With pump draining, the dehumidifier is equipped with a pump that is used to pump the water to a draining spot regardless of the dehumidifier's position. 
The pump, of course, is an extra source of noise, so we haven't considered any pump draining models for this article. 
Compressor/Refrigerant Type VS Desiccant Type
These are the two main types of dehumidifiers and they work in different ways. 
Compressor (also called refrigerant) dehumidifiers are the most common type for domestic use.  They work by drawing cold, moist air over a cooling coil. 
This cools the moisture in the air down, allowing it to condense into liquid, which is then collected by the dehumidifier. 
You've already seen this happen on your bathroom mirror after you have a shower – it's exactly the same process.  Most compressor dehumidifiers then reheat the air before releasing it, maintaining a constant temperature in the room. 
Because they rely on cold coils to condense the moisture, they work best in warmer temperatures – otherwise, the coil needs to be even colder to condense any moisture. 
Compressor dehumidifiers generally don't work all that well in temperatures of under 60°F.  In temperatures under 40°F, they usually don't work at all. 
Desiccant dehumidifiers work by using a 'desiccant' chemical (a chemical that absorbs water out of the surrounding area). 
If you've ever seen a silica gel packet in a bag of snacks, you've seen a desiccant chemical in action.  Desiccant dehumidifiers also reheat the air before releasing it, but usually more than compressor models. 
These things explain why desiccant dehumidifiers are at their best in cold conditions.  They work far more efficiently than compressor dehumidifiers at temperatures of under 60°F and also help to warm the surrounding space a little more. 
They can also work in warmer conditions, but stop performing so well at around 75°F and up.  Since they don't use a compressor, they are often quieter than compressor dehumidifiers. 
Frequently Asked Questions
What Does A Dehumidifier Do?
A dehumidifier is a device that removes water from the air to reduce relative humidity. It should then maintain that humidity. 
What Is Relative Humidity?
Basically, humidity is a measure of how much water is in the air compared to the maximum possible amount of water it could hold.  100% humidity means that the air is 'full' and cannot hold any more water. 
Air can hold more water the warmer it is so as the air cools, the humidity increases, even if the actual amount of water in the air doesn't change. 
Can Dehumidifiers Be Quiet?
Yes!  There are many quiet dehumidifiers available these days, so there's no need to stick with your old, clanking model.
What Does 'Capacity' Mean For A Dehumidifier?
A dehumidifier's capacity is the amount of water it can pull out of the air in a 24 hour period.  This might not be the same as the amount of water it can store, however, so you may need to empty yours to let it go on working. 
Can I Run A Dehumidifier With My Air Conditioning?
Yes, you can run a dehumidifier and air conditioning together. 
Can I Use The Water From My Dehumidifier?
You can!  While it's not safe to drink due to potential contamination from bacteria and chemicals, it can be used to water plants (as long as you're not planning to eat them), fill irons, and flush toilets. 
You can also use it to clean, but if you're planning to do this inside, you might want to add a little bit of bleach to make sure there are no bacteria to cause problems.