by Jennifer Porterfield
|
Last Updated:
January 12, 2022
As an Amazon Associate, I earn from qualifying purchases at no extra cost to you. Thank You for your support.
Are you looking for a PC case that silences the intolerable whirring of your computer and keeps it cool at the same time, whilst standing tall with elegance and beauty? That calming silence, it's something we all crave when trying to concentrate.
No one enjoys that annoying persistent background noise that slowly grinds you down as you're trying to work or enjoy a game.
If you're online with a headset trying to talk with friends or colleagues and all you can hear is your computer in the background drowning out everyone's voices, having to ask people to repeat themselves….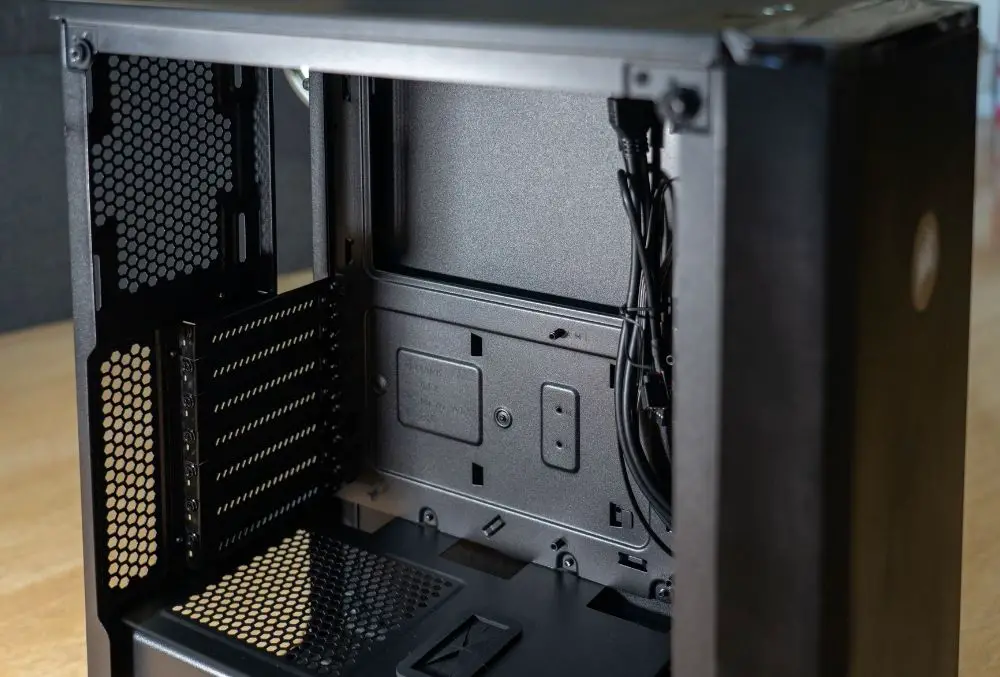 Some of you folks don't mind this and I envy you, but if you're anything like me, then I know a lot of you are ripping your hair out praying for a solution.
Fear not my PC friends, here are five cases that will save you from this grating issue so many of you have endured for so long, along with many other great and important aspects to consider when buying the best quiet PC case.
Our Best Quiet PC Case Reviews
What stands out visually about the CORSAIR iCUE is the built-in full view, showcasing your system behind three beautiful tempered glass panels. It's also easy to build which is a serious plus as this can be a real deal-breaker for many of you less technically able folk, me being one of them.
It keeps incredibly cool due to an advanced and spacious fanning system. After all, an overheating loud PC is your worst nightmare, right?!
The cable management system makes it simple and fast to route your major cables through a single hidden channel. There is an easy-access hinged door and a roomy 30mm of space behind the motherboard for all of your cables, so there's no need to have them sticking out and looking untidy!
This is a very spacious case for those of you with a lot of hardware. You won't be trying to squeeze every last thing inside the case compromising air flow and cooling capabilities.
Here's the really cool part, it also includes four nifty and powerful 140mm Corsair SP RGB elite fans with eight individually addressable RGB LEDs per fan, making it look seriously cool, especially at night when the lights take over the show! And to top all of that off, it's beautifully quiet due to quality insulating materials which help dampen sounds, whilst using
SP elite fans are some of the quietest on the market. No soul grating whirring sound to distract your virtual journey into the distant lands of FarCry.
To make this product even more exciting, it has a 3 slot vertical GPU mount that fits the biggest most powerful graphics cards available in today's market, allowing you to play Halo with the highest graphics available, creating the ultimate gaming experience for you and your friends.
Taking all of these factors into account, the looks, size, cooling system, intuitiveness of cable routing, and the noise reduction technology, it really is the all-round winner in my opinion.
Pros
Beautiful tempered glass – allowing you to see your system working in all its glory.
Rapid Route cable system – allowing fast routing of cables through one main line
Easy to build – only tool needed is a screwdriver for the motherboard
Massive interior – allowing multiple cooling fans and extra space for cables
Extremely quiet – for the noise conscious people
Holds largest graphics cards on the market – for the gamers and heavy content creators
Cons
Front dust filter – can rub against cooling fans if not assembled correctly
Sale
CORSAIR iCUE 7000X RGB Full-Tower ATX PC Case, Black
Build in Full View: The 7000X RGB showcases your system behind three gorgeous tempered glass panels...
CORSAIR RapidRoute Cable Management System: Makes it simple to route your major cables through a...
Four Included 140 mm RGB Fans: CORSAIR SP RGB ELITE PWM fans feature eight individually addressable...
Smart RGB and Fan Speed Control: An included CORSAIR iCUE COMMANDER CORE XT Controller, CORSAIR iCUE...
Last update on 2023-11-18 / Affiliate links / Images from Amazon Product Advertising API
If it's ultimate silence you're after, then look no further my buzz-fearing friends. The optimally designed high-density noise reducing material throughout the case absorbs all the sounds from the PC, and what's more, not compromising airflow or cooling performance.
It has extensive water cooling support for its size, housing radiators up to 420 mm in the top and 360 mm in the front. It's equipped with new tool-less ModuVent fan slot covers allowing the user to install more fans if desired or keep fan slots covered to maximize sound absorption. The case is big and heavy and it holds a lot of hardware which is always useful.
A commonly asked question is if tools are needed to set it up. The answer is no. At most you'll need a standard Phillips screwdriver and all the screws you need are included.
It is a big case but, stop fooling yourself… If you're building a custom PC and you want performance, beautiful silence, and ease of maintenance, this is it right here.
For all you noise-obsessed gamers out there, this is the crème de la crème of silent PC cases, so you can enjoy the full-blown mind-bending audio from your favorite games down to the finest whisper.
Pros
Ultimate silence due to noise-reducing material
Tool-less Moduvent fans
Extensive water cooling support
Spacious for extra hardware
Cons
Limited languages in the user guide (European & Asian), and brief instructions at best
Fractal Design Define R5 White Gaming Case with Window Cases...
Optimally designed for silent computing with high density noise-reducing material throughout the...
Extensive water cooling support for a case of this size; housing radiators up to 420mm in the top...
Equipped with new tool-less ModuVent fan slot covers allowing the user to install more fans if...
Including two Fractal Design Dynamic GP14 140mm fans developed for superlative airflow while still...
Last update on 2023-11-18 / Affiliate links / Images from Amazon Product Advertising API
If it's value for money you're looking for, then this is the case for you. This is arguably the best case in this bracket. The build quality is excellent, the RGB lighting is tasteful and it syncs with MSI Mystic Light.
Whilst other cases on the market may offer a slightly more advanced cooling system with a few more mod-cons, this is a solid, attractive, quiet, and cool airflow case.
I would certainly recommend it for those on a budget looking for something trustworthy.
The RGB front strips and ambient internal lighting are tasteful and can either be set using the front panel button or controlled via the motherboard/software.
The 3 included 140mm fans are a cut above the stock fans in many other cases and they are both stylish and totally silent. The case layout has plenty of room for the PC components you'll actually need, without a ton of wasted space.
It's also very good at keeping dust out. No one likes a dusty fan making you sneeze.
Pros
Great value for money
Quiet and very effective cooling system
Very intuitive and easy to set up
Very spacious for extra cables and components
Cons
Only one USB port on the front panel
The manual is basic
Protective packaging is minimal
Last update on 2023-11-18 / Affiliate links / Images from Amazon Product Advertising API
Look no further gamers of the night, this case is something spectacular, both visually and technically. This case adds something special to the room with its complex light display and carefully designed exterior gives it the wow factor when you walk into the room.
All of your friends will be stampeding the local tech store when they see it in all its glory, lighting the room like Piccadilly Circus with its unlimited light transformation capabilities.
The diamond-shaped mesh front panel adds a uniqueness to this case that's hard to find elsewhere.
For PC builders looking for a case that has excellent expandability and airflow, a clean, modern look, but also don't want to take up too much space, the vetroo MESH6 is the best choice for you.
A frequently asked question is if this case can be run air-cooled, not only water-cooled. The answer is yes, it can be air-cooled too and doesn't get too hot. So don't panic gamers and content creators, this case can keep up with your marathon gaming sessions into the early hours no problem.
With a 5V ARGB interface, it can be connected to the motherboard to synchronize light effects. The case supports up to 10pcs fans at the same time.
It also has room for up to 280mm of water cooler on the top and 120mm of water cooler on the rear, providing excellent airflow and cooling capabilities for those pushing the system hard with the highest graphics cards and often overclocking.
If you're looking for total silence then there are quieter cases out there, but considering the complexity, this case does very well for noise reduction. If you're obsessive about noise or wear open-back headphones, this could be a potential deal-breaker for some people.
Pros
Breathtaking light display
Excellent cooling system
Excellent for high powered gaming & content creation
Comes with 6 ARGB fans
Lots of space inside for extras
Cons
Lack of fan control
Not that quiet
Complicated cable management
Vetroo MESH6 Mid Tower ATX PC Gaming Case, 6X 120mm ARGB...
【UNIQUE PANEL DESIGN】The diamond-shaped mesh front panel and transparent tempered glass side...
【6 ARGB FANS】Pre-installed 4pcs 120mm ARGB fans in the front and 2pcs fans in the rear, provide...
【CONTROLLER EQUIPPED】The controller can control 6pcs pre-installed fans. With 5V ARGB interface,...
【SUPERIOR COOLING SOLUTION】The case supports up to 10pcs Fans at the same time, It also has room...
Last update on 2023-11-18 / Affiliate links / Images from Amazon Product Advertising API
If you are one of those people who like life to be simple, uncluttered, and stress-free, giving you that peace of mind, this could be the one for you.
Due to the minimalist nature of this case, you may wonder which motherboard fits and whether the hard drive bays, in this case, are capable of holding an SSD or standard hard drive. Or, do you need to buy one separately?
Amazingly it still fits a standard-sized ATX, Micro-ATX, and Mini-ITX motherboard, and can hold an SSD drive and standard hard drive together, no extras needed.
Despite the minimalist design, the 110Q case ensures that your system can fit into almost any environment. Also, with its four high-density sound dampening panels to reduce noise, it packs a real punch for its size!
Lastly, this case also has removable dust filters, which are very easy to take in and out, ensuring the case remains dust-free. The construction is surprisingly solid and durable for a case with small and light features.
Pros
Compact and suitable for any environment
Extremely quiet
Well designed for efficient space management
Cons
Thin side panels and plastic front bezel
Limited airflow
Corsair 110Q Mid-Tower Quiet ATX Case, Black, Solid,...
The 110q's minimalist design ensures that your system can fit in almost any environment, with four...
Supports up to four drives for the storage options you need: two 2.5in trays and two combo 3.5in/...
Includes a 120mm fan to cool your components out-of-the-box.
Fits up to 4x 120mm or 2x 140mm cooling fans or multiple radiators to keep your PC cool.
Last update on 2023-11-18 / Affiliate links / Images from Amazon Product Advertising API
Best Quiet PC Case Buyer's Guide
Buying the right quiet PC case for you is no easy task, there are a lot of options with a lot of different aspects for your specific requirements. Below I have listed 6 key parts to your case you'll need to think about before clicking the 'buy' button.
Noise
Noise is one of those things that's a little bit like vegemite, you either love it… or you hate it…
If silence is something that is very important to you then choosing the right PC case is very important. Some cases have been specifically designed with noise reduction in mind, those of you that talk online with headsets or use open-back headphones and want to be able to hear properly.
Those of you who get angry at persistent background noise that creeps its way into your subconscious, making you feel stressed or anxious. It's important to choose your case carefully.
Water Cooling Vs Air Cooling
An important question to ask yourself is whether you want your PC case to be air-cooled or water-cooled.
Air-cooled cases are very good at relocating heat away from the CPU, which is an integral part of the operating system, but you must keep in mind that heat is then dispersed inside the case.
The difference with water-cooled cases is they do a better job of relocating the heat outside the case using the fans on the radiator.
If budget is an issue then going with an air-cooled system may be best for you, as many air-cooled systems are very effective nowadays, and breaking the bank for a liquid-cooled system may not be worth it.
If money is no object and you have some of the best components out there, maybe with a tendency to overclock the system, then consider the biggest all-in-one liquid cooler you can buy.
However, if having liquid inside the case is something that concerns you because you move the case around a lot for work and you don't want any chance of leakage, then maybe an air-cooled system is a better choice for you.
If coolness is of the highest priority for you and money is of little concern then liquid-cooled may be the way to go.
Overclocking is important to consider, if you are a hardcore gamer or a workaholic (you know who you are), then you will be pushing your system to dangerous levels of heat production, if this is the case then a highly effective water-cooled system is essential for you.
The mid-tower and bigger sizes allow you to fit larger water coolers to handle this level of heat, so considering size is also a factor.
Air Flow
It's very important you find a PC case with good airflow. It's not rocket science, with all the heat-generating hardware inside the case, airflow is essential for performance and cooling capabilities.
Naturally, the bigger PC cases have more room inside for air to flow, they also allow more fans due to the size. If airflow is of paramount importance to you then finding a case with a well-designed interior for optimum space management is very important.
Ultimately this will keep your hardware cooler and allow you to push your system harder with the largest graphics cards, whether it's intense non-stop gaming or heavy content creation programs, airflow is key.
Size
The size of your PC case ultimately determines how much hardware you can fit in it. For those with a lot of components, a mid to tall tower with enough width is very important, this also allows enough room for fans and airflow.
This naturally comes hand in hand with those of you running high-end graphics cards and overclocking the system, if that's you then a bigger case is the way to go.
For those of you with the more minimalist mentality with fewer components and maybe slightly less powerful processors then a smaller case may be better, allowing it to fit in all environments and making it easy to move around if you're on the move often.
Motherboard sizes come into play with different tower sizes, although a lot of minimalist cases now support standard motherboard sizes, some do not.
Case Build Quality
For those of you with a meticulous eye and a feel for build quality, then the casing is something to look into.
Higher-end cases tend to use more quality material, helping with protection, dust management, aesthetics, and noise production. The lower-end cases tend to damage more easily and show scratches and marks more.
Thinner panels will also wear down more easily, affecting noise production.
Cable Management
I think there are three different types of people who will build computers.
Those who are incredibly particular about their cable management, those who take average care over cable management, but aren't going to get obsessive over it, and those who just aren't bothered about it!
For the first two types of people, choosing a case that is designed with cable management in mind is the way to go. If building a sleek-looking system is one of your priorities, then taking care of cable management is essential.
While cable management is a bit of an art and people who excel at cable management can probably make the cabling look good in any case, having a case that has plenty of cable options is going to go a long way towards helping you hide your cables in an effective way.
There are cases out there that clearly offer more options for cable management, and some cases take more care over tidy and intuitive cable management than others, so this is something not to be overlooked if this is something that is important to you.
Frequently Asked Questions
What Makes A Good PC Case?
It's very dependent on what the customer is looking for, but things to consider are, spacious innards, cable management, cooling abilities, noise reduction, water-cooling components, and bright shimmering RGB lights and tempered glass panels to transform your room into something special!