by Jennifer Porterfield
|
Last Updated:
July 20, 2021
As an Amazon Associate, I earn from qualifying purchases at no extra cost to you. Thank You for your support.
At home or in your workplace, having easy access to a quiet, compact mini fridge is a great convenience. With one of these small refrigerators in your bedroom, entertainment area or family den, you can enjoy cool drinks at any hour.
You can have that favorite midnight snack without stumbling to the kitchen and waking up the entire household. The teenagers can share a late-night fridge raid without waking the younger kids. With a mini fridge in your nursery, your baby or toddler's appetite or thirst can be satisfied simply and easily.
During working hours at the office, factory, showroom or store, you and other staff members can refrigerate foods and beverages. On busy days, you can share lunch and break times in your workspace without the need to order takeout.
Table of Contents
Mini Fridge Cooling Methods
There are two main methods of cooling that are currently used in mini fridge designs, thermo-electric and compressor-based. The major features and functions of each type of cooling include the following: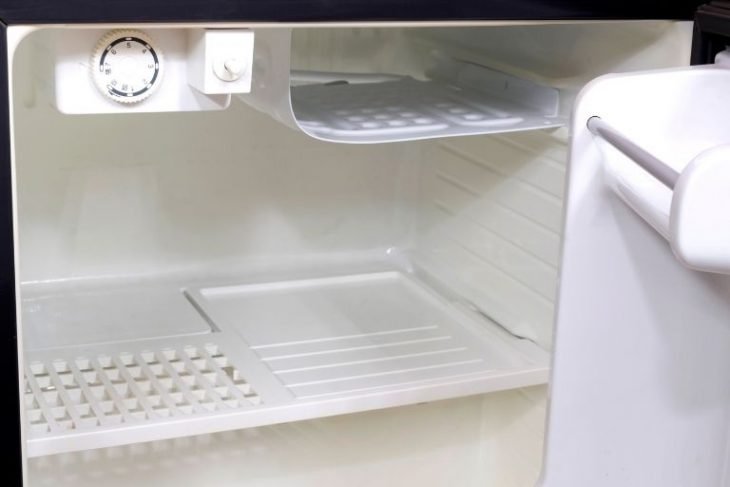 Thermo-Electric Coolers (TEC)
These coolers operate using the Peltier effect. This produces a temperature variance by transferring heat energy from one electrical junction to another. To produce an electrical current, a voltage is introduced across conductions that are connected.
As the current flows, heat is drawn out of one junction, causing cooling to occur. The heat is transferred at the other junction. The major purpose of the Peltier effect is cooling, so it is ideal for use in mini fridges. This effect can also be used to achieve heating and temperature regulation.
Advantages of Using a TEC
This cooling system requires very little space, and it is not adversely affected when moved around or tilted. Less costly than compressor models, it also uses less energy. With only the necessary moving components, this system produces no vibrations and offers quiet operation.
Disadvantages of Choosing a TEC
These cooling systems are best suited for use in small spaces and enclosures. They are typically more expensive than compressor coolers, yet they conserve more energy. These systems are sensitive to the amount of heat in the environment. A high room temperature can lessen the unit's cooling capacity.
Compressor Coolers
The compressor of a mini refrigerator acts as a pump and a motor, distributing refrigerant through the system for cooling. When the temperature rises, passing a set level on a thermostat, sensors signal the compressor to start operating.
Since refrigerators do not have closed systems, cold air can escape and warm air can enter the unit. This causes the cooling system temperature to fluctuate. When the compressor starts working, there is an intake of cold liquid refrigerant gas as it exits the evaporator.
Applying pressure to the gas compresses it, and its temperature is raised. This hot compressed gas is forced out of the compressor and inside condenser coils on the fridge back. The coils then act to distribute heat into the air as the gas reverts back to a liquid.
Moving through the system, the liquid refrigerant reaches the expansion valve, which pushes the liquid into a small hole. The hole then produces an imbalance in pressure, which results in the refrigerant boiling over and vaporizing on its way through. The vapor evaporates on its way through the freezer coils. This occurs at -27 degrees F.
Traveling through the coils, the cold liquid gas absorbs heat from the air in the mini refrigerator. Based on the second law of thermodynamics, the heat moves from warmer to colder components. In this situation, the cold component is the refrigerant, and the warmer item is the air.
The inner path through the coils leads back to the compressor. This same process of compression and evaporation continues to occur until the sensors signal that the temperature desired is attained.
Advantages of Compressor Coolers
Compressor coolers support significantly lower temperatures than thermo-electric models. They also offer larger capacity. In addition, these coolers can adapt to changes in their surroundings like fluctuations in room temperature.
Disadvantages of Using Compressor Coolers
This type of cooler includes moving components that create vibrations, producing extra noise while in operation.
Best Quiet Mini Refrigerator That You Can Buy
The best quiet mini fridge brands and models on the consumer market today include the following:
1. CROWNFUL Mini Fridge: 10 Liter/12 Can Portable Cooler/Warmer
CROWNFUL Mini Fridge, 10 Liter/12 Can Portable Cooler and...
PORTABLE MINI FRIDGE: The CROWNFUL Mini Fridge is a small freezer to store foods, drinks, beer,...
COOL AND WARM MODE: Set the fridge to cool or warm with just a flip of the switch! It cools down to...
10-LITER CAPACITY: It has a 10-Liter capacity that can store up to 12 x 12 oz. soda cans, the...
SUPER QUIET OPERATION: The Portable Electric Cooler & Warmer Fridge features a brush-less high-grade...
Last update on 2023-11-17 / Affiliate links / Images from Amazon Product Advertising API
This model is an ideal mini refrigerator for food, beverages, skin care products, and medicines. Its handsome black exterior complements many types of room decor. It is the perfect choice for use in your bedroom, dorm, or office. It's compact portable design offers efficiency and convenience for use on camping, boating, and road trips as well.
This model includes a cooling and warming mode. You can set the controls to cool as low as 35 degrees F (2 degrees C) or to warm up to 149 degrees F (65 degrees C) using its internal thermostat. This model has two removable shelves, a basket container plus a carrying handle. This cooler's door handle has a spring lock to keep the door securely closed.
This cooler design offers superior quiet operation. Its top-grade brushless fan motor operates quietly (at 25-decibel sleep mode) and is quite durable. This eco-friendly mini fridge is 100 percent free of Freon and is ETL certified. It includes advanced design safety technology and is energy-efficient. It is shipped with plugs for standard electrical outlets and a 12V car charger. This cooling unit measures 7.16 by 6.8 by 10.9 inches and weighs 9.3 pounds.
Pros
Offers super-quiet operation.
Is lightweight and easy to carry on trips.
Has great options for both cooling and warming.
Cons
May experience some dips in cooling temperatures according to a power source.
View on Amazon
2. Cooluli 10L Mini Fridge for Bedroom Car, Office, or Dorm Room
Cooluli 10L Mini Fridge for Bedroom - Car, Office Desk &...
Convenient & Lightweight: The Cooluli Infinity 10-liter thermoelectric cooler/warmer mini fridge is...
Quickly Switch from Cooling to Warming: Go from cooling to warming with one quick switch.
Ultra Versatile & Functional: The dual-voltage Infinity (AC 100–240V/12V) works anywhere in the...
Stylish Design: Sleek, glass-front mini refrigerator is ideal to use anywhere in your home, the...
Last update on 2023-11-17 / Affiliate links / Images from Amazon Product Advertising API
This 12V AC/DC portable cooler and warmer unit keep food, beverages, makeup, skincare, and beauty products at just the right temperature. It has an all-black exterior and an attractive glass front. This model is lightweight and convenient to move around at home or in the car or office.
This thermo-electric cooling and warming device is a stylish and durable mini refrigerator. You can change the cooling control to warming using one simple switch. This versatile model offers dual-voltage (AC 100-240V/12V) and can be used at virtually any global location.
Carry this portable cooler/warmer anywhere you go for convenience or partying. It is just as functional at home in your bedroom or nursery as it is on road trips. This unit's advanced features include EcoMax Technology for conserving energy use and eliminating frost. This cooler/warmer device measures 9.4 by 11.4 by 13.4 inches and weighs 7.9 pounds.
Pros
Removing the middle fridge shelf allows room for tall bottles.
Is the perfect size for even a small office or bedroom.
Operates smoothly and quietly when cooling or warming foods, drinks, and other products.
Cons
May not keep some perishable foods or products fresh for long.
View on Amazon
3. Cooluli Retro Coca-Cola Mini Fridge: AC/DC 12V Portable Cooler/Warmer
Sale
Cooluli Retro Coca-Cola Mini Fridge for Bedroom - Car,...
FORGET A COOLER FULL OF ICE: The thermoelectric system in the Cooluli Cooler and Warmer allows for...
EASY SWITCH FROM COOLING TO HEATING: Take the cooler/warmer on the go and transition from cooling to...
AC/DC ADAPTERS INCLUDED: The Cooluli Cooler & Warmer comes included with AC and DC power adapters...
DURABLE DESIGN FOR TRAVEL: The Cooluli 10L Cooler & Warmer is designed with car travel in mind....
Last update on 2023-11-17 / Affiliate links / Images from Amazon Product Advertising API
This colorful red, white and blue Retro Coca-Cola mini fridge is a favorite among children and teenagers. Its retro design adds cheerful vintage decor to your den, entertainment room, or youngster's bedroom. This model is also popular in modern office staff lounges and dorms.
The thermo-electric system of this mini fridge unit enables simple switching from the cooling to warming options. This model is great for camping, picnicking, road trips, and vacations. This fridge can hold as many as a dozen 12-ounce drink cans. AC/DC adapters are included to ensure smooth changing from the use of 110V (AC) indoors to your car's 12V (DC) cigarette adapter.
This portable fridge contains top-quality, durable plastic. It is well insulated for lasting cooling or warming effects. This product is 100 percent safe and free of Freon, and it is eco-friendly. This mini fridge measures 11.4 x 9.4 x 13.4 inches and weighs 10.08 pounds.
Pros
Fits well under shelving or in cramped corners of a small room.
Can hear only a slight noise if you stand right next to this mini fridge.
Maintains a steady dependable temperature as set.
Cons
Some models may have faulty operating systems.
View on Amazon
4. AstroAl Mini Fridge: 4 Liter/6 Can AC/DC Portable Cooler/Warmer
Sale
AstroAI Mini Fridge, 4 Liter/6 Can AC/DC Portable...
COMPACT MINI FRIDGE: The AstroAI mini fridge is a small fridge to store foods, drinks, beer, snacks,...
4-LITER CAPACITY: Store 6 can/12 oz with ease; Inner dimensions are 5.5" x 5.3" x 8.07"; The...
AC/DC ADAPTERS: You can connect the compact refrigerator to a 100-120V home power supply, or you can...
ECO-FRIENDLY ENGINEERING: Semiconductor refrigeration chip is freon-free and environmentally...
Last update on 2023-11-17 / Affiliate links / Images from Amazon Product Advertising API
This compact thermo-electric cooling and warming unit in white is ideal for use at home, in your workplace, or while traveling. It keeps foods, drinks, medications, and skincare products at the desired temperatures. Its removable shelf makes it easier to organize small and larger items.
This small, compact unit can cool up to 32 degrees F (18 degrees C) below room temperature. It can also warm up to 150 degrees F (66 degrees C), and drop from 86 degrees F (30 degrees C) to 64 degrees F (18 degrees C) within one hour. The inner dimensions of this "extra-mini" fridge unit are 5.5 by 5.3 by 8.07 inches.
Two AC/DC adapter plugs are included for use in both wall outlets and 12V vehicle cigarette lighters. You should ensure that you operate your cooler/warmer in your car only while the vehicle's engine is running. Otherwise, you may drain your car battery.
This model includes eco-friendly design and engineering, and the semiconductor refrigerating chip is Freon-free. This mini-mini refrigerator measures 9.45 x 6.89 x 10 inches, and it weighs only 4.6 pounds.
Pros
Is a great tiny fridge for cooling drinks and cosmetics.
Is small and compact enough to fit in almost any nook and cranny in a small room.
Operates quietly and is lightweight and easy to carry.
Cons
Maybe adversely affected by warm room temperatures, which can interfere with this mini-mini fridge's high cooling temperatures.
View on Amazon
5. Gourmia GMF600 Mini Fridge Cooler/Warmer: 4 Liter/ 6 Can Capacity
Gourmia GMF600 Thermoelectric Mini Fridge Cooler and Warmer...
COMPACT CONVENIENCE: This lightweight 6 can mini cooler & warmer features a removable shelf,...
COOL OR WARM: Easily choose to chill up to 32°F below ambient temperature, or warm up to 150°F (in...
GO GREEN!: This eco-friendly product was engineered with thermoelectric technology. It uses advanced...
AC & DC INCLUDED: Included are 2 detachable power chords, 1 AC for wall outlets, and 1 DC for...
Last update on 2023-11-17 / Affiliate links / Images from Amazon Product Advertising API
This thermo-electric mini fridge cooler/warmer design is just as desirable for use at home as for daily use at work during the week. Compact and portable, this model is also convenient for use in your vehicle or dorm room and on boating or camping excursions.
This mini cooler and warmer has a convenient removable shelf to accommodate items of different sizes. It also includes a self-locking latch and a carry handle for simple portability. It can fit virtually anywhere in your home, car, showroom, office, or dorm room.
With the easy flip of a control switch, this unit can chill up to 32 degrees F below ambient temperature. It can also warm up to 150 degrees F when placed at a room temperature of 75 degrees F. Even after this unit is unplugged, its well-insulated structure keeps the interior temperature steady.
This green product operates with thermo-electric technology. It includes updated semiconductor designs that are free of refrigerants and CFCs. Two detachable power cords are included, one AC cord for use in wall outlets and one DC cord for use with vehicle cigarette lighters. This mini cooler/warmer measures 9 by 7 by 10.25 inches and weighs 3.10 pounds.
Pros
Is a great little fridge to keep in your exercise room at home to supply cool drinks.
Is cute, compact, and convenient, and keeps your midnight snack at the right temperature.
Is good for storing breast milk, formula, and baby foods at healthy temperatures.
Cons
It may not always cool up to the maximum temperature.
View on Amazon
FAQs (Frequently Asked Questions)
Frequently asked questions concerning obtaining and enjoying the benefits of the quietest mini fridge currently available include the following:
What is the quietest small fridge?
Your choice among the recommended brands and models of the quietest small fridges is your own decision. It should be the one that is on the market today that best suits your specific preferences and needs. You should consider the room and space where you will place it and the mini fridge dimensions. Be sure to consider what types of items you will store in your fridge as well.
Are mini fridges loud?
Most recent brands and models in mini refrigerators operate fairly quietly. Although some are louder than others, they are designed to offer good noise control while cooling and warming foods, beverages and other products as needed.
How do you silence a mini fridge?
If you currently have a mini fridge in your home or workplace that makes distracting noise, there are several ways to make it quieter. Try leveling the legs of your fridge or place it on a mat. You can also soundproof the wall behind the fridge relatively cheaply.
Other options include constructing a shelving unit around it or soundproofing the interior of your mini fridge. You can also try cleaning the cooling/swarming unit's condenser and fan.
The Best Quiet Portable Mini Fridge That You Can Buy
Most consumers who shop for the quietest mini-fridges today also want the most compact mini fridge. They are most likely also seeking a high-performance small freezer compartment in a small fridge. Removable glass shelves and ice tray sets are also high on many buyers' lists. Two-door mini-fridges are quite popular today, and reversible door models are also frequently requested.
A compact refrigerator unit is also wanted, and the unit's cooling method may be a major buying decision. You may prefer thermoelectric coolers or a compressor cooler. Yet the number one request of most people shopping for a mini, compact refrigerator is that it must be as silent a mini fridge as possible.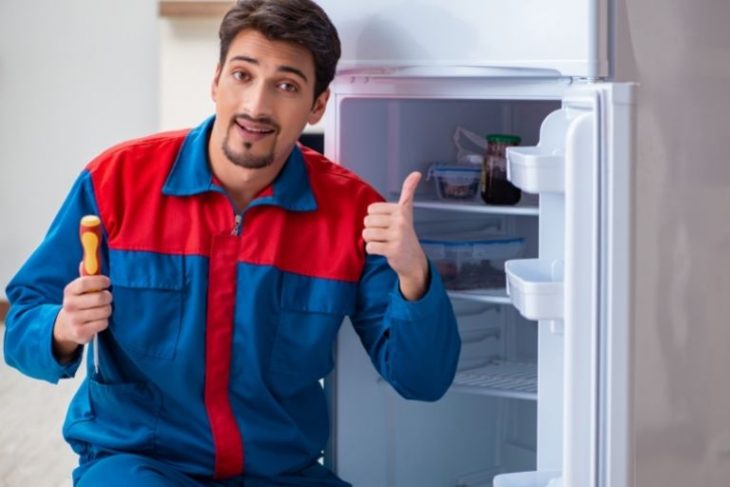 Examine All Your Quiet Mini Fridge Choices Carefully
Before making your final purchasing decision for a new ultra-quiet mini fridge, examine the features and functions of the models above.
The CROWNFUL Mini Fridge offers reliable cooling and warming action to ultimate degrees, two removable shelves and a door handle with a dependable spring lock. Most importantly, it provides super-quiet general operation (and a sound level of just 25 decibels while in sleep mode). We rate this brand and model as the best quiet mini fridge that you can buy today.
Our runner-up model is the Cooluli 10L Mini Fridge with its attractive glass front and lightweight construction. This thermo-electric mini refrigerator is both stylish and durable for ongoing use.
Our choice for a retro-style little fridge is the colorful Cooluli Retro Coca-Cola Mini Fridge. It provides bright vintage decor for any room or interior space. It also offers a thermoelectric system that facilitates easy switching from cooling to warming options.
Our "mini mini" selection is the AstroAl Mini Fridge with optimal cooling and warming capacities. It offers reliable temperatures and can fit into the tiniest of nooks and crannies as needed.
Our choice for a budget model is the Gourmia GMF600 Mini Fridge. While offering a low-cost solution for a small, compact cooler/warmer device, it provides all of the benefits of a fine-quality mini refrigerator.
Of course, the ultimate mini fridge buying decision is your own. After comparing the makes and models and features and functions of the leading choices, we know that you will make the very best choice. You will take home or to your workplace the very best quiet mini fridge to meet all of your desires, preferences, and needs. Enjoy shopping!