by Jennifer Porterfield
|
Last Updated:
April 20, 2023
As an Amazon Associate, I earn from qualifying purchases at no extra cost to you. Thank You for your support.
Generating power and being quiet always feel like they're Batman and the Joker. Sherlock Holmes and Professor Moriarty. Harry Potter and Lord Voldemort. The two should not, instinctively, ever go together.
Table of Contents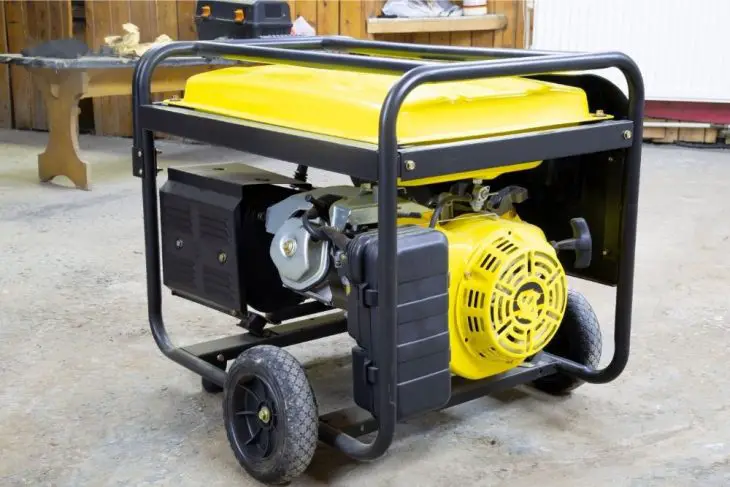 Power instinctively feels like it should be noisy. The more power you generate, the noisier it feels like it should be. We imagine big American muscle cars, the roar of engines, compared to the slightly creepy quietness of modern electric cars.
But this idea of power and noise going hand in hand is really only a product of our domestic experience – and only then, the experiences we notice… because they make a lot of noise.
Put batteries in a flashlight though and no one comments on the noise, because there's no noise to hear. Turn on a lightbulb, and with the occasional exception of a small buzzing hum, you don't notice the noise.
Quiet power is not only possible, it's actually fairly fundamental to life as we know it. But if you're looking for a quiet generator, life's not that simple. Finding the best quiet generator in a market that's full of generators with various signature skills and characteristics can take days or weeks of comparison shopping and review-reading.
We know that because we've done the research ourselves – so you don't have to. Looking for the best quiet generator? We've got you covered. In a hurry? Here's our top pick to start.
Best Quiet Generator Reviews
What? A giant dual-fuel behemoth is our top pick for a quiet generator? We had to check twice, too. But the thing to keep in mind is that "quiet" is a relative term, just as much as it is an absolute one.
Things that put out fewer decibels are objectively quieter – and there are objectively quieter generators further down our list.
But quieter compared to other generators in its class is something to keep in mind, too. By reducing the noise level to 74 dBa, Duromax has delivered a dual-fuel generator that stands alone among other such generators for the noise level it produces.
Great – but how is it as a generator? Not too shabby, since you ask. It gives you 13,000 watts, has an electric starter, and is both EPA approved and CARB compliant.
Of course, being a dual-fuel generator, it has great fuel efficiency options, especially since propane is less expensive to buy and stores safely for longer than regular gas.
And with an 8.3-gallon fuel tank, it'll keep generating the power you need for even some of your more heavy-duty electronics as long as you need.
It comes with 5 outlet options, including 2 standard household outlets for things like refrigerators and AC.
That's why, while most people think of generators as a vital part of their leisure life, either in RVs and camper vans or out on boats, the Duromax has the potential to act as a true home backup in the event of a power outage.
And, with that 74 dBA sound level, while you'll still absolutely hear it, it's at least quiet enough to become one of those sounds you tune out as part of the noise floor – a thing most generators of its size and power can only dream of offering.
Pros
You get the advantages of dual-fuel generators – including fuel efficiency – in a generator that's relatively quiet
It generates up to 13,000 Watts, meaning it's on the high end of generator capacity
It has a range of outlets, including two domestic outlets so it can act as a genuine home back-up
Sturdy wheels and tires mean you can easily transport the Duromax to where it's most needed
Cons
While it's distinctly quiet for its size and power-generating capabilities, it's still noticeable at 74 dBa
Sale
DuroMax XP13000EH Dual Fuel Portable Generator 13000 Watt...
POWERFUL DUROMAX ENGINE: The XP13000EH is powered by a 500cc OHV Duromax Engine. Engine Speed-3600...
DUAL FUEL TECHNOLOGY: The ability to run on Propane or Gasoline allows the Freedom and Flexibility...
PLENTY OF POWER: With 13,000 starting watts and 10,500 watts, this unit can handle heavy loads from...
MAXIMUM POWER: The power panel includes a wide selection of outlets for maximum compatibility in...
Last update on 2023-11-26 / Affiliate links / Images from Amazon Product Advertising API
The WEN 56203i puts its promise of quiet power generation right in its name – it advertises itself as being "Super Quiet." So how super quiet is Super Quiet?
Pretty good – just 51 dBa, roughly the same as a window AC unit or normal conversation volume. But that's not the only plus: these generators are also rated safe for laptops, cellphones, tablets, and other electronics that tend to be vulnerable to overloading.
Naturally, at that decibel rating, you're nowhere near in the league of the Duromax in terms of power generation. Pumping out 2000 Watts, the Wen really is more of a durable, portable leisure generator, and its 1-gallon fuel tank means you'll be refilling it a lot more often than you would with the Duromax (roughly once every 25 hours of use).
But because it's designed for an entirely different life and purpose, you have to slightly adjust your focus when looking from one to the other. In fairness, your 1-gallon tank here gives you over 4 hours of power at half-load, and you can also kick in an eco-mode throttle to make your gasoline last even further.
An eco-what-now? A clever little device that lets the generator detect when devices are plugged in or unplugged, and manages the generator's fuel consumption in line with need.
With 5 outlets, including USB outlets, the Wen is a handy juice box for all your social electronics and has been certified safe for those devices too, so you can charge up all your windows on the world and the web.
It comes with an auto-shut-off in case of imminent run-dry, and indicator lights will keep you up to date on the state of your power drain. And the most fun and cunning thing about the Wen generator (the Wenerator? No, that would be silly) is that if you need more power than one can provide, you can actually connect two of them together for some supercharging potential.
If there's one particular bugaboo with the Wen generator, it's the habit it has of auto-closing the fuel line when you turn it off. That means if you're looking to drain the fuel out before storing the generator for the winter or some such, you frequently find you have fuel trapped in the carburetor.
That aside though, the Wen generator is a small generator that really delivers what you need in terms of staying in touch with the world while on a camping or RV break. And with a 2-year warranty, it's not likely to fail on you any time soon.
Pros
A noise level of 51 dBa means the Wen is on a level with normal conversation
It includes straight USB charging ports for portable electronics
The eco-throttle helps you squeeze more fuel efficiency out of the generator
The ability to couple up generators gives you a potential power boost
Cons
You will need to refuel the generator roughly once every 25 hours
There's an issue with fuel getting trapped in the carburetor when you turn off the generator
WEN 56203i Super Quiet 2000-Watt Portable Inverter Generator...
Ultralight body weighs in at a mere 39 pounds for easy transport and storage
Extremely quiet operation comparable to the sound of a normal conversation according to the US...
Produces 2000 surge watts and 1700 rated watts of clean power for safe charging of sensitive...
Fuel shutoff maximizes the generator's lifespan by using up the remaining fuel in the carburetor...
Last update on 2023-11-27 / Affiliate links / Images from Amazon Product Advertising API
Portability is frequently the key with lower-powered generators. You need to be able to take them easily to where they're needed, so the lighter the generator, the better the result.
The Champion Power Equipment 100692 gives you 2000 Watts of power generation – the same as the Wen – in a lightweight, easy-transport 39.5-pound module.
Don't get us wrong, the Wen is hardly lightly to give you backache when you transport it either – the two are very similar in their basic build and intention. But the Champion is ultralight, so you'll use it practically everywhere.
Is it slightly louder than the Wen? Yes, it is – you're talking about 59 dBA, so normal conversational level with an occasional mind-blowing sneeze.
That has to be good enough for most uses, and getting 2000 Watts of power generation out of a unit as lightweight and portable as the Champion makes the difference between the noise level of the two generators practically negligible.
Five outlets, including a household outlet and a USB charger port, make the Champion as useful as you could wish for, and – again like the Wen – if you need more zing, you can connect a couple of Champions together for a power boost.
Meanwhile, a 3-year warranty gives you the chance to treat the Champion generator as a real generator on your RV or boat, rather than being overly protective of your investment.
The point of the Champion is ultimately its ultralight portability, but combining a range of outlets and a quiet decibel level makes the Champion a quiet generator to be reckoned with.
Pros
The Champion has a dBa of just 58, making it quieter than many on the market
It's an ultralight, portable generator, weighing in at just 39.5 pounds
You can parallel connect two Champions to give yourself an extra jolt of power
A 3-year warranty means you can use it as a generator, rather than protecting it as an investment
Cons
While it's still quiet compared to many generators, it's louder than the Wen, which it resembles in lots of ways
Champion Power Equipment 100692 2000-Watt Portable Inverter...
At only 39 pounds, this inverter is one of the lightest 2000-watt inverters in the industry.Engine...
53 dBA from 23 feet is perfect for camping, tailgating or to backup a few home essentials, featuring...
The optional clip-on parallel kit enables this inverter to connect with another 2000-watt Champion...
Includes two covered 120V 20A household outlets with clean electricity (less than 3% THD)
Last update on 2023-11-26 / Affiliate links / Images from Amazon Product Advertising API
If you like the Wen and the Champion, you're going to like the Westinghouse too – possibly just a little more than the others.
Just a little more, because where the Wen and the Champion give you 2000 peak Watts, the Westinghouse gives you one graded more at 2200 peak.
A gas-powered generator, the fuel tank is just slightly larger than the Wen's too, at 1.2 gallons capacity. The other variables about the Westinghouse dance around the standards of the other two options.
With a dBa of just 52, it's among the better options for quietness, and it weighs in at 46 pounds – heavier than the ultralight Champion, but by no means heavy.
Where the Westinghouse falls slightly behind is that it only has 4 outlets, rather than the 5 of some competitor units. Parallel connectivity to boost your power output is here too, and you get a 3-year warranty with the Westinghouse too, making it highly competitive with the other units.
What makes it extra competitive is that it's highly budget-friendly, so you get a lot of the benefits of the other generators without necessarily paying as much as they would cost you.
Pros
At 52 dBa, it's one of the quieter generators on the market
It's light enough to be extremely portable
It's available at a highly competitive budget-point
Cons
It has only 4 outlets for your money
Westinghouse Outdoor Power Equipment 2200 Peak Watt Super...
1800 Rated Watts and 2200 Peak Watts at Less Than 3% THD - Weighs Only 47.4 Lbs. - Gas Powered - Two...
Great Choice for Home Use as an Emergency Backup in a Power Outage - Strong Enough to Run All Your...
Extremely Quiet, Extremely Fuel Efficient: as Low as 52 dBA Noise Output and 12 Hour Run Time on a...
Parallel Capable - Combine Your iGen2200 with the Westinghouse WH2200iXLT; iGen1200; iGen2200; and...
Last update on 2023-11-26 / Affiliate links / Images from Amazon Product Advertising API
Let's stick with Westinghouse for a moment. The Westinghouse WH2000iXLT, like the previous Westinghouse, is sold as a "Super Quiet" generator.
So it makes sense that it has the same dBa count of 52. Most of the rest of the stats are the same as several other units, too – you get 2000 Watts of peak power, and the 1.3-gallon fuel tank has an eco-mode that stretches the output you can get from it.
Where it's less attractive than some other generators on our list is that, like the previous Westinghouse, it has just 4 outlets (including USB chargers), but more than that, you get just 13 hours of power generation per tank – that's not technically bad, but some of the other generators give you significantly more than that.
That said, the Westinghouse WH2000iXLT has interesting design features, including color-coded touchpoints, to help you navigate your way around its operation.
While the Westinghouse WH2000iXLT is a great option compared to most generators on the market and is almost as quiet as they come, its limited number of outlets might stop it from being your first choice, when compared to some of those higher on our list.
Pros
It has a dBa count of 52, making it one of the quietest generators on the market
The fuel tank has an eco-mode that can help you stretch out the fuel efficiency
It comes with color-coded touchpoints, for ease of use even for those who are new to portable generators
Cons
It comes with only 4 outlets (including USB chargers)
It has only 13 hours of power generation between charges
Buyer's Guide
When you're in the market for a quiet generator, there are a handful of things to keep in mind before you click the "Buy" button.
Power and Quietness – Where Is Your Balance Point?
The more power you need to generate, the more work your generator needs to do to dampen the sound it makes. Alternatively, the less power you need to use, the less noise your generator is likely to make.
So, when quietness is key to your satisfaction, it's worth asking yourself how much power you actually need.
Think about how you intend to use the generator. Are you aiming to have a home backup, or an easy charging solution on your RV or boat?
Maybe even do an inventory of your typical power needs, because by lowering the point of your power needs, you can lower the noise levels too.
Budget
Whenever you're about to spend money on making sure you get the quietest version of anything, manufacturers will usually charge extra simply because they're selling a contender in your thinking.
Know your budget, and know-how important lowering the decibel level is to you in a generator. Always get the quietest generator your budget allows – but never obey the gambler's pull to go beyond the money you can afford to spend.
After all, there's no point in getting a super quiet generator if you can't afford to run it or to go anywhere you might be able to make use of it.
Versatility
Remember, you're not just buying a quiet generator. You're buying a generator to match your needs. Beyond pure power, you need to consider the uses to which the generator needs to be put – and then compare your needs with the features of the generator, its portability, its number and type of outlets, and so on.
You need to balance the quietness with the functions of the generator, and ideally find a perfect meeting place.
FAQs (Frequently Asked Questions)
How quiet counts as quiet for a generator?
Ultimately, quiet is a measurement of how much comfort you have with the noise level in your environment. That can mean different things in different environments. As a power source to use as a home backup, you might be comfortable with 70 dBA or more. In smaller, more enclosed environments, something around 52 dBa – which is the equivalent of normal conversation – would count as being quiet.
Can I use a quiet generator as a home back-up?
Yes… and no. You can get a powerful generator that is quiet compared to others of its type, but most of the quietest generators on the market tend to be smaller, portable, and would not generate enough power to be used as a home backup.
Are propane generators quieter than gasoline ones?
Generally, no. They may well be more fuel-efficient, because propane usually costs less than gasoline, and also can be stored for longer. But there's little difference in outright decibel level between the two fuels in a generator.
Additional generator related pages: