by Jennifer Porterfield
|
Last Updated:
March 19, 2021
As an Amazon Associate, I earn from qualifying purchases at no extra cost to you. Thank You for your support.
I'm sure if you're here, it's no surprise that a loud dog can be quite obnoxious. Especially when you're crate training. The solution? Easy, to soundproof your dog's crate. I still remember the first time that I built a crate or cage for my dog. I have a Siberian Husky, named Goofy. I know the name is quite funny but I loved the name goofy. Goofy was quite a naughty boy always barking.
So due to all the barking, my neighbors started complaining. So I made it a goal to soundproof my dog's crate perfectly so that it doesn't disturb the neighbors. It took me around 7 months to perfect the soundproofing of a dog's crate. I learned a lot of things NOT to do, and came to a conclusion of what worked best.
In the following article I will be explaining what steps I followed in order to achieve a soundproof dog crate. This also works for dog kennels. Also as a bonus, I have provided information on how to stop your dog barking in the crate.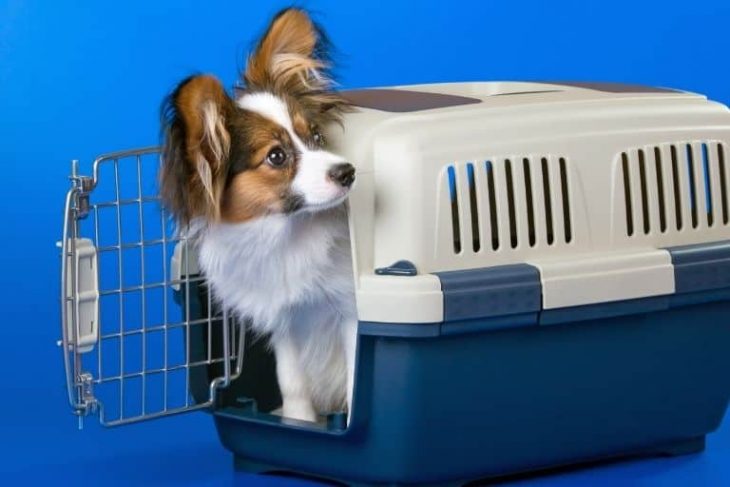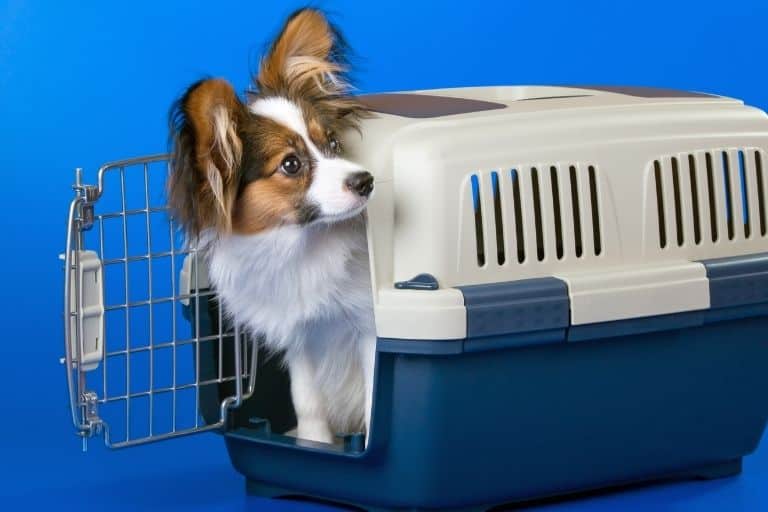 Table of Contents
How to Soundproof a Dog Crate, Cage and Kennel – Best Ways
Best Ways to Soundproof a Dog's Crates/Cage/Kennels
Get Some Soundproof Dog Crate Covers
Get Absorption Sheets/Soundproof Blanket.
Soundproof the wall using Acoustic Foam Panels
1. Get Some Soundproof Dog Crate Covers
Dog Crate Covers are covers that are put over the dog crates, but these covers are not any ordinary covers. They are soundproofing covers so whenever the dog barks the cover absorbs all the sound waves making it soundproof. The sound won't get out of the crate.
If you are looking for some recommendations on my favorite soundproof dog crates covers then these are the best ones that I found on Amazon.
Pet Dreams Soundproofing Dog Crate Cover is a good one, maybe the best that I found online for soundproofing a dog crate. I have been using this dog crate cover and never got disappointed. This dog crate cover is not only soundproofing but also windproof and waterproof so you can use this outside during monsoon season.
This dog crate cover is completely padded on both interior and exterior. The exterior makes sure that the sound doesn't get in and also outside. The interior padded is to make the dog comfy inside and also feel at home for the dog. It also has a foam bumper that protects disgruntled or frantic dogs from the metal exterior of the crate.
This cover is manufactured using a material that is very breathable so your interior can be well ventilated. If you are wondering if the cover machine washable then Yes, it is machine washable. The fabric used in the cover is really soft and long-lasting. The cushion inside the cover is perfect and dogs love it, I know that my dog loves this cover.
The only thing you need to take care of before getting a soundproof dog crate cover is the size. Make sure the cover fits the dog crate. Measure the dog crate properly and then choose the dog crate. The Pet Dream Dog Crate Cover that I mentioned will fit most of the dog crates or cage.
2. Get Some Absorption Sheets/Soundproof Blankets
You can use these absorption sheets or a sound proof blanket as a second layer for the dog crate. This absorption sheet will act as the second layer of soundproof protection. You might be wondering why we need the second layer of soundproofing for the dog crate? That is because the dog's barking is of high-frequency sound waves so their sound waves could penetrate outside from the layer.
That is where these soundproofing blankets or sound absorption sheets come to play. These blankets are really heavy with padding so this will absorb all the sound waves that have penetrated from the first layer which is the dog crate cover.
These Sound Absorption Sheets are made up of soundproofing material so this one is made for the purpose. This soundproof blanket or sheet will also protect the dog during extreme weather such as Cold or Summer so it double the benefit.
So if you are looking for the best absorption sheets or soundproof blankets then we have a dedicated article on that, check it out.
| Image | Name | |
| --- | --- | --- |
| | Cheap Cheap Soundproof Blanket | |
| | Sure-Max Soundproofing Blanket | |
| | US Cargo Supreme Sound Damping Blanket | |
| | Audimute Sound Absorption Blanket | |
| | Cheap Cheap Supreme Sound Deadening Blanket | |
| | Singer Safety Double Faced Sound Dampening Blanket | |
| | EasyGoProducts Soundproofing Blankets | |
| | US Cargo Mega Sound Deadening Blankets | |
| | Econo Soundproofing Blankets | |
| | Performance Soundproofing Blanket | |
3. Soundproof the wall using Acoustic Foam Panels
This is another solution to soundproofing a dog crate or even multiple dog crates is acoustic foam panels. You can soundproof the whole room or wall using acoustic foam panels which will benefit you in multiple ways.  You can do this only if your neighbors are bothered about the dog barking. If not I don't recommend this solution.
This solution is a bit more expensive so its totally optional. Let's say you have neighbors in upstairs that are annoyed by the dog barking then you can only soundproof your ceiling. Or if you downstairs neighbors are bothered then you only soundproof your floor so that the sound doesn't travel down the floor.
Or you are living in an apartment and the apartment next to you is bothered by the dog barking then you only soundproof the wall in your apartment. We have specific information on that check it out. You get the idea right?
So now the matter is how to soundproof these walls, floors, ceilings, or the whole room itself. There are multiple soundproofing materials that you can use such as
Acoustic Foam Panels are really popular soundproofing material. Its mostly used by professional people in their studio or home studio but anyone can use it. Acoustic Foam Panel is really handy if you want to soundproof your wall. Just install the acoustic foam panel on the wall and you are good to go. Acoustic Foam Panels are very inexpensive and effective. Here are some cheap acoustic foam choices.
Here are some of the best Acoustic Foam Panels :
| Picture | Name | |
| --- | --- | --- |
| | Foamily Acoustic Studio Foam Wedges | |
| | Mybecca Acoustic Foam Panels | |
| | Foamily Acoustic Egg Crate Panel | |
| | Auralex Acoustics Absorption Foam Panel | |
| | Mybecca Acoustic Foam Bevel Panels | |
| | IZO Soundproof Foam Panel | |
| | Auralex Acoustic Wedgies Foam | |
| | ATS Wedge Foam Acoustic Panels | |
| | A2S Soundproof Foam Panels | |
| | Beefoam Soundproof Foam Panels | |
Soundproof or Sound Deadening Curtains are a very popular choice of soundproofing material. This not an ordinary curtain or drapes. This specifically manufactured using soundproofing materials. It's very effective and worth the money. You can use these soundproof curtains for covering the windows at home. This is not let the outside sound come in and also the dog barking outside your place.
Here are some of the best Soundproof Curtains :
| Product Image | Product Name | |
| --- | --- | --- |
| | NICETOWN SoundProof Curtains (Editor's Choice) | |
| | H.VERSAILTEX Premium Blackout Wider Curtains (Editor's Choice) | |
| | NICETOWN Blackout Curtains Panels (Editor's Choice) | |
| | H.VERSAILTEX Classical Grommet Curtain | |
| | Deconovo Blackout Drapes Curtains | |
| | Sideli Solid Rod Pocket Matt Curtains | |
| | NICETOWN Three Pass Microfiber Noise Reducing Curtains | |
| | Warm Home Designs 1 Panel Curtain | |
| | Flamingo P Full Blackout Curtains | |
| | Absolute Zero Soundproof Curtains | |
Paint the Room Using a Soundproof Paint
Yes, you heard it right. You can paint the room using soundproof paint. You can use this Acousti Coat Sound Deadening Paint.
How to Soundproofing a Dog Kennel?
If you also want to soundproof the kennel also then you can follow this information here.
Soundproofing the kennel can be very tricky because of the hard surfaces and density in the interior. This will make the sound reflect off the surface causing reverberation and echos constantly. So we need to work on reducing the echo and reverberation.
You can use multiple materials to soundproof the kennel such as Acoustic Tiles, Sound Deading Paint, Two layers of drywall and others. But finding the right combination is the key here.
(Bonus Content) How to Stop Your Dog Barking in the Crate
This is bonus content to provide more value. As I am a dog lover I want to give more advice and information on how to stop your dog from barking in the crate so that you can love your dog more. I know how hurtful it is to see our dogs barking constantly.
Make sure that Your Dog Feels more Comfortable in the Crate
One of the main reasons that dogs bark a lot is because they are not comfortable and quite frightened. So it's important to make sure that the dog is more comfortable and safe. Make sure the crate doesn't make them feel like being trapped, make sure it feels like it's their home.
You add cushions inside the crate and also some lights or music. Yes, music works better. My dog loves music so I have a small Bluetooth speaker inside the crate and I would play some melodies if my dog is barking.
Avoid Emotional Farewells or Good-Byes
Have you noticed that every time you say bye to your dog by carrying it up and petting it after you leave the dog will be whining for a while? This happened once with my dog. I had to go out of town for the work-related issue and I spent 10mins of time with my dog before leaving. I kissed him, petted him and also got him a new toy so that he behaves well. I was out for a couple of days.
When I returned I was heartbroken. He did not eat the food for the whole two days and kept on crying. All the blankets were wet and his eyes were sad. This is where I learned to avoid emotional farewells. Nowadays I don't even tell my home, I run away before he sees. I know its rude but it works.
Make sure the dog is more active
This is an important tip. Make sure that the dog is more active because if they are more active they will be exhausted to bark. They won't have much energy to bark. Take them to walks regularly and also run in a park. They will also improve their health level and also yours as you also walk with them.
Don't leave your dogs in the bathroom
This is a really very important tip to remember. Make sure that you never leave your dog in the bathroom when you go to work or anywhere. The bathroom makes the dog more panicking and also it's not a very good environment for a good. It's not a problem for short period for like 10 to half an hour but never leave them in the bathroom for more than half an hour, if you do they will keep barking and it will cause a lot of stress on the dogs too.
Get a Good Toy for your dog
A toy is really essential for a dog to stay in their crate and also to not bark. We all know that dogs are like babies so it's really important to treat them like a baby too. When you give a toy to a baby it stops crying and starts playing with that. The same goes for dogs as well. Get a good toy for your dog.
Make sure that the toy is more fluffy and chewy so that they chew them and also play with it. Playing with the toy distracts the dog so they won't be barking much. You can buy good toys on Amazon if you want. I get mine from Amazon all the time.
Soundproof a Dog Crate – Conclusion
We all know how annoying the constant barking and yelping of a dog can be. This holds especially true if you're crate training. It's important to learn how to soundproof a dog crate in order to keep your peace of mind throughout this adventure. I hope you were able to find a solution from this guide on how to soundproof a dog crate that will best work for you and your furry friend.