by Jennifer Porterfield
|
Last Updated:
January 12, 2022
As an Amazon Associate, I earn from qualifying purchases at no extra cost to you. Thank You for your support.
There is nothing quite like being able to exercise in the comfort of your own home – especially when it is raining and miserable outside, or you just do not want to find a route outdoors.
Perhaps you work from early morning till the late evening and do not feel safe taking a run around the neighborhood? No matter what your reason is, treadmills are a great option.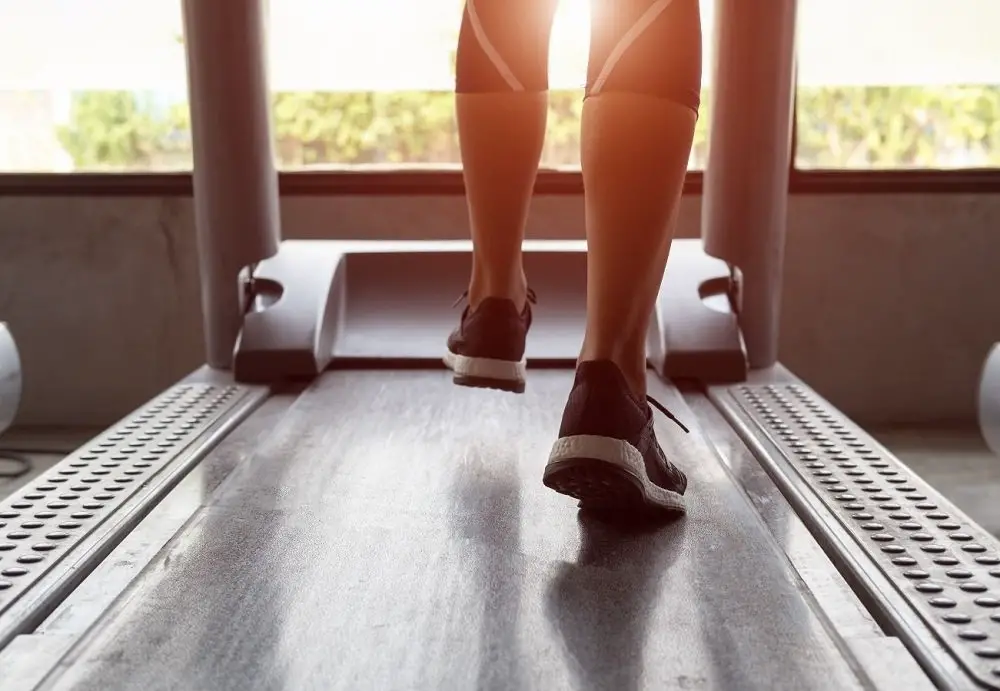 Even though treadmills are the perfect answer to being able to take a long walk or run whilst not leaving the home, they can prove troublesome for others who live in the house, as well as neighbors.
When this is the case, you will want to find out how you can keep using a treadmill whilst also being quiet. Even though that does sound impossible, there are ways. In fact, we have done all the hard work for you, so you do not even need to search for an alternative.
Below you will find 5 of the best quiet treadmills, and we have also included a handy buyer's guide so you can figure out what you need to look for before purchasing the perfect exercise equipment. So, what are you waiting for?
The Advenor is a great inexpensive option for those who want something that is built to last, yet is not too complicated – but that is not to say that it is not for the advanced, either.
The main focus of this treadmill is its powerful yet silent motor that provides steady speeds without producing the noise associated with a treadmill. It did indeed deliver when it came to lack of noise, though it still was not completely silent due to the sound of feet thumping on the belt – but that is going to happen.
The anti-shock system did absorb some of the sound however, and it also made sure that the feet hit the belt without causing any damage to the muscles. 
The Advenor is great for different abilities too due to having 3 manual incline positions which you can adjust if you want to. Also, there are 64 pre-set training modes that offer 8 different intensity levels. 
The surface of the treadmill is around 47.3 inches in length and 17 inches in height which is suitable for most people, depending on your stride length. 
Whilst it does include a screen to set the program or to check how far you have run, it can be quite difficult to use as a beginner. 
Pros
Inexpensive – a great treadmill for those on a budget
Silent motor – to help decrease the noise that is made during exercise
Anti-shock – reduces any damage caused to muscles whilst running
Pre-set training modes – as well as different intensity levels
Cons
Screen difficulty – all the buttons and words can cause confusion in the beginning
This item is also available to buy at Mad City Fitness and Walmart
ADVENOR Treadmill Motorized Treadmills 3.0 HP Electric...
Light-commercial Silent Powerful Motor: With 3.0 HP drives system and self-cooling technology,...
5-inch Large Backlit Monitor: With high definition and contrast, it's easy to read and allows the...
64 Pre-set Training Programs: You have 64 options in 8 modes with 8 different specific intensity...
Wide Running Belt & Anti-shock System: Large area of running surface: 47.3" x 17". Thickness of...
Last update on 2023-09-06 / Affiliate links / Images from Amazon Product Advertising API
If you are planning to use a treadmill during work hours, as well as in your spare time, then the Rhythm 2-in-1 is for you. Not only can it be set up as a general treadmill with a handrail, it can also become an under desk walking treadmill to be used whilst on a laptop sending emails.
Whilst we found it was not as quiet as the Advenor, it did take away some of the motorized noise associated with treadmills. The noise reduction design is made up of an electric DC power motor, a honeycomb patterned silicon running board alongside a soft belt, and a steel frame which is durable.
Whilst it may not be as quiet, it is extremely portable and super easy to use, making it perfect for beginners and pros alike. There is also no assembly required, meaning you can basically start using it straight out of the box.
There is an app available too which you can download and use to control the treadmill. It gives you an extra way to control the type of exercise you do. This might mean that there is potential for new training modes to become available. 
It is a little smaller too, so may not suit a bigger build and stride. The running area is 30 inches in length and 18 inches in height. 
Pros
2-in-1 – converts to a regular treadmill, as well as an under desk version
App available – adds more fun and exercises with the potential for upgrades
Quiet design – built with silent exercise in mind
Shock-resistant – looks after the muscles to avoid damage
Cons
Smaller – may not suit a bigger build
This item is also available to buy at Ubuy and Walmart
RHYTHM FUN Treadmill 2-in-1 Folding Treadmill Under Desk...
【2-in-1 Fitness Treadmill】---Walking & Running treadmill. Unlike normal treadmill, RHYTHM FUN...
【Folding, Space-saving Treadmill】---7"thickness,97lb light weight, only covering less 0.3㎡...
【Shock Absorption & Noise Reduction Design】---Strong max high peak 3.0HP electric motorized DC...
【Bluetooth Speaker, Smart Workout APP & Remote Controller】---- RHYTHM FUN treadmill can be...
Last update on 2023-09-06 / Affiliate links / Images from Amazon Product Advertising API
For those who are already acclimatized to treadmills, you might want to go a step further when it comes to your exercise. The CitySports treadmill does not have a handrail included, though there is an option to buy that version too.
It is a great choice for those who want something slim and portable, as well as the function to use it under a desk. However, despite its portability, it is also suitable for a number of different builds and strides due it being around 42.5 inches in length and 17 inches in width.
The motor and the belt have been specially designed to be silent, making this a fantastic option if you want a treadmill that delivers. Whilst it was not ultra silent (none are), there was certainly a huge difference compared to a regular treadmill.
The intelligent chip features low energy consumption which means it has been built to last. Also, the treadmill has been pre-lubricated to keep the machine's performance from degrading over time. 
There is also a child lock feature to avoid children from switching it on and potentially hurting themselves. This is a really good idea to have, especially if you have young kids who might not understand the safety of a treadmill. 
Whilst you might want a silent treadmill, it does feature built-in bluetooth speakers to allow you to play music through the equipment. It could come in handy, especially if you like to listen to a podcast whilst exercising.
Pros
Slim and very portable – can be used as a regular treadmill or for under a desk
Silent belt and motor – to keep down the noise of exercise
Consumes less energy – made to last
Lubricated – helps the treadmill stay in great condition despite usage
Child lock – safety is included to stop children from becoming hurt
Cons
Built-in bluetooth – whilst actually a positive, it is not a priority when you want a quiet treadmill
No handrail – which might be an issue if you feel more comfortable with one
This item is also available to buy at Walmart
CITYSPORTS Treadmills for Home, Under Desk Treadmill Walking...
REDEFINED WHISPER QUIET TREADMILLS FOR HOME: Revolutionary Cost-Effective, Energy Saving and...
STURDY DURABLE & MAX SECURITY: Walking pad owns unibody Aerospace-Grade magnesium-aluminum alloy...
INNOVATIVE SMART WALKIBG MACHINE: What a amazing treadmill, sleek & slim design. Bright backlit Dual...
ADJUST SPEED SMOOTHLY & MULTI-LAYER RUNNING BELT: 2-in-1 walking & running machine is practical, 0.6...
Last update on 2023-09-06 / Affiliate links / Images from Amazon Product Advertising API
The Fannay is the cheapest quiet treadmill we could find. Despite it being inexpensive, it has a lot to offer  – in fact, it prides itself on being 'super quiet'. 
And is it? Yes, actually. The quiet motor operates almost silent, making sure not to disturb those around you. The shock-resistant cushioning of the deck also helps to remove some of the sound from the feet too, as well as take care of those muscles and bones.
There is a tablet rest which made watching Netflix during a run easy, even whilst wearing headphones – though we would not recommend the latter if you want to stay quiet.
This is because if you block all noise, you will not know whether you are hitting your feet down heavily to create extra sound for your neighbors. Oops.
The treadmill itself was really easy to fold and put away when not in use. At 41 inches in length and 14.3 inches in width, it could fit under a bed easily, even with the 47 inch handrail.
There are 12 built-in programs, as well as all the information you need such as heart rate and running time, etc. There is also an emergency stop band to use if necessary – but hopefully you will not need it.
It is really user friendly, but perhaps a little too basic for those who want something more out of their treadmill, such as an incline for example which this one does not have.
Pros
User friendly – great as a basic treadmill that does what it says
Super silent – quiet motor and cushioned running deck
Tablet holder – you can watch TV or browse social media as you run
12 programs – pre-sets are available to try 
Foldable – even with the handrail it is foldable and easy to store
Cons
No incline available – stays flat and will not give you an uphill challenge
This item is not available anywhere else.
fannay Portable Folding Electric Treadmill for Home, Ultra...
Super Quiet: Choose from 12 preset programs with speeds ranging between 0.5 – 6 mph and enjoy an...
Multi-Function Display: Track time, distance, speed, heart rate and calories burned on the display...
Comfortable Running: Equipped with an advanced shock-absorbing system, deck cushioning mechanism and...
Sturdy & Safe: This running machine has a solid steel frame with a weight capacity of 220 lbs. The...
Last update on 2023-09-06 / Affiliate links / Images from Amazon Product Advertising API
We are back with the Rhythm treadmills, but this time it is a regular treadmill, rather than the 2-in-1. Now, do not assume that it means it is not any better – it stands on its own. Why? Let us tell you.
Not only does this professional treadmill have a large running area (20 inches wide by 50 inches in length), it is also really quiet. It is not the most compact you will find on the market, but it does mean if you are wider in build, it will easily accommodate you.
The treadmill has been created with noise reduction in mind. The electric DC powered motor has been specially created for their equipment, which also includes a 7 layer soft running board to help with the impact of foot noise.
The steel frame adds to the durability of the whole treadmill, and the shock absorber makes sure you do not damage your knees and other areas of the body that may feel impact whilst running.
The non-slip material can take a weight of up to 265 pounds which is more than the majority of other treadmills. Whilst it might seem like a heavy bit of kit, it can be folded and put away easily. 
The display is fantastic and easy to read whilst you are mid-run or walking, and it features a number of important pieces of information such as calories burnt, heart rate, speed, etc. It also has bluetooth included and you can convert the screen into a desk, making it a place to put the laptop so you can work too.
There is an app you can pair the treadmill with which includes workouts, and also it means there is a potential for updates too. 
Due to all its functions, it is on the higher end of the market price-wise. If you are looking for something that will take you to the next level, then this is a good option. If you want something more basic, then maybe look at the above selection. 
Pros
Silent – has a built-in silent motor and cushioning
Wide deck – suitable for those with a bigger build
App available – includes workouts plus the potential for updates
Doubles up as a desk – can be used during work
Foldable – despite its size, it can be stored away easily 
Cons
Expensive – a professional treadmill for those who want to invest
This item is also available to buy at UBuy
RHYTHM FUN Folding Desk Treadmill 4.0HP Electric Motorized...
1.Super Shock-absorbing & Noise reduction Running Treadmill---Super Strong 4.0hp electric motorized...
2.66cm Large Wide Running Board & Belt---RHYTHM FUN Treadmills'20"x 50"tread belt,Larger,wider,&...
3.Folding, space-saving treadmill,Needn't Assembly!---7"thickness,132lb light weight, only...
4.Multi-functional treadmill---RHYTHM FUN new mini-pro treadmill is not only a...
Last update on 2023-09-06 / Affiliate links / Images from Amazon Product Advertising API
Buyer's Guide
Now that you have taken a look at the best quiet treadmills available, let us see what key areas you should focus on before you invest.
Quietness
Because it is a quiet treadmill you are after, the main area to focus on is how silent the treadmill might be. Before we can really start talking about this area, you will have to understand that no treadmill is super silent. This is due to a few reasons:
The sound of your own feet. Some do include extra cushioning to take away the impact, though it will still be there. You will have to find ways yourself to try and run lighter, with shorter strides.
General machine noise. Whenever something is moving, like a belt for example, there may be some sort of noise. Even though all quiet treadmills use a silent motor, there may be slight noise from other things happening within the treadmill.
To avoid noises arising from a treadmill, look after it properly and keep it clean.
Size
Whilst not associated with noise, finding a good sized treadmill is paramount to feeling comfortable, but also being able to store it away if need be.
There are plenty of different sized treadmills available to accommodate a bigger build, or wider strides. If you know what kind of runner you are, then it will be easy to find one suitable. If you do not, then work it out by running across the room and measuring those strides.
Also, most treadmills can be folded and stored away, whether under a bed or up against a wall.
Apps
Due to the advancement in modern technology, some treadmills include an app which you can pair up with the exercise equipment. This is helpful because it allows for extra workouts, as well as the possibility of upgrades and updates.
Whilst a treadmill normally has pre-set training modes available, an app may update to include extra training and ideas. This can help to keep the treadmill that you have just invested in exciting and current.
2-in-1
With more of us wanting to work from home, a treadmill you can use whilst you do your job can be a great idea to get exercise in as you send emails or create a presentation – we just do not recommend running as you lead a meeting on Zoom!
There are specific treadmills that allow for you to remove the handrail, or do not come with one at all. Then there are the ones that have a big screen that doubles up as a desk for the laptop, such as the Rhythm Fun.
If this is something you are interested in, then plan it in, otherwise you will miss out on the advantages of using a treadmill during work hours. 
Frequently Asked Questions
Can My Neighbors Hear a Treadmill?
You will not be surprised to know that treadmills can be noisy. From the thumping of your feet to the vibration during use, a lot of noise can travel. 
If you do live in an apartment and want to make sure that the neighbors below cannot hear every time you exercise, there are treadmills on the market that may help, as well as purchasing a mat to fit under the machine. 
How Noisy is a Treadmill?
A treadmill should not be super noisy to use. If looked after, you will not hear the treadmill squealing or screeching. If you do, it could be time to clean it, or just buy a new one.
Basically, the better you look after it, the quieter it will be.
What Makes a Treadmill Noisy?
A treadmill is noisy because of a few reasons. Not only are your feet thumping away on the belt as you run, but also the machine parts such as the motor (and belt) will be moving. All these different vibrations cause noises to transfer from the treadmill to walls and floor.
Is It Okay to have a Treadmill Upstairs?
It is absolutely fine to have a treadmill upstairs. Most will weigh around 250 to 300 pounds, and even if the person who is using it is heavy, it will still be within the safe weight limit of an upstairs floor.
Can a Treadmill Annoy Neighbors?
It is always better to let a neighbor know you have purchased one, just in case they start to hear it and wonder what it may be. It is also common courtesy not to put the treadmill above a bedroom or nursery. 
Is it Possible to Run Quietly on a Treadmill?
There are ways to make running on your treadmill a lot quieter such as going barefoot. Footwear can make a big impact on noise, so taking the sneakers off will make a difference.
Changing your strides, relaxing the upper body and keeping those knees beneath the hip area can also help. 
By not wearing headphones, you can make an effort to be quieter due to the fact you can hear how loud your feet are, for example.