by Jennifer Porterfield
|
Last Updated:
January 12, 2022
As an Amazon Associate, I earn from qualifying purchases at no extra cost to you. Thank You for your support.
Exercising at home is great for those who prefer to exercise in private and feel uncomfortable in gyms or parks. Not only that but exercising at home saves money on potentially expensive gym memberships, and if you live in an area that doesn't have a lot of outdoor space exercising at home is an excellent alternative.
Treadmill fitness is particularly convenient, as not only does it have the benefits of shock absorption but you're able to get in an effective workout while at home watching TV or listening to music. And with under-the-desk treadmills, you can even get a workout at the office!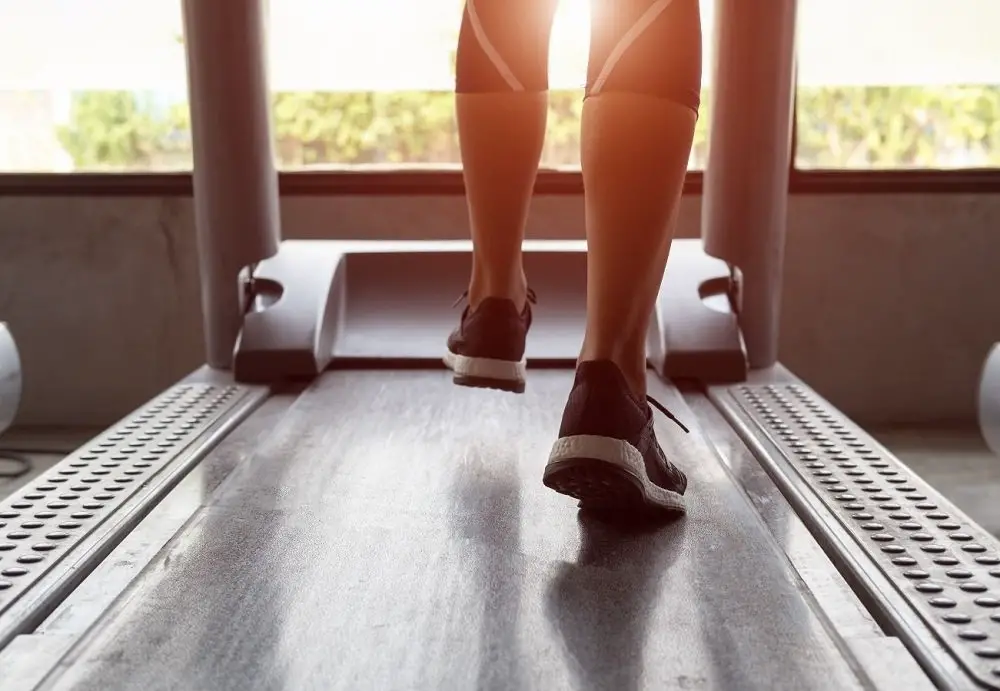 However, cardio training – such as using a treadmill – can be loud. Especially if you live with friends or family, or an apartment with downstairs neighbors.
Having a treadmill at home gives you a lot more freedom to exercise whenever you want, but this can be a problem if you like to exercise early in the morning or late at night. The last thing you want to do is disrupt your roommates or neighbors. 
Below you'll find some of the best quiet treadmills around, along with some tips on what to look out for when investing in a quiet treadmill.
And if you just need to know how to make your current treadmill a little quieter we have advice on how to do that too. 
Best Quiet Treadmill
The Exerpeutic TF1000 Electric Treadmill offers plenty of support for your workout, with a maximum speed of four miles per hour, and a 20-inch-wide belt for extra surface space.
The reinforced frame is also capable of withstanding up to 400lbs. To ensure safety, the extra-long 18-inch safety handles are 2x longer than the standard length. These handy, convenient rails also come with built-in controls to regulate speed and to turn the treadmill on and off.
What keeps this treadmill quiet is the 1.5 horsepower high-torque motor. This motor reduces noise by utilizing a specialized quiet drive.
There are also two incline settings to choose from and if you would like to keep an eye on your progress, the LCD display window provides information on speed, pulse, distance walked, and how many calories you've burned.  
Pros:
Very quiet –

This treadmill is not only extremely quiet, but the lower your speed the quieter it is!

Ability to incline –

A walking treadmill with an incline is hard to find, but you don't need to look any further than the Exerpeutic TF100 Electric Treadmill! The incline is a manual function and there are 2 pre-set inclines. Just use the Incline Adjuster at the back of the frame to set the incline to 3% or 6%.

Suitable for use at a desk –

The handrails are the perfect size for use at a desk, although using this comfortably will depend on your height and the size of your desk.

Built-in controls –

The controls on the handrail and console not only allow you to control speed but also provide you information on your speed, distance, time spent moving, and also measure your calories and heart rate. To get a more accurate reading of the latter, use an online calculator to cross-reference your speed, distance, and time with your weight and height. 

Compact and lightweight –

As well as being easy to move and store, at 130lbs this treadmill is lighter than most. 
Cons: 
Manual not helpful –

There is little information in the manual, particularly in regards to the heart monitor, changing the room temperature, or adjusting the time.

Belt prone to slipping –

While the belt is centered on arrival, some users have reported it sloping to the left or right after using it a couple of times. 
Exerpeutic TF1000 Ultra High Capacity Walk to Fitness...
Electric walking treadmill with 1.5-horsepower high-torque motor
Adjustable speed up to 4 miles per hour in 0.1 mph increments
20-inch-wide treadmill belt; Extra-long 18-inch safety handles
Dimensions: 51.2" L x 32" W x 63" H; Running Area: 40" x 20"
Last update on 2021-12-19 / Affiliate links / Images from Amazon Product Advertising API
The LifeSpan TR1200-DT5 Treadmill Desk is the perfect option if you would like to exercise while working, as it comes with a detachable desk. The desk workstation is a combination of LifeSpan's under desk treadmill base and manual height adjustable standing desk, which you can adjust to a height of 52.5 inches.
This compact treadmill measures 68.5" x 28.5" (LxW) and has a large desktop surface area of 38" x 29" (WxD), ensuring a comfortable and ergonomic working experience. 
This treadmill reaches a maximum speed of 4mph and has a 2.25 horsepower motor. It has 6 impact absorbers to reduce noise, and a belt that is 20" x 50" long and can withstand 350 lbs.
You can store this treadmill pretty much anywhere and save space with its portable wheels and lightweight mobility.
Pros:
Super quiet motor –

The 2.25 horsepower motor is as quiet as a whisper, and the 6 impact-absorbing compression shocks are perfect for working out at the office. These components suppress mechanical noise and subdue vibration, ensuring your colleagues will not be disturbed. 

Bluetooth-ready – 

The treadmill utilizes Onboard Intelli-Step technology that detects each step you take, so you're kept up-to-date on your daily step count. What's more, the integrated Intelli-Guard safety feature makes sure your treadmill is only operating when you are actively walking. You can also track and view your walking progress on your phone easily, as the data is synced effortlessly. Plus, all of this is free!

Makes working and exercising easy –

The large, detachable desk gives you plenty of working space and enough room for all your office supplies. You also don't need to worry about the console taking up your desk space, as it is integrated into the center of the armrest.
Easy to assemble –

This pre-assembled treadmill is easy to set up. The only assembly required is adding the detachable desk. 

No visible wires –

If you are using a laptop while working out any wires are kept out of sight and out of mind as they run up the inside of the desk leg. 
Cons:
Parts only available from LifeSpan –

If your treadmill experiences a fault or parts break, new parts are only available from LifeSpan. 
LifeSpan TR1200-DT5 Treadmill Desk
The tr1200-dt5 treadmill desk workstation is a combination of LifeSpan's under desk treadmill base...
The compact and motorized running machine measures 68.5" x 28.5" (L x W) with a large desktop...
High capacity and quiet 2.25 HP electric motor with a 20-by-50-inch walking surface. Portable wheels...
Console readouts include: distance traveled, calories burned, walk and run time, step count and...
Last update on 2021-12-19 / Affiliate links / Images from Amazon Product Advertising API
The Merax Heavy-Duty Electric Folding Treadmill is a small but sturdy treadmill standing at only 42 inches tall and 56 inches long. It is also 25 inches wide, with a belt measuring 16 inches wide and 43 inches long. This treadmill is also one of the more budget-friendly ones on the market, while still offering great features.
This treadmill has 12 preset programs to choose from and can withstand a weight of 240lbs despite its small size. There is an adjustable speed of 5-6mph and it is powered by a 'vacuum motor' that runs silently.
Not only does this make sure any roommates and neighbors are not disturbed, but it lets you perfectly hear any music playing from the built-in speakers. 
It treadmill also features a multi-function 5-inch LED Display that tracks your performance including speed, distance traveled, time, heart rate, and calories burned.
The audio speakers also let you listen to your favorite workout songs, but for an extra quiet workout that doesn't disturb those around you, there is also an AUX port for headphones. However, to use an Apple lightning interface an adapter is required. 
Pros: 
Premium vacuum motor –

The treadmill's smooth and quiet 1.5 horsepower motor is guaranteed to reduce noise.
Multiple preset programs and countdown modes –

Whatever your fitness goals you can achieve them with 12 preset programs and 3 countdown modes that support speeds ranging from 08.-12 km/h.

Easy to assemble –

This lightweight treadmill is quick and easy to assemble in under 30 minutes.

Listen to music easily –

Whether you like to listen to music out loud or with headphones, this treadmill gives you the option of both. 

Saves space –

This compact treadmill is great for use in smaller rooms. 
Cons:
Smaller than most –

Due to its small size it may not be suitable for you if you take big leaps while running

No incline –

Unlike some treadmills, this one does not offer any incline options.
Merax Treadmill Folding Electric Treadmill Motorized Running...
Space Saver Folding Treadmill:electric folding treadmill with easy folding design and wheels on the...
Multi-Function LED Display & Audio Speaker:Merax treadmill featured with 5"LED display tracks your...
Strong 1.5HP Motor:Merax electric treadmill has a smooth and quiet 1.5HP treadmill motor which...
Comfortable Motorized Running Machine: The foldable treadmill features 15.7"Wide running area...
Last update on 2021-12-19 / Affiliate links / Images from Amazon Product Advertising API
The ProGear BT500 Foldable Electric Treadmill knows what you want whilst running and delivering. It has cup-holders for your water, a shelf for your tablet or smartphone, and a 5-inch backlit LCD display that sets goals and monitors your speed, distance, pulse, calories burned, and elapsed time.
Plus, it has built-in dual stereo speakers so you can run and listen to the motivational, workout playlist of your choice. But this treadmill definitely delivers a quiet workout too. The 2.0 horsepower torque motor and air-piston assisted deck works to utilize 'Quiet Drive' to reduce noise during your workouts.
The cushioned deck with 8 shock absorbers also reduces the impact on your joints, while the 51-inch long and 17-inch wide belt size provides extra space for running.
The speed of the treadmill adjusts in increments of 1/10's miles per hour from 0.4mph up to a maximum of 8mph with speed control and start/stop buttons on the handlebars. There is a manual incline and you can choose from two positions, 0 and 6% incline.
Pros:
Mechanism hand pulse sensors –

Easily monitor your heart rate while you work out with these hand pulse sensors.

Dual stereo speakers –

These dual stereo speakers are sure to make working out more fun. You can play music on your mobile device via the USB or auxiliary ports, or via a USB flash drive. 

12 workout programs –

Your workout will never get stuck in a rut with plenty of programs to choose from.

Easy to assemble – 

This foldable treadmill is easy to assemble and store away, and

raising and lowering the tread is smooth and effortless. 
Cons:
No Bluetooth –

While the packaging promises Bluetooth capability, this is false.

Slight lag –

When changing speeds you may experience a slight lag.
ProGear BT5000 Foldable Electric Treadmill with Goal Setting...
Extended Belt Size Of 51" L X 17" W Provides Extra Space For Running. 12 Workout Programs. 3 Workout...
5" Highly Visible Backlit Lcd Display Features Elapsed Time, Distance, Calorie Burned, Speed And...
User Weight Capacity. Cushioned Deck With 8 Shock Absorbers For Reducing Joint Impact. Air Piston...
Speed Adjusts In Increments Of 1/10'S Mph From 0. 4 Mph Up To A Maximum Of 8 Mph. Speed Control And...
Last update on 2021-12-19 / Affiliate links / Images from Amazon Product Advertising API
With the XTERRA Fitness TR150 Folding Treadmill, you are in control of the noise. This is due to the twin cast iron flywheels that help to deliver a smooth and quiet walking experience.
The powder-coated steel frame wide rails are not only stylish but they are 'on and off' capability makes the treadmill easy and safe to use. This strong and durable treadmill can also withstand users up to 230lbs. 
You can monitor your progress via the built-in LCD screen that displays the elapsed time, distance walked, and speed. And, when you're done, you can fold the treadmill down, allowing for easy storage.
Pros:
Incline adjustment –

It is quick and easy to adjust this treadmill with 2 position incline levels of 6 and 10 degrees.

Sturdy design –

This compact, manual treadmill has a modern, simple, and sturdy design, and if the thought of assembly is daunting, it comes with easy-to-follow instructions for setup.
Easy to store –

Not only is the treadmill easy to fold down and store but the transportable wheels make it easy to move around.

Silicone oil included –

As the treadmill puts you in control of the noise level, it comes with silicone oil you can use on the belt to make it run smoother.
Cons: 
Suitable for walking/jogging only –

For a light workout such as walking or jogging this treadmill is ideal but is probably not suitable for a more intense workout.

Must hold on to the handlebars –

Some users reported feeling a little insecure when letting go of the handlebars, especially when the incline was adjusted. As mentioned above, this is probably not suitable when wanting to get a more intense workout. 
Sale
XTERRA Fitness TR150 Folding Treadmill Black
Large 16" x 50" walking/running surface accommodates users of many sizes and stride lengths
Intuitive 5" LCD display is easy to read and keeps you updated on speed, incline, time, distance,...
12 preset programs and 3 manual incline settings offer unmatched variety for your workouts
Easy pull knob releases the deck to fold or unfold for convenient storage when not in use
Last update on 2021-12-19 / Affiliate links / Images from Amazon Product Advertising API
Buyer's Guide
You've probably noticed that when discussing the above products there is a lot to consider when buying a treadmill that not only is quiet enough to not be a distraction to roommates, neighbors, or colleagues (if you're using an under-the-desk treadmill) but also gives you a good workout and has handy features to make working out more enjoyable. 
And as we've seen, a quieter workout certainly doesn't mean a lesser quality workout. Still, you may be wondering what may be key in buying a quiet, effective treadmill and what to prioritize. Below, we'll go over some of those key elements.
Running Features
A powerful motor is usually louder than a weaker one, but by considering the speed of the motor you can reduce the overall noise. A slower pace also makes for a quieter treadmill workout, but if you're somebody who enjoys a brisk jog over a gentle stroll then it's worth considering a treadmill with incline options. 
Incline options mean that you can get your heart rate up and get a good workout even when going at a slower pace. Most treadmills will have details of their incline options in the product descriptions, such as how many options they have, and the range of angles you can use.
For those of you who like to work up a sweat and prefer an intense sprint over a jog or a stroll, there are other options to make sure you're staying safe and quiet while working out, and that is a stable base.
Getting A Stable Base
If you're all about pushing yourself and your treadmill's speed settings to the limit then making sure your treadmill is sturdy and secure is a must. You don't want a base that is going to shift and creak during your workout.
A good tip on how to make sure your treadmill is sturdy is by checking its weight. Light builds are great for maneuvering easily and are suitable for those who want to use their treadmills for walking and light jogging, but are not suitable for heavier use. 
Rubber feet are another base feature that prevents the treadmill from skidding across the floor. However, if your treadmill does not have rubber feet, don't worry – these can be bought separately. 
Shock Absorption
Anti-vibration mats are handy for lessening the treadmill's impact on the floor, so for an extra quiet treadmill shock absorption features are key.
The machine should feature additional shock absorption features that can usually be found within the belt itself. These features are sometimes referred to as 'deck suspension.'
The suspension is a key element to a treadmill as it's what makes the treadmill responsive, and it's what makes you feel like you're running on regular ground.
A treadmill should never feel hard under your feet. This can also be extremely noisy. But a treadmill shouldn't feel too soft under your feet either, as this contorts your body into an incorrect position, affecting your overall posture.
Size
While the size of a treadmill won't affect the overall noise, it's certainly important to consider when buying a treadmill for an apartment. Many treadmills are foldable, and only require you to fold the base into an upright position when you've finished your workout. 
However lighter, smaller treadmills may not be suitable for intense, heavy workouts and also not suitable for taller, bigger individuals. Smaller treadmills also lack the base we talked about that is important for intense workouts.
The most important thing to do before buying a treadmill for your apartment is to check the dimensions, and then find a suitable place in your apartment for it to go. But you may be wondering how to find a suitable place.
It's also important to make sure your treadmill is on a flat surface where it won't wobble. Make sure your treadmill is placed entirely on a floor or carpet.
However, if you don't have a flat floor you can slip a rubber mat beneath the treadmill to make the floor more level.
Frequently Asked Questions
How can I make my apartment treadmill quieter?
If you already own a treadmill there are certainly ways to reduce the noise it makes without having to buy a new one. Firstly, find the source of the noise. Next time you use your treadmill listen carefully.
If you notice squeaking, is it coming from the belt or the floorboards? If you notice shifting, is the floor shifting under your feet or is the machine itself shifting? Identifying the problem as closely as you can is the first step in solving it.
If sliding is a big problem for you, anti-vibration mats may be the solution. These are rubber mats you can slide under your treadmill that not only prevent slipping but reduce noise.
Thinner mats are recommended to stop slipping, and thicker mats make for a quieter workout. Carpets can also be a good alternative or even an addition to anti-vibration mats. Carpets absorb some of the impact noise. But make sure the carpet you use has some kind of grip as this will prevent the treadmill from slipping and sliding.
Regular treadmill maintenance will also make a difference in how loud the treadmill is. It's recommended that you check the treadmill belt every few months and lubricate it.
The belt needs lubrication in order to avoid friction noises that occur with heavy use. The manual that comes with the treadmill should tell you how often you should lubricate the belt and what products to use. You may be thinking of using WD-40, but most manuals advise using special treadmill lubricants.
Are treadmills too loud for an apartment?
By investing in one of the quiet treadmills listed, or by making the adjustments above it is possible to use a treadmill quietly without disturbing your neighbors or roommates.
However, there are other cardio exercises you can do that make minimal to no noise. One example is an exercise bicycle as they don't cause the floor to shake.
How long do treadmills last?
Treadmills usually last 7 to 12 years, and the average life expectancy for a treadmill is 10 years. With proper care, however, some treadmills will exceed that average.
But taking good care of your treadmill is key, and dust can be a major problem. Use a dry cloth once a week to wipe up any dust between the belt and the deck. Also, make sure the floor and area around the treadmill are free from dust too.
What's the best belt size for a treadmill?
Belt sizes have expanded over time to accommodate the long strides and natural side-to-side movement of runners. Twenty-inch belts are becoming more common, and no belt should be narrower than 17-18 inches.
Can I have a treadmill in an apartment?
Whether you can have a treadmill in an apartment will depend on a few things. Check your lease agreement or contact your landlord if your lease is unclear, to confirm you are allowed a treadmill in your apartment. Space is also important to consider. Residential treadmills are usually smaller than ones you would find in the gym, but measure and plan ahead.
But as we have discussed, the most important thing to consider is those around you. Make sure your neighbors are happy for you to have a treadmill, and if noise is going to be an issue then it's definitely worth investing in a quiet treadmill!