by Jennifer Porterfield
|
Last Updated:
April 13, 2023
As an Amazon Associate, I earn from qualifying purchases at no extra cost to you. Thank You for your support.
Taking a Closer Look at 5 of the Quietest Mufflers on the Market
We all have that one friend that thinks a louder car is a better car.
Every time they pick you up for a spin, you have to double-check you've got some paracetamol in your pocket to combat the inevitable headache you'll suffer before you're even halfway to your destination. 
Table of Contents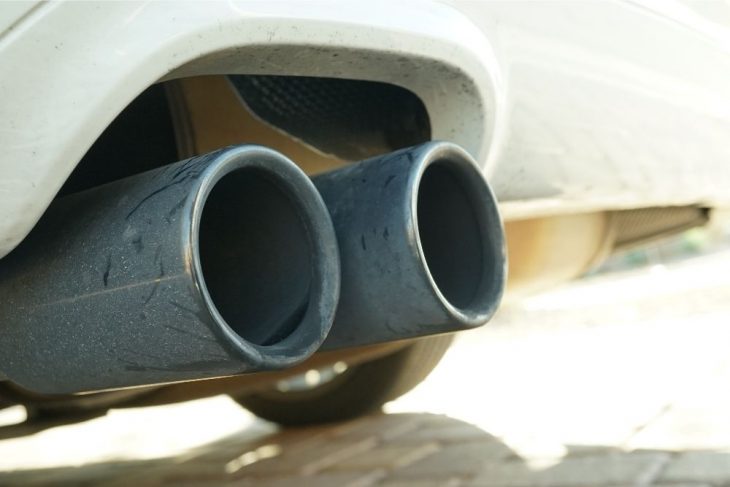 It's not a pleasant experience, but you're running out of excuses for why you can't go on the day trips they always suggest — your granny has died four times already, and the whole "I'm not feeling too good" routine is becoming painfully transparent. But it doesn't have to be this way.
Having spent the last few weeks researching the best quiet mufflers on the market, I'm happy to share my findings with you today.
Now, if you can just politely/nonchalantly get your noisy friend to take a look, you can stop dodging their invitations, and your granny won't be stuck in this groundhog day of death your lies have placed her in.
Featuring an aluminized straight-through construction, you'd be forgiven for assuming the MBRP M2220A would be a pretty loud muffler, but surprisingly, it's capable of reducing running volume by 10%.
The reason it's capable of turning the growl of your engine to a pleasant purr is that it has punched-in perforations along the inner tube, the openings of which stop sound waves in their tracks. 
Tonally speaking, you can expect a deep rumble when you're opening things up on the freeway, and a nearly inaudible whir when idle. 
As a straight-through muffler, it's a little louder than factory multiple baffle designs, but not by a great deal, and the unrestricted airflow means your engine works cooler and more efficiently, slightly reducing running noise.
Aluminized mufflers aren't exactly the most robust in the face of wet and snowy weather, so I'd only recommend this muffler to those living in temperate climates, but all things considered, It's a fantastic quiet-performance component.
Pros
Non-Restrictive — It won't limit your engine.
Quiet Design — Reduces running volume.
1-Year Warranty — Shows MBRP has confidence in this muffler.
Cons
Aluminized Steel Construction — Not as durable as stainless steel or titanium.
Last update on 2023-11-14 / Affiliate links / Images from Amazon Product Advertising API
The Thrush Hush is all about giving your vehicle that classic American muscle sound, without the unnecessary decibels, and lo and behold, it pulls it off.
The tri-flow technology forms a triangular path for air as it passes through the muffler, which is what creates the signature muscle sound pulled straight out of all our favorite 80s movies. 
Thrush then employs fiberglass matting to temper the ferocity of the sound without destroying its tonal quality. These mats capture rogue sound waves, preventing excess resonance and that irritating drone that can carry through to the cabin.
It's an aluminized muffler, which means it's not going to be all that suitable for bad weather, but if you live in a sunny location, there's no reason it wouldn't last for years.
It does get a little angry-sounding when you floor it on the open road, but it's still a great choice for those looking to kill off some decibels on a budget.
Pros
Price — Amazing value for money.
Tri-Flow Technology — Provides vintage muscle sound.
Fiberglass Matting — Keeps volume at a reasonable level.
Cons
Aluminized Construction — Not the best for areas that get a lot of rain.
Thrush Muffler Mellow Performance Tone Inlet 2.5 Pipe...
VINTAGE SOUND -- Tri-flow design delivers that perfect hot rod and muscle car sound
PREMIUM ACOUSTIC CONTROL -- Fiberglass matting absorbs unwanted interior resonance
ENGINEERED TO LAST -- 100% aluminized-coated shell and spun lock heads for long life
SLEEK FINISH -- Silver finish features embossed Thrush logo
Last update on 2023-11-14 / Affiliate links / Images from Amazon Product Advertising API
The Quiet-Flow is a quality stainless steel muffler, capable of handling whatever the weatherman predicts. Whether you live on the snowy plains of Minnesota or the drizzly, mountainous outskirts of Seattle, the Quiet-Flow will stand the test of time.
Not only will the corrosion-resistant construction hold its own when the skies turn gray, it will also survive the salty rocks of icy roads once the gritter's done the rounds.
But enough about bad weather; let's discuss the noise suppressing aspects of this amazing muffler.
There are two ingenious bits of soundproofing at play here. First, you have the louvered tubes that take the initial volume down by a few decibels.
And, secondly, you have the domed heads that stifle residual resonance, amounting to a very gentle, factory-grade running volume.
Thanks to the direct-fit bolt-on design and the included OE-style hangers, brackets, and routings, the Walker Quiet-Flow is also incredibly easy to install — zero custom fabrication or welding required.
Pros
100% Steel Construction — No weather is too extreme.
Two-Part Sound Reduction Technology — One of the quietest broad market mufflers.
Bolt-On Design — Installation is a total breeze.
Cons
Airflow — In true OE fashion, the Quiet-Flow is quite restrictive.
Walker Exhaust Quiet-Flow Stainless Steel 21337 Direct Fit...
STAINLESS STEEL INHIBITS CORROSION -- The only broad-market muffler with 100% stainless-steel...
EASY TO INSTALL -- Direct-fit bolt-on replacement solution with OE-style hangers, brackets and pipe...
BUILT TO LAST -- Internal partitions and mechanically joined tubes allow expansion and contraction...
PREMIUM ACOUSTIC CONTROL -- OE-style louvered tubes lower noise levels while OE-style domed heads...
Last update on 2023-11-14 / Affiliate links / Images from Amazon Product Advertising API
If you're looking for a quiet muffler that you can hit with some custom fabrication or welding, then the Super Turbo is definitely for you.
Some complain that installation is a little tricky, but that's because it's supposed to give you more say in how it's done, rather than guide you a certain way.
The aluminized steel build is a little disappointing, as bad weather can take its toll, but the construction itself is anything but.
The walls of this muffler are THICK, meaning debris will have a hard time forming any kind of blemish on the surface, which should stave off rust.
It's also kitted out with fiberglass matting to mellow the resonance of sound waves traveling through your exhaust system.
Marry that with the directional flow technology that reduces muffler turbulence, and you've got yourself one smooth ride.
But just because it's quiet, doesn't mean the folks at Dynomax have neglected the tonal aspect of this muffler.
It's designed to be as transparent as possible, so you can enjoy the natural voice of your engine without feeling like a jerk for deafening your neighbors.
Pros
Custom Muffler — Gives you more options for installation (if you know what you're doing).
Directional Flow Technology — Reduces turbulence for a smoother ride.
Fiberglass Matting — Low resonance keeps things quiet.
Thick Enclosure — Won't ding easily.
Cons
Aluminized Steel Construction — Not as weatherproof as stainless steel.
Installation — This isn't an OE reproduction, so installation can be tricky.
Dynomax Super Turbo 17731 Exhaust Muffler
Large internal flow tubes improve exhaust flow and reduce backpressure
Exclusive patented flow director design channels exhaust flow and eliminates turbulence on most...
Fiberglass matting technology to absorb unwanted interior resonance while maintaining a mellow...
Dyno proven to flow up to 700 SCFM
Last update on 2023-11-14 / Affiliate links / Images from Amazon Product Advertising API
Should you be on the hunt for a pro-grade racing muffler capable of optimizing airflow and reducing unwanted noise simultaneously, the Vibrant Performance 17562 is the only way to go.
Featuring true straight-through, perforated-core construction, there are no obstacles to cause air turbulence and limit your engine's potential, leading to better fuel efficiency, slightly improved horsepower, and extended engine life.
It's also stuffed to the nines with premium, high-temperature sound-absorbing materials, so no matter how hard you push your optimized engine, you'll be able to hear yourself think, helping you to focus on your driving during a race.
With a full titanium build, this is the lightest muffler on the list, so even though it's quite large, it won't hold your vehicle back, ensuring you have the best possible chance of placing in your next competitive event.
Pros
Titanium Build — 45% lighter than steel and just as strong.
Premium Soundproofing Packing Materials — Can tame some ferocious engines.
Straight-Through Construction — Unrestricted airflow keeps your engine in tip-top shape.
Cons
Price — Premium price for a premium product.
Last update on 2023-11-14 / Affiliate links / Images from Amazon Product Advertising API
Buyer's Guide
It's always a challenge shopping for car components. The average consumer knows very little about what they should be looking for, and even if they did, the sheer size of the market makes it incredibly difficult to find.
Not to worry, though; this brief buyer's guide should nudge you in the right direction.
Airflow vs Volume
When you start shopping around for mufflers, you'll notice a tension between airflow and volume. Better airflow leads to a more efficient engine, but a louder car.
A restricted airflow keeps everything hush-hush, but the engine won't perform as well as it could.
Some mufflers are designed to facilitate optimal airflow, others are designed to restrict airflow for a silent ride, and some feature middle-of-the-road architecture designed to provide the best of both worlds.
The takeaway here is that a quiet car comes at a cost, so you have to decide whether you'd still like a quieter vehicle, and if so, how much you're willing to restrict your engine.
Muffler Type
When it comes to quiet mufflers, you have a few options.
Multiple Baffle Mufflers
This is the kind of muffler you'll see on cars fresh from the factory. They're designed to significantly restrict airflow, as the average Joe tends to prefer a quiet car to one with an optimized engine.
If your car's stock muffler is becoming increasingly loud, it usually means debris has bored one or more holes through the enclosure. Replacing it with a new multiple baffle muffler should return your ride to its former silent self.
Turbo Mufflers
You can think of these as a slight upgrade on stock mufflers. They're still restrictive, but they're incredibly quiet. If your stock muffler was always a little loud for your tastes, a turbo muffler is your best bet.
Straight-Through Mufflers
Straight-through mufflers are far less restrictive than the two we've discussed thus far, and they make for an incredibly quiet car when idle, but they can be a bit "growly" when you put the pedal to the metal.
The good news is that when they do get a little noisy, it's a satisfying, deep rumble that's nowhere near as headache-inducing as the sound of a broken stock muffler.
Performance Mufflers
These things are the crème de la crème of mufflers. Utilizing soundproofing materials rather than a series of chambers, they optimize airflow whilst keeping cabin noise at a reasonable level.
Materials
The material of a muffler doesn't necessarily affect running volume, but it will change the character of the sound. You'll also need to consider the physical qualities of each metal and whether it would be suitable for your environment.
Aluminized Steel
Aluminized steel is amazing in terms of heat dissipation, and it can last upward of 10 years in the right conditions, but frequent exposure to snow or rain will cause premature rusting.
Stainless Steel
As I'm sure you know, stainless steel is an insanely robust material, far more capable of handling a spot of weather than its aluminized counterpart. It doesn't conduct heat quite so well, but the consequences are negligible.
Titanium
Titanium is as strong as steel and 45% lighter, so needless to say, it's the most expensive muffler material of them all. It doesn't rust or tarnish, and it handles heat a lot better than both stainless and aluminized steel.
Muffler Size
All the specifics we've just covered have a massive impact on the volume and tone of the noise your car makes, but more general considerations, such as muffler size, also play a role when the engine is a-roarin'.
Larger mufflers are typically more sonically subdued than smaller ones, so if you're looking for true peace and quiet, go big! 
Exhaust Configuration
Dual exhausts will make your car sound a lot quieter, so it's worth your while shopping around for a muffler with two exhaust ports.
Compatibility
Sadly, you can't just install any old muffler on your car. Compatibility depends on a number of variables, including…
Inlet Diameter
Outlet Diameter
Muffler Dimensions
My advice is to use your current muffler as a reference when buying a new one.
Warranty
It's always best to choose car components backed by beefy warranties, but make sure you read the fine print carefully. Anything from product alterations to DIY installation could void the deal, leaving you in a sticky situation should the muffler break.
Frequently Asked Questions
Let's bring things to a close with a quick quiet muffler FAQ section.
What Can You Put In A Muffler To Make It Quieter?
Some drivers on tight budgets will try to quieten their mufflers themselves with steel wool, metal scrubs, and fiberglass. When installed correctly, these materials can indeed reduce car volume, but they're no substitute for a pre-made quiet muffler.
Will A Bigger Muffler Be Quieter?
Yes, generally speaking, the greater the volume of a muffler, the quieter it will be, but you also have to take design into account. For example, smaller multiple baffle mufflers stand to be quieter than larger straight-through mufflers.
What's The Difference Between Mufflers And Silencers?
There's no difference between a silencer and a muffler. They both refer to the sound-dampening section of a car's mid-exhaust system. Silencer is more commonly used in the UK, while muffler is more of an American term, although both words are used to some extent in both nations.
Are Chambered Mufflers Quieter?
The more chambers a muffler has, the more sound waves it nullifies, making for a quieter ride; however, these chambers can also restrict airflow, limiting engine performance.
Are Turbo Mufflers Quiet?
While turbo mufflers sound like they might be quite noisy contraptions, they're actually pretty quiet for the most part. They're often seen as the logical upgrade from a factory muffler.
Are Glass Pack Mufflers Quiet?
Glass pack mufflers are rarely as quiet as their chambered counterparts, but they can have a particularly mellow sound at low speeds.
Do Resonators Make Cars Quieter?
Here's another vehicular component with a name that's something of a red herring. Resonators sound as if they'll amplify a car's exhaust noise, but they actually reduce buzz and whine, leading to a much quieter performance. 
Are Loud Mufflers Illegal?
Most states enforce some form of law that prohibits the use of mufflers that fail to reduce the volume of a vehicle past a certain point. It's always best to check your local bylaws before buying anything that will alter the volume of your vehicle.
What Can I Do To Make My Car Quieter?
The first thing you can do to bring the volume of your rowdy ride down is to invest in a muffler with sound-dampening qualities like the ones on this list, but if you want an even quieter car, you should look into soundproofing the cabin.
What Causes Drone In The Exhaust?
If you've noticed a persistent and unpleasant droning every time you get behind the wheel, it's likely due to the audio frequencies of the engine and the exhaust overlapping at a certain RPM, creating a pressure wave.
Final Thoughts
There you have it, folks; any one of these mufflers could be just the thing you need to tame yours or your noisy friend's wild cat of an engine and rekindle your passion for a good old-fashioned cruise.
As long as you remember to compare your current muffler measurements with any prospective newbies, you shouldn't run into any troubles in terms of compatibility, giving you the all-clear to kiss engine-induced headaches goodbye for good!