by Jennifer Porterfield
|
Last Updated:
January 12, 2022
As an Amazon Associate, I earn from qualifying purchases at no extra cost to you. Thank You for your support.
'If you need to shout… the sound is too loud,' according to the CDC's article on hearing loss prevention. Most people are unaware of just how easy it can be to cause permanent hearing damage and even accelerate the process of becoming deaf.
Many of the ways in which someone can damage their hearing are regularly overlooked, even when noise-canceling ear muffs are clearly the right choice.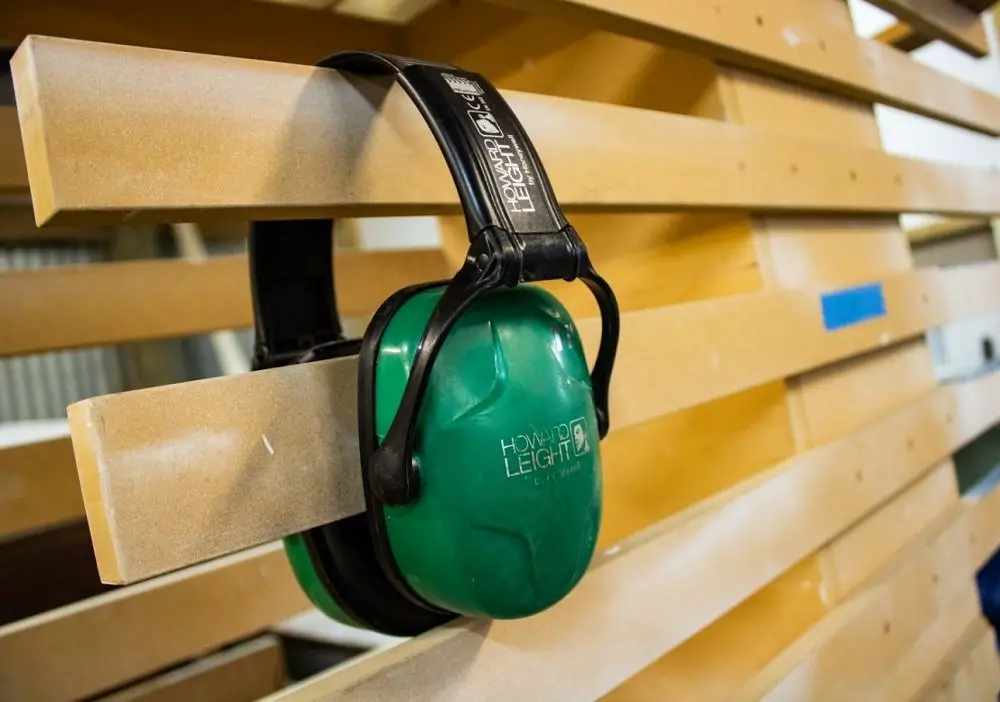 Most people are aware that short periods of noise above 125dB (like a gun going off, or a siren, or a jet plane taking off, etc) can cause serious damage, but so can long periods of noise above 85dB.
It's noise levels like these, in situations where most people wouldn't think twice about (concerts, using a chainsaw, etc), that are a real threat to people's hearing.  
  You're most likely familiar with noise-canceling headphones, and the technology of noise-canceling ear muffs isn't totally dissimilar. But while the noise-canceling function of headphones is mainly for convenience's sake, noise-canceling ear muffs are optimized for hearing protection.  
Protecting your hearing is, obviously, very important. Therefore picking the right pair of noise-canceling ear muffs might seem a difficult task.
We've got you covered, though; below are our picks for the best noise-canceling ear muffs on the market, as well as a handy buyers guide.  
Best Noise Cancelling Ear Muffs
Whether you'll be on the shooting range or not, you can't go wrong with a pair of ear muffs that greatly reduce the sound of literal gunshots!
Designed to work in the harshest (AKA the loudest) of environments, these Vanderfields ear muffs are both durable and lightweight. With an official Noise Reduction Rate (NRR) of 32db, they reduce up to 125dB.  
 They're not only comfortable to wear (due to their snug, padded ear cushions and adjustable cups), but also easy to carry around, due to their foldable design.  
 With 2 layers of proprietary noise-dampening foam, you can rest easy knowing that your hearing is in safe hands. You're also spoiled for choice when it comes to their selection of colors: brown, green, purple, pink, yellow, gray, as well as two shades of blue.  
Pros 
Comfortable – The headband uses a half-inch of synthetic leather padding.  
Affordable – There are far more pricey ear muffs out there that offer similar benefits.  
Protection you can trust – If you're not quite sure just how loud 125dB is, picture a jet engine! 
Light – They're just 8.8 ounces, meaning they're most certainly on the lighter side of noise-canceling ear muffs. 
Cons 
No microphone – It might not have even occurred to you that you would need a Bluetooth microphone, but for certain jobs, it can be essential.  
Vanderfields Ear Protection Earmuffs - Shooting Ear Muffs...
Unlike other Hearing Protection, V-Fort is Adjustable to 95% of Headsizes. Grab noise cancelling ear...
Enjoy the Comfort of hearing protection for shooting range, mowing, DIY, construction, woodworking,...
Say Bye to the Frustration of Broken Ear Muffs for Shooting. The HQ ABS cups, a solid metal frame...
Foldability Ear Defenders Adult are Easy to Carry. Small packaging with earmuffs for shooting range...
Last update on 2023-11-26 / Affiliate links / Images from Amazon Product Advertising API
With innovative new ear cushion foam technology, this 3M pair offers an NRR of 22 dB, guaranteeing protection against low to moderate noise. They're designed to be comfortable over long periods of time, and their twin headband reduces heat buildup.  
 The headband is also adjustable, so no matter the size of your head/ears, you'll find the right fit for you.  
 The ear cushions are also cleanable, as well as replaceable, offering an even longer lifespan.  
Pros 
Dielectric headband – The headband is electrically insulated, with no exposed wires, providing protection from electrical hazards.  
Replaceable cushions – If the cushions become even slightly worn, you can easily swap them out.  
8-hour comfort – The headband's internal stainless steel wire ensures comfort for an extended period, despite consistent force.  
Cons 
Not foldable – Without this feature, they're not quite as compact as some alternatives.  
Sale
3M Peltor X1A Over-the-Head Ear Muffs, Noise Protection, NRR...
Over-the-head hearing protection with Noise Reduction Rating (NRR) of 22 dB for low to moderate...
Twin headband design helps reduce heat buildup with good fit and balance
Wire headband offers comfortable pressure during prolonged usage
Earcups tilt to ensure a customized fit and comfort for individual users
Last update on 2023-11-26 / Affiliate links / Images from Amazon Product Advertising API
Designed for both adults and children, these Pro for Sho ear muffs are perfect, both for blocking out loud industrial noise and for those with sensory sensitivity.  
With an NRR of 34dB, you won't find much higher hearing protection on the market, especially not at this price. They're also extremely compact. With their foldable design, you could easily fit these in a large coat pocket.  
Lauded for their value for money, this pair is a safe bet when it comes to landscaping with heavy machinery, using power tools shooting at a range or while hunting, or to simply cancel out the perpetually noisy world around us.
They also come in a variety of colors, including army green, black, gray, pink, poppy red, teal, and purple.  
Pros 
High Noise Reduction Rate – For this price, you'll struggle to find a more effective pair of ear muffs.  
All-day comfort – With their padded headband, you could wear this pair all day without discomfort. 
Cons 
Cushions not replaceable – They're not likely to get worn any time soon, but if they do, you won't have the option to simply swap them out. 
Sale
Pro For Sho 34dB Shooting Ear Protection - Special Designed...
34dB – Highest Hearing Protection Ratio Earmuffs Help Silence Your World " In A Snap "
Solid, Lightweight – Specifically resigned to address the limitations of conventional ear muffs
Compact & Easily Carried – Perfect for carrying in bags without weight or bulk
Industrial Grade Ear Muffs Protect Your Hearing During Shooting, Hunting, Woodworking and Study
Last update on 2023-11-26 / Affiliate links / Images from Amazon Product Advertising API
Conventional ear muffs just not cutting it? This Gardtech pair comes with all the bells and whistles you could dream of. It shows in the price, sure, but this is more than justified by all the features on offer here.
Not only do they boast an impressive NRR of 29dbB, but they also feature built-in radio with an LCD display and 8 customizable preset channels. There's also a volume control, naturally. So if loud yard work isn't quite thrilling enough on its own, these might be the pair for you.  
And we're not even done! The Gardtech pair also features built-in Bluetooth, as well as a microphone, so if you're on the job and need to answer a call, you can do so easily without taking the headphones off (and risking your hearing for even a second).
You can connect to any Bluetooth-enabled device, like your phone, or your tablet, and listen to whatever you want to; music, podcasts, eBooks. The sound quality is impressive, and switching between two Bluetooth devices is quick and hassle-free.  
There's also a built-in SD card, meaning Bluetooth isn't required- simply connect the ear muffs to your computer via USB (AKA the good old-fashioned way). The pair is supported by durable rechargeable lithium batteries, can be charged via USB, and- most importantly- won't need to be charged very often.  
Pros 
Bluetooth enabled – There are a number of benefits to this feature, not least the ability to make calls without taking the pair off. 
Built-in radio – You won't find many noise-canceling ear muffs on the market that let you listen to the radio.  
Built-in SD card – This means that if you don't have access to a Bluetooth device (maybe your work doesn't allow your phone on-site), you won't be without files to listen to. 
Cons  
Higher price point – All the nifty extra features are reflected in the price.  
Gardtech Bluetooth Radio Earmuffs with FM Radio, MP3, NRR...
🔰【NRR 29dB Hearing Protection】- CERTIFIED NRR 29dB protection. Effectively reduces noise...
🔰【FM Digital Radio with LCD Display Advanced】- Built-in Radio with Hearing Protection with...
🔰【Rechaegeable for Lang lasting Advanced】- Combined with durable rechargeable lithium battery...
🔰【Bluetooth 5.0 & Hands-free Calling Advanced】- Built-in digital Bluetooth for phone,...
Last update on 2023-11-26 / Affiliate links / Images from Amazon Product Advertising API
With exclusive SonicSeal sound technology, this ClearArmor pair of noise-canceling ear muffs are another affordable choice. They're premium quality, industrial grade, and the adjustable headband is designed to fit any size of head with comfort.  
The 141001s use three layers of proprietary noise-dampening foam. The quarter-inch thick SonicBlocker shell is engineered specifically to reflect sound off the ear cup, and the aforementioned SonicSeal helps to prevent sound leakage into the ear cup.  
They're comfortable enough to wear all day long, with cups that tilt and swivel for a custom fit.  
Pros 
Comfortable fit – Regardless of how much you're moving around in these, they'll stay snug on your head. 
Tested technology – Don't take their many positive customer reviews' word for it; SonicSeal tech has been certified in third-party laboratories. 
Affordable – Always ideal when you don't have to break the bank for an industrial-grade product! 
Cons 
Cushions not replaceable – The cushions are durable, but you won't be able to swap them out if they become worn over time.  
ClearArmor 141001 Shooters Hearing Protection Safety Ear...
SonicSeal - ClearArmor's exclusive sound technology provides better protection to save your hearing.
Comfortable, premium quality, lightweight, super soft ear ring foam for maximum long wear comfort.
Padded head band adjusts to fit most head sizes . . . Industrial grade. . . Engineered to last
Compact folding design for efficient storage. . . Snug reliable fit to keep our muffs on your head.
Last update on 2023-11-26 / Affiliate links / Images from Amazon Product Advertising API
Buyer's Guide
There are quite a few brands of noise-canceling ear muffs. While they're all ultimately serving the same purpose, there are several factors you should consider when deciding which to buy.  
Below, we'll give the lowdown on these factors. Before you know it you'll have picked the right pair of ear muffs for you.  
Noise Reduction Rating (NRR) 
As we mentioned earlier, throughout life you'll be met with a variety of noise levels. Generally, anything above 125dB can damage your hearing even after a short period.
Anything above 85dB can damage your hearing after a long period. 85dB might not seem so loud when compared to the average conversation (60dB), but it's vital to be aware of the difference.  
A Noise Reduction Rating is a measure of the effectiveness of a hearing protection device to reduce noise levels. NRR values don't get much higher than 33dB.
If you're going to be in a situation with very loud noises at close proximity (eg. a shooting range), then ear muffs with a Noise Reduction Rate of 28 to 31 are recommended. There are also many earplugs that have a Noise Reduction Rate of 31+, and these can be worn underneath your ear muffs for an extra layer of protection.  
However, as we'll discuss in a second, not everyone will need such a high Noise Reduction Rate.   
Casual Use VS Industrial Use 
You might be in the market for noise-canceling ear muffs simply because your partner snores a lot, or the baby in the flat upstairs won't stop crying.
In cases like these, the higher end of Noise Reduction Rate values won't be strictly necessary- but the price range is quite narrow. There's nothing wrong with having too high a Noise Reduction Rate.  
Headband
When choosing a pair of noise-canceling ear muffs, you may be worried that they won't fit right. Most ear muffs have adjustable ear cups that you can tilt and swivel, but if you're particularly concerned about whether or not they'll fit you, make sure the headband is adjustable as well. 
This is a feature with most pairs of noise-canceling ear muffs. It will also mean that if you intend to use the ear muffs while doing outside activities and also while sleeping, you can have it both ways (you'll probably want a looser fit when you're lying down).  
Price & Warranty 
As we've established, a good pair of noise-canceling ear muffs can be a crucial purchase in many different situations. But it can be hard to know just how much you should be spending, especially when the range of Noise Reduction Rates comes into play.  
Luckily, even the cheapest pairs tend to meet the recommended Noise Reduction Rate, so the base price range is fairly narrow.  
You should also be making sure the product you've chosen has a considerable warranty. While most noise-canceling ear muffs are designed to a premium standard, it's best to be on the safe side. You'll want to make sure you're covered for repair or replacement if anything goes wrong.  
Style
Some noise-canceling ear muffs are bulkier, usually the ones designed for building sites, or airport staff. Others are more compact, so you'd be comfortable wearing them in bed.  
A lot of ear muffs come in a variety of colors, too, whether you're looking for a more professional, less flashy color (black, blue, or army green), or something with a little more flair (red, pink, or orange).  
Kids & Adults
While most pairs of noise-canceling ear muffs are designed for adults, many can be worn by people of all ages, and some are designed exclusively for kids. If a pair is for children, it'll probably be made clear by the seller, but if not- remember to check the fine print! 
A kid's pair will naturally be smaller, and even with adjustable cups and headbands, they might be uncomfortable for an adult. They also tend to have a lower Noise Reduction Rate.  
Bluetooth 
Fine with spending a little more? Some noise-canceling ear muffs, like the Gardtech pair we covered earlier in the article, come with an assortment of extra features.
With Bluetooth ear muffs, you're essentially getting effective ear muffs that double as headphones. These would be ideal if you're going to be wearing them for long periods of time. 
All you'll need to do is connect to a Bluetooth-enabled device, and you can listen to whatever you want. Some pairs, the Gardtech ones included, also have a microphone and allow you to take or make calls without removing them, which could save you a lot of time while on the job.  
Naturally, though, you may not want to need to keep charging your ear muffs, even if it's not that often. In this case, we recommend one of the more conventional pairs.  
Frequently Asked Questions 
Could I wear earphones under noise-canceling ear muffs, so I can listen to music? 
It really depends on the pair. You might want to contact the seller about the particular pair you're interested in. While earphones may well fit in the ear cups, there's no guarantee that this would be very comfortable, especially for long periods of time.
There's a chance they might even end up causing your ears pain. We recommend a pair of Bluetooth-enabled ear muffs instead- a suitable two-in-one. Some also have SD cards that you can manually transfer music to.  
To achieve effective noise reduction, they must push against my ears pretty hard. Is that actually comfortable?  
Most pairs of noise-canceling earphones are designed with comfort in mind and can be adjusted if the fit isn't quite right. If you're concerned that they won't properly fit your head, consider taking your measurements, and comparing them with the specs on the seller's page.
The majority of pairs have very soft cushions within their cups, as well as padded headbands, so you should only be feeling mild discomfort after a very long period of time. On the upside, high pressure means good results! 
Can I sleep with these on? 
If you sleep on your side, you may have to make some adjustments to your pillow situation if you want to wear noise-canceling ear muffs in bed.
Using the ear muffs themselves as a 'pillow' for whichever side you're lying on will likely just accelerate discomfort because you'll be increasing the pressure on one ear.
But if you sleep on your back, you should have no problems with most pairs. We'd recommend one of the more compact pairs, rather than the bulkier industrial pairs. Your roommate's snoring will be a thing of the past!  
Could my child wear these, even though they're not specifically for children? 
It's all about personal preference. A child may find an adult pair of noise-canceling ear muffs a little overwhelming. If your child is the only one who's going to be wearing the pair, we recommend a pair designed exclusively for this age group. They'll likely be in more flashy colors, too!  
I have a larger head than most. Would I be able to wear these?  
Almost all pairs of noise-canceling ear muffs come with adjustable ear cups and headbands, just like headphones. There should be enough information on the seller's page about exact measurements.