by Jennifer Porterfield
|
Last Updated:
January 12, 2022
As an Amazon Associate, I earn from qualifying purchases at no extra cost to you. Thank You for your support.
Is your home or workspace louder than you would like it to be? Sound is a common problem in homes and office spaces, be it a detached house, apartment or an office block this issue is universal. Maybe you live in a city and lose hours of sleep each night from street noise? 
Or maybe you are a voice actor wasting hours of precious recording time because of external interruptions? Everyone can get frustrated by noisy living conditions, but not everyone knows what to do to fix it.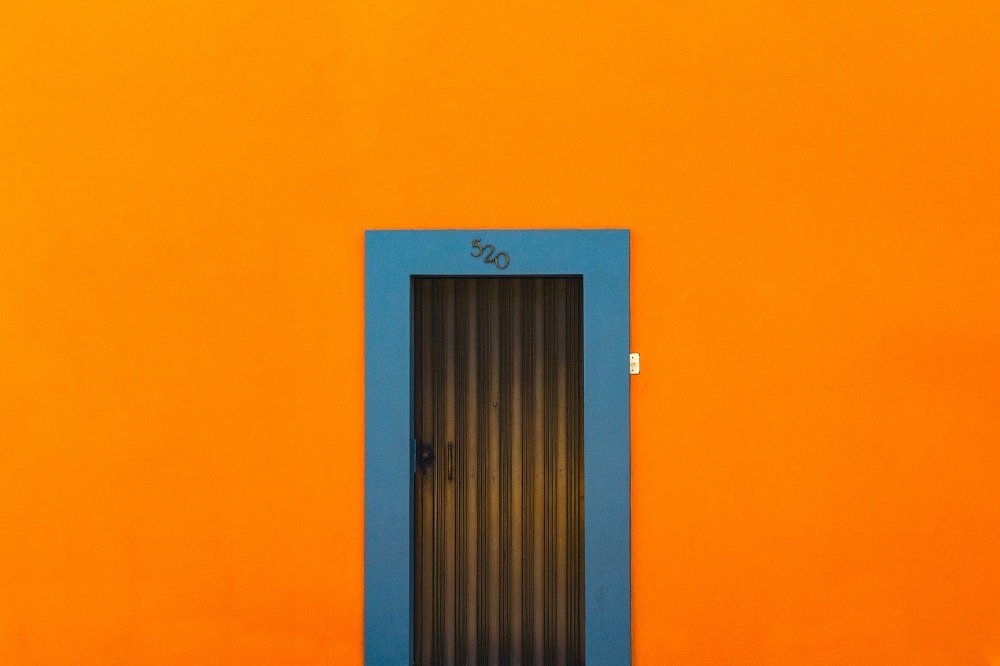 Noisy neighbors, cars on a busy road, leaf blowers, and lawnmowers – the noise made by others frequently enters our homes, unwanted, ruining our peace and quiet. This noise can infiltrate our homes and workspaces at critical moments, waking a sleeping baby or interrupting an important business call. We have all experienced frustration as a direct result of external noise, driving us to our wit's end wishing for this noise to stop! 
What if I told you there are doors that you can buy specifically to relieve this issue? That's right, you can help bring peace back to your home with easy ways to block out external noise, giving you back uninterrupted nights of sleep, a quieter living environment, and the chance to carry on with your daily routine without distractions! 
Below is a list of the best doors for soundproofing and additions you can make to soundproof doors already in your home. If you want a quieter life, the below is for you! 
Best Doors for Soundproofing
Having the right front door will make it easier to soundproof your home, starting from the first entry point of your home is a great place to start! It is important to have a solid front door, fit correctly to avoid any gaps or cracks. 
By having the correct front door you are not only soundproofing your home, you are also preventing heat from leaving your home, allowing you to save money on bills and more to spend on the things you love.
By having a well-fitted front door your home is more secure from theft and insects are less likely to get in as there will be no crawl space for them to take refuge in your soundproofed, warm, energy efficient home. This steel door is a perfect example of the type of front door that will do everything mentioned above. 
Pros: 
Solid Core – keeping noise from the outside world out of your home. 
Secure safety door – allowing you to keep your home safe at all times. The door comes with six specially made keys to avoid duplicates being made and your home being at risk. 
Easy Installation – the door comes ready to mount upon delivery with pre-drilled holes. 
Weather Resistant – this door is sure to last even in the wettest of climates. 
Cons: 
Not aesthetically pleasing – have no fear, this can easily be rectified by purchasing steel paint to paint the door to the color of your choosing. 
VIZ-PRO Quick Mount Steel Security Door with Frame and...
36″ Door Slab with a Frame Size of 40″ – 43" x 83 1/4"
When viewed from the exterior of the home, door has the hinges on the left, the knob on the right.
Comes with frame, stainless steel handles, hinges, and lock, 9 to 12 point locking system,...
1/16″ frame with inbuilt steel strengthening, 2″ thick door leaf filled with fibre glass /...
Last update on 2023-09-18 / Affiliate links / Images from Amazon Product Advertising API
Using solid wooden doors is a tried and tested way of keeping each room in your home soundproofed. By having solid wooden doors throughout your home you can ensure that household sounds do not travel from room to room. 
Our homes are noisier than you would think, when you factor in the noise of others talking, TV sounds, telephones, and household appliances there are a lot of factors that can disrupt your day and disturb the peace in your home. 
By installing solid wooden doors, like this solid wooden barn door, you can prevent the travel of sound between rooms, meaning conversations won't keep others up late, the noise of household appliances won't travel and disrupt your day. 
Sliding barn-style doors are not only the perfect soundproofing door, they are also compact and compatible with even the narrowest of spaces. 
Pros: 
Space-saving – by having a sliding wooden door you are saving space in your home as well as soundproofing it, who could say no to extra room? 
Easy Installation – this door comes pre-drilled and ready for installation. 
DIY friendly – this door is suitable to paint. 
Cons: 
Hardware not included – can be purchased separately in an array of styles, allowing you to adapt this door to your home. 
YiHICO 36 x 84in Solid MDF Barn Door(Predrilled &...
MDF&PVC Door Panels: New environmentally friendly materials, mostly used in advanced decoration...
Product Included: Unassembled MDF Door Panels(predrilled slabs and screws); High-quality Barn door...
Dimension: Height: 84 inch, Width: 36 inch, Thickness: 1 3/8 inch, Door Weight: 90 lbs.
Fit Any Room Style: Prestained with sturdy pure white surface, saved time & effort to paint it;...
Last update on 2023-09-18 / Affiliate links / Images from Amazon Product Advertising API
Do you currently have doors with glass in your home? While strong, tempered glass can be a sound deterrent, it is not a recommended way of soundproofing your home. If you love your glass doors and need to find a way to boost both soundproofing and privacy in your home, we have just the fix for you! 
By adding a soundproof curtain you can boost the privacy of your home, prevent heat from bleeding out through the glass in your doors and also soundproof your space in an aesthetically pleasing way. If you only need to block out the sound at certain times these curtains are a versatile way of soundproofing your space for specific times and purposes. By choosing this option you can choose a curtain rail and curtain that can elevate your current space in a stylish way. 
The curtains can be tied back with a curtain tie or left loose against the wall in your home. There are so many wonderful things about this product that make it a must-have for any home. 
Pros: 
Wide Compatibility – these curtains can be used to divide a room, in front of a single or double door – the options are endless! 
Multiple colors available – with lots of colors to choose from it couldn't be simpler to find one to match your home. 
Easy Care – these curtains are polyester and can be machine washed, no expensive dry cleaning bills with this product. 
Triple Woven – with its thick, rich material it works perfectly as a barrier to keep heat in and noise out. 
Blackout – the perfect way to make your space darker at night time if you live in an area with light pollution, ensuring a good night's sleep. 
Cons: 
Rail not included – needs hanging rail to be purchased separately and mounted prior to installation. 
Sale
RYB HOME Blackout Thermal Insulated Blind Curtains, Noise...
WELL MADE: Sold as 1 pack. Sizes: 8.3 ft Wide x 7 ft Long ( W 100 x L 84 inch). 14 Metal Silver...
AMAZING MATERIAL: 100% high-quality durable polyester and super soft triple woven fabric, which add...
GOOD PERFORMANCE - Split your room harmoniously, and create a personal space. Block the light and...
WIDE COMPATIBILITY - RYB HOME has various styles of CURTAINS, SHEERS, VALANCES, ROOM DIVIDERS to...
Last update on 2023-09-18 / Affiliate links / Images from Amazon Product Advertising API
This door stopper is a perfect addition to any door to soundproof your space. This product is available in a range of sizes making it ideal for any space. This door stopper can be used for doors that have not been fitted correctly and, as a result, have space between the bottom of the door and the ground. 
An easy way to rectify this error. By adding this stopper to your door you can easily resolve any noise issues and also prevent drafts, making your space warmer and more energy efficient.
This addition would work particularly well in the colder months, allowing you and your loved ones to stay warm in your peaceful and tranquil home. 
Pros: 
Can be used on external and internal doors – a great solution for your entire home. 
Sound Proofs and prevents drafts – double working product. 
Prevents unwanted insects from entering your home or workplace – keeping your home and/or workplace pest-free. 
Multiple designs available – easy to adapt to suit your current furnishings in your home. This addition will fit right in and not be an eyesore. 
Cons: 
The cover must be machine washed – to ensure the product maintains its shape and color. 
Sale
Holikme Twin Door Draft Stopper Weather Stripping Noise...
🔶Easy to install: 34 "adjustable size for most homes. Please measure the gap and width of the...
🔶 Large-size sponge: not ordinary slender sponge, which will not move with the opening of the...
🔶Hook and loop fastener design : Keeps foam tubes safely inside even with constant opening and...
🔶Block light and windshield: can block the cold/hot wind/smoke outside, making the indoor more...
Last update on 2023-09-18 / Affiliate links / Images from Amazon Product Advertising API
Acoustic paneling is used in office buildings and studios all around the world to ensure the space is soundproof. By using acoustic paneling you have the opportunity to enhance the doors you already have in your home. 
It is a perfect solution for renters who cannot make permanent changes to their property. The panels are stuck using an adhesive and so it is 
possible to remove them at the end of your lease. If the panels are removed in a controlled manner, they can be reused at your next property by carefully re-attaching them to a new surface. This product is sure to elevate your space, be it for living, sleeping, or working, these panels are sure to not disappoint! 
Pros: 
Multiple color options available – a choice of colors makes this product easy to add to your already furnished home or workspace. 
Easy to install – no need to call in any favors from friends when installing these panels on your doors. 
Non-toxic – safe to use in a home environment. 
Free Samples available – allowing you to test this fantastic product before purchasing. 
Cons: 
Size of panels may need to be adjusted – a fabric cutter is included in the pack should adjustments be required to the pre-cut pieces. 
Arrowzoom Black Single Side-20 Pieces Polyester Foam Panels...
✅ MULTI-COLOR OPTIONS - These fire retardant panels come with various colors which can be mixed...
✅ PERSONAL AND BUSINESS - These noise-insulation panels are multi-purpose. Good for Recording...
✅ IMPROVED ACOUSTIC QUALITY - By deadening unwanted sound using absorption panels, you can make...
✅ EASY TO INSTALL & DESIGN BY AUDIOPHILES - Install these hassle-free and fire-safe (Class B1)...
Last update on 2023-09-18 / Affiliate links / Images from Amazon Product Advertising API
Buyers Guide
Door Replacement vs Door Additions
When deciding whether to replace doors or soundproof your current doors there are a number of factors to consider, such as if you are renting what modifications can you realistically make to the home, and what assets the home already has?
If you are in a rented property, presumably you would not have permission from your landlord to change the doors in the property. In this case, it may be best to look at soundproofing door additions, a quick and simple way to upgrade the soundproofing in your home and workspace. 
If you own your current home and it already has a solid front door it is worth taking stock of the internal doors – are these doors hollow, do they have glass panels? If your internal doors are hollow, it may be worth replacing the doors with a solid core or wooden door, you can find recommendations for these products above. 
By upgrading your current doors you will prevent the travel of home ambient sounds. This will allow for each room in your home to be sufficiently soundproofed. If you have hollow doors and don't wish to replace these, there are a number of other options you can consider.
If the doors have glass, you could use a soundproofing curtain, if the door has a gap you could use a soundproofing doorstop, and so on. 
There are endless possibilities to what you can do, it is a case of understanding your needs and what you can do to your home. 
Basics of Sound Transmission in the Home
Sound travels through cracks in the home. If your doors are not fitted properly when installed there will be space for sound to travel. Sound is not a fixed size or tangible thing and so it can travel through any space or crack.
This is why it is essential that doors are fitted snugly with the door frame for both external and internal doors. If you replace doors and they are 
not fitted properly there will still be a possibility that the door will not soundproof a room as there will be space between it and the door frame. Ensure that you take measurements prior to making purchases to ensure your choice will rectify any soundproofing issues in your home or workspace. 
Benefits of Soundproofing
There are a number of benefits to soundproofing your home, the main being the quietness you will achieve and the ability to block out unwanted distractions and noise. Did you know that noise is seen as a form of pollution?
If you knew that polluted water was coming into your home I believe it would be fair to think that you would do what you could to stop this from happening. 
You would put things in place to prevent the polluted water from entering your drinking water and running water to keep you safe from illness and possible toxins. 
While noise pollution isn't as obviously harmful it can still be harmful to developing children and people with sensory issues. 
Noise can also elevate stress levels, this is something that affects everyone. By soundproofing your home you are protecting yourself and those that live there. By soundproofing your workplace you are protecting your employees and providing a safer and more peaceful work environment. 
In addition to preventing the harm of noise pollution, there are a huge number of other benefits one gets from soundproofing your home or workplace. These include: 
Preventing drafts, allowing you to save money on energy bills especially during the colder months of the year 
Deterring insects from entering your home, a great benefit for those living in the suburbs, countryside or with small babies crawling on the ground 
Boosts home safety – having a solid front door makes your home more secure 
…and the list goes on, so what are you waiting for? 
Frequently Asked Questions
What is A Soundproof Door?
A soundproof door prevents the travel of sound throughout your home and workspace, ensuring a peaceful environment. 
How Does A Soundproof Interior Door Differ From A Normal Door?
Soundproof internal doors can prevent the spread of noise throughout the home. Household appliances can be incredibly loud, by having the correct doors you can carry on with your day without the interrupting of a hoover or washing machine whirring in another room. 
What are the best soundproofing doors?
The best soundproof doors are solid core or wooden doors. These doors are proven to make spaces soundproof with little to no possibility for sound to travel through the thick door.
What is important when looking for a soundproof door? 
It is important to highlight what you are soundproofing your home for. Is it to prevent external or internal noise from traveling? This will be a main component in what type of door you choose. It is also important to have measurements of your door frames to ensure the doors you purchase will fit properly, preventing cracks for sound to travel through.