by Jennifer Porterfield
|
Last Updated:
January 12, 2022
As an Amazon Associate, I earn from qualifying purchases at no extra cost to you. Thank You for your support.
There's nothing quite like the feeling of putting on your headphones, locking eyes with a screen, and zoning into your favorite game. It's as if you have entered into a world completely separate from the one in which you started the day; you don't have to think about the dull tasks of real-life or hear the sounds of the world's chaos around you.
However, it's not quite as other-worldly when the people you share a wall with can still hear you.
Are you tired of your partner complaining about the constant clicking of your mouse? Don't you want to play into the early hours of the morning without your mom banging on your door telling you to keep it down?
Wouldn't it be nice to completely escape into the world of your game, without having to worry about being heard by those around you?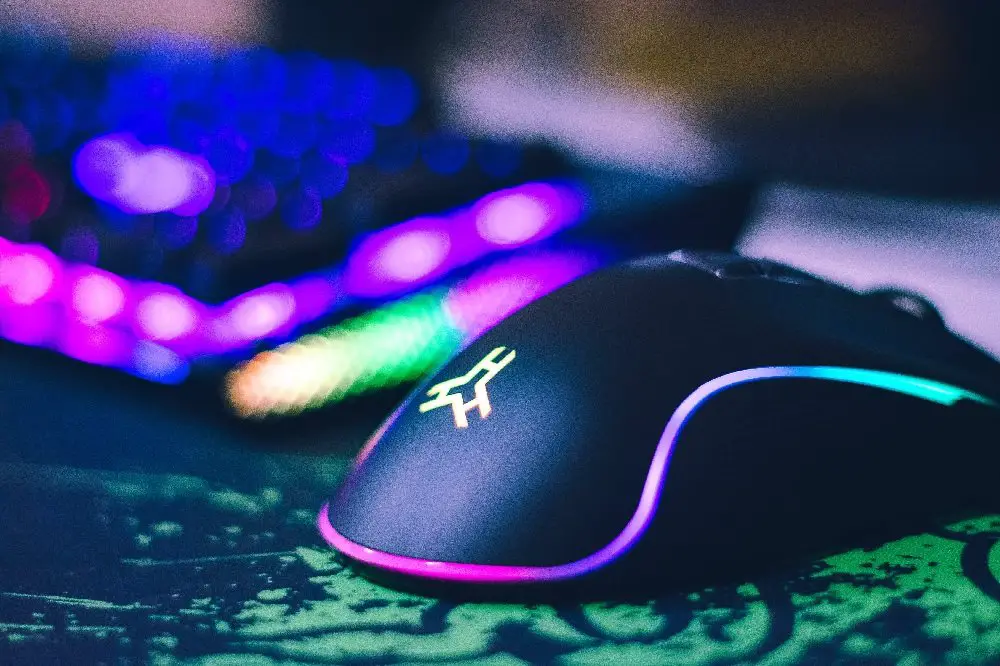 If your answer to any of these questions is Yes, and if – like me – you don't have the time or money to sound-proof your gaming room – we may have found the perfect solution for you. The concept is simple but is undoubtedly a game-changer (literally!): a silent gaming mouse.
Perhaps you've considered getting one before, but haven't wanted to switch from your reliable mouse to something new, or maybe you're concerned that the quietening feature will detract from the overall effectiveness of the mouse.
We're here to tell you that the switch to a silent mouse is worth the leap and that these quiet mice retain the excellent technology of regular ones, and even surpass it!
What's better: you don't have to worry about trawling the net to find your favorite, because we've done that for you! Below is an in-depth guide to buying a silent gaming mouse, and we've included something for everyone, to make sure you buy the one that's perfect for you.
Best Silent Gaming Mouse
If you're looking for a highly-rated and reliable Gaming Mouse, Razer's DeathAdder V2 is an excellent choice. Razer is one of the most trusted brands in the gaming world, and this mouse is their answer to a multi-faceted quiet gaming mouse. This wired, right-handed mouse comes in two stylish colors and holds a full spectrum of 16.8 million colors, thanks to Razer's Chroma RGB technology.  
The ergonomics of this mouse, although it's not ambidextrous, is new-and-improved and highly acclaimed, meaning you can play for hours and still maintain a high level of comfort and control.  
The sensor is a modern Focus + 20K DPI Optical Sensor, which enables the mouse to auto-calibrate as you shift from one surface to another. This means that you can move freely at your gaming station and still maintain a high level of accuracy while you play. The lightness of the DeathAdder (it weighs in at 6.4oz) augments this accuracy and allows swifter swipes to enhance your in-game reaction speed.  
What's more, it has 8 programmable buttons which help you to personalize the mouse to your liking, and the Optical Mouse Switch ensures actuation at the speed of light and is rated for 70 million clicks! This means that no matter how intense the game gets, or how hard you click, this mouse will last a long time.  
Pros: 
Big on-board memory – You can store up to 5 profiles on the mouse itself 
PTFE Feet – The 100% PTFE feet make for an unparalleled smooth experience, and because they reduce the friction between the mouse and surface they also reduce the noise of the mouse moving upon the surface 
Cons: 
No tilt click scroll wheel – Those of you who like this feature may be disappointed, however, the scroll wheel is still highly acclaimed and has been improved since earlier Razer models
Sale
Razer DeathAdder V2 Gaming Mouse: 20K DPI Optical Sensor -...
Focus 20K DPI Optical Sensor: Auto-calibrates across mouse mat and reduces cursor drift from...
3x Faster Than Traditional Mechanical Switches: New Razer optical mouse switches uses light...
Immersive, Customizable Chroma RGB Lighting: Supports 16.8 million colors w, included preset...
8 Programmable Buttons: Allows for button remapping and assignment of complex macro functions...
Last update on 2023-09-06 / Affiliate links / Images from Amazon Product Advertising API
Second on the list is Logitech's ultra-lightweight answer to the DeathAdder. The actual mouse weighs in at an incredible 0.13oz, which ensures your complete control while gaming. The best part of this product, though, is that it comes with five additional 3.6g weights; you can decide on the positioning of these weights – meaning that you can custom the mouse to each game, and to your hand – for a superior and satisfying feel.  
Much like the DeathAdder, the G502 has customizable lighting with 16.8 million colors available and is also a mouse exclusively for right-handed players (don't worry, lefties – we'll get to you in no time!). However, it has 3 more programmable buttons – 11 in total – meaning that you truly can personalize the functions to your preference.  
Pros: 
Adaptable DPI – The sensitivity of the mouse is entirely in your hands. It has a range of 200-12,000 DPI and includes 5 settings, ensuring exceptional accuracy, and a responsiveness to your clicks like no other – without the need to click hard or loudly 
Continuous Scrolling – The G502's dual-mode hyper-fast scroll is not only adjustable, but enables you to scroll continuously, for a smooth, interruption-free, and quieter scrolling experience 
Cons: 
Cable – The braided cable may not allow for quite as much freedom of movement as a wireless mouse 
Sale
Last update on 2023-09-06 / Affiliate links / Images from Amazon Product Advertising API
A winner for both lefties and right-handed gamers alike, this 2.6oz ambidextrous and wireless mouse is arguably the fastest wireless mouse on the market, and comes with an array of 4 color options!  
Like its DeathAdder V2 brother, the Viper has an optical switch that enables actuation at the speed of light and is one of the most durable options thanks to its 70 million click rating.
It has 8 programmable buttons which let you tailor the functions to your liking, and its Focus + 20K DPI Optical Sensor ensures competitive smoothness of motion and control.  
What's great about this mouse, though, is the Hyperspeed Wireless Technology that Razer has developed. It combines interference reduction with low latency, making this product up to 25% quicker than most of the wireless mice that it's up against in the market.  
Pros: 
Ambidextrous – This mouse is equally perfect for left- and right-handed people, or ambidextrous people, for that matter! 
Wireless Freedom – As it's wireless, the Viper's motion is unlimited and there are no cables that might interfere with the fluidity of play. This means it's less likely to get caught in cables or make noise than most other mice! 
Cons: 
Battery Life – Unlike USB mouses, wireless mice have a battery life-span so need to be charged from time to time 
Connection – A wireless connection is more likely to lag, so is slightly less reliable than a USB connection 
Sale
Razer Viper Ultimate Hyperspeed Lightweight Wireless Gaming...
25% Quicker Than Competing Wireless Mice: Razer HyperSpeed wireless technology brings together...
Lightweight, Zero-Compromise Wireless Esports Gaming Mouse at 74g: The Razer Viper Ultimate includes...
Faster Than Traditional Mechanical Switches: New Razer optical mouse switches uses light beam-based...
Ambidextrous Design: Created for left and right-handed users with accessible, programmable buttons...
Last update on 2023-09-06 / Affiliate links / Images from Amazon Product Advertising API
Although Logitech and Razer seem to produce the bulk of great gaming mice, this Redragon model shouldn't slip under the radar. Both the black and white colorways include an aesthetic rainbow LED display, which alters in color to make it clear which of the 5 profiles it stores is being used at any one time.  
Although it doesn't come with adjustable weights like the Proteus Spectrum does, this design has pre-built-in weight tuning that has been professionally honed to ensure the mouse has the right balance for everyone. Something that can be altered is the DPI, which ranges from 1800 to 7200. 
The Gaming Grade Micro Switches in the mouse have been designed to increase the longevity of the mouse, meaning you'll be able to rely on it and won't have to replace it for a while.  
Pros: 
Anti-Skid Scroll Wheel – Redragon have developed an anti-skid technology in this model that increases your control of the Scroll Wheel while playing and limits possible noise from the wheel 
High-precision Sensor – The Optical Sensor allows Pinpoint Accuracy to help you make the shot first time round 
Cons: 
DPI – The sensitivity is considerably lower than that of the aforementioned products, so it is not quite as responsive to your touch  
Sale
Redragon M602 RGB Wired Gaming Mouse RGB Spectrum Backlit...
WIRED GAMING MOUSE; built for Gaming Computers - Ergonomic Redragon M602-RGB "Griffin" RGB...
RGB BACKLIT MMO PROGRAMMABLE PC GAMING MOUSE; 7 MMO user programmable buttons, 5 Memory Profiles...
ERGONOMIC GAMER MOUSE; Delivering an extremely comfortable and precise experience for Computer...
HIGH-END PC GAMING MOUSE FEATURES; The Redragon M602-RGB Mouse features; Built-in Weight Tuning for...
Last update on 2023-09-06 / Affiliate links / Images from Amazon Product Advertising API
The third product from Razer on this list is a light mouse, but a strong contender. At 3.25oz, it is lighter than the DeathAdder but retains the all-important Focus + 20K Optical Sensor that gives Razer Products their edge. Its optical switch is 3 times faster than most mechanical switches, and despite its lightweight, it can still store up to 5 gaming profiles at once. 
Alongside the body of the mouse itself, a great feature of this product is its Razer Speedflex cable. Although it won't be quite as free as a wireless mouse, this well-developed cable reduces drag and friction between mouse and surface, which leads to a quieter and smoother gaming experience than most other wired mice.  
What's more: you can customize the resistance on the Scroll Wheel for increased sensitivity and quicker responses to your reactions that are fed through the mouse.  
Pros: 
Speedflex Cable – This reduces noise and increases smoothness when moving the mouse 
11 Programmable Buttons – These allow you to personalize your mouse to maintain a high level of control 
Cons: 
Form Factor – This mouse is only suitable for right-handed people 
Sale
Razer Basilisk v2 Wired Gaming Mouse: 20K DPI Optical...
Focus plus 20K DPI Optical Sensor: Offers an on-the-fly sensitivity adjustment through dedicated DPI...
3x Faster Than Traditional Mechanical Switches: New Razer optical mouse switches use light...
Customizable Chroma RGB Color Profiles: Supports 16.8 million color combinations w, included preset...
11 Programmable Buttons: Allows for reconfiguration and assignment of complex macro functions...
Last update on 2023-09-06 / Affiliate links / Images from Amazon Product Advertising API
Buyer's Guide
Now that we've shown you our top picks, you might be a little overwhelmed by the amount of choice there is, and by how many things there are to consider when buying a new mouse.  
Whenever you buy a new product, it is important to find out what aspects of the product you feel are most important to you personally, so that you can prioritize what to look out for. Below are a few things that might be helpful to think about when trying to narrow down your options. 
Appearance and Comfort
Although the functionality of the mouse is likely going to be the priority, investing in a new mouse should be somewhat of a treat, and you want to enjoy looking at it if you're going to use it every day! Looking at the colorways and designs that are available with each model might help you to make the big decision if you're torn between other aspects of the choices.  
Unlike regular mice, you want your gaming mouse to feel comfortable enough in your hand that you can play for hours on end, without pain or discomfort. Often referred to as the ergonomics of the product, the shape, material, and ease of use of each mouse is something you should spend some time considering. 
For example, a mouse that has adjustable weights may suit somebody who struggles to move a heavy mouse for long periods of time. Similarly, if you know you're a player that can get quite heavy-handed while playing, you might want to look at the durability of the materials, and consider a higher click rating, so that you know it will endure under intense physical use.  
Wired vs. Wireless
Depending on what you've used in the past, you might already know what you prefer. However, there are pros and cons to both types of mice, so you need to decide what is most important to you. 
Wireless mice undoubtedly allow you to move more freely, move further away from your device, and remove the risk of getting caught in, or of clashing with, a wire. However, the wireless connection is less reliable than a USB connection, so it does mean there's a higher possibility that the mouse could lag and not respond to your reactions as quickly. 
Wired mice are therefore more reliable in terms of their connection and ability to consistently react to your movements, but do pose a higher chance of physical interruption to your game, and limit your movement in general.  
If freedom of motion and distance from your screen device is important to you, a wireless mouse could be your answer. If you are a player that relies strongly on your quick reaction times and the speed of the mouse, though, it may benefit you to stick to the old-school USB cable mouse.  
Do remember that a wireless mouse has less potential to make noise, as there is no wire or cable for it to come into contact with. So, if decreasing the noise levels of your gaming is still your priority, keep that in mind. 
Personalization of Weight and Sensitivity
As you now know, many gaming mice include features that can be tailored to your gaming style. It is important that you find a mouse that enables you to use it exactly as you want to. If you don't want to risk relying on a one-size-fits-all kind of mouse, and you want to tailor one precisely to your preferences, you might want to purchase a mouse that has different settings.  
If you know you are going to use the mouse to play various games with differing uses of the mouse, for example, it might suit you to buy one of the mice that has a customizable DPI. This will help you to alter the sensitivity of the mouse depending on what you are using it for. For example, the Redragon M602 has 5 DPI settings, ranging from 1800 to 7200.  
Likewise, the option to adjust weights might suit you if you are quite specific about the feel and balance of your mouse, and you could tailor the weightings to how you are feeling as often as you need to.  
The sensitivity and weighting of a mouse is down to personal preference; there is no right or wrong example of either, but it is important that you consider how you like your mouse to move and respond to you before you decide which to buy. Adjustable options might make it easier for you to reach the feel you're looking for.  
Price and Warranty
As you would when making any other purchase, when buying a new mouse you need to decide how much you are willing to spend, and how important it will be to you once you have it. 
There is such a huge range of prices for silent gaming mice; there is definitely something suitable for everyone.  
If you are a professional gamer and your income relies on your gaming, it might be worth investing slightly more money on a mouse that is higher in quality and that is more durable. Similarly, if you are going to be using it every day, whether or not you consider yourself to be a professional, it is worth making sure that the mouse is rated highly in clicks so that you know it can withstand constant use without decreasing in quality.
The DeathAdder V2 has a click rating of 70 million clicks, so would be better in this instance than the Logitech Proteus Spectrum which has a click rating of 20 million, for example. 
Another thing to consider when purchasing your new mouse is the warranty that comes with it. If you are spending a lot of money on it, or if you know you need the product to last for a long time, it might be worth considering a mouse that is accompanied by a good warranty. This way, if it stops working or reduces in functionality at all, you won't be at a loss.  
Frequently Asked Questions
What is the best make of Silent Gaming mice? 
As previously stated, the quality of the mouse is largely subjective to the individual gamer's preferences. However, both Logitech and Razer appear to be leading the industry in terms of customer reviews and competitively high ratings. 
Is any silent gaming mouse actually silent?
Unfortunately, there is not yet such a thing as a completely silent mouse. However, these so-called 'silent' gaming mice are considerably quieter than regular gaming mice, and are extremely difficult to hear – even if you're in the same room as them!