by Jennifer Porterfield
|
Last Updated:
March 28, 2021
As an Amazon Associate, I earn from qualifying purchases at no extra cost to you. Thank You for your support.
Air compressors can be loud and obnoxious. So if you are you looking for the quietest air compressor, then you're in good hands. Below you will find the best ultra quiet or quietest air compressors. As I am an expert in soundproofing and sound deadening so I took it upon myself to experiment to find the perfect quiet air compressor available on the market. I bought around 20 air compressors which are known to be quiet or silent. We did all kinds of testing for a month and came up with the winners, providing you with the 10 best quiet air compressors. I will be providing you with the pros and cons to each and the reasons you should consider each to find the best quiet air compressor.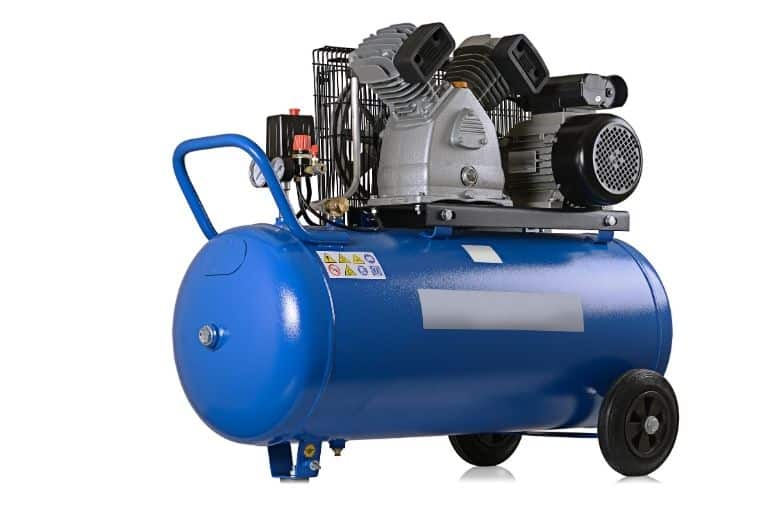 Top 10 Best Quietest Air Compressors
| Image | Name |   |
| --- | --- | --- |
| | Makita MAC2400 Air Compressor | |
| | Dewalt DWFP55130 | |
| | Campbell Hausfeld DC060500 | |
| | Dewalt D55167 Portable Compressor | |
| | Dewalt DWFP55126 Compressor | |
| | Senco PC1010 Compressor | |
| | Dewalt D55140 Trim Compressor | |
| | California Air Tools CAT 4610A Ultra Quiet | |
| | California Air Tools 2010A Air Compressor | |
| | California Air Tools CAT 1610A | |
Quiet Air Compressors (with Full In-Depth Review)
Makita MAC2400 2.5 HP Big Bore Air Compressor
Cast iron pump with Big Bore cylinder and piston is engineered to provide faster recovery time for improved performance
Powerful 2.5 HP 4-Pole motor produces 4.2 CFM at 90 PSI for increased productivity and lower noise
Roll-cage construction provides complete protection to withstand extreme jobsite environments
Low AMP draw reduces incidences of tripped breakers at start-up
Pump is oil-lubricated for cooler running temperatures and reduced wear
Makita MAC2400 Air Compressor is the most popular air compressor that is available in the market. It is one of the best sellers online and has a lot of positive feedback from the customers. Makita MAC2400 is a Beast! it is equipped with everything you want an air compressor to have. Makita MAC2400 is one of the best in terms of recovery time because of the cast iron pump with a big bore cylinder and piston which is engineered for faster and better recovery time which will improve the performance of this air compressor and also less noise.
Makita MAC2400 has low AMP draw which reduces incidences of tripped breakers at the startup. The built construction is so much better and also the machine is equipped with some serious power. The 4.2-gallon twin-stacked tank sustains an operating pressure of 130 PSI and also delivers 40 PSI (4.8 CFM) and 90 PSI (4.2 CFM). The pump in Makita MAC2400 is oil-lubricated so it will run very smoothly and cooler in temperature which will help with the compression. This also has a Built-in thermal overload for additional motor protection.
This one is designed with a roll-cage construction which is good. It provides complete protection to withstand extreme environments such as an extremely hot or extreme cold. The roll bar handle provides more portability and also added protection to the compressor to withstand high heat and cold environments. This Makita MAC2400 is designed with quietness or soundproof in mind.
DEWALT Air Compressor for Trim, 200-PSI Max, Quiet Operation...
3.0 SCFM delivered @ 90 PSI pump, 2.5 gallon tank and 200 max PSI of the portable air compressor enables large amount of nails to be fired and provides quick recovery
Durable oil free pump of the electric air compressor provides extended maintenance-free operation
Low 71.5* dBA of DEWALT portable air compressor allows for quieter operation (*Tested per ISO3744)
Low 12 amp draw motor provides easy start-up and reduces breaker tripping
Lightweight (36 lbs), thin (12.5 inch) and compact design is easy to carry and store
Dewalt DWFP55130 is a heavy-duty quiet air compressor. Dewalt DWFP55130 has an oil-less pump that improves the operation and makes it work smoothly. This is a super lightweight and very portable, so it can be carried anywhere.
This Dewalt DWFP55130 weighs around 36 pounds which makes it lightweight and portability. This is a corded machine. It requires a source of power to run and it doesn't run on battery. This quiet air compressor is super quiet and has a 90 PSI Pump. The 2.5 Gallon tank and 200 max PSI makes it quite powerful.
The pros of this quiet air compressor are that this one has a 2.5-gallon tank, very lightweight, compact, and durable, 200 PSI Maximum pressure and Dewalt provides 1 Year warranty with some terms and conditions.
Campbell Hausfeld 6 Gallon Portable Quiet Air Compressor...
Up to 50% quieter than comparable compressors, producing just 68 dBA. Half the Noise, All the Power, 4X Life
Key components last up to four times longer; oil-Free, maintenance-free dual Piston Pump. 6 gallon, 125 Max PSI and 2.4 CFM @ 90 PSI
The pancake design and durable, soft-grip steel handle make it easy for you to move the compressor from job to job.
Start your projects right away by bundling with a Campbell Hausfeld impact wrench (TL140200AV), paint sprayer (DH650001AV) and hose (PA117701AV)
Finish your projects faster and easier with Campbell Hausfeld. The Air Power Expert.
Campbell Hausfeld DC060500 is one of my favorites. This is one of the quietest air compressors that are available in the market right now. Campbell Hausfeld is one of the household names in the united states. Campbell Hausfeld DC060500 is designed keeping noise in mind. At just 68 dBA this is one of the quietest air compressors, if you are looking for an ultra-quiet air compressor then this is the one and this is the ideal one. Up to 50% Quieter.
Campbell Hausfeld DC060500 has a maximum PSI of 125 which is very powerful. This is an oil-free air compressor which makes it really easy to run and maintain. This has an 8 Gallon pancake tank which is designed for a user-friendly experience. In terms of weight, Campbell Hausfeld DC060500 is super lightweight and very slim.
Portability and Durability are very high with this product because of the design and engineering. The Pancake design is perfect for portability and convenience to carry around. Campbell Hausfeld DC060500 comes with wrench, paint sprayer, and other necessary accessories.
Sale
DEWALT Compressor, Oil Free, High Pressure, Low Noise,...
225 PSI max pressure and 15 gallon tank allows for longer air tool run time
5.0 SCFM at 90 PSI allows for quick compressor recovery time. Wide track, semi-pneumatic tires allow for additional stability, easy movement, and no tire maintenance
78 dBA (tested per ISO3744) operational noise level for a quieter work environment
EHP efficient high-pressure technology delivers exceptional air-tool runtimes
Oil-free, maintenance-free pump for convenient use
Dewalt D55167 is the second air compressor from Dewalt in this article. Dewalt D55167 is a very powerful air compressor and quite at the same time which is difficult to achieve but the people at Dewalt did it. This is an oil-less compressor that makes it easier for maintenance and other stuff.
In terms of mobility this quiet air compressor wins, because it has a Long handle and two big wheels attached on the opposite side which makes it easier to move around. The handle also acts as a hose wrap to the air compressor. Dewalt D55167 has a maximum pressure of 225 PSI which makes it run for a long term and more efficient. It has a 15 Gallon tank that is more than sufficient for most people.
If you worry more about the sound or quietness of this air compress then don't worry. This one has a sound level of 78 dBA which is tested as per ISO3744 so it's pretty much accurate. This Dewalt D55167 uses an EHP efficient high-pressure technology that manages to deliver really good air-tool runtimes.
Some of the Pros of Dewalt D55167 are that this is very portable, oil-free, 200 PSI max pressure, powered by electricity and they provide 1 Year limited warranty for further service. The only con is that you cannot reduce or limit the power supply so if you are using it for something that doesn't require much power then you are just wasting the power.
DEWALT DWFP55126 6-Gallon 165 PSI Pancake Compressor with...
165 max PSI 6.0 gallon tank (22.7 L) and 2.6 SCFM delivered at 90 PSI pump
High efficiency motor for easy start up in cold weather or extension cord application. [14 ga or larger, 50 ft. (15.2 m) or less]
75.5 dBA noise level for a quiet work setting
Long life maintenance-free motor to keep from staining the work surface
Tool-free depth-of-drive adjustment with detents for proper setting of nail heads
Dewalt DWFP55126 again, another Dewalt air compressor in this article, this tells you how good of a company Dewalt is and the value and quality they provide. This Dewalt DWFP55126 is a pancake style or designed air compressor. The pancake-style makes it quieter and soundproofed. This air compressor weighs around 30 pounds which makes it lighter than many other air compressors that are available in the market. The maximum power this air compressor can deliver is 165psi at peak.
The motor of Dewalt DWFP55126 is very unique. It has the capability to work on harsh conditions such as extremely high temperatures and low temperatures. The motor has a built-in cold start mechanism which is quite unique and not a lot of other air compressor has. The motor is very universal. You can pair with any type of power supply or power source and it can handle without any issues. This air compressor has an extension cord and the cord is 50 feet long.
Dewalt DWFP55126 has a 6 Gallon tank capacity this is more than enough for most people. If you are wondering about how much sound this machine does then don't worry because it's very quiet and negligible, the sound level is around 75.5dBA. Dewalt DWFP55126 is equipped with high-performance couplers and high flow regulators that will make this machine run very smoothly.
This is more of a bundled pack. You also get a nailer tool. You can use the nailer tool to keep the surface stain-free and clean. If you wondering what if the air compressor gets jammed then you don't have to. It has an automatic release mechanism.
Senco PC1010 1/2- Horsepower 1-Gallon Matte Finish and Trim...
Lightweight and portable--easy to carry from site to site as you work
One horsepower peak ,1/2 horsepower runningand one-gallon capacity
Ideal for a range of renovation and home improvement jobs, as well as for hobbies and crafts
Delivers 20 to 44 drives per minute
Backed by a one-year warranty
Senco PC1010 Air Compressor is the most affordable and budget-friendly air compressor in the market. I know there are cheaper ones but the amount of value Senco PC1010 provides is definitely worth the money. If you are getting started or want something with less price then go ahead with Senco PC1010, you won't get any other quiet air compressor on the market for this price.
Senco PC1010 can provide maximum pressure up to 120PSI which is a lot of this price range and size. Senco PC1010 is an oil-less machine with barely any maintenance. This machine has a 1HP motor which will run 0.5HP during normal speed. It has 1 Gallon tank capacity which is enough for this size and purpose. If you want this air compressor to do a huge task then this is not the one, you can get any of the above one. This is only for small work or household works.
If you think that what can this small air compressor can do then you are underestimating it. It can get a given job done easily. It takes 120 seconds to reach 120PSI from 0 which is really fast compared to the size and the motor of the machine. The electricity consumption is also very low. It draws around 4 Amps only.
Senco PC1010 is an ultra quietest air compression. The sound level is around 71dBA in Peak and around 25.5 dBA when the motor is running at 0.5 HP. In terms of portability, this one beats every other air compressor out of the park. It has a handle to carry and very lightweight also.
7. Dewalt D55140 Trim Compressor
Sale
DEWALT Air Compressor, 135-PSI Max, 1 Gallon (D55140)
Heavy-duty 1-gallon trim compressor with protective roll cage
135 psi maximum, durable oil-free pump, low 71 dB rating, low 2.6 amp motor
Includes 1 compressor; hose & nailer not included
9-inches wide; 24 pounds; 1-year warranty
Dewalt D55140 Trim Compressor is the smallest air compression that we have mentioned in this article. This is a super lightweight and high durable compressor. The built-in really high quality. If you ask for which is the very portable air compressor then if you tell this Dewalt D55140 is the most portable air compressor that I have seen. This is an oil-free machine so there is less maintenance also which is perfect for many people.
As the company says that this machine is a "One-Person tool that offers efficiency and dependability" I totally agree with it. This is ideal for carpenter and woodworkers.
Dewalt D55140 has a one-gallon tank capacity with a 2.6 amp motor that could deliver 0.75 SCFM at 90 PSI and 135 PSI at startup. If you are wondering about the sound level then it was around 69 dbA which is ultra-quiet and smooth. It's more like two people talking.
California Air Tools CAT 4610A is a pretty popular brand with more authority. This air compressor is said to be ultra-quiet and makes only a 60 dBA sound level. When we tested it, we got the same sound level but as it gets older it started to make more noise, that is why we have mentioned it in 8th place, but this is a good quality air compressor.
The motor of this air compressor operates at 1680 RPM that is the reason that it makes every less noise and that's why its regarded as Ultra Quiet. CAT 4610A is equipped with two-piston pumps and they are oil-less so it's less maintenance. This air compressor is made up of Aluminum and has two air tanks which make this machine very light and portable.
Some of the advantages of CAT 4610A are it has a powerful 1 horsepower engine which makes it ultra-quiet. It has two tanks of 4.6 gallons. California Air Tools also provide one year warranty with it. The only disadvantage is that is not suitable for tasks that require high pressure.
California Air Tools 2010A Air Compressor is the best air compressor for the garage. This is a really quiet air compression-only 60 dBA volume level. CAT 2010A has two horsepower motors so its quite powerful. It runs at the rate of 1680 RPM. CAT 2010A has two piston pumps which provide high performance and durability. This is also an oil-free machine so there is no maintenance. It has a 2-gallon tank capacity. The whole body is made up of aluminum with a good finish so it never rusts. The build quality is really good and strong.
Some of the advantages of CAT 2010A are oil-free, ultra-quiet, 2 horsepower, 2-gallon tan, high durability. The only cons are the price. It is quite expensive, to be honest.
CAT 1610A is the final ultra quiet air compressor on the list. The sound level in this air compressor is only 60 dBA so its pretty quiet only. Like the other air compressors, this is also an oil-free machine so you know there is barely any Maintainance required. This one weighs around 35 pounds which is not bad, to be honest. CAT 1610A has two pressure regulator gauges which you can use to control the pressure, which is quite rare in an air compressor. Combine this CAT air compressor with an ultra quiet shop vac. It an excellent combination.
This air compressor is universal, which means this it comes with a universal connector so you can use this air compression in any part of the world. One unique feature with this air compressor is that this has a thermal overload protector. If you have no idea what that means then let's assume that when the machine is less hot when it comes to compressing up to fifty-five or sixty seconds to fill up a tank in a vehicle. Which is quite unique and advantageous.
Wrapping Up – Quiet Air Compressor
Air compressors are quite loud by nature, and it only makes sense as to wanting to purchase a quiet air compressor. Hopefully the in-depth guide to each air compressor has made it easier to pick out the perfect quiet air compressor for your needs.