by Jennifer Porterfield
|
Last Updated:
May 10, 2023
As an Amazon Associate, I earn from qualifying purchases at no extra cost to you. Thank You for your support.
Keyboards are one of the most important peripherals for anyone who spends a lot of time at the computer. Whether it's for work or play, a good keyboard can make a huge difference to your comfort while typing or gaming.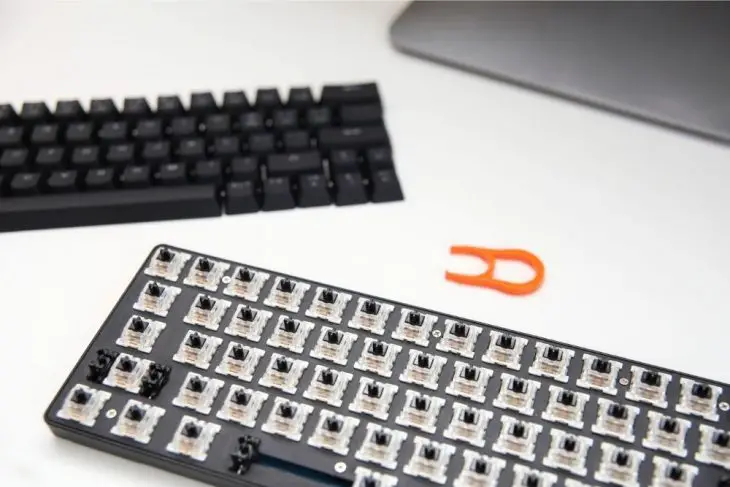 Keyboards are packed with features these days, but one aspect that is often overlooked is how noisy a keyboard can be, particularly mechanical keyboards which have become incredibly popular among gamers in particular due to their improved feedback and accuracy as well as precision.
Finding a quiet keyboard can be very difficult as there is a lot of jargon and marketing-speak used when talking about keyboards, which can make finding the right option for you incredibly difficult.
There are some key things to look out for when purchasing a quiet keyboard, and in this guide, we're going to look at some of the best options available to help you find a board that provides all the features you need without the deafening clicking that some keyboards come with.
Whether you're annoying your roommates, partner or simply want something with a more subdued sound for your own needs, there are plenty of great options out there.
If you still have questions or want to know more about what to look for in a great quiet keyboard, check out the buyer's guide below for some helpful tips and information about keyboards.
We're also including an FAQ to answer some of the most common questions about keyboards and the noise they make, as well as their performance.
But without further ado let's look at the keyboards themselves, their pros, cons, and what they have to offer.
Corsair is one of the leading and most popular keyboard brands and providers of peripherals in the world, so it's no surprise that one of their flagship products starts off our look at some of the best quiet keyboards available.
The Strafe is a very quiet and attractive wired gaming keyboard that offers an array of excellent features in a stunning package.
First and most importantly, the switches are Cherry MX Red's which are an excellent choice providing quiet keystrokes and reliability with excellent texture and feel, making them a popular choice for gamers who want to keep the noise down but the performance high.
There are some excellent additional features such as per-key backlighting which is RGB capable, a wide array of keys and macros for media control which is very convenient. 
The wrist rest is very nice and works well not only to keep you comfortable but add stability to the keyboard, and there are excellent footpads on the underside of the keyboard which help eliminate or reduce sound especially when used with a good mouse mat.
Overall this is a superb keyboard with excellent features, superb build quality, and relatively quiet mechanical switches which make this the perfect choice for anyone who wants quality mechanical keyboard switches but doesn't want too much noise and disturbance. 
Pros
Quiet
Per-key backlighting
Wrist support
Quality finish and aesthetic
Wired
Cons
Not as quiet as membrane keyboards
Sale
CORSAIR STRAFE RGB MK.2 Mechanical Gaming Keyboard - USB...
CHERRY MX RGB mechanical key switches with gold contacts deliver the ultimate performance and...
8MB Onboard profile storage with lighting and hardware macro playback to take your gaming profiles...
Per-key RGB backlighting deliver dynamic and vibrant lighting effects with virtually unlimited...
Dedicated multimedia and volume controls to adjust your audio without interrupting your game
Last update on 2023-09-11 / Affiliate links / Images from Amazon Product Advertising API
Razer is another huge name in computer peripherals, and while their pedigree is in gaming keyboards that hold nothing back, they have created the BlackWidow Elite to offer something that's a little quieter while still providing superb performance.
Razer's proprietary yellow switches are some of the quietest keyboard switches on the market, and they are marketed as silent and linear for maximum performance and minimum noise which makes this a tempting choice right out of the box.
There are also a series of fully programmable macro keys for multimedia management or other functionality that users can set up via Razer's own high quality software, where users can also customize the keyboard memory, lighting settings and other aspects of the keyboard's functionality.
The ergonomic wrist rest works well and provides good support, while the keyboard feet work well and offer excellent stability along with some noise reduction.
Overall this is a stellar keyboard for gamers or editors who need high-performance feedback and low sound levels.
Pros
Excellent finish
Great RGB Lighting
Very quiet mechanical switches (Razer Yellows)
Good wrist support
Wired
Cons
Not as quiet as some membrane keyboards
Razer BlackWidow Elite Mechanical Gaming Keyboard: Yellow...
Quickest Mechanical Switch for Gaming: Razer Yellow switch technology beats competitor, legacy...
Ultimate Personalization & Gaming Immersion with Razer Chroma: Fully syncs with popular games, Razer...
Fully Programmable Macros: Razer Hypershift allows for all keys and keypress combinations to be...
Ergonomic, Magnetic Wrist Rest: Made of plush leatherette to maximize comfort over extended gaming...
Last update on 2023-09-11 / Affiliate links / Images from Amazon Product Advertising API
Another offering from Corsair, the K70 is another excellent product that offers a slightly different package than the Strafe but much of the same excellent performance.
Again, this keyboard makes use of the excellent Cherry MX Red switches which are quiet and high performance offering superb feedback and functionality. 
The per-key backlighting looks amazing and the brushed aluminum frame is durable and good-looking while helping to keep sound to a minimum.
The keyboard is wired which makes it a little less portable than some other options, but the overall finish of the keyboard is excellent as you may expect from Corsair, but it's no less impressive as a result.
There are macros for media control which are a nice touch, as well as a full-size setup, including Numpad as well as a great wrist support that provides excellent comfort and stability for long sessions of work or play.
Pros
Excellent switches (Cherry MX RED) 
A choice of alternative switches
Per-key backlighting
Wrist support
Attractive fit and finish
Cons
Not as quiet as some membrane keyboards
Sale
Corsair K70 RGB MK.2 Mechanical Gaming Keyboard - USB...
Aircraft grade anodized brushed aluminum frame, built to withstand a lifetime of gaming. Keyboard...
8MB profile storage with hardware macro and lighting playback allow access to up to three stored...
Per key dynamic multi color RGB backlighting offers near unlimited color customization and control;...
100percentage CHERRY MX mechanical key switches provide the reliability and accuracy you demand
Last update on 2023-09-11 / Affiliate links / Images from Amazon Product Advertising API
Changing gear a little from the more gaming-oriented keyboard, we have this superb offering from Logitech, the MX Keys model, with some excellent performance in a sleek and more understated package with some superb functionality and performance.
This keyboard strips everything back but still offers some great features including backlighting, comfortable dished keys, proximity detection, and automatic backlighting as well as a great range of keys thanks to its full-size design.
The switches are not mechanical switches and are actually a specially designed type of membrane switch known as scissor switches which are an excellent and rare find on modern keyboards offering near unparalleled quietness when typing as well as a short and comfortable compression and fair responsiveness. 
The latency is a little high which makes the keyboard unsuited to fast or precise activities such as gaming or activities like this, but for workstation use or certain situations that require silent typing, this keyboard offers near unbeatable performance and sound levels.
The lack of per-key backlighting is a shame, and the aesthetic certainly isn't as striking as some other options on the market, but this keyboard offers some of the quietest typing performance on the market, and if that's the main thing you care about you'll struggle to find a keyboard more satisfying to use.
Pros
Very quiet thanks to scissor membrane switches
Slim and comfortable
Dished keycaps
Wireless
Full-size keyboard
Cons
Not as responsive as mechanical keyboards
Lacking some features such as per-key backlighting
Sale
Logitech MX Keys Advanced Wireless Illuminated Keyboard,...
Perfect stroke keys: Spherically dished keys match the shape of your fingertips, offering satisfying...
Comfort and stability: Type with confidence on a keyboard crafted for comfort, stability, and...
Smart illumination hand proximity detection and automatic backlighting. The USB cable only provides...
Flow cross computer control: Type on multiple computers in 1 fluid workflow
Last update on 2023-09-11 / Affiliate links / Images from Amazon Product Advertising API
Finally, we have the SteelSeries Apex Pro. SteelSeries is one of the best brands in the peripheral market and it's easy to see why as the Apex Pro offers an excellent range of features, an attractive aesthetic, and good performance at a very competitive price point. 
Interestingly, the switches this keyboard uses are Omnipoint adjustables, which means the compression, feedback, and control of the keys are totally customizable which makes this keyboard very unique and offers superb performance to those willing to tune their keyboard to their specific preferences.
There is an OLED smart display which is a very nice feature, as well as per-key RGB backlighting and an included magnetic wrist rest which provides excellent comfort, support, and stability.
There are also dedicated multimedia controls as you would expect to find on a quality full-size keyboard, and excellent standoffs and keyboard feet for good stability and grip as well as sound dampening.
The brushed aluminum looks good and overall the fit and finish is fantastic.
Pros
Quiet switches that are customizable
Alternative switches available including Cherry Red's
OLED Display
Full-size keyboard
Wired
Per-key RGB Lighting
Cons
Not as quiet as some membrane keyboards
Sale
SteelSeries Apex Pro HyperMagnetic Gaming Keyboard —...
FULLY CUSTOMIZABLE & STUPIDLY FAST with OmniPoint 2.0 Adjustable HyperMagnetic switches
WORLD'S FASTEST KEYBOARD — 20x faster actuation, 11x faster response than traditional mechanical...
RAPID TRIGGER — Eradicate latency arising from the physical movement of the switch through dynamic...
ULTIMATE CONTROL — 40 levels of per-key actuation (0.1 – 4.0mm) — set WASD for light,...
Last update on 2023-09-11 / Affiliate links / Images from Amazon Product Advertising API
Buyer's Guide
In this buyer's guide, we're going to look at the key things to keep in mind when looking for a great quiet keyboard. 
The keyboard market is very competitive and as such, it can be difficult to determine which brands and models provide the performance you need, while still keeping the sound to a minimum.
It's also difficult to determine what key features to look out for, but in this guide, we're going to explain everything from switches to design and other key factors to help you make the right choice for you and invest your money wisely.
If you have other questions you can also check out the FAQ below where we answer some of the most common questions about quiet keyboards.
Design
This aspect of a quiet keyboard determines everything, from the size of the keyboard to its aesthetic and how the package delivers on key performance needs while keeping the noise down.
This can be difficult, especially for mechanical keyboards, however, there are some good options and certain switches to look out for which we'll touch on later.
One of the key aspects of design however is whether the keyboard is mechanical or not, or uses membrane keys that are much quieter but have far worse long-term reliability and performance.
We'll touch on this more a bit later though.
Whether the keyboard is wireless or not is also a key design factor, as well as if the keyboard is a full keyboard or a 75% board, or even an ergonomic keyboard with a specialized comfort design.
Whatever design you choose to go for, paying particular attention to the switches is key to determining how quiet the keyboard is, as well as other factors such as quality which we'll look at next.
Quality
The quality of the keyboard determines how well thought out and put together the actual design of the keyboard is, and it's where many brands and designs fall apart or leave something to be desired.
In terms of quality, there are certain giveaways that can immediately give you an indication of how good a keyboard is, as well as how quiet it will be.
First and foremost, look at the switches being used in the keyboard. If they're non-branded, you should immediately be concerned as these are often cheap and unreliable, and it can be difficult to determine how quiet the keys actually are.
It's also important to look at the fit and finish. Key elements of design such as footpads and risers need to be cushioned, grippy, and well-positioned as well as durable in order to help keep the decibels down and the keystrokes up.
Other things such as good backlighting, removable keys, and a good overall fit and finish will make for a much better performing and reliable keyboard.
Switches
When it comes to switches, there are many things to consider and this is the key to finding a quiet laptop.
The quietest type of switch design is the membrane or dome style switch which uses a rubberized pad under the keycap with which to regulate the keystroke and control the feedback as well as cushion the key as it is pressed. 
These keys are the quietest and they provide excellent cushioning and don't have any loose or moving parts that can rattle around and become loose.
The drawback is that these switches generally fail much more quickly than mechanical switches and provide much less feedback than mechanical switches making them feed unresponsive, unreliable, and prone to sticking, ghosting, and breaking.
While mechanical switches are much noisier than membrane switches, there are some quieter options that will allow you to get the benefits of mechanical keyboards while still remaining key quiet.
This is the best of both worlds and there are several good choices among the various switch brands. 
One of the best options is the Cherry MX Red Switches, which are a very popular choice and used in a lot of keyboards from various brands due to their reliability and performance.
Another option is the Gateron Silent Switch switches, however, there are many alternatives and this is a topic that could drag on, so it's best to research these in deeper detail separately if you're interested in the depths of mechanical switches and their various qualities.
Other Features
Keyboards come with many additional features, such as wrist rests which can not only help your wrists still in a comfortable and healthy position but provide stability and cushioning to help mute the sound of your keyboard as you type.
Other aspects of the keyboard's design such as whether it's wireless or wired is also important to make a note of, as well as the brand and if it offers a good quality driver management suite or other software to manage additional features your keyboard may offer.
Frequently Asked Questions
Should I Use Mechanical Switches?
Really this just comes down to your own personal preference, and there are strong arguments for using them and avoiding them.
If you're someone who needs the keyboard to be almost silent, then membrane switches are probably the best choice for you.
People who share a sleeping space or bedroom should consider membrane switches or anyone for whom too much noise is annoying or unwanted.
If you're someone who wants good performance and a more responsive feel however you will struggle with membrane switches and may prefer to use the alternative, mechanical switches.
If a little bit of additional noise is acceptable, a quiet mechanical switch may be a good compromise in terms of quietness and performance.
There are several excellent mechanical switches out there which you can use to get great performance without raising the noise levels too high, however for some even this smaller amount of noise can be annoying, and there is definitely a noticeable difference in sound level between a membrane and mechanical keyboard.
How Can I Make My Keyboard Quieter?
If you have a keyboard and want to try and make it quieter there are some things you can do.
First and foremost, make sure your keyboard is placed on a mouse mat that cushions the sound of your keystrokes and reduces the deeper sounds typing can cause.
Ensure Your Keyboard Is Also Cleaned And Well Maintained
For mechanical keyboard users, you can consider adjusting your switches or custom fitting them, as well as adding in lubrication or trimming the switches to massively reduce rattling, improve the fit and improve the feedback of the keys.
This is a fairly time-consuming task however and can be fiddly and difficult so don't try this on a very expensive or beloved keyboard without some good experience as you can damage your keyboard or the switches customizing in this way.