by Jennifer Porterfield
|
Last Updated:
March 27, 2021
As an Amazon Associate, I earn from qualifying purchases at no extra cost to you. Thank You for your support.
Turning a basement into a living space can be tricky. The basement can be the loudest part of the house, absorbing noise from the rooms above and magnifying it within the confined space.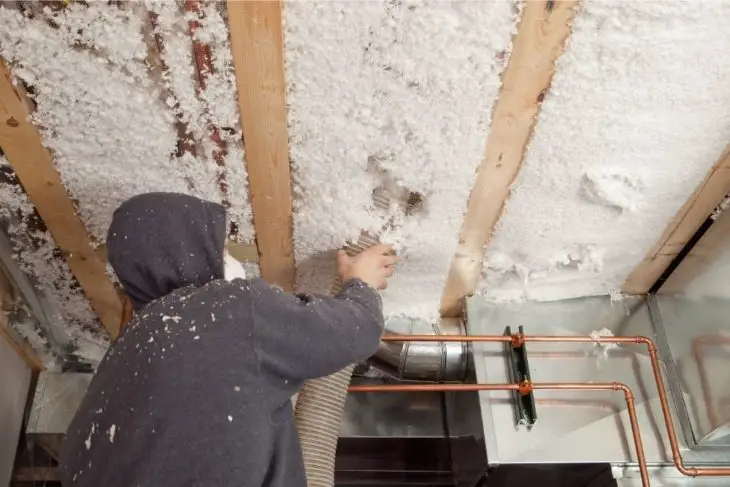 If you're looking to convert your basement into a home office, a playroom, a guest room, or a practice space for music, you'll want to make sure no sound can come in or out.
Luckily, there are simple and effective ways to soundproof your basement and reduce the amount of noise and vibrations you'll experience.
This article will take you through how to soundproof your basement, as well as some of the best materials to use to do so.
10 Best Ways to Soundproof Basement Ceiling Are
Seal the Cracks and Gaps on Basement Ceiling.
Place Carpets or Rugs on the floor above the basement.
Install One Layer or Two Layer of Soundproof Drywall
Rearrange Furniture on the floor above the basement.
Install Acoustic Insulation
Install MuteX Soundproof Material
Install Resilient Channels with Drywall
Place Soundproof Blankets on the Ceiling
How to a Soundproof a Basement Ceiling – 10 Best Ways
1. Seal the Cracks and Gaps on Basement Ceiling
The first thing you should check for when achieving your soundproof basement is cracks or gaps. You must be wondering why is the sealing gaps and cracks are the first solution to the soundproof basement ceiling. This is because if your ceiling has any type of gaps and cracks then if even after following all the other nine soundproofing methods you will still fail. So make this the first priority and work on it.
Make sure you look at every inch of the ceiling for gaps or cracks. If you do find then mark them up. Use this caulking sealant to seal the cracks and gaps on the basement ceiling.
Make sure you test it multiple times. After confirming it all then you can move on with the other steps. This is the First Priority.
Last update on 2022-01-11 / Affiliate links / Images from Amazon Product Advertising API
2. Install ATS Acoustic Foam Panel
ATS Acoustics Panel 24x48x2 Inches, Beveled Edge, in Black
Provides clearer, more enjoyable sound by effectively controlling unwanted reverb and echo.
Superior sound absorption: NRC 1.0 out of 1.
Attractive, textured fabric complements studios, auditoriums, and living spaces.
Built to last with a solid wood internal frame that protects edges and corners from dents and...
Last update on 2022-01-11 / Affiliate links / Images from Amazon Product Advertising API
If you're wondering why I decided to use an acoustic foam panel on the ceiling when it is meant for the wall, then read on. Yes, you are right. Some may say you're not supposed to use it because it's not efficient to use an acoustic foam or soundproof foam panel. But I am not suggesting you use this, what I am suggesting is an ATS Acoustic Foam Panel.
ATS Acoustic Panels are completely different from the regular foam panel and can help achieve a soundproof basement. Even by the looks of it, ATS Acoustic Foam Panel is completely different. ATS Acoustic Foam Panels are covered with microsuede which helps the panel to absorb the sound when it is installed on the basement ceiling.
Installing ATS Acoustic Foam Panel is not a big deal because they come up with hooks attached to them. If you are looking for an ATS Acoustic Foam Panel then this is the one which we suggest. Also if you need more choices then check this article on the best soundproof foam.
3. Place Carpets or Rugs on the floor above the basement
This is a really easy method to soundproof your basement ceiling. All you need are just some carpets or rugs on your home. If you don't have any then get them. You can get Carpets on Amazon also. If you don't want carpets then you can get some Rugs also, Even Rugs are available on Amazon. Make sure that the rugs or carpets are more fluffy.
Once you have got the carpets and rugs, its time to place on the floor. You need to be more strategic about this. Make sure you measure your basement ceiling with exact coordinates. Write it down. After all the measurement place the rugs or carpets on the floor above the basement which requires much soundproofing.  What these carpets or rugs will do is act as padding and absorb the sound signals or disrupt the sound waves to enter through the floor. Make sure that the rugs or carpets are more fluffy and super thick.
If you are looking for alternate suggestions for rugs or carpets then you can try some Mass Loaded Vinyl between the carpet and the floorboards. It adds more padding so more soundproof. If you are looking for a more cheaper and affordable option then try this Rubber-Cal Elephant Bark Floor Mat for more padding with the Rugs and Carpets. Place this Rubber-Cal Elephant Bark Floor Mat between the Rugs or Carpet and the floorboard.
4. Install Green Glue Compound
Green Glue Noiseproofing Compound - 6 Tubes,net wt 28...
6 (28oz) tubes of Green Glue Damping Compound w/nozzles
Big Wipes Cleanup Included - TMS Installation Guide Included
Soundproof Walls/Floors/Ceilings with the highest rated damping compound
Install between 2 layers of drywall/plywood to add up to 9 STC points!
Last update on 2022-01-11 / Affiliate links / Images from Amazon Product Advertising API
Green Glue Compound is one of my favorite ways of soundproofing basement ceiling or wall or windows. This thing is Genius, it might seem nothing but trust me it works. If you are wondering how this green glue compound works in soundproofing then ill let you know.
Green Glue Compound (According to their Official Website) is more like a converter. When a sound signal passes through this green glue compound, this compound converts the sound signal into heat waves. That's the simplest explanation for this.
This Green Glue Compound has multiple applications such as you can use it as a Sealant to seal Gaps and Crack and also you can use it to install soundproofing materials or you can use it as normal glue to soundproof some space.
There are two types of products from Green Glue Compound, they are
5. Install One Layer or Two Layer of Soundproof Drywall
This is one of a unique tip. I have experimented with Drywall on the basement ceiling and guess what, it worked like a charm. I tried experimenting with one layer and also two layers of drywall. I would recommend you to try with one layer, if it doesn't work then you can go ahead and try with two layers of drywall on the basement ceiling.
A Drywall is made up of gypsum, ceramics, and viscoelastic. The only disadvantage of drywall is the installation. Get professional help to install drywall on your basement ceiling.
6. Rearrange Furniture on the floor above the basement
This is a No brainer also this is a really easy method and very effective too at the same time. Rearranging the furniture at home can affect the acoustics of the house. You need to rearrange the furniture on the floor above the basement.
Ideally, I recommend you to place heavy furniture such as Shelves, Closets, Couches and TV Stands. Try to place them exactly above the basement ceiling. I know it's not possible to keep moving it around all the time so if you hold them on permanently then it's great if not then ignore this step and move on to the other solutions.
This solution might sound stupid but trust me it works like a charm and it's completely free too. You don't have to buy new furniture for this just use your existing furniture.
7. Install Acoustic Insulation (Mineral Wool Insulation)
There are many types of acoustic insulations available in the market and you can choose the ones you want. We have already mentioned some of the acoustic insulations in this post such as Drywall and Foam Panels.
But there is this Mineral Wool Insulation which could work well for the basement ceiling soundproofing. This Mineral Wool Insulation is 8 pounds per unit density so its really thick and can provide great soundproofing and acoustic. Mineral Wool Insulation is regarded as one of the best soundproofing material because it is very cost effective and has a very high NRC Rating.
8. Install MuteX Soundproof Material
MuteX Soundproof Material is very similar to Acoustic Foam Panels but they are very much simpler. It is more like a mat that can be used to soundproof the basement ceiling.
MuteX Soundproofing Material is made up of two main elements called Vinyl and High Mass. Vinyl makes it's more flexible. The High Mass element makes the material denser to absorb the sound signals.
MuteX Soundproof Material is very versatile. It can be used in House, Office, Cars, RV or Camper and many other places that require soundproofing or sound deadening. You can pair it with Acoustic Foam Panel or Drywall for more effectiveness. My suggestion would be Drywall, Drywall will be perfect pair with MuteX Soundproof Material.
MuteX Soundproof Material (Black, 10 sqft, 5'x2')
Light Weight while being 1/4 thick like 2lb mass loaded vinyl
Compact & Lightweight at only 1/4" thick and 1/4 lb/sqft
MuteX is made in the USA and has an STC rating of 32.
All Weather Tempature Range from -50°F degrees to 350°F
Last update on 2022-01-11 / Affiliate links / Images from Amazon Product Advertising API
9. Install Resilient Channels with Drywall
Resilient Channel is the gap between the drywall and the ceiling which in turn blocks the transmission of sound. A Resilient channel is must be required because if you just install the drywall directly on the ceiling it will work but not as effective as possible because there is no medium for it to pass.
By installing Resilient channels, we are distributing the sound through the small channels within the bar, so that the sound has to travel back and forth which makes the energy get weaker before it hits the drywall.
This is the last option that I am giving you on How to Soundproof the Basement Ceiling. You can place soundproof blankets on your basement Ceiling.
Here are the 10 best soundproof blankets that we believe are the best available.
One alternative for a soundproof blanket is you can try some curtains that block sound. Be creative.
YouTube Guides & Inspiration for Soundproofing Your Basement
Best Soundproofing Materials
Each soundproofing material has its benefits. Some materials may suit you better depending on what your basement is like, if it has already been fully built, and what you'll be using your basement for.
Here are a few things to consider when choosing how to soundproof your basement.
Soundproofing panels can install externally on the ceiling and provide great absorption of airborne sound and noises caused by impact.
Dangling the panels from the ceiling makes them especially easy to access if you need to clean or remove them.
Mass Loaded Vinyl is very effective as soundproofing due to its thickness and flexibility. It is easy to install, whether you want to attach it directly to the ceiling, or simply beneath the carpet or floorboards on the first floor.
Like MLV, cork is another unobtrusive and easy-to-install material that's great at absorbing sound. However, unlike Mass Loaded Vinyl, cork is light and doesn't look as out of place on the ceiling as black panels of MLV.
It is also natural, eco-friendly and sustainable, unlike other materials you might use.
Foam and mineral wool are great options if your basement is still being built or is being redone, as they can be installed between the first floor and the basement ceiling easily.
It can also be installed when the basement is complete if you have access to the ceiling cavity. Foam in particular will expand to fit any gaps, improving the level of soundproofing.
There isn't any right answer for which material to use, and you can use several different ones for extra soundproofing if you want.
Final Thoughts
Overall, you have plenty of options for soundproofing your basement ceiling.
Whether you want to install something directly onto or within the ceiling, add sound insulating materials to the floor, or simply add some extra padding upstairs, you'll be able to drastically reduce the noise to and from your basement.
Whatever you want to use your basement for, you can count on that extra bit of peace and privacy.
Soundproofing a basement ceiling can seem like a daunting task. However, I hope this task will be much easier and give you the peace of mind you need after reading the research and testing I have done. There are several solutions to choose from to decide how you want to go about soundproofing a basement ceiling. If you discover any new solutions feel free to reach out to me so I can put it to the test and see how it holds up.