by Jennifer Porterfield
|
Last Updated:
March 24, 2021
As an Amazon Associate, I earn from qualifying purchases at no extra cost to you. Thank You for your support.
Are you looking for the best quiet shop vac? Then you are in the place. There is a lot of information on the internet for best shop vacs but nobody cares about the sound that a normal vacuum produces. I was super annoyed with it. So I bought around 30 different Shop-Vacs / Vacuums and did all kinds of research and experimentation on them based on various scenarios and came up with these 10 Best Quiet Shop-Vacs / Vacuums. These are my recommendations based on the testing and these are proven to be Ultra Quiet.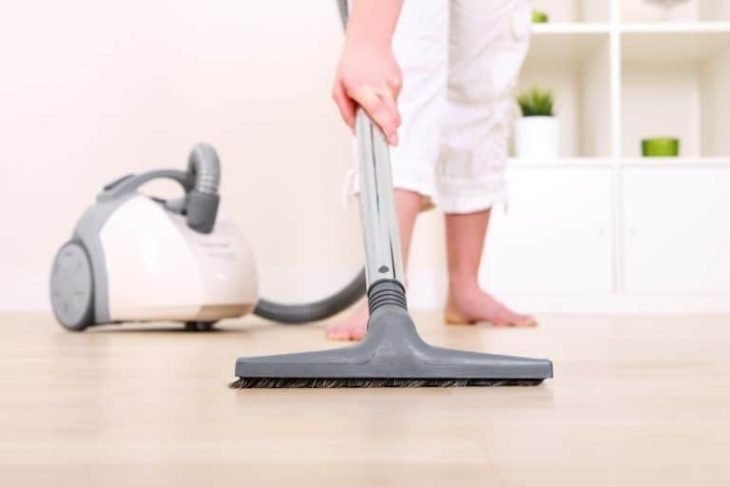 Top 10 Best Quiet Shop-Vacs (Vacuums) (Ultra Quiet)
| Image | Name |   |
| --- | --- | --- |
| | Festool 583492 CT 26 E Vaccum with HEPA Filteration | |
| | Ridgid WD1450 Wet/Dry Shop Vacuum | |
| | Shop-Vac 5989300 Stainless Steel Vacuum | |
| | FEIN Turbo II Vacuum Cleaner | |
| | Makita VC4710 Wet/Dry Vacuum | |
| | Craftsman 9-17761 Wet/Dry Vacuum | |
| | Ryobi 18-Volt ONE+ 6 Gal. Cordless Wet/Dry Vacuum | |
| | Nilfisk ALTO Aero Wet/Dry Vacuum | |
| | DeWALT DXV10P Quiet Wet Dry Vacuum | |
| | Vacmaster VQ607SFD Stainless Steel Vacuum | |
Best Quiet Shop-Vac (Vacuum) (Quietest Shop Vac)
Festool 583492 CT 26 E HEPA Dust Extractor
Automatic Tool Start & adjustable suction with tool triggered or manual on-off switch and infinitely variable suction force, can be used wet or dry.
Supplied with 11-1/2 foot long anti-static hose that is flexible and kink-resistant and will minimize shock hazards as well as reduce static cling.
Sys-dock and hose garage feature allows for the storage and transport of Festool Systainers (not included) on the top of the flat, low-profile unit.
Large wheels, low center of gravity, and ergonomically balanced design allows you to move the CT effortlessly around the jobsite.
Equipped with one HEPA main filter that is flat and are positioned over the collection area for maximum capacity with a compact design.
Festool 583492 CT 26 E is a super expensive shop vac but its definitely worth the money and the best the money could get. I was really thinking for a long time before buying this but then just went ahead with it and god it really blew my mind away.
Festool 583492 CT 26 E is a Shop-Vac or Shop Vacuum with HEPA Filteration and Dust Extractor. This shop vac and dust extractor come with Automatic Tool Start and Adjustable suction which is a tool triggered or manual On/Off switch. This is both Wet and Dry Shop-Vac.
Festool 583492 CT 26 E includes HEPA Filters, Automatic tool start and stop, Convenient carry handle, Sys-Dock, Anti-Static hose, Automatic water level sensor, Cord Storage, Large Wheels and Self-Cleaning filter bag.
Festool 583492 CT 26 E has a variable suction force with a simple dial turn and Power Consumption and CFM is regulated for maximum dust extraction control. You also get a Self Cleaning Filter Bag which is a collapsible bag that is designed to eliminate dust with maximum suction and vacuum.
The HEPA Filteration is revolutionary. The HEPA Filteration is known to remove 99.99% of dust and down to 0.3 microns. This Shop-Vac also has an Anti-Static hose which will help in eliminating dust particle buildup on the hose exterior so you don't have to worry about Clogging and Errant Shocks.
Festool 583492 CT 26 E design and ergonomics are really good and balanced. You could say that the design is perfectly engineered. The wheels are really big so its easy to drag around and it's perfect.
Ridgid WD1450 14-Gallon 6-Horsepower Wet/Dry Vacuum
6 peak HP motor with noise-reduction technology offers powerful yet quiet performance
Fine-dust filter for picking up dry materials and small amounts of liquid
20 ft. cord wraps under the pull handle for storage
Pull handle and casters provide maneuverability while the side handles offer grips for lifting
Blowing feature blows away sawdust and other debris
Ridgid WD1450 Wet and Dry Shop Vacuum are the second best that I found out of all the testing that I did. Ridgid WD1450 has a 6 peak horsepower motor and 14 gallons and is also equipped with noise reduction technology which makes this powerful shop machine a great choice for a quiet shop vac
This Ridgid WD1450 has a fine dust filter which is really good with this one. This fine dust filter will also pick up dry and minute amounts of dry and wet particles which is really good because not a lot of shop vac would pick those up.
This Ridgid Vacuum also has a blowing feature that will blow away all the dust such as sawdust and other debris in the office. This vacuum has a 20 ft cord so you can easily vacuum a far distance.
So if you are looking for a really good and quiet shop vac which is also super affordable then just buy this one blindly because it is that good and effective.
Shop-Vac 5989300 5-Gallon 4.5 Peak HP Stainless Steel Wet...
POWERFUL & PORTABLE: This wet/dry vacuum has a 5-gallon stainless steel tank & a 4.5 peak horsepower motor. Maneuverable full circumference dolly, & top & side carry handles enhance its portability.
ACCESSORIES INCLUDED: This wet/dry vac includes 1.25 " diameter accessories: 7-foot hose, 3 extension wands, crevice tool, gulper nozzle, floor nozzle, plus cartridge filter, foam sleeve & filter bag.
GOT DIRT? Shop-Vac's full line of products includes cordless, rechargeable wet dry vacuums, automotive vacuum systems, air movers, attachments & more. Whatever the job, Shop-Vac has you covered!
AN AMERICAN ORIGINAL: Shop-Vac offers the most complete line of vacuum cleaners, bags, filters, attachments, kits, & other cleaning tools available for home, industrial, & commercial applications.
TOUGH & DEPENDABLE: Shop-Vac Corporation is the recognized world leader in wet/dry vacuum cleaners. Since 1965, we have made innovative, high quality vacuum cleaners, filters, bags, & other accessories.
Shop-Vac 5989300 is a 5 Gallon 4.5 peak horsepower stainless steel wet and dry shop vacuum. There are multiple variants such as 5 Gallon, 8 Gallon, 12 Gallon, 16 Gallon and 16 Gallon with Handle.
This Shop-Vac 5989300 is super powerful and at the same time more portable. This is a Stainless Steel tank and just because its a dry and wet vacuum the stainless steel is very crucial for the machine. Shop-Vac 5989300 is a 4.5 peak horsepower which is a decent power as a shop vac.
Some of the features of Shop-Vac 5989300 are Secure Latch System, Rear Blower Port, On and Off Switch, Top and Side Carry Handles, Tool Storage, Dolly and more.
This shop vac comes with some accessories such as 7-foot hose, 3 extension wands, crevice tool, gulper nozzle, floor nozzle, plus cartridge filter. foam sleeve and filter bag.
FEIN Turbo II Vacuum Cleaner, 8.4 Gallon, 1100W | Includes:...
Auto-Start Vacuum for power tools-allows your vacuum to turn on automatically!
Powerful suction with 98. 4" of static water lift
On board storage for cord and accessories
Long hose (13') and cord (18') for ease of use
By-pass cooling for long life of vacuum
FEIN Turbo II Vacuum Cleaner is an 1100W Quiet Shop-Vac. There are multiple variants in this FEIN Turbo II model such as multiple sizes which are 5.8 Gallon Capacity and 8.4 Gallon Capacity.
FEIN Turbo II Vacuum Cleaner has powerful suction with 98.4″ of static water lift which is pretty powerful. FEIN Turbo II has an auto-start vacuum. This is a Wet and Dry Vacuum cleaner. If you are looking for a quiet shop vac then this is the one for you because this only has 66 DB noise level which is super quiet. The airflow rate is 151 CFM and as mentioned above the static water lift is 98.4″ which ensures high and maximum airflow rate to vacuum up anything in place. You get two different cord sizes to include which are 13′ ft hose and 18 ft hose.
Makita VC4710 12 Gallon Xtract Vac Wet/Dry Dust...
Powerful 12 AMP Motor Generates 135 CFM of Suction Power and 92" of Water Lift
Automatic Filter Cleaning System with dual filter blow-back design is timed at set intervals to maintain consistent suction performance and longer filter life
Efficient two stage filtration system with main nano filter set captures 99.95% particles 2 microns and larger
Optional: HEPA filter set is Certified to meet or exceed the efficiency standard (captures 99.97% of particulates .3 microns and larger) - certificate included
On-board tool-activated power outlet starts and stops vacuum with a 10 second "off" delay to clear any remaining debris
Makita VC4710 is a 12 Gallon wet dry vacuum / shop vac. Makita is a very popular manufacturer from Hungary. Makita VC4710 is super powerful and also less weight and less noise making it a great pick for a quiet shop vac.
Makita VC4710 is HEPA Compatibility. The HEPA Filteration is known to remove 99.99% of dust and down to 0.3 microns.
If you are wondering why Makita VC4710 is so quiet because the Motor chamber is made up of sound-absorbing materials so the sound level is 59 dBA. Makita VC4710 also has an Automatic Filter Cleaning System with blow black features. So you can just set timed intervals so that it can automatically clean and maintain the filter.
Makita VC4710 has a 12 AMP motor which generates up to 135 CFM of suction power. It is powerful and also very quiet at the same time.
Craftsman 9-17761 is a 16 gallon wet and dry shop vacuum with 6 Peak Horsepower. Craftsman 9-17761 includes a 20-foot power cord which makes it ideal for shop and also you get 5 different cleaning attachments such as 2 extension wands, 1 crevice tool, 1 utility nozzle, and 1 web nozzle.
Craftsman 9-17761 has a 6 peak horsepower motor which is pretty powerful for a vacuum cleaner. This is a powerful vacuum cleaner and also quiet at the same time.
Sale
Ryobi is an 18-Volt Cordless Wet and Dry Shop Vacuum. Ryobi is a Cordless which is a super convenient and very different experience. Ryobi has 80 CFM which is powerful. This is a 360-degree mobility shop vac. Some of the accessories that are included are the Crevice tool, Floor Nozzle, and extension wands.
Nilfisk Alto Aero is a 6.6 Gallon Wet and Dry Shop Vacuum Cleaner. Nilfisk Alto Aero has a 25-liter container capacity. This is the powerful shop vac that I have used. It is 127 CFM which is insanely powerful.
Nilfisk Alto Aero is a German Engineered so you know how good German Engineering is? They are fantastic and it is the highest quality. It is a flat-top design that is super efficiency and portable. Nilfisk Alto Aero has an electric autostart feature that is also super convenient.
One of the unique features is the Push and Clean feature which is a semi-automatic filter cartridge cleaning for maximum efficiency. This is definitely the best and power shop vac that you can buy. But the only con is that its not very quiet. That's it.
DeWALT DXV10P 10 gallon Quiet Poly Wet Dry Vacuum Yellow
Sturdy 10 gallon dual-stage wet/dry Vac has quieter operation for clean-up applications.
Powerful 5.5 peak horsepower motor provides just the amount of suction needed to most any cleanup job
Ultra durable rubberized casters allow smooth swiveling for ease of movement
Extra long, 10 feet Power cord with cord wrap helps reach almost any cleanup need
Built-in blower port powerful enough to blow Sawdust and debris from most any workshop
DeWALT DXV10P is a 10 Gallon Quiet Wet and Dry Vacuum Cleaner. Dewalt DXC10P has a 5.5 Peak Horsepower motor which is more than enough as a shop vac but if you need powerful options then choose from any above.
Dewalt DXV10P comes with a -inch power cord which is pretty long and convenient. What is love with this shop vac is Detachable Accessory Bag.
This shop vac has a built-in blower port which is more than enough to blow sawdust and minute debris from your shop.
Dewalt also mentions that this is quiet and yeah, it is pretty quiet for a shop vac. So you can get this one if you can.
Sale
Vacmaster VQ607SFD is a Stainless Steel Vacuum Cleaner. This Vacmaster VQ607SFD is a 6 Gallon 3 Horsepower wet and dry shop vacuum cleaner.
As this is a 3 Horsepower Vacuum Cleaner it's not really ideal for shop or businesses so I don't really recommend this one but if you are looking for a low powered quiet shop vac which then get this. Other than the low power motor this shop vac cleaner is perfect for most people. You can pair this vacuum cleaner with a good quality quietest air compressor.
Vacmaster VQ607SFD has a 12ft cord with cord wrap which is good. This is a lightweight and very portable shop vac. This shop vacuum definitely gets most of the work that it is meant to do.
Conclusion
Whether you need a shop vac for your garage, home, or workspace, it's essential to find one that's best for your needs. I hope you found this article on the best quietest shop-vacs helpful for finding the perfect one for you.