by Jennifer Porterfield
|
Last Updated:
January 12, 2022
As an Amazon Associate, I earn from qualifying purchases at no extra cost to you. Thank You for your support.
You'd think when you do something nice for your home, making it look neat and welcoming, you would be rewarded. You spent hours mowing your lawn to the perfect length – and it looks amazing! So why do you wake up the next morning with ringing ears and hearing loss? 
It might seem like life is punishing you, but really you are just missing a vital part of your gardening experience – effective hearing protection.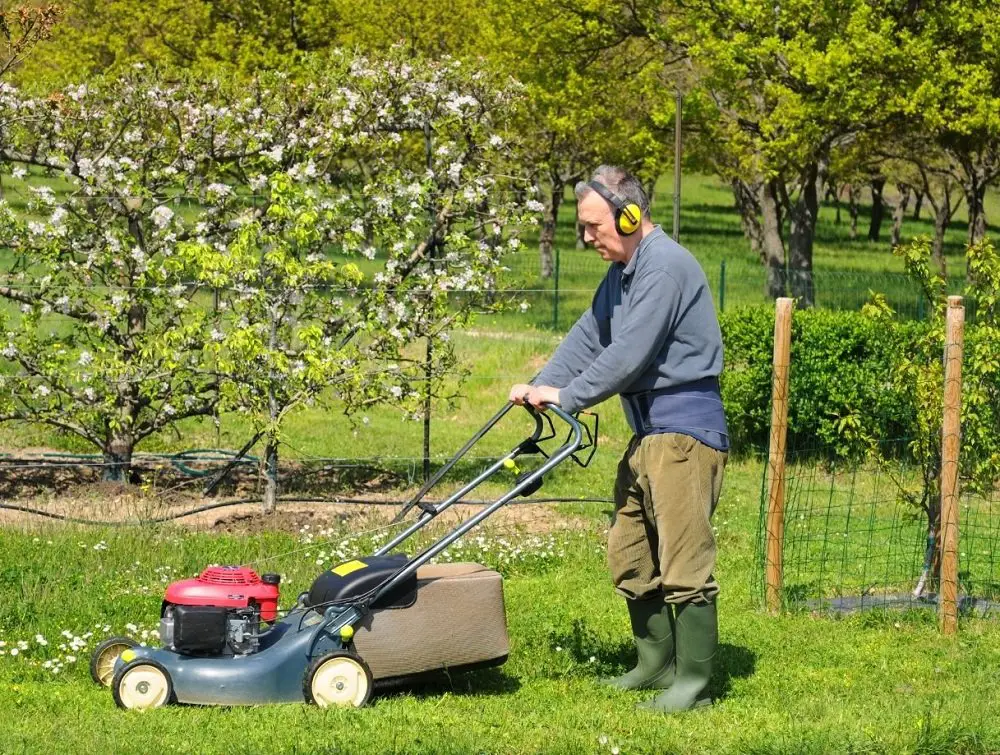 Noise is inevitable in life, but constant loud noise is annoying and harmful. Lawn mowers create continuous noise that, when exposed to it for hours on end, will damage your hearing. 
However, it's difficult to find hearing protection that is comfortable, well-fitting, and durable. There are so many products for hearing protection, all with different features and success rates, that it can be overwhelming! 
We have narrowed down our top picks for comfortable hearing protection for lawn mowing that actually works, so you won't have to give up on your hearing for the sake of your garden again. 
Best Hearing Protection for Lawn Mowing
The 3M PELTOR X5A Over-The-Head Earmuffs are highly celebrated for their ability to protect ears from hearing loss and tinnitus.
Their 31dB NRR (Noise Reduction Rating) is the highest that it is currently possible to get from hearing protection, allowing you to regularly finish your lawn mowing without worrying about any inner ear damage. 
With a flexible, twin headband design, these earmuffs are specifically designed to reduce heat build-up during those summer months.
This makes them much more hygienic and easier to clean because there will be less sweat trapped underneath the headband.
It also makes them more comfortable to wear while you're mowing, allowing you to get the job done without taking breaks to adjust the earmuffs. 
3M have a few tricks up their sleeve to keep them ahead in the hearing protection game. One of these is an original design for advanced attenuation (noise reduction).
The company have specially formulated ear cup liners and innovative foam contained in the earmuffs to cushion the ears and prevent sound leakage. This means that there is less unnecessary padding by the ears, making for a more comfortable experience while wearing them. 
Pros: 
31dB NRR – Very effective at preventing hearing damage. 
Padded ear cups – Added comfort. 
Twin headband design – Reduces heat build-up. 
Durable ABS plastic cups – Increased rigidity and high strength. 
Replaceable cushions and inserts – Easy to clean. 
Cons: 
Not as much flexibility in the headband – Customers have reported them being quite tight, even on smaller heads. 
Last update on 2023-09-11 / Affiliate links / Images from Amazon Product Advertising API
The ISOtunes Pro Bluetooth Earplug Headphones are a game-changer in hearing protection.
Their 27dB NRR is definitely effective in preventing tinnitus and hearing loss from excessive noise, but these come with the added bonus of being Bluetooth headphones, meaning you can mow away in time to your favorite music.
With a 10+ hour active battery life, this will be more than enough time to get the job done with your songs accompanying you. 
They also have a background noise suppressing microphone so you can pick up calls and talk to your mates through the headphones without having to interrupt your lawn mowing. 
ISOtunes' earplugs are made of heat-activated memory foam which expands when placed in your ears. This reduces as much noise from mowing the lawn as possible, not letting noise pollution filter through any gaps.
It also ensures that they fit your ears perfectly as if they were made for you! 
As well as having a good NRR, they are also lightweight and don't put any pressure on the head because they don't have the headband that protective earmuffs use.
They provide the ultimate comfort in hearing protection, and with a hard-wearing case to place them in when they're not being used, they are durable and made to last. 
Pros: 
Bluetooth – Listen to music and take calls while mowing, with an impressive 10+ hour battery life. 
Heat-activated memory foam – They expand to reduce as much noise as possible while fitting your ear perfectly. 
Sweat and water-resistant – Easier to clean and more hygienic. 
Lightweight ear plugs – Comfortable to wear and no tightness or pressure on the head. 
Comes in a durable case – Well-protected and will last a long time. 
Cons: 
Bluetooth has a short range – Some customers have said the Bluetooth connection can be difficult to maintain from a distance to the phone. 
27dB NRR – While this is still effective and will protect you from damage, it isn't the highest NRR out there for hearing protection. 
Sale
ISOtunes PRO 2.0 Bluetooth Earplug Headphones, 27 dB Noise...
BLOCK NOISE: heat-activated memory foam eartips expand like an earplug to significantly reduce...
WIRELESS MUSIC & CALLS: wirelessly play music and take calls 30+ feet from your device with...
MORE POWER: Improved 16+ hour battery life of music and talk time to get you through multiple work...
CLEAR CALLS IN LOUD ENVIRONMENTS: Signature noise suppressing microphone with echo cancellation...
Last update on 2023-09-11 / Affiliate links / Images from Amazon Product Advertising API
Clear Armour's hearing protection earmuffs are a brilliant choice to protect your hearing because they have their own specialized technology. It creates a safe noise level when tending to your lawn in a unique way. 
Part of their secret is Clear Armour's patented SolidBlocker Shell, which forces the loud lawn mower sound to reflect off the ear cup. This prevents the damaging noise from entering your ears. 
As well as this, Clear Armour's SonicSeal tightly sticks the SolidBlocker Shell to the frame of the earmuffs, preventing any sound leakage that may have snuck through. 
With its adjustable headband and super soft foam cushions, the Clear Armour ear muffs will comfortably fit any head and provide equal pressure throughout the whole headband.
This means that any tightness to help with soundproofing will be distributed in smaller amounts around the head, so you won't be left with a headache afterward. 
This industrial-grade hearing protection is meant for all types of intrusive noise activities such as shooting and construction, so you know they will be reliable and durable. 
Pros: 
Patented SolidBlocker Shell – Effectively reflects sound off the ear cup. 
SonicSeal that tightly sticks the shell to the frame – Prevents any sound leakage. 
Super soft foam cushions – They provide equal pressure around the head and create a better seal against sound. 
Industrial grade – It is confirmed to be durable and reliable. 
Cons: 
Reported to be quite tight – While this is good for noise reduction, it may impact the comfort of the hearing protection. 
ClearArmor 141001 Shooters Hearing Protection Safety Ear...
SonicSeal - ClearArmor's exclusive sound technology provides better protection to save your hearing.
Comfortable, premium quality, lightweight, super soft ear ring foam for maximum long wear comfort.
Padded head band adjusts to fit most head sizes . . . Industrial grade. . . Engineered to last
Compact folding design for efficient storage. . . Snug reliable fit to keep our muffs on your head.
Last update on 2023-09-11 / Affiliate links / Images from Amazon Product Advertising API
The ProCase Noise Reduction Safety Earmuffs are a great choice for hearing protection while mowing the lawn.
The over-the-head earmuffs have spacious padding on the headband as well as the earmuffs themselves, creating a very breathable area over your ears to stop you from overheating while doing the hard work. 
The earmuffs are also able to rotate 360 degrees so they will adapt to any head shape and size. On top of this, it makes them incredibly easy to fold up and pack away when you are finished mowing your grass. 
ProCase's hearing protection has an NRR of 28dB, which is highly effective. The earmuffs will reduce a lot of the damaging noise from your lawn mower, saving you from hearing loss and tinnitus. 
A bonus with these noise reduction safety earmuffs is that the ear cushions are made out of imitation leather. Not only is this much softer in terms of pressure on your ears, but it's also very skin-friendly, stopping harsh rubbing on your skin and saving you from unnecessary pain. 
Pros: 
Made from ABS material – Structurally sturdy and robust. 
Adjustable, padded headband – The adjustable headband and rotating earmuffs help these fit all shapes of head. 
Imitation leather earmuffs – Softer on the skin. 
Folding design – They are easily stored when not being used. 
Cons: 
Too much soft padding – While this is meant to increase comfort, it also increases the pressure on the head. 
Sale
ProCase Noise Reduction Ear Muffs, NRR 28dB Shooters Hearing...
🍀 ergonomic headband with soft padding reduces the pressure on your head for superior comfort....
🍀 Constructed by solid abs-shell and thickened Noise-dampening foam, The ear muffs offer a NRR 28...
🍀 adjustable headband and 360 rotatable ear cups with comfortable foam can be adjusted to fit all...
🍀 compact folding design for easy storage and convenient portability; The noise-canceling...
Last update on 2023-09-11 / Affiliate links / Images from Amazon Product Advertising API
The Howard Leight Earmuffs, while originally designed for shooting, are incredibly effective at stopping any unnecessary noise reaching your ears, preventing hearing loss and tinnitus.
With an NRR of 30dB, they are one of the best choices for hearing protection on the market. 
To do this, Honeywell Leightning have their own patented Air Flow Control Technology that regulates the airflow throughout the earmuffs, reducing the damage the lawn mowing sound can do to hearing without having to increase the size of the earmuffs.
This makes them less weighty on your head and more comfortable to wear for long periods of time. 
These protective earmuffs have the added bonus of a 'snap-in' feature, which allows the user to clean or replace the ear cushions easily. This is great for any grass stains or mud that may find its way to the earmuffs! 
Additionally, the Howard Leight protection collapses to a handy 4 inches in width, making them incredibly easy to store until the next time you take the lawnmower out for a spin. 
Pros: 
Airflow Control Technology – Helps to reduce sound frequencies with airflow rather than other methods like adding more padding, making them much more comfortable to wear. 
Snap-in feature for cushion replacement – Makes it easy to clean the earmuffs and replace them if necessary. 
30dB NRR – Very good at protecting against hearing damage. 
Collapses to 4inches in width – Easy to store away. 
Lightweight – Easy to wear for hours without feeling strained or weighed down. 
Cons: 
Can get quite hot under the headband – Customers have reported feeling quite sweaty after wearing them for some time. 
Sale
Howard Leight by Honeywell Leightning L0F Folding Ultraslim...
Ultralight design (40 ounces) with ultraslim earcup for a more comfortable feel that won't...
Super-soft ear cushion eliminates "squeezing" sensation on head; snap-in feature allows for quick...
Headband features telescopic adjustment for custom fit, steel wire construction to withstand...
Earcup features patented Air Flow Control technology to reduce sound across all frequencies without...
Last update on 2023-09-11 / Affiliate links / Images from Amazon Product Advertising API
Buyer's Guide
There are lots of things to keep an eye out for when it comes to hearing protection; we understand your pain! Here is a guide of the main criteria to focus on when deciding which product is right for you: 
Noise Reduction Rating
When buying hearing protection for mowing the lawn, the first thing to look out for is the effectiveness of the protection. 
Sound is measured in decibels (dB) and mowing on average produces 90dB of noise. When you are exposed to this level of sound for more than 8 hours, it can permanently damage your hearing. 
When it comes to mowing, the hours do add up, so 8 hours is easy to achieve with one or two lawnmowing sessions! 
With hearing protection, the effectiveness is judged by its NRR (Noise Reduction Rating). The NRR assesses how much the hearing protection reduces the noise and protects you from hearing loss or tinnitus.
The higher the NRR, the better. NRR is also measured in decibels (dB), so you should go for hearing protection that has an NRR of 25dB+ to make sure you don't permanently damage your hearing. 
Comfort
If you have a larger garden and plan on spending hours mowing your lawn, it is very important to find a comfortable form of hearing protection. Things to consider with comfort include heat build-up, the pressure on your head, and the sizing of the hearing protection. 
Hearing protection can get very hot and sweaty on your head. Earmuffs are firmly pressed against your head to make sure no damaging sound can get through the protection.
This means that sweat can build up underneath the headband layer. However, lots of hearing protection products do accommodate this.
The 3M PELTOR X5A earmuffs have a twin headband design that separates the headband into two parts, creating a gap for any heat to escape through. This will help to keep you cool throughout your mowing session! 
Another of the biggest complaints associated with hearing protection for lawn mowing is the pressure of the headband.
Companies will often prioritize the effectiveness of their protectors over comfort. They do this by making the headband connecting the earmuffs too tight against the buyer's head to try and reduce noise levels as much as possible.
However, this makes the hearing protection too uncomfortable to wear all together.
To help with this, look out for hearing protection that has adjustable sizing for the headbands and soft padding to reduce the pressure on your head. 
Durability
When you buy a product intended to protect you, especially from irreversible damage such as 
hearing loss, it's important to know that this product is going to last and remain as effective as when you first bought it. 
For this to happen, the hearing protection needs to be hard-wearing and well-built. Things to look out for here would be the type of materials used to build the ear protection.
For example, the ProCase Noise Reduction Earmuff is made from a thermoplastic polymer known as ABS, which is very structurally sturdy and often used for packaging.
This shows that it can withstand being thrown around without being damaged, making it perfect for hearing protection for lawn mowing. 
Other factors
While the main things to consider when buying hearing protection for lawn mowing are the effectiveness of the product and how comfortable they are to wear for long periods of time, it is also important to think about the enjoyment aspect of the ear protection. 
It may not be a priority, but some hearing protection companies do offer headsets that play either radio or Bluetooth through the earpieces.
This saves a buyer having to place headphones underneath their hearing protection to limit any boredom they may experience while mowing their lawn.
For example, the ISOtunes PRO connects to Bluetooth on mobile phones. This means that the buyer can play music and pick up calls with its built-in microphone, all while protecting their hearing. 
Another thing to consider when buying hearing protection is how other accessories will fit around the products. Some ear protectors will be more suited to those who wear glasses, for example, if the protective element is earplugs instead of earmuffs. This is because the headband for earmuffs may get in the way. 
That being said, some hearing protection that is designed for more purposes than lawn mowing, such as shooting earmuffs, will also be designed to allow glasses to fit comfortably around the ear defenders.
An example of this is the Howard Leight by Honeywell Leightning L3 Shooting Earmuff, which states that they are compatible with glasses of any kind. 
Frequently Asked Questions
Do you need hearing protection when you mow your lawn?
Your hearing will be severely damaged if it's exposed to noise over 85dB (decibels) for a long amount of time (around 8 hours). Lawn mowers make between 90dB and 100dB of noise.
Without wearing hearing protection while lawn mowing, you risk tinnitus (ringing in the ears) and hearing loss, both of which are very difficult to fix. 
Are earmuffs better than earplugs for cutting grass? 
There are lots of different factors that affect both earmuffs and earplugs. You need to make sure that earmuffs have padding that covers the ears entirely to lower the amount of noise getting through.
However, this will affect how tight the protection is over your ears, so make sure you also look at the comfort level! Earplugs are more lightweight and create less pressure on the head, but there is less material involved to reduce noise damage, so earplugs often have a slightly lower NRR than earmuffs.