by Jennifer Porterfield
|
Last Updated:
April 13, 2023
As an Amazon Associate, I earn from qualifying purchases at no extra cost to you. Thank You for your support.
Blenders are known for crushing, grinding, pureeing, and liquefying all sorts of ingredients for smoothies and soups. Yet blenders are known for their noise and no blender can be silent.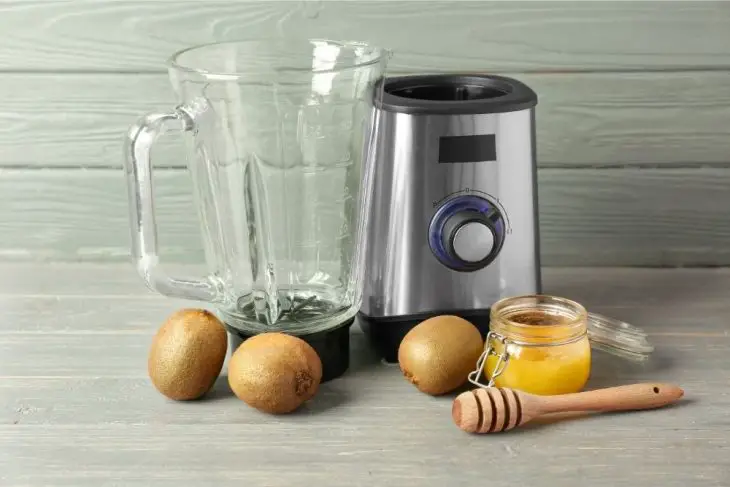 It is a given that putting your blender on early in the morning can wake your household. Yet there are some blenders that are quieter than others.
Some quiet blenders let you make your morning smoothie without waking up everyone else in your household. This article will tell you which are the best quiet blenders that you can trust to make as little noise as possible. 
The Vitamix Quiet One Blender is a trustworthy appliance that is even used in coffee shops and restaurants. This blender is said to be so quiet that it doesn't disturb its customers.
The motor runs very quietly and delivers 2,200 watts of power. This blender has a powerful motor that can easily crush anything you put into the blender. Also this blender is made from BPA free plastic. 
What sets this blender apart from the others on the list, is that this blender comes with a magnetic backplate. This backplate helps make this blender very stable and sturdy.
This metal backplate can be removed so that the blender can be cleaned easily. The magnets also help create a tight seal around the noise-proof enclosure. The quiet shelf can also be easily removed for ease of access and cleaning.
The Vitamix Quiet One blender is ideal for any kitchen, and with a powerful yet quiet motor can blend anything you want with limited noise. 
Pros:
BPA free plastic – This blender is made from BPA free plastic. This means that the plastic used hasn't used Bisphenol A in its construction. 
Magnetic Backplate – This blender comes with a removable metal backplate which helps put your blender wherever you like in your kitchen. While also creating a strong seal for the sound proof enclosure., 
Powerful  – The Vitamix Quiet One Blender has a powerful yet quiet blender which produces 2.200 Watts of power.
Cons:
Expensive – This blender is one of the more expensive blenders on the market right now. 
Last update on 2023-06-02 / Affiliate links / Images from Amazon Product Advertising API
The Hamilton Beach Professional blender comes with thick and durable blades that can cut and crush frozen fruit really easily.
This blender is also really easy to use as it comes with four already programmed settings and a 1,500 watt motor. You can control the speed and there is a pulse setting too, which will help you not to over blend your food. 
This blender comes with a quiet shield, this is to trap noise inside the blender. The shield dulls the sound down. This is a heavy blender, but that also makes it durable, so it will last for a long time.
As the blades are not removable on this blender, you must be careful when cleaning. However there is a self cleaning mode that is built into the blender, which can make cleaning easier. 
Pros:
Four Programmed Settings – This blender comes with four programmed settings already installed, which makes blending and crushing a lot easier. 
Reasonable Price – Compared to other blenders on this list, this blender is the best value for money.
Pulse Setting – This blender also comes with a pulse setting to prevent you from over blending your food.
Powerful Motor and Blades – With a 1,500 watt motor and thick blades, this blender can crush and cut through anything
Cons:
Heavy – This is a very heavy blender as the shatterproof jar weighs 32 ounces. 
Dull Noise – The shield doesn't silence the sound the blender makes, but dulls the noise down.
Sale
Hamilton Beach Professional Quiet Shield Blender, 1500W,...
Crushes Ice and Frozen Ingredients Fast Powerful 1500 Watt/ 20 Peak Hp and Hardened, Stainless Steel...
Removable Quiet Shield Dampens Noise During the Blending Process; Infinite Speed Control Ranges From...
4 Program Settings Smoothie, Ice Crush, Puree, and Clean Offer One-Touch Convenience and Easy...
32 Oz Shatterproof Jar BPA-Free Jar Included Tamper Fits Through Lid to Help Bled Dense Ingredients
Last update on 2023-06-02 / Affiliate links / Images from Amazon Product Advertising API
The Blendtec Pro 800 is a powerful blender but is still quiet. The shield enclosure helps blend your food without having to worry about the noise because you can barely hear it.
Alongside this, the Blendtec Pro 800 comes some added extras like a USB port where you can upload to the blender with customised blending recipes, which it remembers.
On top of that, this blender can liquify and warm your food up too.
This blender has 11 different speeds to choose from, making this a very versatile blender which can deal with all your blending needs. Ice can be easily crushed in this blender.
This blender is a bit more tricker to clean as the blades aren't removable. However this is a sturdy and reliable blender, which can help you achieve all your blending needs.
Pros:
Strong Blade – This blender comes with thick, strong blades that can cut through ice. 
11 Speeds – This blender comes with 11 speeds, giving you more options to not over blend your food.
Shield Enclosure – The enclosure helps silence out most sounds, for quiet blending.
Cons:
Difficult to clean – No parts of this blender are removable, which can make cleaning this blender more difficult compared to other blenders on the list. 
Price – This blender is on the higher end of the market but you are paying for no sound and a stronger performance.
Sale
Blendtec Stealth 885 Commercial Blender, WildSide+ Jar,...
NOISE BLOCKING The ultimate quiet commercial blender operates at a sound level comparable to a...
CYCLES 42 pre-programmed one-touch cycles + pulse for anything from smoothies and fresh whole juice...
PATENTED BLADE Stainless-steel forged blade with wings for amazingly smooth blends (10x stronger...
SELF-CLEANING Add a little soap and water your jar can clean itself in less than 1 minute Tactile...
Last update on 2023-06-02 / Affiliate links / Images from Amazon Product Advertising API
The Jamba Appliances Quiet Shield Blender is known for its durability. This is a smaller blender compared to others on this list.
It is small enough to store in small kitchen spaces and in cupboards. Most blenders use a push button to operate the blender, yet with the Jamba blender you use a knob instead. 
This blender has a 1200 motor and a shatterproof jar that is dishwasher safe. This blender can come with two jars which makes blending smoothies and ingredients really simple and easy.
Overall the Jamba Appliances Quiet Shield Blender is a quiet blender at an affordable price.  It has speed control and the option to pulse instead of blend is available.
Pros:
Compact Design – This is one of the smaller blenders on the list, so it can be stored in kitchens where there isn't much space available.
Price – This is a much more affordable blender which has a powerful motor. 
Quiet – A quiet motor and an enclosure that dulls out even more noise that is created.
Cons:
Knob not buttons  – A knob is used to control this product instead of buttons like most blenders. The knob sometimes gets stuck between settings. 
Can struggle with thicker/harder ingredients – The blades aren't extremely thick so it may struggle with very thick and hard ingredients, if there are a lot of them in the jar. 
Last update on 2023-06-02 / Affiliate links / Images from Amazon Product Advertising API
The Cuisinart CBT-1500w Hurricane Blender has a 1500 watt motor. This isn't the quietest blender on the list, but by putting a rubber mat underneath it that will help the sound massively.
Like other models, this blender comes with a range of features to help your blending needs easier. This blender has a self-cleaning setting which helps you clean this blender easier and requires less effort. 
The Cuisinart blender is also dishwasher safe. The blades are made from stainless steel and compared to other blenders, this one doesn't come with a cover to reduce noise.
Instead of a cover this blender has a double housing design which helps reduce noise as much as possible. This blender only comes with two pre programmed settings, which are smoothie and crushed ice.
However this blender has a load sensing capability that helps the machine regulate how fast or slow it should blend when the two programmes are in use.
If you want a blender that doesn't have a cover, which can make the blender take up more space on your kitchen counter, then the Cuisinart Hurricane blender may be the one for you.
Pros:
Double Housing Design – The design of this blender means that it doesn't need a cover and it still reduces noise
Powerful Motor – This blender comes with a 1500 watt motor, meaning it is powerful enough to blend your favourite ingredients together.
Self Cleaning – The Cuisinart Hurricane comes with a self cleaning setting to make cleaning easier and requires less effort.
Cons:
No cover – This blender doesn't come with a cover so this does mean that this blender is a bit more noisy and isn't as quiet as you'd hope. However if you use a rubber mat underneath the blender this will help reduce any noise. 
Last update on 2023-06-02 / Affiliate links / Images from Amazon Product Advertising API
Buyers Guide
When it comes to any blender there is a lot to consider. You want a blender that has a powerful enough motor and tough enough blades to crush and blend anything you want. However the issue with blenders is that they are so noisy.
So if you want a freshly blended smoothie, milkshake, or protein shake you have to risk waking everyone up in your house,  if your blender is too noisy.
Being quiet is a great bonus when it comes to blenders but there are other important elements you need to consider when buying your next blender.
Noise/Quietness
Most sounds that come from a blender come from the motor. It is difficult to know how loud a motor on a blender is going to be as blender brands don't give us decibel ratings of their appliances.
When it comes to looking for a quiet blender you need to look at what the brand has done to reduce the noise. That normally consists of noise reducing covers that are placed directly over the blender container to capture and contain the noise. 
Others use extra housing around the motor or rubber gaskets can be used. All these things help reduce noise. Hence these are things to look out for buying your next blender and especially if you want one as quiet as possible.
A cover is more beneficial for noise reduction as it has been proven to reduce noise a bit more than the other two ways described.
Motor
The motor is one of the most important parts of any blender. The stronger the motor the better the speed of the blender. Yet the downside with a stronger motor, is that they make more noise.
You can get motors that go up to 1800 watts but they will make the most noise. This is where noise reducing covers come in handy.
You want a powerful motor to make sure the blender can do what you want it to, but you need to balance that motor out with some good noise reducing features.
The blenders on this list have quite high motors and come with noise reducing covers to counteract the powerful motors sound when in use. 
Cleaning
Blenders can be tricky things to clean and sometimes dangerous due the blades. However a blender needs to be well cleaned to make sure it doesn't rust or that a build up is created over time that can affect its performance and outcome.
Some blenders on this list have a self-cleaning setting which helps make cleaning the blender easier. However other blenders require you to disassemble the blender and wash it.
 Some blenders are dishwasher safe which helps make thorough cleaning easier but not all parts are sometimes dishwasher safe.
This is something that you need to check while purchasing. Dishwasher-safe parts make cleaning a lot easier, if you do buy a blender that must be disassembled to be cleaned.
Price And Warranty
As seen on this list, some blenders are an investment as they can cost a lot of money. Depending on how much you are willing to spend, you should make sure your blender comes with a warranty.
Some blenders come with a limited warranty but it does help if something goes wrong early on in your blender's life.
Normally the more high-end blenders that cost a bit more, have a longer warranty, then you get value for your money if anything was to go wrong.  
Size
Blenders come in a range of sizes. You can get blenders that can blend large quantities or you can get individual sizes for individual drinks. Some blenders are quite large depending  if they come with a cover this makes them even wider.
You need to know how much space you have for your blender because this can limit the size of the blender that you are able to buy.
You need to know if you have somewhere on your kitchen counter to put it or if there is enough room in any of your cupboards to keep it safe. Blenders can be a lot bigger than you'd expect.
Blades
Like the motor, blades are a crucial part of any blender. You want to make sure that your blender blades are made from stainless steel as this improves the durability of your blender.
They should be as thick and sharp as possible to make slicing through food as easy as possible. Some blenders allow you to remove the blades for easier cleaning but others don't, so this is something you need to consider.
Features
Most blenders come with a range of features that help blend a breeze. Choosing a blender with pre-programmed functions can help take the guesswork out of blending.
Also having a blender with a range of different speeds to use will help you avoid the chance of over blending your food. 
Conclusion
When thinking about buying a blender, you need to know what you are going to be using it for as that will help you know how big it needs to be. There are a lot of things to think about and consider when buying a blender.
You need a powerful motor and sharp blades, because then you know your blender will be able to slice through anything.
A blender with a cover is known to reduce the noise of your blender a lot more than blenders that do without a cover.
A quiet blender isn't too hard to find, but you do need to consider what is being used to reduce the noise and the actual performance of the blender.
At the end of the day you want a blender that will perform well and has a cover that will either dull the noise down or reduce it completely. 
Frequently Asked Questions
What Is The Best Blender Brand?
There are a lot of blender brands and it does depend on your budget. Vitamix is considered one of the better brands but there are a vast range of brands out there.
It does depend on your budget and what you look for in a blender, such as pre-programmed settings or self-cleaning.
How Can You Make A Blender Quieter?
There are a few tips on making any blender quieter, these include:
1. Moving your blender away from the wall. This stops the sound bouncing off the walls and objects nearby. This doesn't stop the noise but reduces it heavily. The further away from the wall the better, if your power cord allows you to.
2. Place your blender on top of a towel or rubber mat. When your blender is switched on it will vibrate. Hollow surfaces such as kitchen surfaces can act like a sound cabinet and amplify the sounds the blender makes. Hence placing something underneath the blender reduces and absorbs any sounds made.