by Jennifer Porterfield
|
Last Updated:
May 24, 2023
As an Amazon Associate, I earn from qualifying purchases at no extra cost to you. Thank You for your support.
You know your car tires are doing their job well when you hardly ever notice or think about them. For many people, the sound of their tires on the road is something they have learned to ignore, but sometimes this is easier said than done.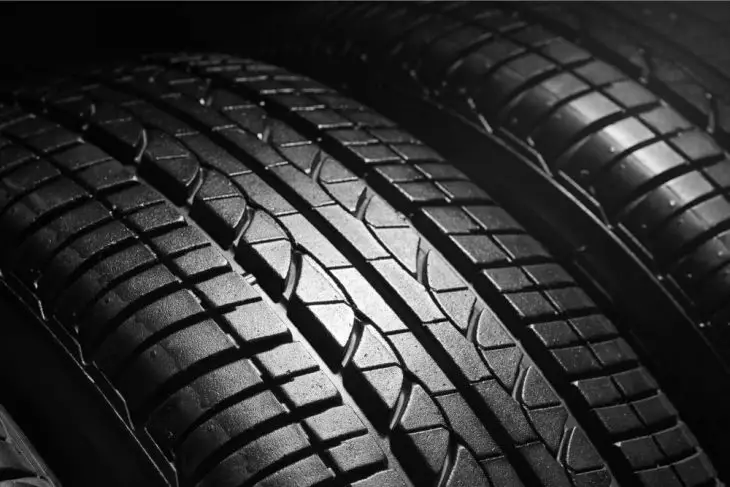 If the low repetitive drone of rubber meeting the road gets too loud it can quickly turn a pleasant drive into a tiresome slog. 
Not only can noisy tires generate the right kind of bass hum that risks sending you to sleep at the wheel, but they can also become a distraction that takes your attention away from driving.
People often enjoy listening to music in their cars, talking with their passengers, or chatting on the phone (hopefully with a hand-free headset) and loud rumbling tires can make all of these significantly less enjoyable.
As such a comfortable tire should not only provide a smooth ride, but it should also preferably be quiet enough that you can ignore it or at least drown it out with the radio. 
No tire can be entirely noise-free, but it can be designed to minimize friction and wind resistance producing significantly less noise.
This article will look at a few of the best touring tires that are available and give you some helpful tips on how to choose the right tire, both for your car and where you live.
If you had previously thought that all tires were pretty much the same, then here is a chance to find just how different they can really be. 
One of the biggest factors affecting the noise level of a tire is the weight of the vehicle they are supporting. Heavier cars will exert more pressure on the road, which will generate more friction and in turn a lot more noise.
The idea of a quiet truck tire may seem ludicrous, but Goodyear has succeeded in developing an all-terrain tire for trucks and SUVs that is much more silent than many of its competitors. 
Normally tires with larger tread blocks, the raised surfaces left by the grooves, will be much louder since they create more vibrations.
Goodyear have overcome this with a tread design that uses textured, traction grooves and zig-zagging sipes (the smallest grooves on a tire cut into the tread blocks) to lower the amount of air trapped in the tires.
Less air trapped means less air resistance, which is another potential source of tire noise.
As trucking tires go, the Wrangler Duratrac will help make those long hauling journeys much more enjoyable by reducing the rumble of your wheels and providing a smooth, comfortable journey.
If you want them for off-roading in your SUV then you probably aren't too concerned about noise, but you will be happy to hear that these tires perform well on any terrain and in any weather. 
Pros:
Specially designed arrangement of grooves and sipes – the grooves both between and cut into the tread blocks reduce trapped air for a quieter journey.
Suitable for any terrain or weather – Drive through mud, snow, or heavy rain with ease. 
Durable- The treads are designed to resist chipping as well as increase traction on the road for a smoother ride. 
Cons:
Not suitable for smaller cars – This tire is primarily designed for small trucks and SUV's.
Grooves can pick up loose stones – and possibly fire them off again in random directions.
Last update on 2023-12-11 / Affiliate links / Images from Amazon Product Advertising API
This touring tire by Hankook aims to reduce noise with its specialized tread design.
Treads are made of raised tread blocks separated by circumferential grooves that run all around the wheel, and lateral grooves that run horizontally with smaller grooves called sipes cut into the tread blocks themselves.
The way these grooves are arranged dictates how much traction the tire will have on different surfaces as well as how noisy it is. 
The Optimo H724 tires have a width of 225 millimeters, and a 6-inch rim width meaning they will fit on most regular cars. These tires are made to be narrow in order to lower the surface area in contact with the road.
This is combined with a tread design that utilizes a center rib in between four circumferential grooves to provide extra stability. The tapered lateral grooves will greatly reduce noise without sacrificing handling in difficult weather. 
These quiet all-season tires will only struggle in deep snow or slush.
The high-density siping is capable of handling moderate snow and extremely wet roads, while the jointless sidewall provides better breaking times and overall durability. 
Pros:
Computer-designed tread –  reduces noise without losing traction or stability. 
4 Circumferential grooves – The extra grooves going around the surface of the tread will shed water and make it easier to drive in wet weather. 
High hardness bead filler – The steel cable that helps the tire hold its shape is extra strong to make the rubber more durable. 
Improved handling – These tires corner well on most road surfaces. 
Cons:
Not suitable for deep snow – the tires will start to struggle in snow that is too deep or roads covered in slush. 
Poor off-road performance – not recommended for SUVs that you plan to take off-road.
Hankook Optimo H724 All-Season Tire - 225/75R15 102S
Center rib block improves handling and stability while changing direction
Pitch design technology reduces tire noise for a quieter ride
Jointless full cover improves durability and brake performance
Single-s trand bead wire enhances vehicle ride
Last update on 2023-12-11 / Affiliate links / Images from Amazon Product Advertising API
Michelin is a world-renowned brand when it comes to car tires. The company produces tires for all types of vehicles from sedans to light trucks.
Over the years they have come up with several innovative tread designs to provide a quiet and comfortable driving experience.
The Defender All-Season Radial Tires are built for small trucks and SUVs, promising both good traction and less noise. 
Truckers who have bought these tires claim that they are extremely quiet, even at high speeds.
This is achieved with a similar approach to that used by the Hankook Optimos with a tread pattern composed of four circumferential grooves and diagonal sipes, both of which combine to greatly reduce noise. 
Not only are these tires very quiet, but since they are built for trucks they are also highly durable. Michelin's own Evertread rubber composite is specially formulated to increase tread life.
The Maxtouch construction improves traction and incorporates eco-friendly design elements that the company claims will save you up to 65 gallons of fuel throughout the tire's lifetime.
If your tires do break due to an accident or manufacturing flaw, then Michelin offers a 6-year limited warranty or a 70,000-mile treadwear warranty. 
Pros:
High Silica Content – The rubber silica composite makes the tire more elastic, even at cold temperatures, improving performance on wet roads and reducing noise. 
Interlocking sipes – The diagonal arrangement of sipes works with the four full circle grooves to make this tire exceptionally quiet. 
Michelin Maxtouch construction – not only are these tires durable but they are also designed to save fuel. 
7,000 Mile Warranty – For added protection in case your tire does break
Cons:
Not for smaller cars – These tires are only suitable for SUVs and small trucks. 
Moderate winter performance – While they will certainly handle some snow, but they are not for mountain driving or extreme winter weather. 
MICHELIN Defender LTX M/S All Season Radial Car Tire for...
Radial car tire for Light Trucks, SUVs and Crossovers designed for All-Season use; provides...
More Mileage- MICHELIN EverTread Compound provides 10% more longevity in severe conditions, compared...
Reduced risk of hydroplaning- outstanding grip for improved braking performance on wet roads and...
Fuel-efficient and eco-friendly- Features MICHELIN MaxTouch Construction to save up to 65 gallons of...
Last update on 2023-12-11 / Affiliate links / Images from Amazon Product Advertising API
The smallest changes in tread pattern and size will make a huge difference to a tire's sound quality.
Grooves that trap more air will encounter greater air resistance and create more noise but the regularity of the tread blocks will also have a significant impact.
These Continental Extreme Contact tires have a computer-designed, crisscrossed tread that is asymmetrical.
This means that each part of the tire will generate slightly different frequencies of sound, which will cancel each other out to make significantly less noise
The Quickview design is meant to quickly inform drivers at a glance when their tires are misaligned and make it easier to gauge how the tires are performing in different weather.
The X-shaped sipes not only reduce noise but are also intended to make braking, acceleration, and cornering much easier on wet roads. 
With these tires on your car, you will be able to drive faster in rain and wind without losing traction. The DWS in the name stands for Dry, Wet, and Snow, which refers to the silica rubber compound that the tires are composed of.
This material will not only stay elastic at low temperatures, another design feature that will reduce noise, but it will also help you maintain control of your car in light snow and heavy rain. These tires come with a 50,000-mile limited warranty. 
Pros:
Quickview Design – Easy to tell when the wheel is misaligned and how the tire is performing in rain and snow. 
DWS Silica rubber composite – The specialized mixture of silica and rubber makes the tires quieter and better at gripping wet roads
Criss-crossed sipes with irregular tread blocks- the tread of this tire provides great traction and extremely low noise for a quiet but comfortable ride. 
Affordable – This is a durable tire that won't break the bank. 
Cons:
For light snow only- these tires will work well in most weather conditions except deep snow or slush. 
Not an off-road tire – The tread pattern is great for concrete roads but is less suitable for rougher terrain. 
Continental Extreme Contact DWS06 All-Season Radial Tire -...
The ultra-high performance, all-season choice for drivers seeking true, year-round traction; All new...
QuickView Indicators visually inform drivers to the level tires are performing in dry, wet and snow...
Traction Grooves improve snow performance through increased pattern edges, while X-Sipe technology...
50,000 mile Limited Mileage Warranty; Max Inflation Pressure: 51 psi
Last update on 2023-12-11 / Affiliate links / Images from Amazon Product Advertising API
As the name suggests this is one of the best touring tires Michelin has to offer. The Primacy MXV4s are larger tires that work well on SUVs and small trucks but can also be fitted onto some smaller models of cars as well.
They are currently cheaper than the Defender LTX model and equally capable, if not more, of providing a smooth, quiet driving experience. 
This tire combines the qualities of the Michelin Defenders with those of the Hankook Optimos for the best of both worlds.
The tread design is similar to the Optimos with four full circle grooves and tapered lateral grooves to generate less noise, without harming traction on slippery roads.
Meanwhile, it uses the same MAXtouch construction as the defenders for extra longevity. The company claims these tires will stop up to 29ft shorter than other brands in wet and cold conditions.
There is a 55,000-mile treadwear manufacturer's warranty as well as a 6-year standard warranty.
Being luxury touring tires, the Primacy MXV4s will provide a smooth, comfortable, and relatively noiseless ride, although this does come at a price.
The tires have computer-designed sipes for greater traction and tread blocks that are arranged to exert even pressure on the road for better handling.
While both these features work very well for rain, they aren't as good on snow, and the sleeker design means the tread may wear out faster than other more heavy-duty models.
That said, if you don't live in an area with frequent snow, these tires are probably the closest you can get to a silent driving experience. 
Pros:
Active 2-D sipes- Computer-designed tread pattern improves handling by ensuring pressure is evenly exerted. 
One of the quietest tires available- The arrangement of circumferential and lateral grooves makes this tire smooth and almost silent. 
Better braking distance on wet roads- These tires will stop faster in the rain and light snow than other comparable brands
Cons:
Not suitable for off-roading or heavy snow- This is a luxury touring tire for roads and will struggle on muddy or snowy terrain. 
Michelin Primacy MXV4 All Season Radial Car Tire for Luxury...
Radial car tire for Luxury Performance Touring designed for All-Season use
Provides comfortable driving without compromising control, offering good wet braking, precise...
Michelin quality in a low noise level tire providing a quiet ride, meeting the demanding standards...
Stops up to 29 feet shorter in wet and cold conditions versus competition thanks to the sunflower...
Last update on 2023-12-11 / Affiliate links / Images from Amazon Product Advertising API
Buyers Guide
It is easy to think of tires as simple rings of rubber that we stick on our wheels to make them grip the road.
The science behind what makes a good tire is composed of numerous factors, especially if you want to reduce noise from air resistance or friction.
If you are looking for a touring tire to make your journeys more peaceful and comfortable here are the main things you need to consider. 
Tread Pattern
The most important part of any good tire is the outer surface that rolls along the road, known as the tread.
The tread is a pattern of raised blocks separated by three types of groove: circumferential grooves which run all the way around the tire's surface; lateral grooves that travel horizontally off the side of the tire and sipes which are smaller grooves cut into the tread blocks themselves.
Bigger tread blocks will make more noise since they make louder vibrations. A regular tread pattern will create the same frequency of sound when each block hits the road, which means the sound will be greatly applified. 
Touring tires often use computer-designed treads with almost imperceptible irregularities so that the tread blocks each create a different frequency and all these slightly different sounds cancel each other out.
They will also often use thinner, more frequent grooves to reduce air resistance and the noise it creates. 
Composition And Treadwear
Tires aren't made from just rubber and their composition will greatly affect their treadwear, which is how long they will last on the road.
In order for the rubber to hold its shape, it needs to be molded around a chord, often made from steel called, the bead.
Heavier beads will have better treadwear, but will also make more noise. The elasticity of a tire will greatly affect its sound quality.
Less elastic rubber will vibrate more making it much louder, while rubber composites mixed with silica will stay more elastic even at cooler temperatures, leading to less noisy vibrations.
Where You Live
This may seem obvious, but you should always buy a tire that is suitable for the weather you are going to be driving it in. If you live somewhere with less smooth roads, then you will need a tire with treads that can handle the rougher surfaces.
People living in colder countries will need to ensure their tires can handle well in thick snow, while those in warmer climates may only have to worry about heavy rain. 
Frequently Asked Questions
What Causes Tires To Be Noisy?
Every tire is going to experience some form of resistance, both from the road and the air rushing past it.
This accounts for some of the low hum you will hear while driving, but tires are also hollow belts of rubber constantly bouncing off a concrete surface.
This means they will be constantly vibrating from the constant impacts and these vibrations will also create lots of noise. While you can design the tread to reduce noise as much as possible, you can never get rid of it entirely.
This is because tires still need to perform their primary function of gripping the road in any weather conditions. This grip will always create friction and that friction will always create some level of noise.
What Is The Difference Between A Radial And Non-radial Tire?
Radial tires have sidewalls and threads made of different plies (the chord fabrics that help a tire hold its shape). For non-radial, both parts are made of the same ply.
The advantage of radial tires is that more of the tread is in contact with the road at all times, reducing wear and increasing traction. Most touring tires will be radial in design.