by Jennifer Porterfield
|
Last Updated:
April 26, 2020
As an Amazon Associate, I earn from qualifying purchases at no extra cost to you. Thank You for your support.
Are you looking for a solution to reduce road noise in your car then you are in the perfect place. I had placed that problem for years now. I believe that I have mastered and found a perfect solution to fix the problem. I have an old Toyota Camry that I got from my dad after my 18th birthday. The car was not insulated or soundproofed at all. It was making a hell of a noise and also the exterior sound was insane. I am introvert so the calmness and quiet is something I need very much. So I started to dig around to find solutions to quiet or reduce road noise in my car. That's when I stumbled upon the concept ofSound Deadening Materials for Cars. Read more about it and did a lot of experiments, then finally achieved it. So in this article, I will be teaching you all on what worked for me to quiet or reduce road noise in my car.
How to Reduce Road Noise in Car (Car Sound Deadening)
1. Install a Soundproofing Floor Damping Mats in your Car
Installing a Soundproofing floor damping mats in your car will definitely reduce the road noise by more than half. The best floor damping mat is Damplifier Pro.
Damplifier Pro is a foam shield mat that you put under the floor mat of the car. You basically install it under the floor mat in front seats. What this Damplifier Pro mat does is that it insulates or soaks up the sound coming from the tires under the car. It insulates all the vibrations and sounds a lot making the interior of the car more soundproof.
Damplifier Pro sound dampening mats are made up of using butyl rubber combined with a foil constraint layer on the side. There is an adhesive on the other side to help with the easy installation. You don't require a specialist to install this mat. You can easily install it by yourself without any professional help.
How to Install Dynamat Sound Dampening Mat?
Firstly remove the car's floor mat on the first seat of the car.
Clean the space thoroughly before installing the mat.
Measure the space and cut the mat according to the measurement.
Remove the adhesive behind the mat.
Install the mat on the surface.
Let it dry for a day and then place the floor mat above the damplifier pro sound dampening mat.
Make sure to do it on the back seat too.
If you are looking for an alternative to Damplifier Pro then you can check out Dynamat or FatMat Sound Deadening Mat.
Best Alternative to Damplifier Sound Deadening Mat
FatMat Self-Adhesive Black Butyl MegaMat Sound Deadener Pack...
Set of Two 18 inch wide x 40 inch long Sheets of Black Self-Adhesive Butyl MegaMat (10 Sq Ft Total) with Install Kit Consisting of Easy Instructions, Roller, Knife, and FatMat Sound Control Decal
Patented Butyl Rubber Compound with Protective Reinforced Aluminum Face, Black Finish
Anti-Vibration Membrane Absorbs and Dissipates Vibrations
Sound Deadening Acoustical Insulation for Cars, Trucks, RV's, Marine,
Reduce Sound Distortion, Gain Sound Quality!
2. Combine the Soundproofing floor mat with a Reflective Insulation for more effective car soundproofing
Only installing a soundproofing mat is not that effective honestly. You need to combine it with good reflective insulation for effectively soundproof and block outside noise. Trust me this works very well.
For this, you need to install a Mass Loaded Vinyl as a buffer between the Soundproofing Mat and Car's floor mat. This will block 100% of the noise that is coming from below from the wheels and suspensions. Mass Loaded Vinyl is an excellent soundproofing material.
The best Reflective Insulation is the Luxury Liner Pro. It is the best option that Is available in the market. An additional advantage with this reflective insulation is it will keep the car warmer in the winters.
How to install Reflective Insulation in your car?
The reflective insulation should be installed on the soundproofing floor mat.
Place the reflective insulation above the soundproofing floor mat. These both are meant to work in conjunction to eliminate all the exterior noise to enter inside the car.
Place the car's floor mat above the reflective insulation.
3. Soundproofing Your Car Door
This is a very crucial thing to do. You gotta soundproof your car door to completely reduce the noise. You might be thinking that you only need to soundproof the windows of the car but honestly, you need to concentrate on the whole door to quiet the road noise.
The best way to soundproof the car door is to install foam insulation. The best soundproof foam insulation to soundproof the car door is Luxury Liner Pro. This insulation is developed using closed-cell polyethylene for sound blocking.
The manufacturer of Luxury Liner Pro are also selling a full door kit that you can to soundproof the door to block all the road noise. Specialists have curated this kit so it works really well. I recommend you getting this door kit to effectively soundproof the door.
The Standard Door Kit (2 Doors) includes
Damplifier Pro – 13.5 Sq Ft (8 sheets, 12″ x 20″ each, 2mm thick)
OverKill Pro – 18 Sq Ft (2 sheets, 24″ x 54″ each, 3/8″ thick)
Speaker Tweakers – set of 2
High Temp Spray Adhesive – 16 oz can
Wooden Hand Roller
4. Soundproof the Cup Holder
Yes, you heard it right. It might sound crazy but you need to soundproof the cup holder because the cup holder due to its sharps acts as a Megaphone. I know it sounds crazy but trust me it does. So soundproof the cup holder is really essential.
You can get this OverKill Pro from SecondSkinAudio which is a closed-cell foam that can be helpful in soundproofing the cup holder and other small areas.
5. Soundproof the Front and Back Tires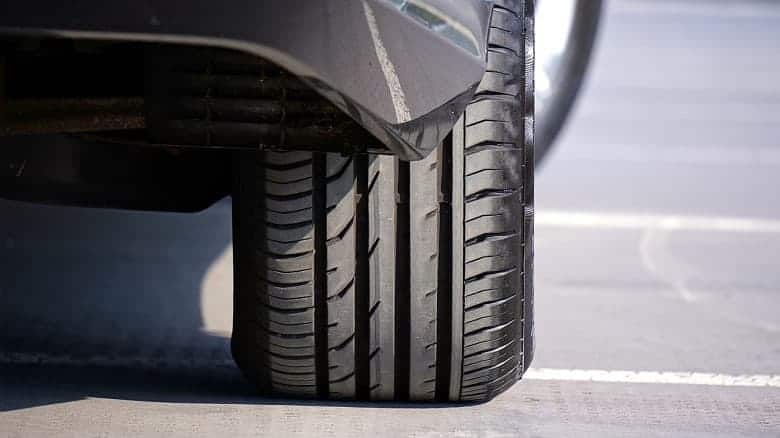 It is very important to soundproof the Front and Back tires of the car because the noise can echo a lot and the vibrations can be entered into the car. So it's important to soundproof the car tires too.
There are two ways to soundproof the tires of the car.
You can add a layer of Luxury Liner Pro on the wheel wall to dampen the sound.
You can Spray or Brush Spectrum Sound Deadening Sprayon the tire wells which will also absorb the sound waves.
6. Install a Brand New Stereo System
If your current stereo system is old and crappy then make sure to replace it with a new one. Because the old systems can make unwanted noise due to old subwoofers. Install a new stereo system can help with it.  The music on the inside will definitely reduce the outside noise.
Caution: Make sure you keep the volume to a reasonable level so that you can hear the vehicles coming behind.
7. Replace the Car Tires with Quiet Tires
Car Tires play a huge part in quieting road noise. One best solution is to replace the car tires with quiet ones because it works. These quiet tires are manufactured keeping this in mind only. They specially designed for running quietly. Also, make sure to fix lifter noise by using an additive. Here is some best additive for lifter tick.
Some of the best quiet car tires are
Michelin Primacy MXV4 Radial Tire - 215/55R17 94V
MaxTouch Construction maximizes the tire's contact with the road and evenly distributes the forces of acceleration, braking and cornering.
MICHELIN Comfort Control Technology uses computer-optimized design and precision manufacturing to reduce vibrations and road noise.
Unique tread design offers numerous biting edges for all-season grip in rain and snow.
Conclusion
I hope that this content on How to block or reduce road noise in your car was helpful. Please do share your suggestions and feedback in the comment below. Share this article with your friends and family too. Thank You so much.