by Jennifer Porterfield
|
Last Updated:
September 13, 2023
As an Amazon Associate, I earn from qualifying purchases at no extra cost to you. Thank You for your support.
Life in an apartment block can be challenging at the best of times.  Surrounded by potentially loud neighbors in a property that isn't owned by you, there's only so much you can do to drown out their loud music, noisy pets, or rowdy late-night conversations.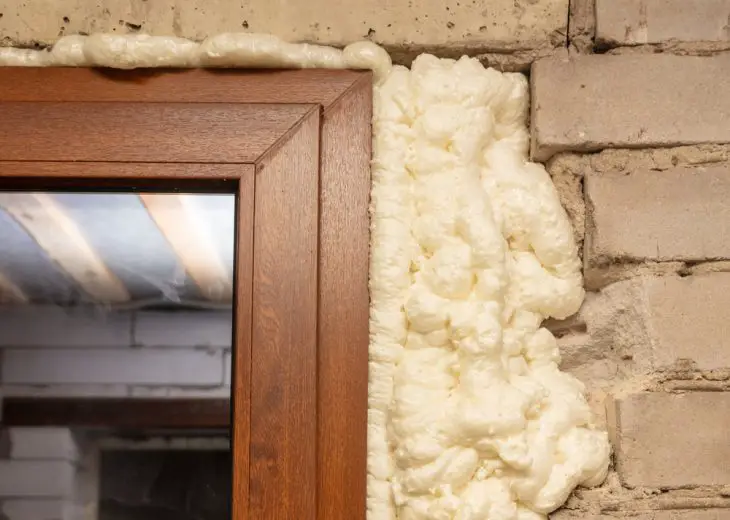 If you find yourself lacking some essential sleep, suffering from noisy distractions while working from home, or if you're sick of hearing people's loud footsteps past your door, we're here to provide you with a few fixes to deaden that awful noise. 
Hopefully, we'll also save you the embarrassment of knocking on a neighbors door to complain in person.  
Unfortunately, not all of us are in a position to choose who our neighbors are.  Additionally, if you're renting an apartment, you may not have the option to install permanent solutions to soundproof your home. 
With this in mind, we've compiled a list of temporary, semi-permanent, and permanent solutions for you to soundproof your apartment door. 
As the door enters into the hall of your apartment block, and a door is far less thick in comparison to the walls and ceiling, it can be the most prevalent entrance for sound to enter.
Also, the cracks on the sides of the door are openings for all kinds of noise to enter through.  With all that said, let's take a look at some solutions to your soundproofing problems.  
Using weather strips is one of the easiest and most affordable options to help block sounds from coming through the cracks around the doorway. 
Even a sold core door would be ineffective at blocking out sounds if there are cracks around it, so sealing these cracks is an essential step in the soundproofing process. 
In order to see the cracks around your door clearly, the best way to do so is to turn the light off in the room you are in and turn the light off at the other side of the door. 
Close the door and stand in the dark room.  Wherever you can see light spilling in through the cracks, these are places you need to seal using weather stripping. 
Not only are weather strips effective at blocking out sounds, but their main and intended use is to block out cold drafts, keeping your apartment nice and warm during the winter months. 
There's a large range of weather stripping products on the market, but they are all relatively inexpensive and they all function the same way. 
They are made from a spongy material that will allow the door to close tightly, sealing all the cracks in the doorway. 
They are also self-adhesive, which makes installing them very quick and easy. All you need to do before you stick the weather strips around the inside of the door frame is wash and dry the surface fully in order to get the adhesive strips to stick effectively. 
Once you have them in place, the door should shut and seal fully, with no cracks to let in sound. 
A rubber door sweep is another inexpensive and east-to-install way of minimizing the noise coming through your apartment door. 
They are also easy to remove if you decide to move out of your apartment, and they can easily be reused and reinstalled in your new residence. 
There are also a variety of different door sweeps on the market, some of which involve screwing the door sweep onto the bottom of the door, and others attach via an adhesive strip. 
Depending on the type of door you have and whether or not you can drill holes into your door without losing the deposit on your apartment, you can choose either a screw-on door sweep or an adhesive one.  
We recommend using a door sweep that has a rubber bottom that makes contact with the floor. This allows for an effective seal around the door, minimizing the ability for sounds to pass underneath the door. 
We recommend this type of door sweep rather than the brushed variety, as these are less effective at blocking out noise. 
If you decide to use a screw-on door sweep, you can always fill the holes left by the screws with caulking if you decide to move out and remove the door sweep.  This should make the holes disappear and allow you to keep your damage deposit.
Sale
Suptikes 2 Pack Door Draft Stopper,Door Sweep for Exterior...
【SAVE YOUR MONEY】 The weather stripping stop the heat and cold from escaping during winter and...
【NOISE REDUCTION】- The door bottom seal designed by 2 layers of sealer, stop the noise, keep...
【NO MORE GAPS】 - 1.8" W" Width x 37" Length, . Fits Gaps up to 1 iInches. Self-adhesive door...
【WIDE APPLICATION】-It is widely used in various types of doors or windows like frameless sliding...
Last update on 2023-11-16 / Affiliate links / Images from Amazon Product Advertising API
Another great option for soundproofing a door is installing a quilted fiberglass panel against it.  This is also known as a "soundproof blanket" and there is a large variety of them on the market in many different sizes. 
These panels absorb sound that is reverberating around the room and they claim to reduce sound levels by at least 50%.
What makes this material unique is that it is filled with a 2-inch layer of fiberglass fibers which are proven to absorb noise.  A great way to install a panel of this sort over the door without the need for drilling is to use velcro strips. 
This will also give you a tighter seal around the door rather than hanging the panel in front of the door.  This allows for more effective sound reduction. 
The best-looking and most durable way of attaching the velcro to the panel would be to sew it on.  
Last update on 2023-11-16 / Affiliate links / Images from Amazon Product Advertising API
Another method of sealing all the gaps and cracks around the door is using a tube of acoustical sealant or caulk. This is a relatively inexpensive option and only one tube of sealant is enough to do the job. 
There are many different types of caulking available online and at your local hardware store but a great option is Green Glue Noiseproofing Sealant.  This type of sealant is flexible and will not crack as it ages. 
This option of course is permanent but will not cause damage and will not be noticeable once it's on, as long as you're careful. 
Just like before, to see any cracks around your door, stand in your room with the lights off and see if any light is coming through the door from the other side.  Then, you can easily seal up those gaps with a little sealant.
Another useful thing you can do with any leftover sealant is to seal around any electrical outlets with the sealant.  You may be surprised when you take off the plastic covers of your outlets the big gap between the wall and the outlet box. 
This can also reduce a few decibels of annoying noise coming through the wall, especially if it goes out to the hallway.  
Acoustical Caulk (29 oz) 1 Tube with clean up wipe
Smooth and High Quality Latex Acoustical Caulk - Water Based - UL Rated
Specially formulated to stop sound leaks, remains pliable.
Use at perimeters of walls and ceilings. Around outlets, windows, doors and to plug holes
29 oz - Approximate coverage of 40-50 linear feet
Last update on 2023-11-16 / Affiliate links / Images from Amazon Product Advertising API
Moving blankets are thick coverings made to protect your valuables during transportation.  If you have any in storage from your last move, you can use these as a free fix to your soundproofing problems. 
Although they may not be the best-looking option to block out sound from around your apartment door, using a couple of these thick blankets will block out sounds very effectively.  
You can find a large variety of low-cost moving blankets available online. 
You can either hang these blankets from hooks in front of your door, but like the fiberglass panels, we recommend using velcro in order to get a tight seal around the door, not leaving any gaps between the blankets and the door.  
Moving Blanket for Protecting Furniture- Heavy Duty Recycled...
PADDED MOVING BLANKET - Protect your belongings and cut down on moving stress with the Stalwart...
SMART MULTIUSE DESIGN - The multipurpose padded blanket is handy during a move, and it also works as...
STRONG MATERIALS - The quilted moving blanket features recycled cotton padding for superior...
SECURE PROTECTION - Use this thick, padded moving blanket to cushion and protect furniture or...
Last update on 2023-11-16 / Affiliate links / Images from Amazon Product Advertising API
A soundproof door pad works like a door sweep but it's a less permanent and more effective option for absorbing sounds from around the cracks in your door. 
The unique advantage of using a soundproof door pad is that it can be installed not only at the bottom of the door but on the top and sides of the door frame as well. 
These soundproof door pads are made using the same materials used in construction sites' noise-proof barriers. 
These materials are; polyester wool, sound-insulating felt, PVC, EPDM rubber, and iron powder.  This combination of materials was designed for optimal sound absorption.  
When applying the soundproof pads, make sure to use downward pressure in order to make sure there are no cracks along the floor that will allow sound to get through. 
They are relatively easy to install and remove, and they will not leave any damage on the door or doorframe.  
One drawback of this method is that the soundproofing pads will have to be reapplied every time the door is opened. 
Sale
Soundproof Door Pad. Stop Sound, drafts and Reduce Heat Loss...
NOISE BLOCKING: Reduce sound transmission through your bedroom, studio, apartment or exterior door....
SAVE MONEY: Reducing heat loss through gaps around your door. Polyester Wool is a very effective...
COMFORT: Stop drafts and wind noise in both the summer and winter.
EASY INSTALLATION: Along the bottom, top or sides of your door. Includes adhesive Velcro strips.
Last update on 2023-11-16 / Affiliate links / Images from Amazon Product Advertising API
This soundproof sheet from Audimute is an effective absorber of sound and will work on both doors and windows.  They are easy to install and remove, and they can be used for many years. 
Compared to the other options on this list, it is daily expensive but it is purpose-built for sound absorption and blocking. 
This particular sheet measures 34.5" by 82" and can be used for a variety of noise-related problems.  Not only does it reduce the transmission of noise but it can enhance the acoustical properties of a room.  It is fairly hefty weighing 20 lbs. 
They are made from proprietary materials designed for maximum sound absorption and it includes a 3.2mm Peacemaker layer, which functions as a sound-barrier, inhibiting the entering and exiting of sound in a room.  
This sheet includes built-in grommets to hang the noise barrier up, but we would recommend using industrial-strength velcro in order to get a flush seal to the door. 
This will allow for better sound blocking and will not cause any damage to the wall from drilling holes or hammering nails.  
Audimute Sound Absorption Sheet | Sound Dampening Blanket -...
[Superior Quality - Made in USA] -- Durable and made of our proprietary sound absorption material,...
[Proven Effective - Lab Tested] -- Reduces echo and reverberation in a room, improving speech and...
[Easy to Install & Remove] -- Portable design with grommets and included hanging hardware. Use as an...
[Health Rated] -- Non-toxic, non-carcinogenic, & no fiberglass or inferior foam.
Last update on 2023-11-16 / Affiliate links / Images from Amazon Product Advertising API
One of the simplest ways of blocking out the noise coming from under your apartment door is to place a thick rug down in front of the door. 
You can move the rug to be directly in front of the door, and even tuck the rug into the crack beneath the door to get a good seal.  This is a good option for those who are renting and don't want to make any significant changes to your apartment.  
A thicker, shaggy rug will absorb more sound coming from beneath the door, and it will seal the gap more effectively.  Not only is it a quick and easy solution that causes no damage, but it is also pleasing to the eye. 
Last update on 2023-11-16 / Affiliate links / Images from Amazon Product Advertising API
To Conclude…
Living in an apartment block has its pros and cons.  One of those cons is the noise that your neighbors can cause, which can result in stress and a lack of sleep. 
Hopefully, our list of 9 options for soundproofing your apartment door will alleviate some of that stress and allow you to get some well-deserved shut-eye.